UAE Economy Seen Contracting More Than Estimated This Year – Bloomberg

The United Arab Emirates will likely suffer a deeper economic contraction this year than previously estimated, hurt by disruptions caused by the coronavirus pandemic and lower oil prices.
Gross domestic product in the Arab world's second-largest economy is estimated to shrink about 6% in 2020, compared with a previous forecast for a decline of 5.2%, the central bank said in its quarterly review on Tuesday. The economy is expected to grow 2.5% in 2021.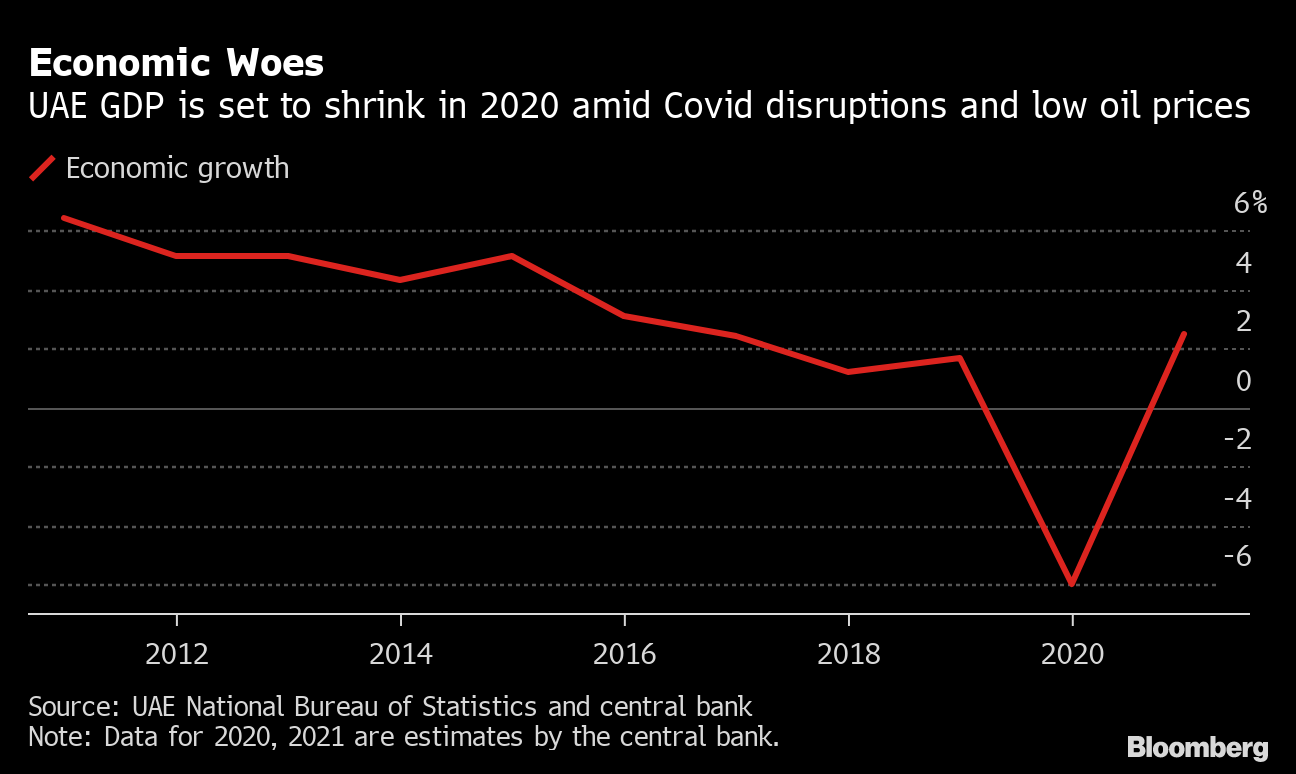 The outlook is slightly better than forecasts from the International Monetary Fund, which expects a decline of 6.6% this year. The UAE economy last contracted by more than 5% in 2009, according to the fund.
"As an oil exporter, the UAE is likely to feel the fallout from reduced global demand for oil due to the contraction of economic activities worldwide, including transportation and international travel," according to the central bank report. "Real oil GDP is projected to contract in 2020, corresponding to an average oil production of 2.8 million barrels per day for the year as a whole."
More from the report:
Non-oil GDP is seen growing 3.6% in 2021, fueled by an increase in fiscal spending, pick up in credit and employment as well as a stabilization in the property market
Oil GDP next year is expected to remain flat as a result of OPEC+ production cuts
This year, crude production fell by 4.1% year-on-year during the second quarter and by 17.7% during the following quarter
(
Adds chart, more context.
)
BOE's Bailey Says Economy Will Adapt to New Lockdown – BNN
(Bloomberg) — Bank of England Governor Andrew Bailey said that the U.K. economy is learning to adapt to lockdowns to contain the coronavirus.
Speaking in a webinar, the central bank chief said the economy seemed to weather the closure in November better than it did at the start of the pandemic in early 2020.
"We have little to go on in terms of evidence on the economy so far in January," Bailey said. But evidence suggests that "probably the impact of lockdowns in economic terms is diminishing somewhat. We all find ways to do to do economic activity by adapting. Online shopping is the obvious best example."
Policy makers are grappling with whether Britain needs more monetary stimulus to overcome the biggest slump in three centuries. They'll update their forecasts at the Feb. 4 decision to incorporate the new surge of Covid-19 cases and the country's recent departure from the European Union's single market.
Bailey said the BOE still expects a "quite pronounced" effect of the latest lockdown in the first quarter. He reiterated that the bank is reviewing the possibility of using negative interest rates, but hasn't yet starting discussing whether to deploy them.
In a question-and-answer session, Bailey also discussed:
Negative Interest Rates
The governor said it's important for policy makers to maintain negative interests rates as a possible option, though they've made no decision yet on whether to go ahead with them, partly because there's so much uncertainty about how they'd impact the economy.
"Particularly when you go negative, the transmission is much less clear because it does change the whole calculus of how the banking system works. We do not know with any confidence how that would work. However, there are experiences of other countries," Bailey said.
"The evidence suggests it isn't straightforward but it can work under certain circumstances, and depending a bit on how your financial system works. We need tools in our box. We also have a very low rate of inflation. It's still well below our target. Our challenge still remains getting inflation up to our target."
Banking Equivalence Rules
Bailey said he's wondering what the EU's request for equivalence on financial services will mean for the U.K.
"It can't seriously mean: you should never change your rules, because the world changes. Covid has illustrated that to us. If it doesn't mean that, does it mean, 'You should only change the rules when we the EU change our rules?' That's what they may mean, but … that's unacceptable because that's just rule-taking."
"We cannot be in a world, particularly with as big a financial center as we have, saying: just ring us up and tell us when you change the rules and we'll just copy them out. That's a recipe for disaster, frankly, because our markets are different."
Climate Change
Bailey said the bank will keep studying how climate change will impact the financial system and what policy makers can do to support environmental infinitives.
"Today we've seen a very big change. We now have a U.S. administration that's going to be fully behind this. I'm very optimistic on this front at the moment. We've just got to get on with it now."
(Updates with more comments from sixth paragraph)
©2021 Bloomberg L.P.
Australian economy forecast to rebound in 2021 as pandemic subsides: Reuters poll – TheChronicleHerald.ca
By Vivek Mishra
BENGALURU (Reuters) – Australia's economy, which entered 2021 in better shape than most of its peers, will gain further momentum from the successful domestic suppression of the coronavirus pandemic and supportive policies, according to a Reuters poll of economists.
Coronavirus-led lockdowns that began in March last year tipped the economy into its first recession since the early 1990s, breaking one of the world's longest growth streaks.
But Australia has been relatively successful in curbing the pandemic and largely reopened its economy, resuming activity, domestic traveling and consumer spending.
The Jan. 12-20 Reuters poll of 34 economists forecast Australia's A$2 trillion ($1.55 trillion) of gross domestic product would expand 3.5% this year – the fastest since polling began for the year in April 2019, although slower than the government's growth projection of 4.5% – after contracting 3.0% last year.
"We see the recovery continuing, assisted by aggressive policy accommodation, both monetary and fiscal, and continuing growth in Asia. We assume vaccine roll-out will commence in February," said Andrew Ticehurst, economist at Nomura.
"While the broad outlook is favourable, with unemployment set to rise much less than earlier feared, we expect the recovery to be somewhat constrained by continuing Australia/China tensions and weak population growth, given ongoing travel restrictions."
Goods exports to China declined nearly 10% to a four-month low in November as diplomatic tensions with Beijing saw the world's second-biggest importer impose heavy tariffs on imports of Australian coal, beef, barley and wine.
Iron ore – Australia's top export and a critical ingredient for China's massive steel sector – has so far been spared, but if China finds alternative sources, as it has for other goods, it could be very damaging.
ALL IS NOT WELL
Although the country's jobless rate declined to 6.8% in November from a July peak of 7.5%, it remained above pre-COVID-19 levels of around 5%. Some economists forecast it will hold above 6% this year.
That was despite billions of dollars in tax concessions to businesses and aggressive monetary policy easing from the Reserve Bank of Australia.
The RBA, which has slashed its official cash rate by a cumulative 65 basis points to an all-time low of 0.1% since the pandemic began, is expected to leave interest rates just above zero through at least 2022.
That is unlikely to stoke inflation as low wage growth keeps price pressures subdued, but it will push house prices higher.
In a report last week, the central bank said a 100-basis- point reduction in interest rates could push real housing prices up 30% after about three years.
The poll forecasts consumer prices would rise 1.5% this year and 1.7% next, still below the RBA's comfort zone of 2 to 3%.
For decades, wage and price growth have remained largely subdued, and with the global pandemic ongoing that is expected to continue.
In the third quarter, Australian wages grew just 0.10% – the slowest pace on record – hurting household spending.
"No one really understands how bad the underlying picture is because no one's pulled away that plaster yet. If you think zero real wage growth and house price growth of 10% is good news, then everything is looking great and if you don't, then everything's looking pretty rocky," said Michael Every, global strategist at Rabobank.
(For other stories from the Reuters global long-term economic outlook polls package:)
($1 = 1.2937 Australian dollars)
(Reporting by Vivek Mishra; polling by Shaloo Shrivastava and Md Manzer Hussain; editing by Jonathan Cable, Larry King)
Bank of Canada sees economy shrinking in first quarter as second wave makes for choppy recovery – TheChronicleHerald.ca
Bank of Canada governor Tiff Macklem, an enthusiastic water skier, borrowed from one of his favourite sports to describe the current state of the Canadian economy.
"We've said for some time that we're expecting a choppy recovery and, unfortunately, we're in a very serious chop," he

said

on a Jan. 20 call with reporters after the central bank released

a new forecast

that predicts an economic contraction this winter.
The forecast is a disappointing turn. Canada's economy was gathering pace over the summer, but conditions turned rough ahead of the holidays as the second wave of COVID-19 infections forced governments across the country to restrict movement and commerce. Employers sent more than 60,000 people home in December, the first decline in employment since the spring, Statistics Canada

reported

earlier this month.
With no immediate end to the pandemic in sight, the Bank of Canada's forecasting team concluded that gross domestic product (GDP) will contract at an annual rate of 2.5 per cent in the first quarter of 2021, after growing 4.8 per cent in the fourth quarter, thereby offsetting the boost the economy should get from the earlier-than-expected arrival of effective vaccines.
Overall, the Bank of Canada predicts growth of four per cent in 2021, compared with a previous estimate of 4.2 per cent, 4.8 per cent in 2022 and 2.5 per cent in 2023.
"We're moving in the wrong direction right now," Macklem said. "We're starting off in a deeper hole. We've got to climb back out of that."
The shift in circumstances highlights the fragility of the recovery from one of the most epic recessions in history. Canada's ability to generate wealth will be determined by the public health system's ability to keep up with the coronavirus. There's enough money in the system to power growth, but businesses and households won't spend it freely until the disease is brought under control.
"That is what will determine everything," said Darcy Briggs, a Calgary-based portfolio manager at Franklin Templeton Canada.
Macklem

reiterated

that he intends to leave the benchmark interest rate at 0.25 per cent until some point in 2023, and that the central bank would continue to create roughly $4 billion per week to purchase Government of Canada bonds, an approach to monetary policy that puts downward pressure on borrowing costs by augmenting private-sector demand for bonds.
Extraordinary stimulus remains essential, in part, because Canada's economy has run into additional headwinds. The immediate future of the oil industry is clouded by mediocre prices, uncertain demand and TC Energy Corp.'s decision to stop building the Keystone XL pipeline in the face of political opposition in the United States. The dollar's appreciation has become so problematic that the Bank of Canada felt compelled to flag it as a key risk to its inflation outlook, something it hasn't done so explicitly since 2011.
"Appreciation of the Canadian dollar creates direct downward pressure on inflation by lowering the prices of imports," the central bank said. "Further appreciation of the Canadian dollar could slow output growth by reducing the competitiveness of Canadian exports and import-competing production. Slower output growth would also imply more disinflationary pressures."
The Bank of Canada's bond-buying efforts are controversial with a minority of market participants, economists and politicians who dislike the sight of the central bank using its unique power to create money so aggressively.
In theory, Macklem is testing the central bank's ability to contain inflation, since a massive increase in the money supply should cause prices to rise. There is no evidence of that yet, as Statistics Canada on Jan. 20

reported

that the Consumer Price Index (CPI) increased 0.7 per cent in January from a year earlier, a reading that suggests deflation is the greater threat at the moment.
"The ongoing drag from economic slack is the most important driver of inflation dynamics over the medium term," the Bank of Canada said in its new outlook, which predicts some temporary spikes in the CPI, but concludes that inflation won't "return sustainably" to the two-per-cent target until 2023.
Still, Macklem began the process of unwinding his bond-buying program by reminding traders and investors that the Bank of Canada doesn't intend to be a major player in bond markets indefinitely.
The central bank used its new policy statement to tweak its language around quantitative easing (QE), as the policy is known, saying that, as "the Governing Council gains confidence in the strength of the recovery, the pace of net purchases of Government of Canada bonds will be adjusted as required."
Policy-makers also used their quarterly economic report to point out that the central bank now holds about 36 per cent of all federal government debt, compared with 32 per cent in October, an amount that as a percentage of GDP is greater than the holdings of the central banks of Australia and Sweden, but less than the U.S. Federal Reserve and the Bank of England.
In other words, the Bank of Canada has more ammunition, but its armoury isn't bottomless.
"There's an upper limit," Briggs said. "We're not there yet. We assume QE will end with the pandemic."

Financial Post


• Email:

[email protected]

| Twitter:

CarmichaelKevin


Copyright Postmedia Network Inc., 2021