UBCO researcher uses computer modelling to predict reef health – UBC Faculty of Medicine
'Virtual' coral reefs become diagnostic tool to help manage the planet's reefs
A UBC Okanagan researcher has developed a way to predict the future health of the planet's coral reefs.
Working with scientists from Australia's Flinders' University and privately-owned research firm Nova Blue Environment, biology doctoral student Bruno Carturan has been studying the ecosystems of the world's endangered reefs.
"Coral reefs are among the most diverse ecosystems on Earth and they support the livelihoods of more than 500 million people," says Carturan. "But coral reefs are also in peril. About 75 per cent of the world's coral reefs are threatened by habitat loss, climate change and other human-caused disturbances."
Carturan, who studies resilience, biodiversity and complex systems under UBCO Professors Lael Parrott and Jason Pither, says nearly all the world's reefs will be dangerously affected by 2050 if no effective measures are taken.
There is hope, however, as he has determined a way to examine the reefs and explore why some reef ecosystems appear to be more resilient than others. Uncovering why, he says, could help stem the losses.
"In other ecosystems, including forests and wetlands, experiments have shown that diversity is key to resilience," says Carturan. "With more species, comes a greater variety of form and function—what ecologists call traits. And with this, there is a greater likelihood that some particular traits, or combination of traits, help the ecosystem better withstand and bounce back from disturbances."
The importance of diversity for the health and stability of ecosystems has been extensively investigated by ecologists, he explains. While the consensus is that ecosystems with more diversity are more resilient and function better, the hypothesis has rarely been tested experimentally with corals.
Using an experiment to recreate the conditions found in real coral reefs is challenging for several reasons—one being that the required size, timeframe and number of different samples and replicates are just unmanageable.
That's where computer simulation modelling comes in.
"Technically called an 'agent-based model', it can be thought of as a virtual experimental arena that enables us to manipulate species and different types of disturbances, and then examine their different influences on resilience in ways that are just not feasible in real reefs," explains Carturan.
In his simulation arena, individual coral colonies and algae grow, compete with one another, reproduce and die. And they do all this in realistic ways. By using agent-based models—with data collected by many researchers over decades—scientists can manipulate the initial diversity of corals, including their number and identity, and see how the virtual reef communities respond to threats.
"This is crucial because these traits are the building blocks that give rise to ecosystem structure and function. For instance, corals come in a variety of forms—from simple spheres to complex branching—and this influences the variety of fish species these reefs host, and their susceptibility to disturbances such as cyclones and coral bleaching."
By running simulations over and over again, the model can identify combinations that can provide the greatest resilience. This will help ecologists design reef management and restoration strategies using predictions from the model, says collaborating Flinders researcher Professor Corey Bradshaw.
"Sophisticated models like ours will be useful for coral-reef management around the world," Bradshaw adds. "For example, Australia's iconic Great Barrier Reef is in deep trouble from invasive species, climate change-driven mass bleaching and overfishing."
"This high-resolution coral 'video game' allows us to peek into the future to make the best possible decisions and avoid catastrophes."
The research, supported by grants from the Natural Sciences and Engineering Research Council of Canada and the Canada Foundation for Innovation, was published recently in eLife.
About UBC's Okanagan campus
UBC's Okanagan campus is an innovative hub for research and learning founded in 2005 in partnership with local Indigenous peoples, the Syilx Okanagan Nation, in whose territory the campus resides. As part of UBC—ranked among the world's top 20 public universities—the Okanagan campus combines a globally recognized UBC education with a tight-knit and entrepreneurial community that welcomes students and faculty from around the world in British Columbia's stunning Okanagan Valley.
To find out more, visit: ok.ubc.ca
If dark matter is a particle, it should get inside red giant stars and change the way they behave – Universe Today
Dark matter makes up the vast majority of matter in the universe, but we can't see it. At least, not directly. Whatever the dark matter is, it must interact with everything else in the universe through gravity, and astronomers have found that if too much dark matter collects inside of red giant stars, it can potentially cut their lifetimes in half.
When stars like our sun near the end of their lives, they stop fusing hydrogen in their cores. Instead, the fusion takes place in a shell surrounding a dense core of inert helium – the leftover ash from that nuclear reaction. Over the course of hundreds of millions of years, that core contracts (after all, there's nothing inside of it generating energy to keep it inflated), heating it up.
Simultaneously, because of the increased core temperature, the rest of the star swells, ballooning to ridiculous proportions as a red giant star.
Astronomers can estimate the lifetimes of red giant stars by studying the complex physics of the core, tracing how long the helium can continue to heat until it reaches the critical threshold needed for it to undergo its own nuclear fusion, triggering the final end stages of the star.
It's a pretty straightforward astrophysical calculation.
That is, it's pretty straightforward unless something jams up the works.
A Dark Heart
Completely unrelated to red giants, astronomers are currently puzzling over the nature of dark matter, a substance that comprises roughly 80% of all the matter in the universe, yet is completely invisible. We're not exactly sure what dark matter is, but we're pretty confident that it is some sort of particle, as yet completely unknown to the standard model of particle physics.
Whatever the dark matter is made of, it must interact with normal matter through gravity, because that's how we've been able to detect it so far. Beyond that, it may be possible for dark matter to form clumps, or regions of high density inside normal-matter objects like stars and planets.
Astronomers have already investigated the consequences of pooling dark matter into the hearts of normal stars, but new research has revealed what happens to red giant stars near the end of their lives.
Short version: it's not pretty.
According to a paper recently appearing on the preprint journal arXiv, When too much dark matter sits inside a giant star, it causes the helium core to contract more than it normally would. That increased density raises the temperatures, which in turn raises the luminosity, which goes on to make the future evolution of the star that much shorter.
The effects are dramatic. If dark matter makes up a mere 10% of the mass of the red giant core, the temperatures jump by 10%, the luminosity doubles, and the lifetime of the red giant is cut in half.
We don't know how much dark matter – if any – sits inside red giants, but future studies of this population of dying stars may reveal clues to one of the most enigmatic substances in the universe.
No less than 5 house rocks headed in the direction of Earth this week, as Japan extends its Hayabusa2 asteroid-hunter mission – Nuhey
In yet one more cosmic barrage of boulders and particles, NASA is warning of not less than 5 shut asteroid flybys this week, simply days after Japan's house company introduced it will be extending its asteroid-hunter mission.
To kick issues off, on September 21 the 10-meter and 16-meter 2020 RQ6 and 2020 SJ2 will shoot previous the Earth at distances of 1.2 and 1.four million kilometers respectively.
Earlier than anybody can breathe a sigh of aid, nonetheless, three extra Close to-Earth Objects are anticipated to fly previous on September 22.
At 50m in diameter, or as tall because the Arc de Triomphe, the most important of the three, named 2020 RD5, will cross the Earth at 61,000 kph at a mercifully protected distance of 4 million kilometers.
Not lengthy after, the paltry-by-comparison 2020 SM2, measuring simply 5.8m in diameter, or 4 Danny DeVitos stacked on prime of each other, will zoom previous Earth, simply 1.2 million km away.
Citing the rear would be the 27-meter 2020 RB6, touring at a staggering 71,000 kph, set to cross our planet at a 'shut strategy' distance of two.5 million km.
Additionally on rt.com

Two asteroids set to cross Earth's orbit simply hours aside as one other Nice Pyramid-sized house rock barrels our method
In the meantime, Japan's Hayabusa 2 asteroid hunter, which efficiently landed on and 'shot' the asteroid Ryugu with a specialised bullet with the intention to acquire samples for evaluation again on Earth, is ready to increase its mission and contact down on one other house rock.
The preliminary pattern is because of return to Earth this December, with a deliberate touchdown in Australia.
Nevertheless, the Japanese Aerospace Exploration Company (JAXA) confirmed at a press briefing late final week that the mission can be prolonged and that, after a flying go to to drop off the pattern, the probe can be headed for the tennis-court-sized 1998 KY26 asteroid, positioned between Venus and Mars.
Regardless of the obvious proximity to Earth, the spacecraft will spend 5 years cruising across the photo voltaic system earlier than observing yet one more asteroid en path to 1998 KY26, at which level mission management will determine whether or not a touchdown is possible or not.
Assume your folks would have an interest? Share this story!
Chitin could be used to build tools and habitats on Mars, study finds – Ars Technica
Space aficionados who dream of one day colonizing Mars must grapple with the stark reality of the planet's limited natural resources, particularly when it comes to building materials. A team of scientists from the Singapore University of Technology and Design discovered that, using simple chemistry, the organic polymer chitin—contained in the exoskeletons of insects and crustaceans—can easily be transformed into a viable building material for basic tools and habitats. This would require minimal energy and no need for transporting specialized equipment. The scientists described their experiments in a recent paper published in the journal PLOS ONE.
"The technology was originally developed to create circular ecosystems in urban environments," said co-author Javier Fernandez. "But due to its efficiency, it is also the most efficient and scalable method to produce materials in a closed artificial ecosystem in the extremely scarce environment of a lifeless planet or satellite."
As we previously reported, NASA has announced an ambitious plan to return American astronauts to the Moon and establish a permanent base there, with an eye toward eventually placing astronauts on Mars. Materials science will be crucial to the Artemis Moon Program's success, particularly when it comes to the materials needed to construct a viable lunar (or Martian) base. Concrete, for instance, requires a substantial amount of added water in order to be usable in situ, and there is a pronounced short supply of water on both the Moon and Mars. And transport costs would be prohibitively high. NASA estimates that it costs around $10,000 to transport just one pound of material into orbit.
So there has been much attention on the possibility of using existing materials on the Moon itself to construct a lunar base. Past proposals have called for 3D-printing with Sorel cement, which requires significant amounts of chemicals and water (consumables), and a rocklike material that would require both water and phosphoric acid as a liquid binder. And back in March, a paper by an international team of scientists suggested that astronauts setting up a base on the Moon could use the urea in their urine as a plasticizer to create a concrete-like building material out of lunar soil.
As with the Moon, any plan to set up a habitable base on Mars must employ manufacturing technologies that make use of the red planet's regolith. But the authors of the current paper point out that most terrestrial manufacturing strategies that could fit the bill typically require specialized equipment and a hefty amount of energy. However, "Nature presents successful strategies of life adapting to harsh environments," the authors wrote. "In biological organisms, rigid structures are formed by integrating inorganic filler proceed from the environment at a low energy cost (e.g., calcium carbonate) and incorporated into an organic matrix (e.g., chitin) produced at a relatively high metabolic cost."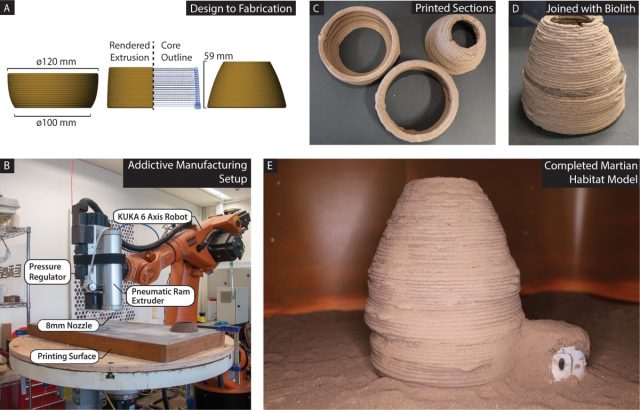 Fernandez and his colleagues maintain that chitin is likely to be part of any planned artificial ecosystem because it is so plentiful in nature. It's the primary component of fish scales and fungal cell walls, for example, as well as the exoskeletons of crustaceans and insects. In fact, insects have already been targeted as a key source of protein for a possible Martian base. And since the chitin component of insects has limited nutritional value for humans, extracting it to make building materials "does not hamper or compete with the food supply," the authors wrote. "Rather, it is a byproduct of it."
For their experiments, the researchers relied on fairly simple chemistry. They took chitosan derived from shrimp, dissolved it in acetic acid—a common byproduct of both aerobic and anaerobic fermentation—and combined it with a mineral equivalent to Martian soil to create their chitinous building material. They tested its properties by fashioning various objects out of it, most notably a functional wrench, which they tested by tightening a hexagonal bolt. While acknowledging that this would be unlikely to replace metallic tools for certain critical space applications, it proved hardy enough to sustain sufficient torque for small daily tasks.
Think bigger
Next, the team tried molding the material in various geometries to study its potential as a building material via additive manufacturing, ranging from cylinders and cubes to objects with both rounded and angular shapes—including a little humanoid Martian figure. The scientists also demonstrated that the biolith could be used as makeshift mortar to effectively plug a small hole in a pipe. The pipe subsequently went several weeks without leakage. Finally, they built a full 3D-printed model of one possible design for a Martian habitat; it took just under two hours to complete. The researchers concluded that their results demonstrated the feasibility of such "closed-loop, zero-waste" solutions on Mars.
"Bioinspired manufacturing and sustainable materials are not a substituting technology for synthetic polymers, but an enabling technology defining a new paradigm in manufacturing, and allowing to do things that are unachievable by the synthetic counterparts," said Fernandez. "We have demonstrated that they are key not only for our sustainability on Earth but also for one of the next biggest achievements of humanity: our transformation into an interplanetary species."
DOI: PLOS ONE, 2020. 10.1371/journal.pone.0238606 (About DOIs).