UFC 250 bonuses: Cody Garbrandt, Sean O'Malley earn bonuses for dramatic one-punch knockouts – MMA Fighting
UFC 250 had no shortage of exciting finishes and four fighters rewarded for avoiding the judges.
Cody Garbrandt and Sean O'Malley both received $50,000 Performance of the Night bonuses for their sensational one-punch knockouts of Raphael Assuncao and Eddie Wineland, respectively. For Garbrandt, his win came at the second-round buzzer, while O'Malley needed less than a round to silence Wineland and he did so in style walking off after landing a blasting Wineland with right hand.
O'Malley has now won a bonus in each of his three UFC appearances to date.
In lieu of a Fight of the Night award, two other fighters received a Performance of the Night bonus, Aljamain Sterling and Alex Perez.
Sterling cemented his status as a future title challenger with an 88-second rear-naked choke submission of Cory Sandhagen, who was previously unbeaten in the UFC. Perez made short work of longtime flyweight contender Jussier Formiga, forcing a referee stoppage after dropping Formiga with leg kicks.
That's back-to-back fight night bonuses for Perez now, while Sterling cashes in for the first time in his six years with the UFC.
NHL, players ratify Return to Play Plan, six-year CBA amid COVID-19 uncertainties – TSN
Game on.
Well, almost.
The NHL Players' Association and the NHL's Board of Governors voted overwhelmingly on Friday to ratify a sweeping agreement that includes a six-year Collective Bargaining Agreement and a Return to Play Plan that brings hockey back after a historic, 142-day pause.
According to sources, the NHLPA's full membership voted 502 to 135 with 78.8 per cent in favour, while the league's vote was unanimous, as expected. Both only required simple majorities to pass.
NHL commissioner Gary Bettman lauded the stakeholders involved "for coming together under extraordinary circumstances for the good of our game."
"This agreement is a meaningful step forward for the players and owners, and for our game, in a difficult and uncertain time," NHLPA executive director Don Fehr said in a statement.
Now, after months of heavy lifting with two sides hammering out the game's first peace-time labour agreement in three-plus decades, the NHL's real dance on thin ice begins.
The NHL's owners have said 'yes.' The NHL's players have said 'yes.' Now, they only need the cooperation of a virus that has claimed the lives of more than a half million people worldwide over the past six months.
Yes, the road back to the rink is one paved in peril, but the lure of hockey's holy grail and more than a 100 years of history is on the other side.
I'm back.

— The Stanley Cup (@StanleyCup) July 10, 2020
The NHL and NHLPA must safely navigate the arrival of 744 players and hundreds of staffers in two secure 'bubbles' in Toronto and Edmonton and avoid a mass-outbreak of COVID-19 in order to drop the puck in three weeks from Saturday on Aug. 1.
Once settled inside, the NHL is confident its strict protocol will minimize the risk of an outbreak in an effort to award the Stanley Cup by Oct. 4 in Edmonton. Every player and every person – from team staff to hotel housekeepers – who has a chance of coming in contact with a player will be tested daily. Any positive test will require isolation and contact tracing. The NHL says it can manage individual or multiple isolated positive tests, but it has not defined what it would take to put play on pause again or put a pin in the bubble, either due to health risks or the integrity of the game.
"While we have all worked very hard to try to address the risks of COVID-19, we know that health and safety are and will continue to be our priorities," Bettman said Friday.
Cautiously make it through training camp. Then into the bubble without many flare-ups.
Then Giddy Up.
What awaits is March Madness on steroids. The blood-and-guts intensity of the Stanley Cup playoffs, for 14 hours a day, for nine days straight. And then the first round begins.
To start, it will be games from 12 noon well past midnight in the East – or longer with the delirious joy of playoff overtimes.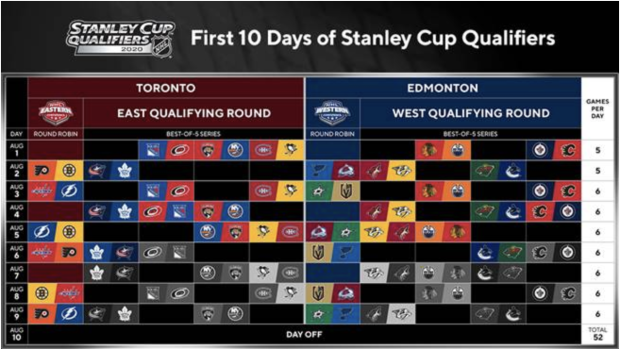 The NHL's top eight teams will battle each other in round-robin games for seeding, while the other 16 teams will fight in a best-of-five to see who survives to the first round of the Stanley Cup playoffs. Then a traditional, 16-team playoff with four rounds decided by best-of-seven, will take over as planned.
Everyone, even the losing teams, have something to look forward to in the qualifying round.
Every player in the hubs will have the day off on Aug. 10, when the Draft Lottery is scheduled to take centre stage. The eight teams that fail to qualify for the playoffs will go home with an equal 12.5 per cent chance at the No. 1 overall pick and Alexis Lafreniere.
With Oct. 4 scheduled as the last possible day of the Stanley Cup Final, the 2020 NHL Draft is tentatively slated for Oct. 9-10 and will likely be held virtually.
Until then, with the only travel scheduled for when the Toronto hub victors shift to Edmonton by Sept. 8 to begin the Conference Finals, the NHL plans to zoom through each round as quickly as possible in order to minimize time spent in the bubble.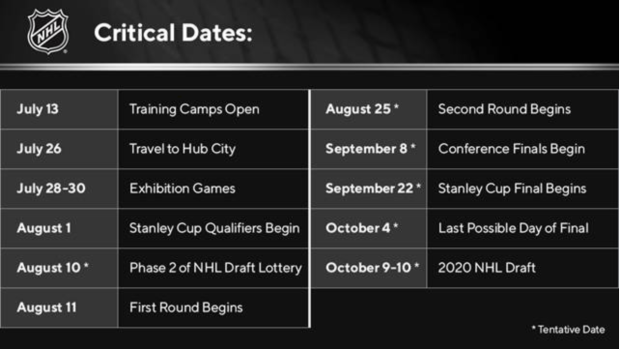 There will be sacrifice for all involved. Players advancing will go a minimum of five weeks away from their families before they are permitted to enter the bubble during the Conference Finals. The hundreds of staffers and officials will not have the same opportunity.
The motivation to complete the 2019-20 season in the face of a pandemic is undoubtedly driven by business. More than $400 million USD is at stake in a two-month tournament, plus the priceless tradition of carrying on the Stanley Cup.
The NHL and its players have faced the grim financial reality that remains. The new six-year CBA, which guarantees labour peace through at least 2025-26, is not a rosy one for the players. It's akin to an adjustable rate mortgage – with the players paying back the owners a nine-figure promissory note – with the resulting escrow cap serving as the interest rate.
During that time, the players' house won't appreciate much in value because there is little room for growth with a relatively frozen salary cap for much of the next four or five seasons. Only the NHL's best and brightest stars won't feel the cap crunch coming.
The trouble for the players – and really the hawk owners who wanted the entire amount owing from players to be paid back now on the spot – was that there wasn't much of a viable alternative.
That meant Friday, even with more than a fifth of the NHL's players expressing their dissatisfaction, was the next in a series of critical (if not plodding) steps forward to get the game going again.
Some 368 days after the season started, Lord Stanley's chalice awaits now – if COVID can cooperate.
Contact Frank Seravalli on Twitter: @frank_seravalli
Flames prepare for 'tall task' with return-to-play plan finalized – Sportsnet.ca
At the tail end of an historic day for the NHL, Brad Treliving best summed up the relief capping off four months of unknowns.
"I like Zoom, and Zoom has been good in terms of keeping everyone in touch, but… Uncle," said the Calgary Flames GM, whose weekly online fellowship gatherings with local media types were the envy of scribes league-wide.
"Let's get going. Monday can't come fast enough."
Press releases late Friday confirmed the NHLPA and NHL have officially agreed to a return-to-play plan as well as a four-year CBA extension that makes the league the envy of its sporting brethren.
Jeff Marek and Elliotte Friedman talk to a lot of people around the hockey world, and then they tell listeners all about what they've heard and what they think about it.
With just three days of lead time before 24 teams will open for almost two weeks of training camps, the league has set the stage for what might end up being the most intriguing playoff format in the game's modern history.
For the Calgary Flames, that means an Aug. 1 start for a best-of-five "qualifying round" showdown with the Winnipeg Jets that could be over in as little as four days.
That's the type of urgency required moving forward.
"Whether you have three games in four nights, a best-of-five goes quick no matter how you play it," said Treliving, whose club is slated to play the 8 p.m. game in Edmonton Aug. 1, 3 and 4 against a Jets team they lost to 2-1 in overtime outdoors at Mosaic Stadium in Regina.
"It's going to be important how you start. Having a good camp and being prepared is crucial."
Realizing it will all come down to balancing hard work in camp while ensuring you don't fatigue anyone, Treliving said the coaching plan was developed back in April in anticipation of Monday's restart.
"We don't have a lot of time, but it's still three weeks away, so we're not panicking," said Treliving, admittedly unsure who or when his team will play its one exhibition game in Edmonton after moving there July 26.
"You want to be careful to make sure you get the work in but not burn everybody out in seven days. The group has been looking after themselves and skating before they got there. They've been going at it pretty good, from what I understand."
Senior Writer Ryan Dixon and NHL Editor Rory Boylen always give it 110%, but never rely on clichés when it comes to podcasting. Instead, they use a mix of facts, fun and a varied group of hockey voices to cover Canada's most beloved game.
All told, 31 players from each team will be allowed to head into the league-devised bubble in Edmonton late this month for one exhibition game before the real bullets start flying against a team with just as many offensive threats as the Flames. They'll be joined by 21 people who will make up the support staff who will also be tested daily as part of the league's thorough approach to a return-to-play setup many thought wouldn't come to fruition.
Between now and August the Flames may have to deal with everything from positive tests to players who have the right to opt out before Monday, citing safety concerns.
To date, Treliving says he hasn't heard from any players who may choose to watch from the sidelines.
"I have not, but now that it's done we'll see," said Treliving, who added that all his players are in town, "present and accounted for."
"Nobody tipped their hand."
Games four and five, if necessary, are slated for Aug. 6 and 8, meaning either the eighth-ranked Flames or ninth-ranked Jets will be eliminated and in line for a 12.5 per cent chance at top-ranked junior star Alexis Lafreniere in the draft lottery soon thereafter.
That's pressure.
"That's a really good team that we're playing – a team that went through some changes this year but was in the West final two years ago," said Treliving. "There are no holes over there. They have a goalie (Connor Hellebuyck) who may win the Vezina Trophy in net, a defence with a lot of talent on it and, well, pick your poison up front. It's a tall, tall task."
A monumental task for a Flames team that has a history of playoff shortcomings, as well as a penchant for slow starts.
On the weekend the team will announce its training camp schedule to be held at the Saddledome, where a small number of mask-wearing journalists will be high up in the stands, observing the lads for the first time since the March 12 pause.
No face-to-face interviews will be allowed at any time through camp or the playoffs. A small number of scribes will be allowed to watch playoff games from the press box in Edmonton, but will not be allowed to breach the NHL's bubble by watching practices once the league convenes in Edmonton.
With players available by phone or Zoom post-practice starting Monday, plenty of storylines will unfold.
The Flames are still seeking a league ruling on whether recent hotshot collegiate signing Connor Mackey will be able to continue skating with the club, even though his contract doesn't kick in until next season.
But on Friday the story was simple – the league celebrated an historic day by officially overcoming two massive hurdles.
"It's a great day that everything has been finalized," said Treliving. "To me, the league and the Players' Association deserve a tremendous amount of credit.
"We're all living in this environment, and know how difficult it is, and to get a return-to-play plan and to get a CBA done during a pandemic, it's unbelievable. The ability to find common ground… I just think Gary (Bettman) and Bill (Daly) and league leadership and the PA deserve so much credit. You're talking about two monumental tasks, and they did it at a time when things change from Monday to Tuesday. It's a Herculean effort."
NHL return to play: Stanley Cup playoffs qualifying round schedule released; Toronto, Edmonton are hub cities – CBS Sports
Playoff hockey is starting to feel a little more real after the NHL and NHLPA ratified the return-to-play plan, the schedule was released and the hub cities were officially announced on Friday. The NHL season was paused four months ago because of the coronavirus pandemic and will return by heading straight into the playoffs with a 24-team format.
The NHL released the schedule for the qualifying rounds, which includes round-robin and best-of-five series.
The league plans to crown a champion by the first week in October, with the playoffs beginning Aug. 1.
In the first 10-day span of hockey returning, there is the potential for 52 games to be played.
Take a look at the qualifying round schedule:
Games will be played behind closed doors and will take place in two hub cities, Toronto and Edmonton, Alberta. Toronto will be the Eastern Conference's hub city, and Edmonton will hold the Western Conference. The Conference finals and Stanley Cup Final will be played in Edmonton.
The Oilers and Maple Leafs tweeted out graphics after the news became "officially official."
The NHL's official public relations Twitter account also released a video breaking down how the return will work, what safety protocols have been added and a breakdown of the schedule as we move forward in the return-to-play plan.
Players are committing to leave their families for up to six weeks and agreed to stay within the city "bubble."
Since the season came to a halt, the NHL has slowly and steadily worked on a health and safety plan in order to return, but return with a low risk for the players, coaches and all present for games.