UK extends job support, tax breaks for pandemic-hit economy – North Shore News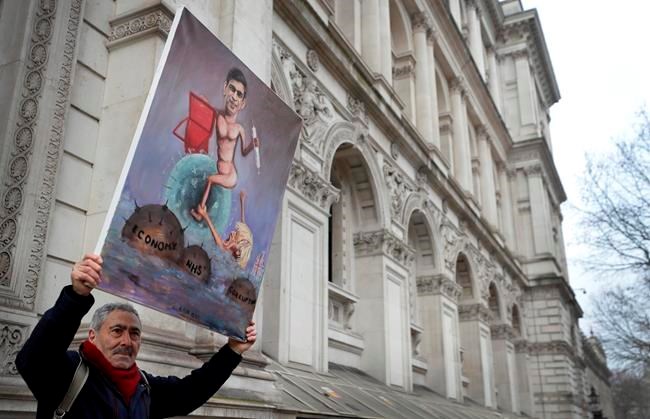 LONDON — Britain's treasury chief on Wednesday announced an additional 65 billion pounds ($91 billion) of support for an economy ravaged by the coronavirus pandemic, extending job support programs and temporary tax cuts to help workers and businesses in his annual budget.
Chancellor of the Exchequer Rishi Sunak told the House of Commons that it is too soon for the government to rein in spending, saying that his plans would "protect the jobs and livelihoods of the British people" through September as the government slowly lifts lockdown restrictions that have shut businesses across the U.K.
At the same time, he said Britain must be prepared to cut the deficit, announcing plans to increase the tax on corporate profits and boost revenue from personal income taxes in 2023.
"An important moment is upon us," Sunak told the House of Commons. "A moment of challenge and of change. Of difficulties, yes, but of possibilities, too. This is a budget that meets that moment."
U.K. public borrowing has risen to levels not seen since World War II as the government seeks to cushion the fallout from COVID-19, which has reduced gross domestic product by 10% and cost more than 700,000 people their jobs. Projections released Wednesday by the Office for Budget Responsibility show that the economy will still be 3% smaller five years from now than it would have been without the pandemic.
Sunak said government support programs have succeeded in mitigating the impact. The unemployment rate is now expected to peak at about 6.5%, rather than the 11.9% forecast last July, he said, citing estimates from the Office for Budget Responsibility. The economy is forecast to grow 4% this year and 7.3% in 2022.
On Wednesday, Sunak announced plans to extend those support programs for six months. They include a furlough program, under which the government pays 80% of the wages for private employees unable to work during the pandemic, as well as grants for self-employed workers, a temporary increase in welfare payments and tax relief for businesses.
Sunak cheered business leaders by offering a tax credit of up to 130% of the money companies invest in expanding and improving their operations. Sunak said the credit is expected to increase investment by 10% or 25 billion pounds over the next two years, creating jobs and boosting economic growth.
Stephen Phipson, chief executive of Make UK, described the policy as bold.
"Manufacturers have strong intentions to invest in capital equipment as well as digital and green technologies which are crucial for our long-term recovery," he said. "Today's announcement should help turbocharge investment to ensure that those plans turn into reality in the short-term."
Looking to the future, Sunak said the government will in 2023 increase corporation tax to 25%, from the current rate of 19%, and freeze personal income tax thresholds, which will increase revenue as inflation boosts incomes.
But opposition leader Keir Starmer accused Sunak of failing to address deep-seated economic problems and banking on a "consumer spending blitz" to bail out the economy.
Starmer said the budget fails millions of key workers who are having their pay frozen, businesses swamped by debt, and families paying higher local property taxes.
"The central problem in our economy is a deep-rooted insecurity and inequality, and this budget isn't the answer to that," Starmer said. "So rather than the big, transformative budget that we needed, this budget simply papers over the cracks."
Ian Blackford, the Scottish National Party's leader in Parliament, criticized Sunak for continuing a strategy of temporary support that leaves businesses and consumers unsure of the future.
The budget leaves Scottish voters with a clear choice as the SNP campaigns to hold a second referendum on independence from the U.K., Blackford said.
"For the people of Scotland, this budget comes at a critical moment of choice," he said, echoing Sunak's language. "Post-Brexit and post-pandemic, Scotland now has a choice of two futures: The long-term damage of Brexit and more Tory austerity cuts, or the opportunity to protect her place in Europe and to build a strong, fair and green recovery with independence."
___
Follow AP coverage of the virus outbreak at:
https://apnews.com/hub/coronavirus-pandemic
https://apnews.com/hub/coronavirus-vaccine
https://apnews.com/UnderstandingtheOutbreak
Danica Kirka, The Associated Press
Britain is 'bouncing back' into the same old economy – The Guardian
CANADA STOCKS – TSX ends flat at 19,228.03
* The Toronto Stock Exchange's TSX falls 0.00 percent to 19,228.03
* Leading the index were Corus Entertainment Inc <CJRb.TO​>, up 7.0%, Methanex Corp​, up 6.4%, and Canaccord Genuity Group Inc​, higher by 5.5%.
* Lagging shares were Denison Mines Corp​​, down 7.0%, Trillium Therapeutics Inc​, down 7.0%, and Nexgen Energy Ltd​, lower by 5.7%.
* On the TSX 93 issues rose and 128 fell as a 0.7-to-1 ratio favored decliners. There were 26 new highs and no new lows, with total volume of 183.7 million shares.
* The most heavily traded shares by volume were Toronto-dominion Bank, Nutrien Ltd and Organigram Holdings Inc.
* The TSX's energy group fell 1.61 points, or 1.4%, while the financials sector climbed 0.67 points, or 0.2%.
* West Texas Intermediate crude futures fell 0.44%, or $0.26, to $59.34 a barrel. Brent crude  fell 0.24%, or $0.15, to $63.05 [O/R]
* The TSX is up 10.3% for the year.
Canadian dollar outshines G10 peers, boosted by jobs surge
By Fergal Smith
TORONTO (Reuters) – The Canadian dollar advanced against its broadly stronger U.S. counterpart on Friday as data showing the economy added far more jobs than expected in March offset lower oil prices, with the loonie also gaining for the week.
Canada added 303,100 jobs in March, triple analyst expectations, driven by the recovery across sectors hit by shutdowns in December and January to curb the new coronavirus.
"The Canadian economy keeps beating expectations," said Michael Goshko, corporate risk manager at Western Union Business Solutions. "It seems like the economy is adapting to these closures and restrictions."
Stronger-than-expected economic growth could pull forward the timing of the first interest rate hike by the Bank of Canada, Goshko said.
The central bank has signaled that its benchmark rate will stay at a record low of 0.25% until 2023. It is due to update its economic forecasts on April 21, when some analysts expect it to cut bond purchases.
The Canadian dollar was trading 0.3% higher at 1.2530 to the greenback, or 79.81 U.S. cents, the biggest gain among G10 currencies. For the week, it was also up 0.3%.
Still, speculators have cut their bullish bets on the Canadian dollar to the lowest since December, data from the U.S. Commodity Futures Trading Commission showed. As of April 6, net long positions had fallen to 2,690 contracts from 6,518 in the prior week.
The price of oil, one of Canada's major exports, was pressured by rising supplies from major producers. U.S. crude prices settled 0.5% lower at $59.32 a barrel, while the U.S. dollar gained ground against a basket of major currencies, supported by higher U.S. Treasury yields.
Canadian government bond yields also climbed and the curve steepened, with the 10-year up 4.1 basis points at 1.502%.
(Reporting by Fergal Smith; Editing by Andrea Ricci)