Uncertainty surrounding Canada's teams the big hurdle for NHL's return – Sportsnet.ca
Not since the days of the 21-team NHL has the path to the Stanley Cup Final been so clear for a Canadian team.
Whoever emerges from the Group of Seven under the proposed rules for a reimagined 2020-21 season would waltz straight into the Final Four.
Can you imagine the buzz?
Four of the Canucks, Flames, Oilers, Jets, Senators, Leafs and Canadiens would be promised a spot in the Stanley Cup tournament, setting the stage for three-all Canadian best-of-sevens and a guaranteed representative with games still to play while 27 other NHL teams are already at home.
Of course, this being an age defined by uncertainty and impermanence, there's only one hitch.
And it's a rather large one.
Even as the NHL and its players reached tentative agreement on the protocols and rules governing a radically reimagined season on Friday night, the health authorities in Canada had yet to endorse the plan.
In fact, a call was scheduled with the provinces on Saturday to continue those discussions. So far, they've not gone smoothly, which is why the NHL has been forced to at least entertain the idea of moving its seven Canadian teams to the U.S. for the season, as Sportsnet first reported this week.
But that is not a path anyone with a vested interest in these discussions truly wants to walk down.
The league is endeavouring to create an all-Canadian division that features 56 games per team played entirely among the Group of Seven. That would eliminate the need to cross the federal border and observe quarantines.
However, it must get five provinces to sign off on the protocols governing play and there's been some resistance from government officials about having seven teams criss-cross the country for games. The NHL's plan calls for players to be tested at least every second day — it could potentially be every day — while essentially creating little bubbles around each team with as little outside contact as possible.
Charter planes would be used for all travel and the health standards at road hotels and restaurants would be strictly monitored. Players would basically be confined to the hotel and rink, too. The league must do everything it can to assuage concerns about how it might be impacting the public health risk at a time when COVID-19 cases are surging.
Where this gets really interesting is the NHL is targeting a Jan. 3 start to training camps and a Jan. 13 puck drop on the regular season. That's a little more than three weeks from now. Unless the provincial governments have a quick change of heart, the discussions with the NHL are going to quickly start pushing up against those dates.
Everyone is flying by the seat of their pants to some degree here — basically a necessity amid a pandemic.
For example, the San Jose Sharks are going to conduct training camp in Scottsdale, Ariz., because of health restrictions in Santa Clara County but it's not yet clear how long they'll remain there and how exactly that will impact their playing schedule.
Decisions will be put off until the last possible second to make sure as much information as possible is available when making them.
In the event this Canadian division fails to get the necessary government support, the NHL and NHLPA would have to quickly agree on another path forward. The most obvious alternatives are a hub setup in Edmonton or the relocation of all the teams to the United States.
However, it's entirely possible the league will wait beyond the opening of training camps before pivoting in another direction. There's a deep-seated desire to try and make this work for the Canadian teams in their own markets.
That helps explain why everything isn't playing out in a predictable sequential order right now. Friday night's tentative NHL/NHLPA agreement was significant because it marked the end of multiple weeks of back-and-forth on minute details — the creation of four- to six-man taxi squads, altered formulas for performance bonuses and other thresholds, voluntary opt-out language for any payer wishing not to play and the like — but some major loose ends will remain even after the executive boards ratify the deal in the days ahead.
The Canada question is the biggest of them all.
We now know there's going to be a season and it's one that holds amazing possibility, especially for fans in the country that lays claim to the sport. But it may not be allowed to go ahead as intended.
After a year like this one, what a shame that would be.
—
Here's a look at the proposed realigned divisions in the tentative NHL/NHLPA agreement:
• Calgary, Edmonton, Montreal, Ottawa, Toronto, Vancouver, Winnipeg.
• Boston, Buffalo, New Jersey, N.Y Islanders, N.Y. Rangers, Philadelphia, Pittsburgh, Washington.
• Carolina, Chicago, Columbus, Dallas, Detroit, Florida, Nashville, Tampa.
• Anaheim, Arizona, Colorado, Los Angeles, Minnesota, San Jose, St. Louis, Vegas.
Maple Leafs' goaltending depth evaporates quickly with Campbell injury – Sportsnet.ca
Depth is a wonderful luxury in this compacted sprint of an NHL season. But, oh boy, can it dry up fast.
Even a team as prepared for absentee goaltenders as the Toronto Maple Leafs — who made sure to load up on four netminders with a minimum of 17 NHL appearances in 2019-20 — can have their most critical position tested before their eighth game of 2021.
Last week, cap-tight Toronto lost stud third-string goalie Aaron Dell to a New Jersey Devils waiver claim.
On Tuesday, coach Sheldon Keefe announced that backup Jack Campbell (2-0-0, .923) would be sidelined "weeks, not days" with a leg injury suffered in Sunday's victory over the Flames, interrupting the affable No. 2's stellar start.
Re-enter Michael Hutchinson, who will don the ballcap on the Maple Leafs bench for the foreseeable future.
Ostensibly, Hutchinson was signed back to Toronto in the off-season for two years and $1.45 million to fulfill an expansion draft qualification, improve the farm club's save percentage and provide a known commodity in an emergency situation.
It's not a five-alarm blaze yet, but the pressure on starter Frederik Andersen to perform — and stay healthy — just ratcheted up a notch.
"That's the game," Keefe said. "That's why you try to set yourself up with as much depth as possible, to deal with whatever might come our way. I do think the way the schedule sets up here now, it's pretty favourable for us and for Fred Andersen's workload."
Knock on wood, Andersen (3-2-0, .898 save percentage) could well start all of Toronto's next nine matches before the club's next back-to-back, Feb. 17-18 versus Ottawa.
"We still have lots of confidence in both Fred and Hutch," Keefe said. "He's coming here with a different level of confidence than what he had last time around."
Hutchinson — a 30-year-old journeyman — went 4-9-1 with a .889 save percentage for the 2019-20 Maple Leafs and was dealt to the Colorado Avalanche at the 2020 trade deadline.
When the Avs suffered multiple goaltending injuries in the playoff bubble, Hutchinson played admirably in relief, going 2-1 with a .910 save percentage in Colorado's tight second-round series against the Dallas Stars.
"He had a tough go here. At the same time, I believe there was a point in time where he won [three] consecutive starts for us," Keefe said. "He was finding his way, and then towards the end, it didn't go well. But he went off to Colorado, got put in a really tough position in the playoffs and gave them an opportunity to compete and get to Game 7."
Hutchinson's forced promotion to the backup role is just one of a handful of lineup changes Keefe is making in advance of Tuesday's rematch in Calgary.
Mikko Lehtonen will draw in for defenceman Travis Dermott, who was dealt his first healthy scratch since 2018-19.
Forwards Travis Boyd and Joey Anderson will both make their Maple Leafs debut, replacing Jason Spezza and Alexander Barabanov.
And Ilya Mikheyev has earned himself a promotion to the top six, where he'll flank John Tavares.
"Mikheyev has played very well. Lots of speed," Keefe said.
"Mickey has been really good here for the last few games. It hasn't resulted in goals or points or anything like that here quite yet, but he's been getting these opportunities. It's just a matter of time."
Joseph Woll, the club's 22-year-old prospect, is en route to Alberta. He'll join the Leafs road trip and fill the taxi squad's goaltending spot.
Maple Leafs goalie Jack Campbell out 'weeks' with leg injury – Sportsnet.ca
Toronto Maple Leafs goaltender Jack Campbell will be out for "weeks" with a leg injury, head coach Sheldon Keefe said Tuesday.
Michael Hutchinson will act as Toronto's backup goalie in Campbell's absence, while Joseph Woll is moving to the team's taxi squad as a result of the injury.
It is not yet clear how Campbell was injured. The 29-year-old started in net for the Maple Leafs on Sunday when they took on the Calgary Flames. Near the end of the third period, Campbell appeared to be in discomfort after making a save and was seen hunched over in the crease and shaking his leg while the action was out of the Leafs' zone.
With less than a minute left in the game, a crease scramble led to Flames forward Matthew Tkachuk's knee driving onto Campbell while he was lying face-down on the ice. Afterwards, it took a few moments for Campbell to get back on his feet, however he did stay in net for the remainder of the game.
Campbell did not practice with the Leafs on Monday. So far this season, Campbell is sporting a 2-0-0 record with a 2.00 goals-against average and a .923 save percentage.
Defenceman Travis Dermott will be a healthy scratch against Calgary Tuesday as Mikko Lehtonen will take his spot in the third pairing. It's the first time Dermott will be a healthy scratch since the 2018-19 season.
Tkachuk: It's 'classic' to accuse me of purposefully falling on Campbell – theScore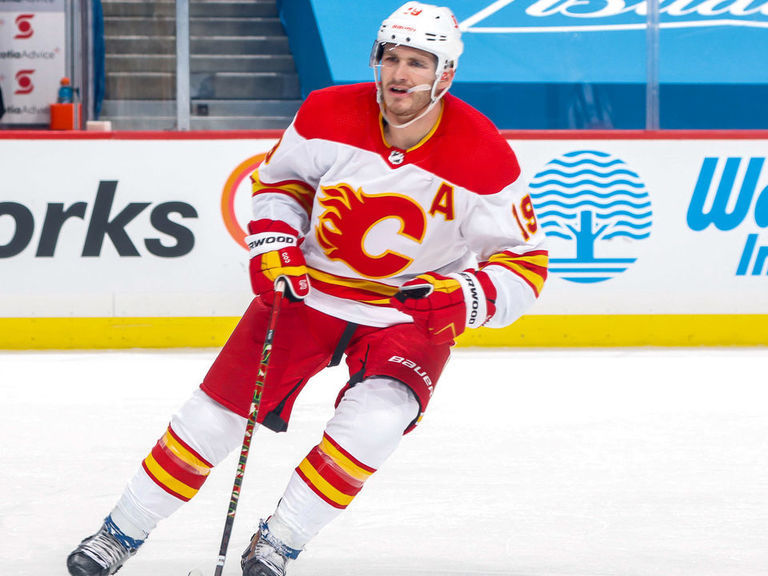 Matthew Tkachuk is well-aware of his reputation around the league, but the Calgary Flames pest denied any notion he intentionally fell on netminder Jack Campbell in the dying moments of Sunday's 3-2 loss to the Toronto Maple Leafs.
"It was just a battle in front … six-on-five situation just banging away at the puck," Tkachuk told reporters Monday. "I live in that area, I live in that crease area throughout the games, and I'm just digging for a puck and I was battling with Brodes (TJ Brodie) a little bit there and guys started coming in.
"I just got knocked over and obviously I didn't have any intention of falling into him or anything like that. That's a complete … it's just a classic thing to try and accuse me of there."
Campbell, who had seemingly tweaked something in his lower body just minutes earlier, remained in the game and collected his second victory of the season.
Tkachuk, who leads the Flames with three goals in four games this campaign, says he has no problem tuning out the criticism.
"I get very surprised with some things that come out of other people's mouths these days, but it's a good thing I don't listen to it. I just get asked it from other people," he said. "Thank god I don't go on my phone I guess too much after games or else I'd drive myself crazy."
The Leafs and Flames meet again Tuesday for the second of nine matchups between the sides this season.