Uneven economic recovery does not bring all Canadian women with it: experts
OTTAWA — After more than two years of economic turbulence through the COVID-19 pandemic, Canada's workforce participation overall appears quite rosy for women.
The share of women aged 25 to 54 years old is at its highest level ever in the country at 85 per cent. Meanwhile, unemployment for all workers hit a record low, according to Statistics Canada.
But experts say while looking at the economic big picture might seem like cause for celebration, a closer inspection at the details offers a more nuanced look at the uneven recovery that has not uplifted all groups of women equally.
Women working in sectors directly affected by the pandemic — public-facing jobs and the care economy — were deeply affected by closures throughout the pandemic. While other groups of women remained at work during this period, they were managing a massive increase in unpaid domestic and care work at home. Taken together, experts said these forces affect women's economic security and gender equality as a whole.
Women did much worse during the pandemic compared to previous recessions. In past recessions, about 17 per cent of employment losses were for women, with mostly men losing their jobs, said Brittany Feor, economist at the Labour Market Information Council. During the pandemic recession, job losses were almost evenly split between men and women.
A recent report by the council found that this year, the picture is somewhat positive, said Feor, but it depends on the type of job and sector a woman is working in.
Both points have to do with the fact that many women work in sectors that were vulnerable to pandemic restrictions and precarious to begin with, like accommodation, food services and recreation, said a recent report by the Canadian Centre for Policy Alternatives.
Pandemic recovery efforts that focus on those facing the greatest barriers are needed to stave off gender equality gains being lost, said the centre's report.
Feor also cautioned against the risk of backsliding gains by women as time goes on, specifically noting current work participation by moms.
"It's much higher than it has been in other years, it's recovered. That seems positive. But it's also still only 2022. So we want to be mindful to check back in three years and four years and five years. What does that look like?" she said.
The effect of having to stay at home with a young child or work from home with a young child may influence women's career paths in ways that aren't immediately known, said Feor.
"The setbacks you faced by not being able to participate in a certain project or work longer hours compared to your male counterparts who didn't have to do the same thing — those are issues that will play out in the long-term."
Juggling home care and work responsibilities may affect a woman's career as well as her health, said Andrea Gunraj, the vice-president of public engagement for the Canadian Women's Foundation.
The foundation held a recent poll that suggested Canadian moms are much more likely than dads to say they feel anxious and sad, and those feelings haven't dissipated since they were asked the year prior.
Maru/Matchbox surveyed 1,506 Canadians from April 20-21 on behalf of the foundation. It cannot be assigned a margin of error because online panels are not considered truly random samples.
About two in five moms said they put their career on the back burner to manage home and caregiving responsibilities.
"That, for me, is a really interesting and upsetting finding because what you see is that people are putting aside paid work to be able to manage unpaid work, essentially. And what does that mean for women's economic well-being, their ability to take care of themselves and their dependants? It's a huge impact on them," Gunraj said.
Almost half of moms said they are reaching their breaking point this year, compared to just over 30 per cent of dads saying so.
"It's really a situation of people being really stretched, and women being disproportionately stretched because of unpaid care responsibilities," Gunraj said.
At a recent funding announcement, Employment Minister Carla Qualtrough said the government has invested $300 million to create an employment strategy for people with disabilities, created a women's entrepreneurship fund, and tailoring its apprenticeships and programs to help sectors address labour market needs on women.
When it comes to helping women caregivers, "we know that affordable, accessible child care is No. 1, it's really going to make a difference," Gunraj said in reference to the new federal plan to create an affordable child-care system across the country.
Gunraj noted it has to be truly affordable and accessible to the most vulnerable families, which means being able to evaluate its outcomes to determine whether it's not helping people to the extent it needs to, and then improve it.
The national child care plan helps moms and their children, but it could also help create well-paid care work jobs for newly created early childhood educator positions, the CCPA report said.
This depends on the minimum salaries set out by the provinces and territories, with Ontario setting its minimum wage for early childhood educators at $18 per hour.
At the recent announcement alongside Qualtrough, the families, children and social development minister said the federal government asked provinces to include a wage grid in the signed child-care agreements.
"Working conditions and wages are the jurisdiction of provinces and territories. But we are encouraging them at every turn to do more," said Karina Gould.
New Brunswick increased its minimum hourly wage for early childhood educators to $23.40, Newfoundland to $25 and Yukon to $30, she said.
This report by The Canadian Press was first published June 25, 2022.
—
This story was produced with the financial assistance of the Meta and Canadian Press News Fellowship.
Erika Ibrahim, The Canadian Press
German recession fears deepen as economy is hit by 'perfect storm' – Financial Times
Investors are now more pessimistic about the German economy than they have been at any time since the eurozone debt crisis more than a decade ago, worrying that a sharp fall in Russian natural gas supplies and soaring energy prices will plunge the country into recession.
The ZEW Institute's gauge of investor expectations about Europe's largest economy has sunk to its lowest level since 2011, dropping from minus 53.8 to minus 55.3, underlining the deepening gloom about the economic fallout from Russia's invasion of Ukraine.
The think-tank's survey of financial market participants provides an early indicator of economic sentiment after Russia reopened the Nord Stream 1 pipeline following a maintenance break last month, but kept the main conduit for delivery of gas to Europe operating at only a fifth of capacity.
Economists have slashed their estimates for growth in Germany and the wider eurozone this year, while raising their inflation forecasts and warning that an end to Russian energy supplies would force Berlin to ration gas supplies for heavy industrial users.
On Tuesday, German baseload power for delivery next year, the benchmark European price, rose over 5 per cent to a record €502 per megawatt hour, according to the European Energy Exchange. This is six times higher than the price a year ago — driven upwards by the sharply higher cost of gas used to generate electricity and the prolonged European heatwave that has disrupted generating capacity.
The surging price of energy has driven up the cost of imports for Germany and other eurozone countries, sending the bloc's trade deficit up to €24.6bn in June, compared with a surplus of €17.2bn for the same month a year earlier, according to data from Eurostat, the European Commission's statistics bureau. The value of exports from the bloc rose 20.1 per cent in June from a year ago, but imports were up 43.5 per cent.
"The still high increase in consumer prices and the expected additional costs for heating and electricity are currently having a particularly negative impact on the prospects for the consumer-related sectors of the economy," said Michael Schröder, a researcher at the ZEW.
He said investor sentiment also worsened due to an expected tightening of financing conditions after the European Central Bank raised its deposit rate by 0.5 percentage points to zero in response to record levels of eurozone inflation.
Carsten Brzeski, head of macro research at Dutch bank ING, said the German economy was "quickly approaching a perfect storm" caused by "high inflation, possible energy supply disruptions, and ongoing supply frictions".
A heatwave and dry spell has reduced water levels on the Rhine below the level at which barges can be loaded fully, restricting important supplies for factories, which Brzeski estimated was likely to knock as much as 0.5 percentage points off German growth this year.
Adding to the gloom, German households will have to pay hundreds of euros more in fuel bills this winter after the government unveiled an extra gas levy of 2.419 cents per KWH from October. This is expected to push up the cost for a family of four by €240 in the final three months of the year.
Germany's top network regulator told the Financial Times this month that the country must cut its gas use by a fifth to avoid a crippling shortage this winter. The economy ministry has also ordered all companies and local authorities to reduce the minimum room temperature in their workspaces to 19C over the winter.
The country has achieved its target of filling gas storage facilities to three-quarters of capacity two weeks ahead of schedule, after high prices and fuel saving measures led to reduced use. But there are worries its objective to lift gas storage to a 95 per cent target of capacity by November will be more challenging if Russia keeps throttling supplies.
The German economy stagnated in the second quarter, the weakest performance of the major eurozone countries. Last month, the IMF slashed its forecast for German growth next year by 1.9 percentage points to 0.8 per cent, the biggest downgrade of any country.
Additional reporting by Harry Dempsey
Why China's economy is slowing down – Axios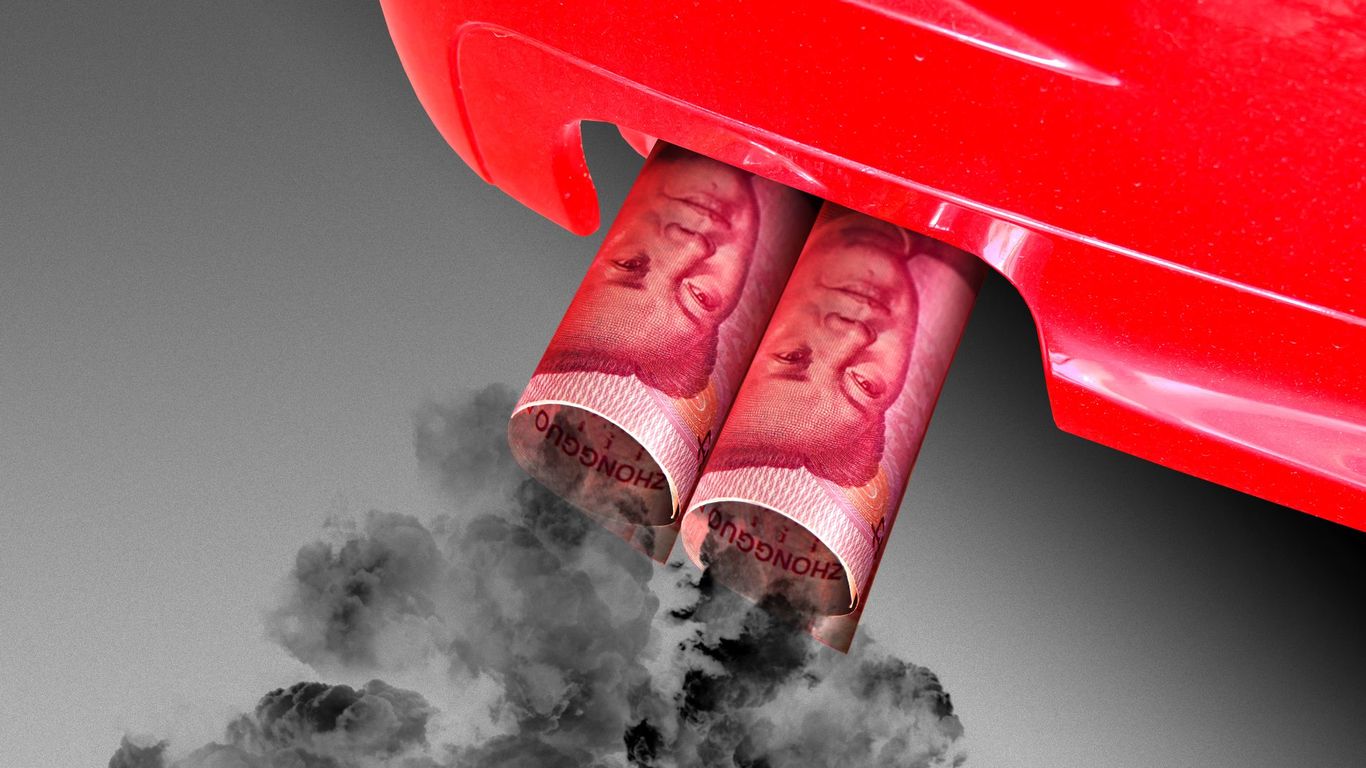 China is slowing fast, and the government is taking only modest steps to try to keep the earth's second-largest economy from outright contraction.
Why it matters: While it lags behind the U.S. in size, China's economy has been the largest source of growth for global GDP for much of the last two-plus decades — meaning it's a global engine of corporate profitability, investment activity, and demand for commodities.
Driving the news: A raft of disappointing economic updates this week showed Chinese growth still sputtering on multiple fronts.
Its industrial sector slowed again. Industrial production rose just 3.8% in July compared to the previous year — and well short of expectations for 4.5%.
The crisis in China's housing sector continues to hurt. Fixed investment — of which housing is an important component — was up just 5.7% in the first seven months of the year, compared to the same period in 2021. (In 2021, that figure was 10.3% higher year over year as of July.)
Consumers aren't picking up the slack either. Retail sales in July were up a scant 2.7% year over year, far short of the 5% expectation.
Context: In the recent past, when faced with a slowdown, Chinese policymakers quickly turned to tried-and-true tools to attempt to give growth a kick in the pants. They included…
Pouring money into public infrastructure investment.
Engineering a borrowing boom to fuel domestic spending.
Delivering sharp interest rate cuts.
The intrigue: Despite China's current economic blahs, there's little indication that the government is decisively trying to prop growth up.
In past slowdowns, China's broadest measure of all types of credit to the economy — known as "total social financing" — has surged, a sign the government was keen to boost debt to offset slumps.
A report on Friday showed total social financing far lower than expected, as the government seems disinclined to use a debt-driven boom as a source of growth.
Yes, but: The People's Bank of China did cut interest rates by a tiny one-tenth of a percentage point on Monday — a move most analysts think is modest, and unlikely to reinvigorate economic activity.
The bottom line: The ruling Chinese Communist Party knows that the breakneck pace of Chinese economic growth that prevailed in past decades is unlikely to be matched. But unlike in past decades, they don't seem particularly worried about it.
For the rest of the world, that may mean China will be less of a reliable engine of growth in the coming years.
US Economy Faces 'Lot of Uncertainty' in Coming Year, White House's Deese Says – Bloomberg