Union representing Canadian auto workers announces new deal with Ford – Global News
TORONTO – Unifor says Ford Motor Company of Canada Ltd. has agreed to spend nearly $2 billion on its Canadian plants as part of collective bargaining negotiations.
Under the tentative deal, Unifor National President Jerry Dias says $1.95 billion will be invested in Ford's Canadian plants, including $1.8 billion toward the production of five electric vehicles in Oakville, Ont., and an engine contract that could yield new jobs in Windsor, Ont.
Dias says the 6,300 union workers at Ford will vote on the deal this weekend.
Talks between the union and the automaker came to a head on Monday ahead of a bargaining deadline of 11:59 p.m eastern time.
Workers had previously voted to support a strike if a deal could not be reached by that deadline, with the future of the Oakville, Ont. plant potentially on the line.
Once agreed to by union members, Ford's deal on new products lines, shifts, wages, pensions and benefits will set the tone for upcoming talks with Fiat Chrysler Automobiles and General Motors.
© 2020 The Canadian Press
Unifor to File Claim Against RNC for Alleged Charter Rights Violation – VOCM
Unifor is taking legal action against the Royal Newfoundland Constabulary for its actions at the picket line outside Weston Bakery in Mount Pearl.
Outside the Dominion location at Quidi Vidi Lake, lead negotiator Chris Macdonald said the RNC intimidated and threatened members with arrest for violations under the Highway Traffic Act. Even though, he says, they were off the road and in a driveway.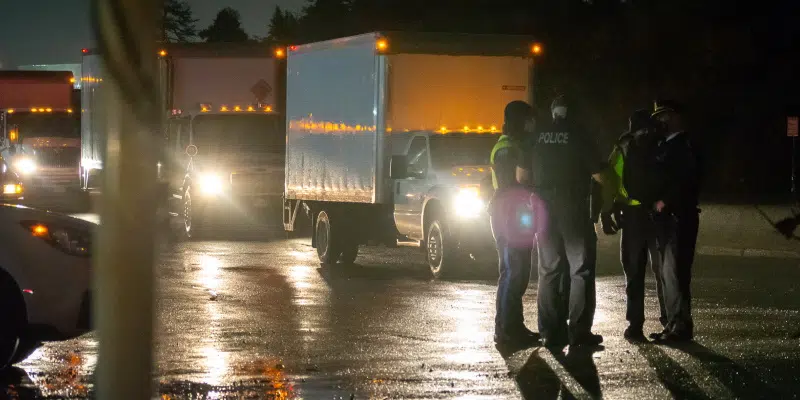 In the early morning hours of Wednesday, he says the RNC broke up their picket line. Macdonald states that the union's right to peacefully picket was violated.
Lawyer Kyle Rees of O'Dea Earle, who represents the union, says they will be filing a statement of claim in the Supreme Court of Newfoundland and Labrador.
They will claim their charter rights were breached when their picket line was broken up—and that they suffered damages when that happened.
The statement of claim will be filed this coming Thursday.
Premier says he hopes to ease restrictions in hotspots as early as next weekend – 680 News
Premier Ford says he hopes to begin easing restrictions in COVID-19 hotspots as early as next weekend.
The 28 day step back for Toronto, Peel Region, and Ottawa into a modified stage 2 expires at 12:01 a.m. next Saturday and one week later in York Region.
In his daily COVID-19 update, Ford says the latest modelling supports the move.
"Based on what I'm seeing in the modelling, I've asked our public health experts to come back next week with a plan to begin to ease restrictions in a way that safely allows businesses to open up when the 28 days is over."
Ford says the restrictions that closed indoor dining rooms, gyms, and other businesses were never intended to be long-term solutions but were necessary to avoid reaching a point where more drastic measures would be needed.
The province released modelling on Thursday that revealed the growth of the second wave has slowed.
When the Ford government introduced the modified Stage 2 restrictions back on Oct. 10, cases were doubling every 10 to 12 days.
While growth has slowed, cases are still on the rise, with Ontario's seven-day average surpassing 900 for the first time on Friday.
Ontario restaurants ask province to explain restrictions, show COVID-19 data
A group from Ontario's restaurant industry is calling on the provincial government to explain its decision to impose tighter COVID-19 restrictions on the sector.
A coalition that includes the industry association Restaurants Canada and a number of food service businesses has issued an open letter to Premier Doug Ford, asking to see what data the province relied on in setting its health measures.
The letter says no data have been provided so far that would suggest restaurants are a major point of transmission for the virus.
It notes restaurants have had to make significant investments in safety procedures and training, personal protective equipment and other measures, yet those in some regions are nonetheless being forced to stop serving customers indoors.
The document released yesterday by the province showed that in four COVID-19 hot spots — where indoor dining is currently banned — the proportion of outbreaks linked to restaurants and bars between Aug. 1 and Oct. 24 ranged between 3.2 and 27.14 per cent.
Ontario's chief medical officer of health, Dr. David Williams, said the provincial health table recommended targeting any "risk sites" where transmission could potentially be higher
Hospital association says more funding is needed
Ontario's hospitals are facing "unprecedented" financial pressures because of the pandemic, the head of the association representing them said Friday, asking the government to speed up funding promised to address COVID-19 costs.
Anthony Dale, president of the Ontario Hospital Association, said many hospitals are using lines of credit or funding previously earmarked for capital projects to pay for pandemic-response measures.
Hospital resources are stretched thin, and many facilities remain at or above capacity, Dale said.
"For the hospital sector, we are spending a king's ransom to fight this pandemic," Dale said. "The hospital sector is facing unprecedented, truly unprecedented, financial pressures."
In August, the province set aside billions in new funding to address COVID-19 costs in the health-care system.
Dale said, however, that while the government is aware of the fiscal pressure hospitals are facing, only COVID-19 costs from March and April have been covered so far.
If the additional funding promised by the province doesn't begin to flow soon, the facilities may eventually not be able make payroll, he said.
"We hope that would never seriously happen in a hospital, but the reality is, at a certain point in time you hit a wall," he said. "You really lose your ability to pay for your daily operating costs … because you don't have cash on hand."
Dale said slowing community spread of the virus is also an important part of relieving the stress on hospital resources and, in turn, cutting costs.
Ford responded to a question about the letter Friday's news conference, saying he looks forward to speaking with Dale, but wishes the OHA would call him before releasing open letters.
Paramount Foods CEO urges province to bring back indoor dining after data shows majority of outbreaks are not in restaurants – CP24 Toronto's Breaking News
The owner of a well-known Middle Eastern food chain is demanding the Ontario government to reverse its decision and allow dine-in services in some hot spots after provincial data revealed that the majority of outbreaks in those areas are not linked to restaurants and bars.
On Thursday, the Ford government's official modelling table provided three different scenarios for the second wave of COVID-19 in the province.
The report included data regarding the source of outbreaks in the four regions under a modified version of Stage 2.
Ontario government banned indoor dining and closed facilities like gyms and movie theatres in Toronto, Ottawa, Peel, and York earlier this month to curb the spread of COVID-19.
However, according to the data released on Thursday, restaurants and bars in Ottawa, Peel and York only accounted for two per cent, three per cent, and eight per cent of all outbreaks in their areas, respectively, between August and October.
In Toronto, 14 per cent of outbreaks were traced back to restaurants, bars, and clubs. Gyms and sports only accounted for three per cent of outbreaks in the city.
During that period, most outbreaks were reported in schools, child-care centres, and long-term care homes.
Speaking to CP24 on Thursday night, Paramount Fine Foods CEO Mohamad Fakih said he is shocked to find out about the data, saying that many restaurants agreed to comply with restrictions, not only because owners want Ontarians to be safe, but also because many trusted that officials are making decisions based on the numbers.
"It makes me wonder if the Ontario government has any idea what it's doing. We were promised a data-based approach," Fakih said.
"Let's fix what we've done wrong, so reopen the dine-in immediately."
He said it is unbelievable that they shut down restaurants in places like Peel and Ottawa even though those establishments were not the problem.
"The provincial government needs to start doing a better job tailoring the closures to where cases are actually coming from. Surely that should be the whole point of restrictions," Fakih said.
"Destroying people's businesses, taking away that livelihood and killing their jobs is exactly the opposite of looking after the little guy, no matter what the premier says."
When asked why restaurants and bars were closed in those four regions, health officials said those establishments are considered "social settings."
"We were picking those settings where it's indoors, where people are unable to mask for long periods of time," Ontario Chief Medical Officer of Health Dr. David Williams said.
Williams added that facilities such as schools and long-term care homes have "proper steps and (personal protective equipment) in place."
Adalsteinn Brown, the co-chair of the Ontario COVID-19 Science Advisory Table, said the data is "complicated."
"The variation in the source of outbreaks across those four public health units that had restrictions reasonably showing us that there's not one consistent pattern," Brown said.
"There's often concern that we need to wait to see outbreaks in a particular public health unit before instituting restrictions. That would be akin to waiting to close the barn door until after the horses left."
Meanwhile, Brampton Mayor Patrick Brown said the data confirms what he's been saying for quite some time that restaurants are not the source of COVID-19 spread.
"Restaurants were doing their job. They were following the advice of public health," Brown said in an interview with CP24.
While the provincial data suggests that only three percent of outbreaks in Peel were traced back to the hospitality industry, Brown said the region's medical officer of health, Dr. Lawrence Loh, informed him that there hadn't been a single case in a restaurant setting.
The mayor said it shows that the data does not support tightening restrictions in restaurants and bars especially in his region.
"I do hope that once this 28-day period is over, that we can get these small businesses back and open," Brown said. "Small businesses are the lifeblood of our economy, and our restaurants are really hurting right now."
Peel was moved back to Stage 2 because there were concerns that Toronto residents would dine in the region, but Brown said the province could have been more surgical.
"If the data supports it, then yes, shut it down. But in the case of restaurants and recreation, it really wasn't supported by data," the mayor said.
"The spring was disastrous, and I was worried we're going to see businesses go under if we don't give them a plan to reopen."
Brown hopes the province will give restaurants a blessing to reopen soon.
"I really believe that when there's a will, there's a way. And if it's earlier closing hours, smaller capacity, we can do it. We can reopen these safely," he said.
– with files from CTV Toronto's Katherine DeClerq