Unmasking the Art and Discipline of Local Illustrator and Printmaker, Mariko Ando – Scout Magazine
Meet Mariko Ando, a Vancouver-via-Japan illustrator with a signature slightly sinister storybook style and an admirable dedication to using old-school print-making processes.

If you missed her at Strange Fellows Brewing and OH Studio's inaugural 'Harvst Markt' earlier this month, then be sure to mark December 3-5th on your calendar, when she'll be participating in their annual Krampusmarkt. In the meantime, satisfy your curiosity about Mariko's discipline and story by reading our recent interview with the artist below…
You have been working with very old techniques for many years now. What first attracted you to these processes?
I did Intaglio / Etching printmaking in class when I was an art college student in Japan. It gave me goosebumps. I etched and created grooves on the copper plate. It was so beautiful and magical and, printed on paper, it was so rich and deep. I was excited because that was what I was looking for!
Why, when so many people are using new technologies to replicate old styles, do you continue to do them the old-fashioned way, by hand?
Yes, even 25 years ago, digital printer technologies were amazing, high level quality. However, they were never able to print like hand pulled prints. There is a beautiful embossing and depth of the ink on the paper… Well, the new technologies are probably getting closer in fact. Even so, I respect the old style and someone should keep doing and creating in the old style but with new works. Pretty much the same way and same tools we used in the 15th century, which is amazing. That's another reason I continue with the old printing style.
I imagine that the process of completing a piece of art is very labour-intensive, but also very rewarding. How long does it take you to complete one print? How does it feel when you are finished?
For creating a plate, it takes 3-7 days for one small 4"x6" plate. Then, the inking and printing for one print takes about 30 minutes. A larger plate will be over 1 hour. It feels so good when I lift up the paper from the plate on the press machine and see if I get what I expected or more! And off course if it went wrong, I'm sad and mad, I feel like a falling down in silence. But I go back to inking the plate again right away. I want to erase my embarrassment quickly.
What was your favourite story or storybook growing up?
"Bedtime For Frances" by Russell Hoban. It's almost all black and white illustration and it is a little bit spooky, but I loved it. And it was a big, booming "MANGA" comic magazine era when I was elementary school kid in Japan. In "Candy Candy" by Yumiko Igarashi, the heroine loves tree climbing, and it showed forest areas in North America. Also, I loved watching "Little House on the Prairie" on TV. My father gave me the book as well. The beautiful nature and big trees were in my mind always since I was little and it makes me comfortable and calm inside. So now I'm here in beautiful green Vancouver. As a teenager, I respected 'Osamu Tezuka' and 'Luis Bunuel', 'Brothers Quay', and 'Jan Svankmajer'. I was inspired by these dark side fantasies from amazing film legends. I especially loved their awkward worlds in the stop-motion animations. Many people gave me comments that my work reminds them of "Alice in Wonderland", illustrated by John Tenniel. However, I was more inspired by Svankmajer's 'Alice'.
What role did art play in your early life?
When I was a little, I preferred to stay home alone and drawing forever. My parents were very worried, but I was just a happy girl when I was drawing pictures and living in my imagination. I wasn't good at sports, studies, and was (maybe still am) shy, but was good at art creation and writing a story. My drawing tells me who I am and I can draw it. I feel I'm lucky because written language is unnecessary. Art is the perfect language.
When and why did you decide to pursue it seriously, as a career?
I don't believe in prophecy usually but I agreed that Nostradamus said the world will end in 15 years. Then I thought I should be what I want to be, what I can do best. I decided to go to the art college when I was 17.
It looks like you've been very productive during 2021, so far! How have the past couple of years during the Covid pandemic affected your inspiration and/or artistic practice?
Most art events have been cancelled or postponed, sadly, but actually my life hasn't changed much. I feel it was busier than normal because I had a deadline for my book illustration and making props for a movie and preparing for our exhibition. It's all I can do at home without seeing anybody. It's a good part about being an artist.
To me, your art is playful, mysterious and slightly sinister! Tell me the story of your latest series of etchings. (Who are the characters? Why are they wearing masks? What games are they playing?)
Thank you. 'The Mask Girl' in my new work was born during the pandemic. She is very fragile and shy because she hasn't seen anybody and lives alone, but she has a strong heart. The bunnies are alway there and supporting her quietly, warmly. I hope she will take off her mask someday in the near future.
What was the last unusual or unexpected source of inspiration that you encountered? How did it influence your art?
I painted a 8' x 30' mural recently which was organized by VMF (Vancouver Mural Festival). It was a bit challenging because of the large scale and the hot weather. I had to think about how to transfer my fine line image on to the large wall in the limited time. A needle metal pen vs. a big paint brush = 1:100,0000? I'm not sure how many hairs in the paint brush, but it was no problem! It was a bit hard physically but I really enjoyed painting a giant bunny that was bigger than me. I also had great chats with all the wonderful pedestrians passing by.
Are there any other processes or skills that you would like to learn in the future?
I've been wanting to do large oil or acrylic painting these days and the mural was a good experience for finding a new style. I have to finish up my new print editions and meanwhile I would love to try to do more painting and more etching printmaking. I'm looking forward to showing my new work in public!
---
Del Mar unveils five new pieces of public art – Del Mar Times
The city of Del Mar's temporary outdoor sculpture program has opened with five new works in downtown Del Mar, along a one-mile art stroll.
The Del Mar Foundation is providing approximately $15,000 in funding for the program over the first two years and the pieces will remain on display for up to 23 months.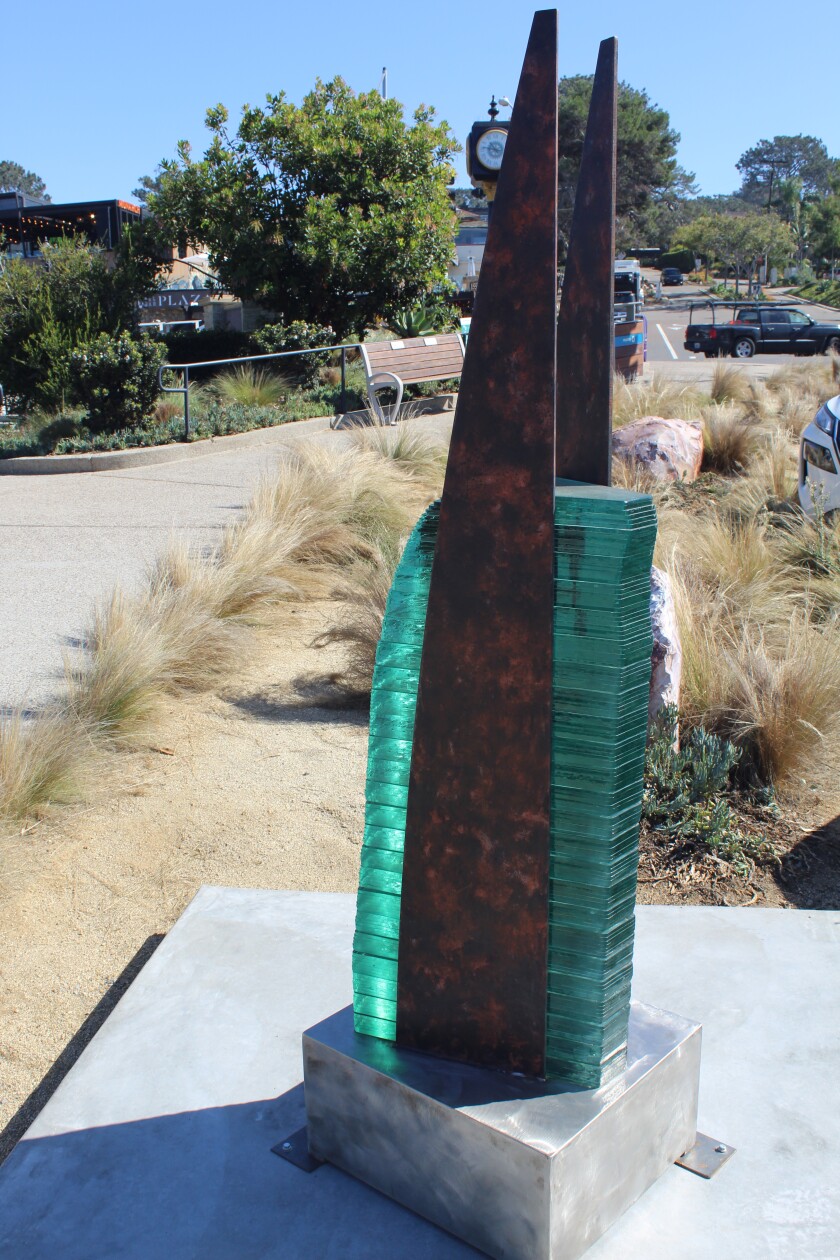 Take the Del Mar art walk:
Hanging Out by Maidy Morhous at 15th Street and Stratford Court
Birds Eye View by Petrello and Graham at the southeast corner of 14th Street and Camino del Mar
Terpsichore by David Beck Brown at the southeast corner of 12th Street and Camino del Mar
Moonshadow by Jeffery Laudenslager and Deanne Sabeck at the northeast corner of 9th Street and Camino del Mar
Pasaje a lo Infinito by Hugo Heredia at 5th Street and Camino del Mar
Before There Were Pockets: A Métis Youth Art Series – Métis Nation of Ontario – Metis Nation of Ontario
Before There Were Pockets
A Métis Youth Art Series
Part 1 – TOBACCO BAG
Thursday, November 18, 6-9 PM ET
Thursday, December 16, 6-9 PM ET
Part 2 – SASH BAG
Thursday, January 13, 6-9 PM ET
Thursday, February 10, 6-9 PM ET
Thursday, March 10, 6-9 PM ET
The Métis Nation of Ontario is excited to be hosting Before There Were Pockets- Métis Youth Arts Series this year across the province virtually through the Zoom platform.
This will be a once a month gathering of youth to learn a variety of traditional arts through the construction of a sash bag and tobacco bag. It is an informal opportunity for youth to connect with each other and work one-on-one with knowledge holders and staff. It will also be an opportunity to bring in special guests to speak about their artwork and journey. These workshops will allow participants to explore different skills and gain a deeper understanding of their Métis heritage. In order to receive the supplies for their session, all forms must be completed and participants are expected to attend all sessions. Access to technology and reliable internet is required to participate in the camp.
Space is limited, so please register and complete the application as soon as possible. Participants can access the Metis Nation of Ontario Application Portal at metisnation.smapply.io/.
Before there were pockets Poster ENG
Before there were pockets Poster FR
Vancouver Island art councils work together on regional impact study – Parksville Qualicum Beach News – Parksville Qualicum Beach News
The Arts Council of Ladysmith is leading the way on a project that aims to get arts recognized as a significant industry on Vancouver Island and the Gulf Islands. With funding from the Canada Council for the Arts, it partnered with other councils in the region to conduct an impact study to show the value art brings to communities.
"Itis larger than many industries, like the lumber industry and the fishing industry in our community and it's probably not recognized because many of them are individuals," said Kathy Holmes, president of the Arts Council of Ladysmith and District. "People don't think of them as a business and really, artists are their own business."
The arts council partnered with the Digital Innovation Group (DIG), a collective of island arts councils, to bring together nearly 1500 artists and art supporters in the spring to assess the economic, social, cultural and health impacts of arts in the region.
"No other art council has even attempted to do this. It's been a huge project, we are exhausted and what's coming out now is really important," Holmes said.
DIG will present the study's findings at this year's Vancouver Island Economic Alliance Summit this month. The study found one in 20 people in the region is an artist and over 90 per cent of respondents felt arts are foundational to economic, community and individual wellness, according to DIG's summary of findings.
"We were looking for meaningful data to quantify the contribution of the arts sector to our region and are thrilled to learn that there are over 35,000 artists and that our sector generates almost one billion dollars in direct economic outputs," said Ora Steyn, vice president of the Ladysmith Arts Council.
The Ladysmith Waterfront Gallery has been operating out of the old school on Parkhill Terrace for the last two years and Holmes said it has had a large impact on the volume of visitors.
"The Membership is still being very faithful. We worked very hard at keeping them but the public is not coming in droves so we are trying to build that capacity again but it took us a long time to get to 13,000 people a year," Holmes said.
The gallery will be hosting Yael Wand, a Salt Spring Island musician on Friday (Oct. 22.) Tickets are on sale now on the art council's website.
---
@_hay_tyler
editor@ladysmithchronicle.com
Like us on Facebook and follow us on Twitter.