Unmasking the racial politics of the coronavirus pandemic – The Conversation CA
Recently, the U.S Centers for Disease Control and Prevention (CDC) advised that along with physical distancing, wearing protective masks slows the spread of COVID-19. Canada has made a similar announcement.
Over 50 countries now mandate wearing masks in public.
While primarily a protective measure, the COVID-19 mask has also become a cultural icon. In western nations it has become a marker of social responsibility and good citizenship. It represents the wearer's compliance with public safety and communal well being through exercising care for one's self and others.
During the 2003 SARS crisis, "mask culture" was seen as fostering a sense of mutual obligation and civic duty. Similarly in our current pandemic, wearing a protective mask signifies a commitment to the social and collective good of society.
But how does that perception change when a face mask is worn by someone who is Asian? Or a Black man? Why do some jurisdictions outlaw the face veil or niqab worn by some Muslim women while mandating protective masks?
Whiteness and unearned privilege
Through European colonialism whiteness became the standard against which all other bodies are marked, judged and codified. American anti-racism educator Peggy MacIntosh argues that whiteness provides an "invisible knapsack" of unearned privileges that white people can often take for granted.
These are basic things like: going shopping and not be followed or harassed; never being asked to speak for all white people; and not having to educate one's children to be aware of systemic racism for their own daily physical protection.
The concept of white privilege can be related to how COVID-19 mask-wearing is seen differently when worn on racialized bodies.
Yellow Peril
For more than 100 years, Asians in North America have been represented as diseased foreigners and more recently blamed as "pandemic starters."
Rather than exemplifying a commitment to the public good, an abundance of pictures of Asian individuals wearing masks may have accelerated the circulation of derogatory stereotypes. Research has shown Canadian press photos related to the 2003 SARS crisis used Asians wearing masks as a dominant image. With COVID 19, the trend of using masked Asian faces as the emblem of the crisis continues the trajectory of these racist depictions.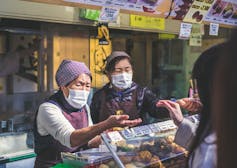 Instead of representing a good citizen helping to stop the spread of a possible contagion, a protective mask transforms Asian bodies into the source of contagion. Trump's insistence in referring to COVID-19 as the "Chinese virus" dangerously reinforced the racializing of this disease.
---


Read more:
Anti-Asian racism during coronavirus: How the language of disease produces hate and violence


---
Anti-Asian hate crimes including physical and verbal assaults and vandalism have escalated along with the pandemic.
A recent report told a story of a woman in British Columbia who was accosted by two white men who yelled at her and her mother: "Look at you with your masks, you're what's wrong with society."
The risk of such attacks and harassment confronts Asian diasporas with a difficult choice: wear a mask and risk being subjected to violence or do not and bear the risk of contracting the virus.
Mask-wearing while Black
A Black physician in Boston wrote about his internal struggle with wearing a mask in public because of the racist fears it evokes. He said: "I wonder whether someone would call the police on me, a 'suspicious' Black man in a face mask. I negotiate with myself whether risking my life is worth a $300 fine."
He has reason to worry. A Black doctor in Miami wearing a surgical mask was handcuffed outside his home by police.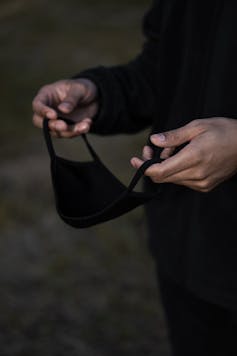 The killings of Ahmaud Arbery and George Floyd in the United States are tragic events that reveal the very real dangers Black people face on a daily basis. And yet in early May, heavily armed, white protesters stormed the Michigan State capitol without incident.
A campaign spearheaded by a Black clergy in Illinois in co-operation with local police, called "Tipping the Mask," asked people to show shopkeepers their faces when entering stores to mitigate against potential racial fears and violence.
A Black pastor recommended that his son put on his mask once he is already in the store for "fear of what others might think when they see a Black man in a mask."
The concept of "mask tipping" calls upon racialized bodies to reveal themselves as "safe" and in return avoid biases and endangerment.
Islamophobia and government hypocrisy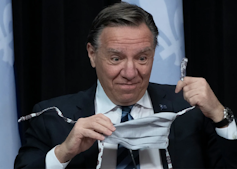 In Québec, Bill 21, which outlaws religious symbols in public, leaves Muslim women who wear a niqab in breach of the law and denied access to social services, despite government requests for public face coverings due to the pandemic.
France also mandates wearing masks but has not lifted its ban on the niqab. Fatima Khemilat, a researcher in France exposes the irony.
"If you are Muslim and you hide your face for religious reasons, you are liable to a fine and a citizenship course where you will be taught what it is to be a good citizen …. But if you are a non-Muslim citizen in the pandemic, you are encouraged and forced as a 'good citizen' to adopt 'barrier gestures' to protect the national community."
Muslim women who wear a niqab are not considered good liberal citizens because their covered faces are deemed culturally irreconcilable with western society. They face being penalized for violating the law while those wearing COVID-19 masks are seen as good citizens upholding the public good.
The COVID-19 mask is a barrier to transmission of the virus while the niqab is a barrier to social inclusion.
Not having to think about how one's body is read by others when wearing a mask is a privilege of whiteness that eludes racialized groups. White mask privilege includes: not having to bear the racial stigma of being seen as a foreign disease carrier, being safe whether or not you "tip your mask," having the ability to cover your face in public and not be denied social services.
Rather than serving as a levelling device the cultural politics behind wearing masks exposes the racial fault lines of the pandemic.
How the coronavirus is shaping health care politics in 2020 – CNN
Caseloads are exploding in many of the 13 remaining states where Republican governors, legislators or both have refused to expand eligibility for Medicaid under the law, a list that includes
Texas
, Florida, Georgia, North and South Carolina, Tennessee, Alabama and Mississippi.
In all of those states, the share of adults who lack health insurance exceeds the national average, with Texas, Georgia and Florida all ranking in the top four. The surge of cases isn't limited to states with elevated shares of the uninsured
(California
, one of the states that have most aggressively implemented the ACA, is also suffering), but it has become concentrated in those places.
Many experts say the huge pool of uninsured people in these states compounds the challenge of coping with the outbreak in several different ways, from leaving a large number of residents with underlying conditions that increase their vulnerability to the disease to extending the outbreak's spread by discouraging the uninsured from seeking early testing and treatment.
The new pressures emerging as the virus migrates to low-insurance Sun Belt states — after striking first primarily in Northern and Western states that expanded Medicaid, almost all of which have lower uninsured rates than the national average — is only one of the several respects in which the outbreak is raising the stakes in the debate over the ACA's future.
A new study from the Urban Institute
suggests that the number of Americans relying on the ACA for coverage is growing as millions lose their jobs, and with it their employer-provided coverage, even as the Trump administration pursues a lawsuit that would overturn the law.
Nearly half a million Americans signed up
for ACA policies after losing health insurance coverage this year, with surges in April and May.
All of this could make the political debate over health care even more central in 2020 than it was in 2018, when Democratic promises to defend the ACA, and in particular its provisions protecting patients with preexisting conditions, were pivotal in the party's sweeping midterm election gains.
"All the same reasons that it was [important] in 2018 are in effect now, and all the [arguments] in the middle of a pandemic are even more potent," says Democratic pollster Nick Gourevitch.
Republican pollster Gene Ulm disagrees. He says that concerns directly relating to the coronavirus outbreak — such as whether businesses and schools can reopen safely — are eclipsing all other issues this year. "All the oxygen has just been squeezed out," he says. "Health care before meant, 'Will I be able to get coverage? How much will I have to pay for it?' Now it's all the Covid."
But Democrats are betting heavily that Ulm and other Republicans who share that perspective are wrong. Majority Forward, the issue advocacy arm of the Senate Democratic leadership, and the Senate Majority PAC, its campaign super PAC, are once again stressing health care more than any other issue in their advertising against Republican senators this year.
"I think health care — to the surprise of a lot of people, maybe most directly Republicans — is more urgent and even a greater priority than it was two years ago," insists J.B. Poersch, the president and CEO of the Senate Majority PAC.
Many experts believe the pandemic and the ACA could be connected in an even more visceral way in the weeks ahead. The reason: Most expect that insurance companies are likely to define exposure to coronavirus as a preexisting condition. That means many of the millions of Americans who have contracted the disease could face higher premiums and less access to coverage and care if the administration's lawsuit (and Republican legislative proposals throughout Donald Trump's presidency) to repeal the ACA's protections prevails.
"There's no question in my mind that insurance companies would treat Covid-19 as a preexisting condition if they were allowed to," said Larry Levitt, executive vice president for health policy at the nonpartisan Kaiser Family Foundation. That prospect, he adds, "connects the dots in a very tangible way between the ACA and the pandemic."
2018 vs. 2020
In the 2018 election, health care was central to Democratic gains.
In exit polls that year
, almost three-fifths of voters said that Democrats would better protect patients with preexisting conditions — and those voters backed Democratic candidates in House races by almost exactly 10-to-1.
Democrats are again stressing the issue of preexisting conditions in House and Senate races this year. Majority Forward and the Senate Majority PAC have run television ads lashing GOP senators from Cory Gardner in Colorado and Martha McSally in Arizona to David Perdue in Georgia, Steve Daines in Montana and Thom Tillis in North Carolina for their votes earlier in Trump's term to repeal the ACA and its measure barring insurers from selling coverage at higher prices to patients with preexisting conditions.
Although these ads haven't specifically raised the prospect of insurers treating coronavirus exposure as a preexisting condition, t
hey have argued
that the outbreak has heightened the need to protect Americans dealing with underlying health problems.
Republican senators have responded that they too are determined to guarantee that insurance companies cannot discriminate against patients with preexisting conditions. But they have not put forward a plan that would do so, even as
the Trump administration has asked the Supreme Court to invalidate the entire ACA
, including its protections for patients with underlying health problems. Nonpartisan fact checkers have accused several of the GOP senators,
such as McSally
, of distorting their record of voting to end the ACA's protections.
These exchanges largely reprise the debate between the parties from 2018, albeit in the more highly charged atmosphere of the coronavirus crisis. But the outbreak — combined with the ACA lawsuit — may also be broadening the health care debate to focus more than in 2018 on the law's efforts to expand coverage to the uninsured.
"When you talk about the sheer number of people that aren't covered in a public health crisis, that is very relevant to the moment. That matters," says Poersch.
Republicans are generally countering Democratic calls to protect the ACA or to expand coverage to the remaining uninsured by accusing the party of seeking a government takeover of health care.
"Democrats showed the entire country what their objectives are on health care during the presidential primary: a government-controlled plan that seeks to eliminate employer-based coverage," Jesse Hunt, communications director for the National Republican Senatorial Committee, said in an email. "All roads lead to that outcome."
The issue of ensuring coverage during a pandemic, particularly by expanding Medicaid, is surfacing in races around the country.
But the issue may be most pointed in the primarily Sun Belt states that have refused to expand Medicaid under the ACA and thus remain among the states coping with the largest share of uninsured residents even as their coronavirus caseloads spike.
How they're campaigning
In North Carolina, where Republican state legislators have repeatedly blocked efforts by Democrats to expand Medicaid eligibility, the Senate Majority PAC has stressed the issue in its advertising against Tillis, who before his election to the US Senate helped lead the fight against Medicaid expansion as the GOP speaker in the state House of Representatives.
"We're in the middle of a public pandemic and public health is a crisis, and North Carolina has one of the highest percent of uninsured in the country because we're one of the states that has not expanded Medicaid," the Democratic Senate nominee,
Cal Cunningham, told McClatchy
newspapers in late June.
In Alabama, Democratic Sen. Doug Jones, who faces a difficult fight for reelection in a state where Trump romped in 2016, is running an ad where he endorses Medicaid expansion for the state and declares: "Too many folks face the Covid crisis without health care coverage."
In Texas, the issue is especially acute, both because it is the largest state that has not expanded Medicaid and because Republican Attorney General Ken Paxton has led the coalition of GOP states suing to invalidate the ACA. Democratic House candidate Sri Preston Kulkarni, who is running strongly for an open Republican seat outside Houston, one of the outbreak's epicenters, has stressed health care throughout his campaign and unequivocally insisted that Texas should expand Medicaid eligibility.
Likewise, Democrats are promising to expand Medicaid in their uphill, but achievable, bid to win control of Texas' state House of Representatives for the first time in years. Texas' coronavirus crisis "has brought in a very crystallized way the reality of what life is with health care, and what life is without it," says Democratic state Rep. Trey Martinez Fischer of San Antonio.
Contrary to the Democrats, Ulm says that in his research voters are not linking the outbreak with either the debate over protecting preexisting conditions or Trump's efforts to repeal the ACA. "It's not how people are looking at it," he says. "It's just not. They are looking at it more like: No one seems to understand this [disease]."
But Republican candidates do seem to be hedging their bets on the ACA. Several are seeking to reframe their record of voting against it, and not only by insisting that they, too, support protections for people with underlying health conditions. In North Carolina,
Tillis responded to Cunningham's criticism
of his role in blocking Medicaid expansion by declaring that his earlier objections have left "North Carolina in a better position to expand it today if state leaders choose to do so." Though
McSally helped rally House Republicans with a memorable expletive
before their 2017 vote to repeal the ACA,
she now is airing an ad
where a supporter promises she will "make sure every Arizonan has quality affordable health care."
Such repositioning may reflect the enormous pressure that the coronavirus outbreak is imposing on health care systems, particularly in the states already strained by the large number of uninsured. The big uninsured population "makes it exponentially worse" to cope with the surge, says Texas state Rep. Fischer Martinez.
Challenges for non-expansion states
Medical experts say that the Sun Belt states have one big advantage over the states hit earlier this spring: Hospitals have developed more expertise on how to treat victims and reduce mortality. But in many other respects, experts say the large number of uninsured in many of these states complicates their situation. These challenges include:
The states with the largest share of uninsured also tend to be among those where the highest share of the population suffers from underlying health problems, such as heart disease, diabetes and obesity, that put them at elevated risk of serious health consequences if they contract coronavirus, according to a recent Kaiser analysis. And, according to an Urban Institute analysis for me of 2018 census data, African Americans and Hispanics — two groups suffering disproportionately in the outbreak — are far more likely than Whites to be uninsured in those same states. In Texas, for instance, Blacks are about 50% more likely than Whites to lack health insurance, and Hispanics are almost three times as likely. In Florida, Blacks are about 40%, and Hispanics about 75%, more likely than Whites to be uninsured.
People without health insurance tend to put off seeking care until it is absolutely unavoidable, experts note. That could make them more reluctant to pursue testing for coronavirus at the first indication of symptoms — extending the time they are circulating the disease in the community. Many of the uninsured "won't go get care because they assume they're not going to get it," says Vivian Ho, a health care economist at Rice University and the Baylor College School of Medicine in Texas. "I have no doubt that's a good portion of why the disease is spreading here."
More uninsured receiving coronavirus care increases the financial strain on hospitals, already reeling from the severe decline in revenue for other services as potential patients avoid seeking medical care during the outbreak. The federal government has allocated a substantial $175 billion to support medical providers during the crisis, with about half of that earmarked for hospitals; but as the number of coronavirus patients without health insurance mounts, "that's going to increase the financial stress," says Rick Pollack, president and CEO of the American Hospital Association. "At the rate we're going, none of this relief is going to make anybody whole." The administration has promised to reimburse providers for treating the uninsured out of the relief money. On Friday, the Department of Health and Human Services said that it's paid $340 million so far to hospitals that have submitted claims for treating the uninsured. HHS said it's less than it had expected but that hospitals can continue to submit claims.
These financial strains could increase the risk that more hospitals will close, especially in states where the decision not to expand Medicaid has already placed smaller and rural hospitals at risk. "The public health crisis, combined with the economic crisis, has put many health care providers, especially in states that have not expanded Medicaid, at greater financial risk," says Levitt, of the Kaiser Family Foundation.
With studies suggesting that lingering health problems afflict a significant portion of coronavirus victims who survive the disease, experts worry that many of the uninsured lack the regular source of care required for follow-up treatment.
The final twist in the debate is evidence that more Americans are relying on the ACA for their health care amid the massive layoffs triggered by the virus.
In its recent study, the Urban Institute
found that among those laid off this spring, the share still receiving health insurance from employers (either their own or family members') had declined. While many of those were moving into Medicaid or subsidized private coverage on the Affordable Care Act exchanges, "There's a risk that as the job losses continue you will see that gap widen in health insurance coverage between the [Medicaid] expansion and non-expansion states," says Michael Karpman, an Urban Institute senior research associate.
In the presidential race, the coronavirus outbreak has eclipsed all other issues to the point that the health care debate hasn't been engaged as directly as in many of the Senate and House contests. But the virus' turn into the low coverage states that refused to expand Medicaid could eventually provide a vivid backdrop for one of the sharpest policy differences between Trump and presumptive Democratic nominee Joe Biden.
While
Trump is asking the Supreme Court to invalidate the entire ACA
, including the Medicaid expansion,
Biden's health care plan
would automatically extend federally provided coverage to all low-income adults in the states that have rejected the expansion. As the raging coronavirus outbreak threatens Trump's support in Sun Belt states that he won in 2016 — particularly North Carolina, Florida, Georgia and Texas — that's a distinction Democrats may highlight more before Election Day.
Virus spread, not politics should guide schools, doctors say – The Associated Press
As the Trump administration pushes full steam ahead to force schools to resume in-person education, public health experts warn that a one-size-fits-all reopening could drive infection and death rates even higher.
They're urging a more cautious approach, which many local governments and school districts are already pursuing.
But U.S. Education Secretary Betsy DeVos doubled down on President Donald Trump's insistence that kids can safely return to the classroom.
"There's nothing in the data that suggests that kids being in school is in any way dangerous," she told Chris Wallace on "Fox News Sunday."
Still, health experts say there are too many uncertainties and variables for back-to-school to be back-to-normal.
Where is the virus spreading rapidly? Do students live with aged grandparents? Do teachers have high-risk health conditions that would make online teaching safest? Do infected children easily spread COVID-19 to each other and to adults?
Regarding the latter, some evidence suggests they don't, but a big government study aims to find better proof. Results won't be available before the fall, and some schools are slated to reopen in just a few weeks.
"These are complicated issues. You can't just charge straight ahead," Dr. Tom Frieden, former director of the Centers for Disease Control and Prevention, said Wednesday during an online briefing.
Children infected with coronavirus are more likely than adults to have mild illnesses, but their risk for severe disease and death isn't zero. While a virus-linked inflammatory condition is uncommon, most children who develop it require intensive care, and a few have died. Doctors don't know which children are at risk.
"The single most important thing we can do to keep our schools safe has nothing to do with what happens in school. It's how well we control COVID-19 in the community," Frieden said. "Right now there are places around the country where the virus is spreading explosively and it would be difficult if not impossible to operate schools safely until the virus is under better control."
Zahrah Wattier teaches high school in Galveston, Texas, where cases and deaths have been spiking. Until the state recently said schools must reopen to in-person classes, her district had been weighing options many others are considering, including full-time online teaching or a hybrid mix.
Wattier's school has mostly Hispanic and Black students, many from low-income families; almost 70% qualify for free or reduced-cost lunches and many have parents who work in "essential" jobs that increase potential exposure to the virus. Online education was hard for many with limited internet access, and Wattier knows in-person classes can help even the playing field.
But she's worried.
"My school has over 2,000 students. That's over 2,000 exposures in a day," said Wattier, whose parents live with the family and are both high-risk. "It's a lot to think about. It's my job. It's something I choose to do, it's something I love. Now it comes at a really high risk."
The American Academy of Pediatrics, whose guidance the Trump administration has cited to support its demands, says the goal is for all students to be physically present in school. But, it adds, districts must be flexible, consult with health authorities and be ready to pivot as virus activity waxes and wanes.
"It is not that the American Academy of Pediatrics thinks this is a done deal because we have put out guidance," said Dr. Nathaniel Beers, a member of the academy's school health council. "But what we do know is that we need to have a more realistic dialogue about the implications of virtual learning on the future of children. We have left whole swaths of society behind, whether it's because they have limited access to a computer, or broadband internet," or because of other challenges that online education can't address.
DeVos said local school officials are smart enough to know when conditions are not right.
"There's going to be the exception to the rule, but the rule should be that kids go back to school this fall," she told CNN's "State of the Union."
"And where there are little flare-ups or hot spots, that can be dealt with on a school by school or a case by case basis."
Following CDC and academy guidelines would mean big changes for most schools. Mask-wearing would be strongly encouraged for adult staff and students except the youngest. Desks would be distanced at least 3 feet apart; the CDC recommends 6 feet. Both suggest limiting adults allowed in schools, including parents, and canceling group activities like choir and assemblies. Staggered arrival and dismissal times, outdoor classes, and keeping kids in the same classroom all day are other options.
President Trump has threatened federal funding cuts for districts that don't fully reopen.
DeVos defended that stance, saying, "American investment in education is a promise to students and their families."
"If schools aren't going to reopen and not fulfill that promise, they shouldn't get the funds, and give it to the families to decide to go to a school that is going to meet that promise," she said on "Fox News Sunday."
U.S. House Speaker Nancy Pelosi called DeVos' comments "malfeasance and dereliction of duty."
"They're messing, the president and his administration are messing with the health of our children," the California Democrat told CNN's "State of the Union."
While most funding typically comes from state and local sources, experts say schools will need more federal funding, not less, to reopen safely. Masks, extra cleaning supplies or janitors, additional classroom space, and mental health support for students and staff traumatized by the pandemic are among potential costs. And with more parents out of work, more children will qualify for federally funded school lunches.
Lynn Morales, 49, teaches 8th grade English at a high-poverty public school in Bloomington, Minnesota, that is considering several options including in-person classes; a final decision is expected Aug. 1.
Some colleagues are considering not returning to the classroom because their children's day care centers aren't reopening. Some say they won't come back until there's a vaccine.
"I am concerned and it's because of the age group," Morales said. ''Middle school students … are lovely and I love them, but they touch, they get close, they roughhouse. It is their nature. They're 13 years old. They are defiant."
"If masks are required and a kid isn't wearing a mask, is my job description going to be to chase down this kid and insist they wear a mask? And what if they don't?"
Dr. Emily Landon, a University of Chicago infectious disease specialist, is helping the university and a campus preK-12 school decide how to reopen safely.
"Things are evolving from, 'We can't do it unless it's perfectly safe' to more of a harm reduction model, with the caveat that you can always step back" if virus activity flares, Landon said.
Single-occupancy dorms, outdoor classes, socially distanced classrooms and mask-wearing by students and faculty are on tap for the university. Face coverings will be required at the school too. Policies may change depending on virus activity.
She dismisses complaints from some parents who say masks are a loss of personal freedom.
"It's not harmful for your child," she said. "If you see wearing masks as a loss of personal freedom, then you have to think the same of pants."
Dr. Tina Hartert of Vanderbilt University is leading a National Institutes of Health-funded study to determine what role children play in transmitting COVID-19. Almost 2,000 families are enrolled and self-test every two weeks. The idea is to find infected children without symptoms and see how easily disease spreads within families. Results may come by year's end.
"If we don't see significant transmission within households, that would be very reassuring," Hartert said.
She noted that in other countries where schools have reopened, evidence suggests no widespread transmission from children.
In France, public schools reopened briefly before a summer break, with no sign of widespread virus transmission. Masks were only required for upper grades, but students stayed in the same classroom all day. A better test will be when the new school year starts Sept. 1.
In Norway, schools closed in March for several weeks. Nursery schools reopened first, then other grades. Children were put in smaller groups that stay together all day. Masks aren't required. There have been only a few virus cases, said Dr. Margrethe Greve-Isdahl of the Norwegian Institute of Public Health, but she noted virus activity is much lower than in the U.S.
Kati Spaniak, a realtor in Northbrook, Illinois, says her five teenage daughters have struggled to cope with pandemic fears, school closures and deficits of online learning. She strongly supports getting kids back in the classroom, and all her girls will return to some form of that in the fall.
It's been hard for her high school senior, Kylie Ciesla. Prom, graduation and other senior rituals were canceled, and there were no good-byes. "Just to get ripped away from everything I've worked for 12 years, it's really hard," Kylie said.
At college, classes will be in person, masks mandated and a COVID-19 test required before she can move into her dorm. Kylie isn't sure all that is needed.
"I hate that this thing has become so political. I just want the science. I want to know what we need to do to fix it," she said.
___
AP reporters John Leicester and Arno Pedram in Paris contributed to this report.
___
Follow AP Medical Writer Lindsey Tanner at @LindseyTanner.
___
The Associated Press Health and Science Department receives support from the Howard Hughes Medical Institute's Department of Science Education. The AP is solely responsible for all content.
___
This story was first published on July 12, 2020. It was updated on July 13, 2020, to correct the name of the member of the American Academy of Pediatrics school health council. He is Dr. Nathaniel Beers, not Dr. Nicholas Beers.
Trudeau apologizes for not recusing himself from WE Charity contract discussions
Prime Minister Justin Trudeau said today he was sorry for not recusing himself from cabinet discussions about awarding WE Charity a multi-million dollar contract to administer the summer student grants program.
"I made a mistake in not recusing myself. I am sorry," Trudeau told reporters.
He said he should never have been part of the cabinet talks, given his family's close personal ties to the charity.
The apology comes after CBC News and Canadaland reported that his mother, Margaret, and his brother, Alexandre, were paid in excess of $300,000 by WE and its entities for speaking engagements over the last four years.
Trudeau said he knew his mother and brother were employed as public speakers but he didn't know just how much his family members were paid by WE.
"I deeply regret that I have brought my mother into this situation. It's unfair to her, and I should have been thoughtful enough to recuse myself from this situation," Trudeau said.
Trudeau said the public service first recommended WE as the best pick for the contract, given its nationwide reach and its experience connecting students with volunteer opportunities.
Trudeau said he still should have known that his involvement in talks to award the contract would be problematic, given how closely associated his family is with the organization.
"When it came to this organization and this program, the involvement that I had in the past, and that my family has, should have had me remove myself from these discussions and I'm sorry that I didn't," Trudeau said.
He said he regrets that his failure to recuse himself from contract discussions has derailed a program that was set to help thousands of young people find work.
"I'm particularly sorry because not only has it created unnecessary controversy and issues, it also means that young people who are facing a difficult time right now, getting summer jobs, contributing to their communities, are going to have to wait a little longer before getting those opportunities to serve, and that's frustrating," he said.
Finance Minister Bill Morneau also apologized for not recusing himself from cabinet discussions on the WE contract.
Morneau's daughter, Grace, works at WE in the travel department. His other daughter, Clare, has spoken at WE Day events.
"I did not recuse myself from the discussions on this topic and, given the fact my daughter works for the organization in an unrelated branch, I now realize I should have in order to avoid any perception of conflict," Morneau said in a media statement.
My statement on the administration of the Canada Student Service Grant: <a href="https://t.co/kPbjp8kiaU">pic.twitter.com/kPbjp8kiaU</a>

&mdash;@Bill_Morneau
He said the government's intention was to flow money to WE to help students find jobs — and cabinet was just following the recommendations of public servants.
He said he'd recuse himself from any future discussions about WE.
Conservative MP Michael Barrett, the party's ethics critic, said Trudeau's apology was an attempt to stop this story from "spinning out of control."
"We know that Justin Trudeau is only sorry when he gets caught and that's what the apology was all about today," he said.
"As the weight of this comes to bear down on him, he is sorry, but that doesn't mean that the investigations won't continue and they certainly should."
Barrett said Trudeau should appear before the House of Commons finance committee to field questions from MPs, and should waive cabinet confidentiality for all documents related to the contract.
The opposition Conservatives are also calling for an emergency meeting of the Commons ethics committee to study the government's decision to award the contract to the charity.
In a letter to the committee's clerk, Conservative MPs Barrett, Damien Kurek and Jacques Gourde say the committee should be recalled and an order should be issued demanding that Speakers' Spotlight — the agency that arranged for the Trudeaus to speak at WE events — produce receipts for the appearances.
The MPs say the committee also could review "the safeguards which are in place to avoid and prevent conflicts of interest in federal government procurement, contracting, granting, contribution and other expenditure policies."
The federal ethics commissioner, Mario Dion, already has said he will review the government's decision to award the contract to administer the $912-million program to WE. The Conservatives have said the RCMP should investigate the deal for possible criminality.
Bloc Quebecois Leader Yves-François Blanchet said he's tired of hearing apologies from the prime minister on ethical scandals. He said Trudeau hasn't learned anything from incidents like the SNC-Lavalin scandal or the trip to Aga Khan's private island.
"There comes a time when we do not trust anymore and when being sorry is not something you believe in anymore," he said.
"So perhaps there's something else to be done and the inquiries which have been asked by the Conservatives seem to be a good idea. (Trudeau) should come forward and tell the whole truth."
WE Charity co-founders Craig and Marc Kielburger offered their own mea culpa in a statement published in a full-page ad in today's Globe and Mail.
The brothers said the fallout from the botched partnership with the federal government has been "extremely difficult" and they understand why questions have been asked about their financial dealings with members of the Trudeau family.
"The charity's integrity and purpose has been called into question. It has had direct impacts on our staff, supporters, and beneficiaries. We have made mistakes that we sincerely regret," the Kielburgers said in the statement.
"It has led us to more closely examine our own internal structures, governance and organization. In the days to come we will have more to say on these matters and about the organization's future. For now, we wanted to set the record straight, take responsibility for our part, and refocus on the mission that started twenty-five years ago."
The charity also has faced a backlash from some people — notably former NHL star Theo Fleury and R&B singer Jully Black — who have agreed in the past to speak at WE events for free.
The co-founders said honorariums were provided to certain individuals "who committed to speaking at multiple WE Day cities and many additional events while in the city, requiring significant time commitments."