US bear market deepens: What that means for you
United States stocks slumped further this week as investors navigated a barrage of bad news.
Central banks around the world have been scrambling to fight soaring high inflation by increasing the cost of borrowing without hurting long-term growth prospects. Adding to the uncertainty and fear are rising tensions between the West and Russia following Moscow's invasion of Ukraine.
In the US, the S&P 500 – a proxy for the health of retirement and college savings accounts – this week fell to its lowest level in almost two years and was set for a monthly decline of nearly 8 percent.
The tech-heavy Nasdaq 100 has dropped nearly 33 percent so far in 2022, the Dow Jones Industrial Average lost more than 20 percent while the world's best-known cryptocurrency, Bitcoin, shed nearly 60 percent of its value. Home prices are also dropping as interest rates soar, making loans for potential buyers more expensive.
The Federal Reserve, the country's central bank, is tasked with fighting the highest inflation in decades and has been doing that by raising interest rates. But can it increase the cost of capital to reduce demand and moderate prices without plunging the economy into a deep recession?
"It's really a no-win situation at this point. Largely because of the number of shocks policymakers have had to deal with," Cristian deRitis, leading economist at Moody's, a research firm based in New York, explained to Al Jazeera.
How much further down can stocks go? What is a bear market exactly? And is there a light at the end of the tunnel?
Here's the short answer.
I keep hearing that the US is in a bear market. What is that exactly?
A bear market occurs when a broad market index dips more than 20 percent from recent highs.
Why is the US currently in a bear market?
"Persisting concerns over inflation and the Fed's ability to tame prices without a hard landing," is how Peter Essele, head of portfolio management at Commonwealth Financial Network, a Massachusetts-based firm, explained it.
What's the reason behind the high inflation and why are prices out of control?
Kenneth McLaughlin, professor of economics at Hunter College in New York, told Al Jazeera that one of the reasons is the federal government "injecting $5 trillion into the economy including through stimulus checks during the pandemic with kind of good intentions but with no plans to pay for it."
In other words?
Think back to early 2020 when businesses shuttered and economies came to a standstill to curb the spread of the coronavirus. Millions of Americans found themselves under lockdown with nowhere to go and spend the fresh-off-the-press stimulus checks. That caused equity prices, be it stocks, Bitcoin and home prices across the US, to skyrocket. It also caused a surge in demand for goods and that, as we see now, has led to the highest rise in the cost of living seen in decades.
How does this cause the stock market to go down?
As the Fed raises rates, which is essentially increasing the cost of borrowing in order to bring down the price of goods and services, people start to fear a slowdown in the economy. This pushes down the price of stocks and other investments.
Are the current economic conditions really just the consequence of what happened in the last 2 years?
The last two years have been unprecedented in many aspects. But what we are seeing today can also be attributed to the extremely low interest rates of the last decade when, following the financial crisis of 2007-2008, the government made it cheaper for Americans to borrow, Essele told Al Jazeera.
Didn't the markets just have a rally?
Stocks did experience a rally in August. Things were looking up when petrol prices, which had soared in earlier months, dropped sharply. Investors held on to the hope that perhaps the Fed would ease on the interest rate hikes if the inflation numbers for August showed that consumer prices had cooled. But despite cheaper petrol, food and other essential goods, prices remained high – surging 8.3 percent in August compared with a year earlier.
Where are we now?
"Inflation is becoming more structural and investors are now concerned about stagflation," Essele explained to Al Jazeera, suggesting that price hikes may be here to stay for the long haul. Stagflation is a mashup of the words "inflation" and "stagnation" and refers to a situation when inflation is high even as the rate of economic growth slows down.
So what does the future hold? And how long will this bear market last?
Expect above-average price pressures. The war in Ukraine and growing tensions between the West and Russia add to the uncertainty and will continue to spook investors and roil markets.
"But we are likely in three-quarters of the way through the bear market," Essele predicted.
I don't own any stocks, why should I care about a bear market?
While stock investors are the ones most directly affected by a US bear market, there are spillover effects to the rest of the economy primarily due to the "wealth effect". That is, as households see the value of their retirement and stock portfolios decline, they will pull back on their spending.
"Given how dependent the US economy is on consumer spending, this impact can be significant and widespread," Moody's deRitis told Al Jazeera. "Discretionary sectors such as travel, leisure, and hospitality may feel the most immediate effect but other industries such as housing and retail trade will experience reduced demand as households grow cautious."
How RBC pulled off its highly-coveted $13.5-billion deal for HSBC Canada — with some unintended help from Ottawa
He'll never want to admit it, but Royal Bank of Canada RY-T chief executive Dave McKay can thank Prime Minister Justin Trudeau, at least in part, for landing Canada's most coveted bank deal in decades.
Like many of his industry peers, Mr. McKay has been frustrated with Ottawa for slapping an additional, permanent tax on bank and life insurance company profits in the most recent federal budget, something Ottawa has attributed to clawing back some of the financial relief it provided during the COVID-19 pandemic.
While the federal government can taketh away, it can also provide, and seven months later, another pandemic financial policy has proven to be quite helpful to RBC – even if the assistance is unintended.
Because there was so much economic uncertainty when Canada entered its first COVID-19 lockdowns in March, 2020, the federal government and the country's banking regulator wanted banks to preserve cash as a buffer against any shocks. To enforce this, they prevented the lenders from hiking their dividends, something they often did annually.
There was no way to know it then, but Canada's banks kept churning out profits, even through multiple lockdowns. That meant all the cash they would have normally put toward dividend hikes piled up on their balance sheets.
RBC wasn't the only lender that saw its coffers swell, but because it is Canada's largest bank by profit, it was able to hoard large amounts each quarter. Ultimately, that money was deployed to win the HSBC Canada auction, in the form of a $13.5-billion, all-cash bid.
At the same time, HSBC Canada's parent, London-based HSBC Holdings PLC, must have seen all that money piling up. So, even though HSBC's global management team had long said it was committed to Canada, if there was any time to sell, this was it. All that excess cash gave HSBC a greater chance of selling for top dollar – and, crucially, an exit before any potential recession.
The second element of RBC's winning strategy, and arguably the most important, is an internal one, and it is rooted in something so often overlooked in business: discipline.
Ever since Mr. McKay acquired California-based City National Corp., which specializes in banking for high-net-worth clients, for US$5.4-billion in 2015, just five months into his tenure, there have been endless questions from investors and analysts about what RBC would do next. Often, they centred on growth in the United States.
Mr. McKay has been batting these away for years, suggesting RBC isn't all that interested in establishing a large retail banking footprint in the U.S. Doing so requires scale, which means it would take one or two large deals to make an impact. To his mind, it just isn't worth it, considering where RBC is starting from, and because retail banking isn't as profitable in the U.S. as it is in Canada.
But the questions kept coming, especially as the Big Six banks started accumulated gobs of cash during the pandemic. Then two of RBC's Canadian rivals, Toronto-Dominion Bank and Bank of Montreal, splurged on deals of their own. Late last year, BMO bought California-based Bank of the West for $17.1-billion, the largest U.S. deal in Canadian banking history, and early this year TD bought First Horizon for US$13.4-billion.
Standing pat is incredibly tough when rivals are writing big cheques. The fear of missing out is real, and investors tend to be myopic, too, so they have a habit of rewarding short-term revenue growth.
RBC, though, never wavered. "Patience is really important," Mr. McKay said on a conference call with reporters Tuesday.
Royal Bank wasn't necessarily waiting for this precise opportunity. "We didn't know [the HSBC Canada sale] was going to happen, or the timing," he said. But sometimes executives get lucky. And having all that excess capital allowed RBC to splurge on what Mr. McKay called a "more sure-footed transaction" relative to rivals' deals.
He didn't go into specifics, but based on its financials, Bank of the West is a fixer-upper for BMO. It is also based in a state where BMO has almost no footprint. First Horizon, meanwhile, may not have even been TD CEO's first choice for its most recent U.S. retail banking deal, after TD was reported to be in the auction for Bank of the West just a few months prior. HSBC, by contrast, is a very profitable bank, with a 14-per-cent return on equity over the past 12 months, rather healthy by global standards.
What RBC will have to prove now is that it hasn't overpaid. Just because it had the cash to burn doesn't mean it needs to use it all.
The bank's executives are stressing that after making some adjustments, it's paying about nine times HSBC Canada's forward earnings, which is below the long-term average trading multiple for Canadian lenders. However, bank deals are also priced off of a multiple of the target's book value, and at 2.5 times HSBC Canada's, RBC is paying a healthy premium.
That isn't necessarily a bad thing. In fact, during Mr. McKay's tenure, it's become a bit of a standard. When RBC bought City National, it paid 2.6 times book value, and at the time, almost everyone on Bay Street wondered if the bank overpaid. All those fears have subsided over the past seven years.
What's become clear is that RBC is willing to pay up for quality. Some bankers chase cheap assets, and may get lucky and find a diamond in the rough. RBC, though, has tried that before, and it resulted in a disastrous acquisition of North Carolina-based Centura Banks Inc. in 2001. Unwinding the deal took a decade, and when RBC ultimately sold the division in 2012, it took a $1.5-billion charge in the process.
"We bought a franchise that had to be transformed and changed – it wasn't the 'Tier 1′ franchise," Mr. McKay said about Centura in a 2015 interview with The Globe and Mail. "Our biggest [lesson] from that failed venture was that you have to buy the highest-quality franchise and build on it." Sound familiar?
Oil Prices Jump On Major Crude Draw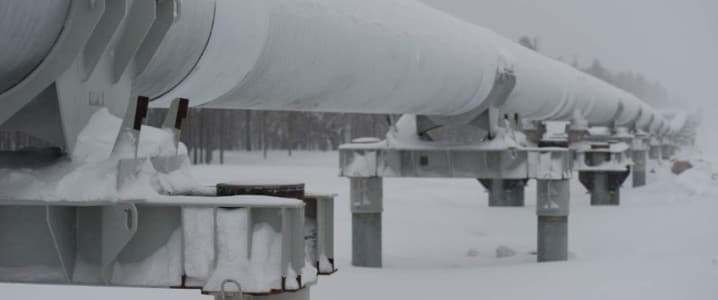 Russia's pipeline oil exports to China via the Eastern Siberia—Pacific Ocean (ESPO) oil pipeline were flat between January and October compared to the same period of 2021, according to China National Petroleum Corporation's (CNPC) Vice President Huang Yongzhang.
Russia sent 33.26 million tons of oil to China via pipeline in the first ten months of this year, Huang was quoted as saying by Russian news agency TASS at a Russia-China energy forum.
While pipeline oil deliveries were basically unchanged this year, China has significantly increased its seaborne imports of Russian crude as Beijing and India have now emerged as the top buyers of Russian oil after the Russian invasion of Ukraine, as Western buyers shun Russia's crude and prepare for the EU embargo on imports of Russian oil as of December 5.
Just ahead of the ban and the G7-EU price cap on Russian oil, some Chinese buyers have been hesitant to purchase Russian cargoes, as they wait for details on how the price cap would be enforced.
Yet, both China and India are now demanding huge discounts for the Russian oil they are willing to buy, Bloomberg oil strategist Julian Lee wrote in a recent analysis.
Currently, China and India account for around two-thirds of Russia's crude oil exports by sea, and the Asian buyers are exercising the negotiating power they have over Russia, Lee notes. If Russia wants to continue selling its oil to its new top customers, it must contend with the deep discounts the two buyers demand.  
As of the end of last week, Russia's flagship crude grade, Urals, traded at $52 per barrel—a $33.28 discount to Brent Crude. This compares with the 2021 average discount of Urals to Brent of $2.85.
The huge discount costs the Kremlin some $4 billion in lost revenues every month, according to estimates from Bloomberg's Lee.
By Tsvetana Paraskova for Oilprice.com
Tsvetana Paraskova
Tsvetana is a writer for Oilprice.com with over a decade of experience writing for news outlets such as iNVEZZ and SeeNews.
The Advantages of a Fast and Safe Business Website: Optimizing Your Web Hosting
These days, nearly every business has some sort of online presence. Whether it's a simple website with your company's information or a more complex e-commerce site, businesses need to have a web presence in order to compete. However, simply having a website is not enough – it needs to be fast, reliable and secure in order to give users the best experience possible so they can come back. This is where web hosting comes in.
Web hosting is a service that provides businesses with the server space and resources they need to host their website. There are many different web hosting providers out there, but most people choose providers that are in the region their businesses are located. For example, a business located in Canada would prefer to choose a Canadian hosting provider. No matter which provider you choose, it's important they provide fast speed, reliable uptime and robust security.
How can web hosting optimize the safety and speed of business websites?
First, web hosting providers can make sure that the servers that host the websites are properly configured and secured. Additionally, they can monitor the traffic to and from the website and take steps to ensure malicious traffic is not able to access the site. Finally, they can work with businesses to ensure their website content is optimized for speed and safety.
The advantages of a fast and secure business website
In this day and age, a business website is one of the most important tools that you can have in your marketing arsenal. It's a great way to reach out to potential customers and clients, and it can be a powerful tool for promoting your brand online. Some of the advantages of having a faster, more secure business website are:
– It will help you rank higher in search engine results pages.
– It will make your site more user-friendly.
– It will increase your conversion rate.
– It will give you an edge over your competition.
What are some other benefits of using an optimized web hosting service?
One benefit is that you can get more traffic to your website. This is because an optimized web hosting service can help you improve your website's search engine ranking. This, in turn, can lead to more people finding and visiting your website.
Another benefit of using an optimized web hosting service is that you can improve the speed and performance of your website. This is because an optimized hosting service can provide you with a faster server and better resources. This can help your website load faster and run more smoothly.