US businesses take COVID-19 preventive measures ahead of reopening
Some businesses dependent on physical workplaces in Colorado of the United States are actively taking preventive measures and adjusting their work shifts under the safety guidelines provided by a newly-founded COVID-19 consultant firm for safe resumption.
After being away firm his customers for two months due to the epidemic, Zaki Hamid, owner of a contemporary clothes store called "Steadbrook" in Denver of Colorado, is taking safety precautions to keep his shop a virus-free space.
He hired a startup called "The Covid Consultants" to advise him on how to keep his shop a virus-free. Hamid said anything they can do to mitigate the risk is worth doing right now.
"We love our business, we're so passionate about it but but safety, health and the protection of our community is our number one priority," said Hamid.
All across the country, businesses dependent on physical workplaces are staggering work shifts and changing the way their buildings are set up and function.
Dana Lerman, a staff of the "The Covid Consultants", is using her background as an infectious disease physician to help folks like Hamid enforce social distancing and precautions needed to comply with safety guidelines while making his employees and customers feel comfortable.
Tara Powers, founder of Powers Resource Center, is helping companies navigate this new work environment by sorting out movement patterns and areas of people at a law firm.
"She's been spending weeks figuring out new paths of how people will flow through their large building and what elevators will be used to go up, what elevators will be used to go down," said Powers.
It seems that the elevator traffic has become a bit of a science. Safety-related signs may soon be commonplace. The arrows pointing customers through stores and plexiglass dividers at front counters will soon become common. Cubicles and offices, as opposed to open work spaces, could also be coming in again, something that Powers worries about.
Ford Motor Company is even testing wearable wrist devices that buzz when workers get too close to each other. Of course, companies will have to decide how much to budget for all these retrofits.
Hamid has one policy that's unique to stores like his. He said if anyone tries any clothes on, they steam it and then quarantine that piece for 24 hours. Lerman said hand-washing will also have to be done differently at his store.
"You need to implement these changes because they're really important. You don't want to have a COVID-19 outbreak in your facility," said Lerman.
The stakes are high, but most businesses know they need to adjust for a very different future.
Source: CCTV
Published By Harry Miller
Why it took almost 10 months to collect this $100K windfall – SooToday
Jose Lima's summer just got a whole lot better after the retiree won $100,000 by matching six of seven Encore numbers on a Lotto 6/49 draw last fall.
It took nearly 10 full months for the 69-year-old to realize the win as the ticket in question was in the pocket of a jacket he had lent to a friend.
Full text of a news release issued today by OLG follows:
TORONTO – Saying "yes" to Encore paid off for Jose Lima of Sault Ste. Marie. Jose matched the last six of seven Encore numbers in exact order in the Sept. 28, 2019 Lotto 6/49 draw to win $100,000!
Jose, a 69-year-old retired electrician, had forgotten his ticket in a jacket that he had lent to a friend and only discovered it when the jacket was returned to him! When he checked his ticket at a retailer, the terminal froze. "I thought I had won $1,000. Then OLG called and the other customers in the store started to congratulate me," he shared, while at the OLG Prize Centre in Toronto to pick up his cheque. "It wasn't until the validation slip came out that I realized I had won $100,000," he smiled.
After he found out about his win, the father and grandfather called his kids and didn't tell anyone else.
Jose has since used his winnings to purchase a cottage where he can spend his leisure time and relax, unwind and spend his time boating.
"I feel wonderful. It's something that happens once in a lifetime, if it ever happens at all," he concluded.
The OLG Prize Centre in Toronto has resumed in-person prize claims for winning-ticket holders of $50,000 or more by-appointment only. To best protect customers and staff, OLG has put in place appropriate health and safety protocols in accordance with guidelines from public health officials, which include physical distancing measures, the mandatory use of personal protective equipment (PPE) and the pre-screening of visitors before granting entry. Currently, OLG is reaching out to major prize winners ($50,000+) who have been unable to claim their prizes due to COVID-19 to schedule appointments for in-person prize claims. In the coming weeks, OLG will open appointments to anyone wishing to claim their prize in-person at the Prize Centre.
Encore offers 22 ways to win and can be played in conjunction with most lottery games for an extra $1. There is an Encore draw every day.
The winning ticket was purchased at Stamping Grounds on Second Line in Sault Ste. Marie.
$40 Could Be Magic Number for Some Oil Players – Rigzone News
The $40 per barrel level for West Texas Intermediate crude oil could trigger an uptick in activity among some oil market players, an informed market-watcher told Rigzone. Keep reading to learn about what specific activity could be on the rise, along with other developments to watch for this week in the oil market.
Tom Seng, Director – School of Energy Economics, Policy and Commerce, University of Tulsa's Collins College of Business: Large U.S. oil producers, such as ConocoPhillips, have announced that they will begin to bring back oil production that was shut-in due to lower prices. Look for mergers and acquisitions activity to start to increase if prices can stabilize at or above the $40 level. The "bottom-feeders" who have waited to buy really "cheap" assets will have to contend with higher valuations now.
Tom Curran, Senior Energy Services and Equipment Analyst in Equity Research, B. Riley FBR, Inc.: Come 1 p.m. Eastern time on each of the next two Fridays, our attention will be fixated on the Baker Hughes rig count site. The weekly U.S. active frac spread count troughed at 45 in mid-May, pivoted into an uptrend, surging by 33 units to 78 as of June 19, 2020, and has vacillated in the 70s since, according to Primary Vision. Given our industry recovery thesis – which is that operators would first restart shut-in production and increase DUC (drilled but uncompleted) well executions, then pick up new well drilling, which should see a slower rise than completion activity – we believe a definitive floor is imminent for the weekly Baker Hughes U.S. land drilling rig count. In fact, a bottoming process may already be underway. The count's downtrend has significantly decelerated since early June. For the last three weekly measures, Baker has reported 255, 254 and 251.
Barani Krishnan, Senior Commodities Analyst at Investing.com: Expect all eyes to be on virus stats for the coming week or two. Regardless of what the Trump administration says or wants us to think, the pandemic will decide the course of oil demand and the economy – not the other way around.
To contact the author, email mveazey@rigzone.com.
Corbeil man wins big money through Encore – BayToday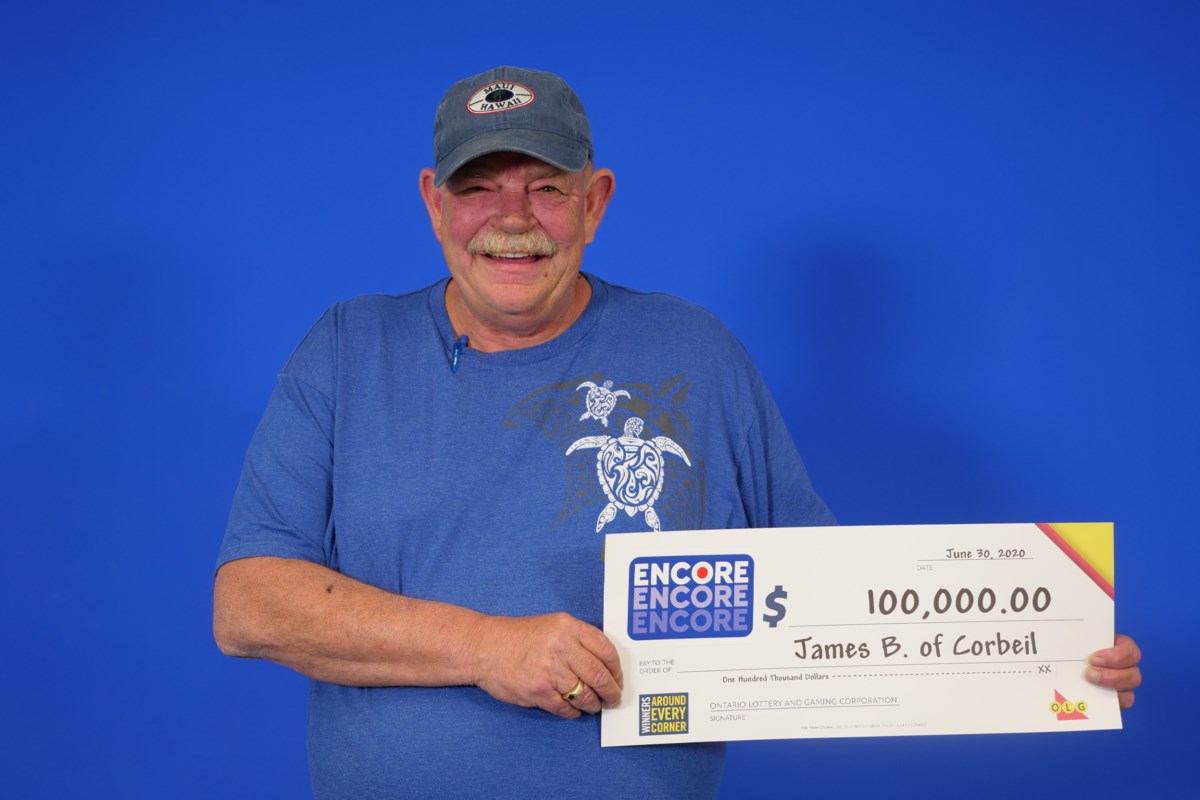 Saying "yes" to ENCORE paid off for James Braund of Corbeil. Jim matched the last six of seven ENCORE numbers in exact order in the April 14, 2020 LOTTO MAX draw to win $100,000.
Jim, a 67-year old father and grandfather says he plays the same numbers regularly.
"I was at the gas station where I purchased my tickets and the terminal froze when the retailer scanned my ticket," he shared, while at the OLG Prize Centre in Toronto to pick up his cheque.
"When I realized I won $100,000, I was so excited," he smiled.
The retired public servant plans to take a family vacation with his kids and grandkids when the time is right. "My wife spent some time shopping today while I was here at OLG collecting my prize," he remarked.
"This was amazing. You wake up in the morning to know you have an additional $100,000 in your bank account. It's surreal," he concluded.
The OLG Prize Centre in Toronto has resumed in-person prize claims for winning-ticket holders of $50,000 or more by-appointment only.
The winning ticket was purchased at MacEwan on Highway 94 in Corbeil.