US Economy Is Losing Its Bounce as Recovery Turns Into a Grind – BNN
(Bloomberg) — Sign up for the New Economy Daily newsletter, follow us @economics and subscribe to our podcast.
Just a few months ago, the U.S. economy looked like it was roaring back from the pandemic slump. Now the recovery is starting to look more like a grind. The spread of the delta variant has held back millions of Americans from spending on services like restaurants and hotel rooms.
Supply chains are still creaking and Hurricane Ida, which caused havoc in petrochemicals hub Louisiana as well as roughly $20 billion of flooding damage in the Northeast, may have made them worse. And high inflation is stretching household budgets.
The Atlanta Federal Reserve's real-time estimate of economic activity now predicts growth of just 1.3% in the quarter that ended in September. Two months ago it was forecasting 6%.
Economists surveyed by Bloomberg are more upbeat. Still, the consensus growth forecast for the third quarter has dropped sharply since August. None of this means the U.S. rebound is heading into reverse, says Nathan Sheets, newly appointed chief economist for Citigroup Inc. "I think recession's too strong," he says. "But it's certainly softer." Here are five indicators that illustrate and explain the gathering gloom.
Delivery Delays
Many forecasters use the Purchasing Managers' Index –- based on a survey of supply-chain managers — to gauge the state of manufacturing, which feeds into their growth estimates. One of its five components is supplier delivery times, and longer waits are typically seen as a sign of robust demand and a strong economy.
But in pandemic conditions, that may not tell the whole story. There have been unprecedented problems with shipping goods to the U.S., and transporting them once they're here. In other words, the long waits may be as much a sign of supply weakness as strength in demand –- and confusing those two things may have led economists to be too optimistic about growth.
Missing Jobs
Economy watchers have also been flummoxed by the labor market. There are more than 10 million open positions – but the pace at which they're being filled has slowed sharply. In the past two months, virtually every economist surveyed by Bloomberg over-estimated the number of new jobs.
The lowest-paid Americans are bearing the brunt of the slowdown. Among workers in the lowest quartile of earners, employment was down by 25.6% compared with pre-Covid levels as of mid-August, according to Harvard's Opportunity Insights project. That's the worst number since June 2020, a few months after the pandemic started.
Inflation Bites
Inflation is throwing a wrench into the recovery too. The debate over whether pandemic price surges are transitory has yet to be settled – but they're reaching ever-deeper into the economy, and crimping the spending power of households. Mark Zandi of Moody's Analytics estimates the typical household has to pay $175 a month extra.
Read More: Inflation Casts a Longer Shadow
Energy and commodity costs are spiraling higher. Buying conditions for homes, vehicles and durable goods all deteriorated in August due to high prices, according to the University of Michigan's latest consumer report. Auto purchases fell from an 18.5 million annual pace in April to just 12.2 million last month.
The first wave of pandemic inflation was confined to a relatively small group of goods and services. That's no longer the case, according to the Cleveland Fed.
Its researchers found that in recent months, roughly three-quarters of the 44 main components of price baskets were growing at a pace above 3%. That compares with less than one-third of them at the start of this year.
Services Lag
The pandemic upended American spending habits. Households are buying more goods than ever before — a splurge that's contributing to the strains on supply chains. But economists say a balanced recovery will require more spending on services too, and that's happening more slowly.
Restaurants are one example. The spread of delta in the summer months halted the revival of dining out, which has settled at levels below what was normal before Covid hit.
Gloom Feeds Gloom
Business leaders and the general public are turning downbeat about the economy –- and those expectations can be self-fulfilling, if they mean that companies invest less and households are more cautious about spending.
The Michigan consumer survey found that only 44% of Americans expect their financial situation to improve, the lowest reading in seven years. Sentiment among small-business owners deteriorated in September, with the number who expect better business conditions over the next six months falling to the lowest since December 2012. A CEO confidence measure compiled by Chief Executive magazine has also declined for three straight months –- to a level that means all of the gains earlier in 2021 are now gone.
©2021 Bloomberg L.P.
China's Economy Likely Remained Weak as Factories Slump – Bloomberg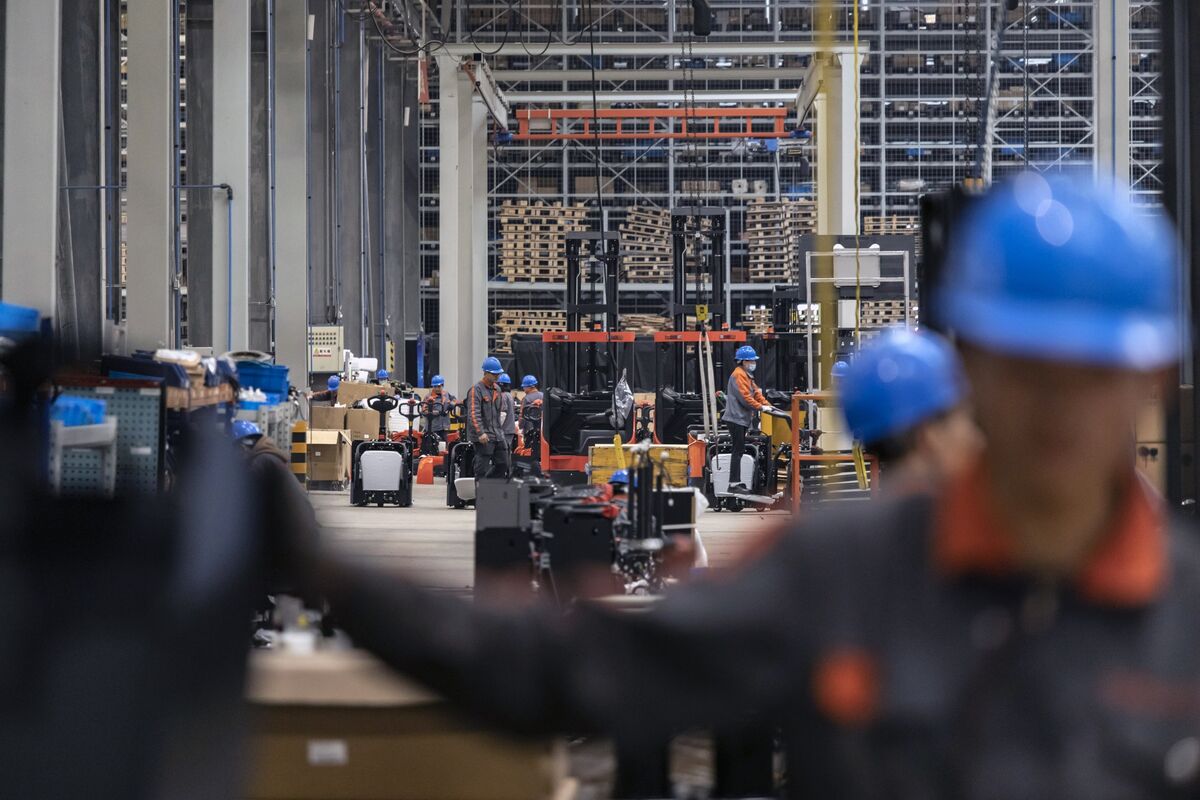 China's manufacturing activity likely remained subdued in November, with weak domestic demand in the economy outweighing any relief that came from an easing in energy shortages.
The official manufacturing purchasing managers' index is forecast to improve slightly to 49.7 from 49.2 in October when it's released Tuesday, according to the median estimate in a Bloomberg survey of economists. That would be the third month it stays below the key 50-mark, indicating a contraction in production.
China's Economy Likely Remained Weak as Factories Slump – BNN
(Bloomberg) — China's manufacturing activity likely remained subdued in November, with weak domestic demand in the economy outweighing any relief that came from an easing in energy shortages.
The official manufacturing purchasing managers' index is forecast to improve slightly to 49.7 from 49.2 in October when it's released Tuesday, according to the median estimate in a Bloomberg survey of economists. That would be the third month it stays below the key 50-mark, indicating a contraction in production.
The non-manufacturing gauge, which measures activity in the construction and services sectors, is forecast to fall to 51.5 from 52.4 in the previous month.
China's energy shortages, which ravaged factory production in September and October, likely eased this month as coal producers boosted output and inventories rose. However, the housing market crisis shows no signs of ending, and frequent Covid-19 outbreaks continue to curb consumption.
"Supply-side restrictions have improved marginally, so production likely rebounded somewhat," said Xing Zhaopeng, senior China strategist at Australia & New Zealand Banking Group Ltd. But there's "not much positive signal on domestic demand," which continued to weigh on activities, he said.
Economic growth is forecast to slow to 5.3% next year, according to a Bloomberg survey median, with some economists seeing expansion as low as 4%. Bloomberg Economics forecast growth will come in at 5.7%, as the government will likely target a 5-6% range.
What Bloomberg Economics Says…
"In 2021, policy played a secondary role in setting the growth trajectory. In 2022, it will be pivotal. The extent of the slowdown will hinge largely on what balance China strikes between supporting short-term growth and advancing long-term reforms.
…We see the People's Bank of China cutting the interest rate on its one-year medium-term lending facility by 20 basis points and the reserve requirement ratio by 100-150 bps by end-2022."
— Chang Shu and David Qu
For the rull report, click here
Authorities are trying to moderate the sharp downturn in the property market, while providing targeted support to areas such as small businesses and green technology. Officials will reveal more clues on how much policy easing they plan to provide during two key political meetings in December by the Politburo and the Central Economic Work Conference.
China will adopt a more proactive macroeconomic policy next year to respond to the challenges from an uneven recovery of the global economy and instability in containing the pandemic, the Securities Times, run by the People's Daily, said in a front-page commentary Monday.
Authorities have exercised restraint in using monetary and fiscal tools amid an economic slowdown this year, thus creating sufficient space for policy maneuvering next year, according to the commentary.
The slowdown is being cushioned by strong export demand, which likely remained solid in November, judging by latest shipment figures from South Korea.
Consumption and travel continues to be affected by a resurgence in virus cases and the country's growing determination to stick to its strict Covid Zero strategy. Subway passenger traffic in six major cities of China declined less than 10% in November from October, though the plunge is smaller than that over the August outbreak, according to Xing.
(Updates with latest estimate in second paragraph.)
©2021 Bloomberg L.P.
Stocks, oil tumble as omicron brings new risk to global economy | Daily Sabah – Daily Sabah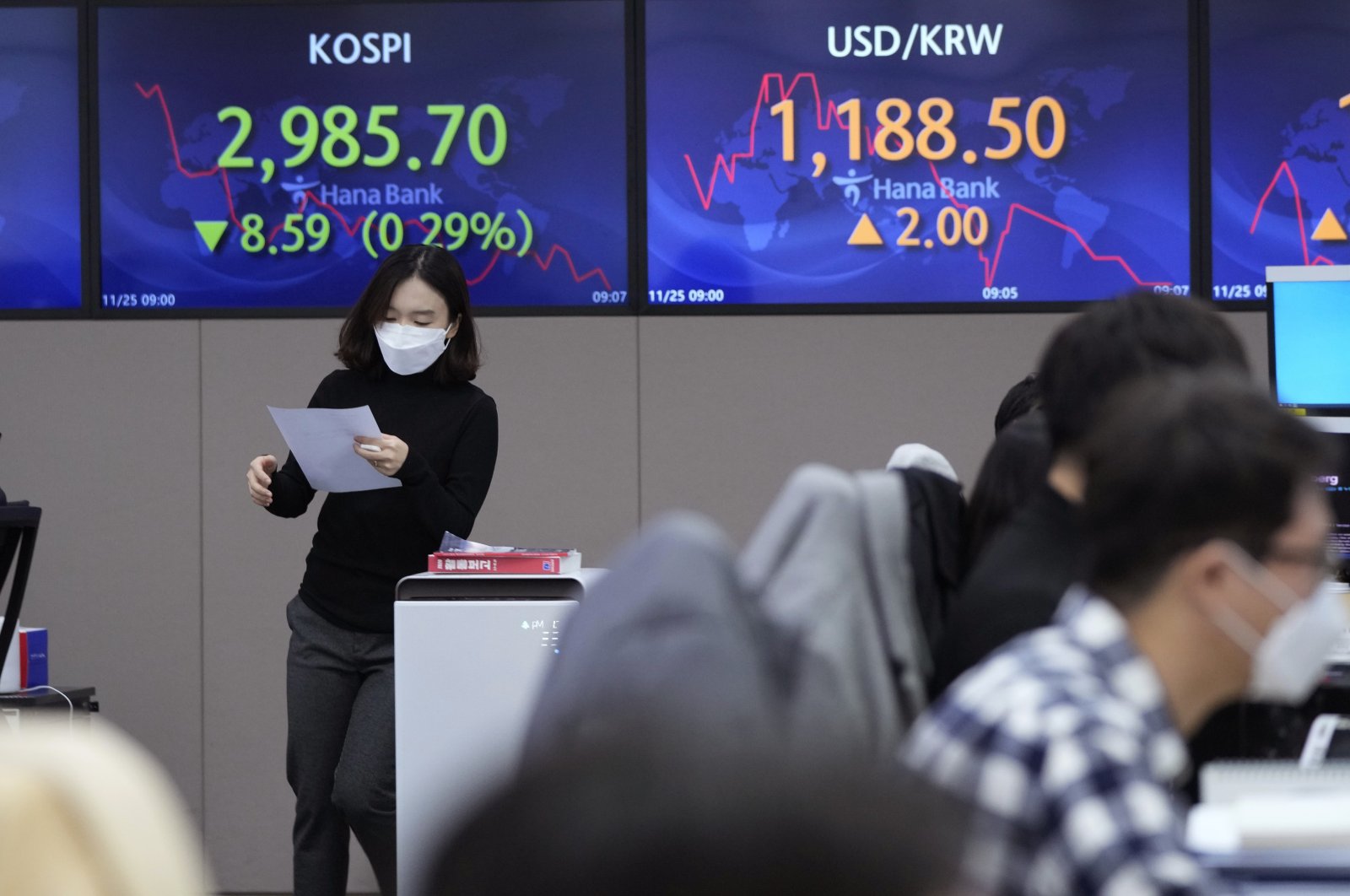 Confirmed cases of the new omicron coronavirus variant continued popping up around the world on Sunday as Australia joined the growing list of countries reporting cases. The recent discovery of the new strain has seen countries try to seal themselves off by imposing travel restrictions and is also sending stocks tumbling and causing oil prices to fall.
The Australian cases were the latest indication that the variant may prove hard to contain and will be a fresh hit to the global economy. First discovered in South Africa, it has since been detected in Britain, Germany, Italy, Belgium, Botswana, Israel and Hong Kong. Austria was investigating a suspected case on Sunday.
The discovery of omicron, dubbed a "variant of concern" last week by the World Health Organization (WHO), has sparked worries around the world that it could resist vaccinations and prolong the nearly two-year COVID-19 pandemic.
Omicron is potentially more contagious than previous variants, although experts do not know yet if it will cause more or less severe COVID-19 compared to other strains.
Countries have imposed a wave of travel bans or curbs on southern Africa. Financial markets, especially stocks of airlines and others in the travel sector, plummeted on Friday as investors worried that the variant could stall a global recovery. Oil prices tumbled by about $10 a barrel.
On Sunday, most Gulf stock markets fell sharply in early trade, with the Saudi index suffering its biggest single-day fall in nearly two years.
In the most far-reaching effort to keep the variant at bay, Israel announced late on Saturday it would ban the entry of all foreigners and reintroduce counter-terrorism phone-tracking technology to contain the spread of the variant.
Prime Minister Naftali Bennett said the ban, pending government approval, would last 14 days. Officials hope that within that period there will be more information on how effective vaccines are against omicron.
Many countries have imposed or are planning restrictions on travel from southern Africa. The South African government denounced this on Saturday as unfair and potentially harmful to its economy – saying it is being punished for its scientific ability to identify coronavirus variants early.
In Britain, where two linked cases of Omicron identified on Saturday were connected to travel to southern Africa, the government announced measures to try to contain the spread, including stricter testing rules for people arriving in the country and requiring mask wearing in some settings.
The German state of Bavaria also announced two confirmed cases of the variant on Saturday. In Italy, the National Health Institute said a case of the new variant had been detected in Milan in a person coming from Mozambique.
As for the economic impact side, "Investors are likely to shoot first and ask questions later until more is known," Jeffrey Halley of Oanda said Friday in a report.
Ray Attrill, head of FX strategy at National Australia Bank in Sydney, is of the same opinion. "You shoot first and ask questions later when this sort of news erupts," Attrill said.
"Markets have been quite complacent about the pandemic for a while, partly because economies have been able to withstand the impact of selective lockdown measures. But we can see from the new emergency brakes on air travel that there will be ramifications for the price of oil," said Chris Scicluna, head of economic research at Daiwa.
Vaccine disparities
Although epidemiologists say travel curbs may be too late to stop omicron from circulating, many countries – including the United States, Brazil, Canada, European Union nations, Australia, Japan, South Korea and Thailand – have announced travel bans or restrictions on southern Africa.
More countries imposed such curbs on Sunday, including Indonesia and Saudi Arabia.
Mexico's deputy health secretary, Hugo Lopez Gatell, said travel restrictions are of little use in response to the new variant, calling measures taken by some countries "disproportionate."
"It has not been shown to be more virulent or to evade the immune response induced by vaccines. They affect the economy and well-being of people," he said in a Twitter post on Saturday.
Omicron has emerged as many countries in Europe are already battling a surge in COVID-19 infections, with some reintroducing restrictions on social activity to try to stop the spread.
The new variant has also thrown a spotlight on huge disparities in vaccination rates around the globe. Even as many developed countries are giving third-dose boosters, less than 7% of people in low-income countries have received their first COVID-19 shot, according to medical and human rights groups.
Seth Berkley, CEO of the GAVI Vaccine Alliance that with the WHO co-leads the COVAX initiative to push for equitable distribution of vaccines, said this was essential to ward off the emergence of more coronavirus variants.
"While we still need to know more about omicron, we do know that as long as large portions of the world's population are unvaccinated, variants will continue to appear, and the pandemic will continue to be prolonged," he said in a statement to Reuters on Saturday.