US economy slowed but still grew at 2.9% rate last quarter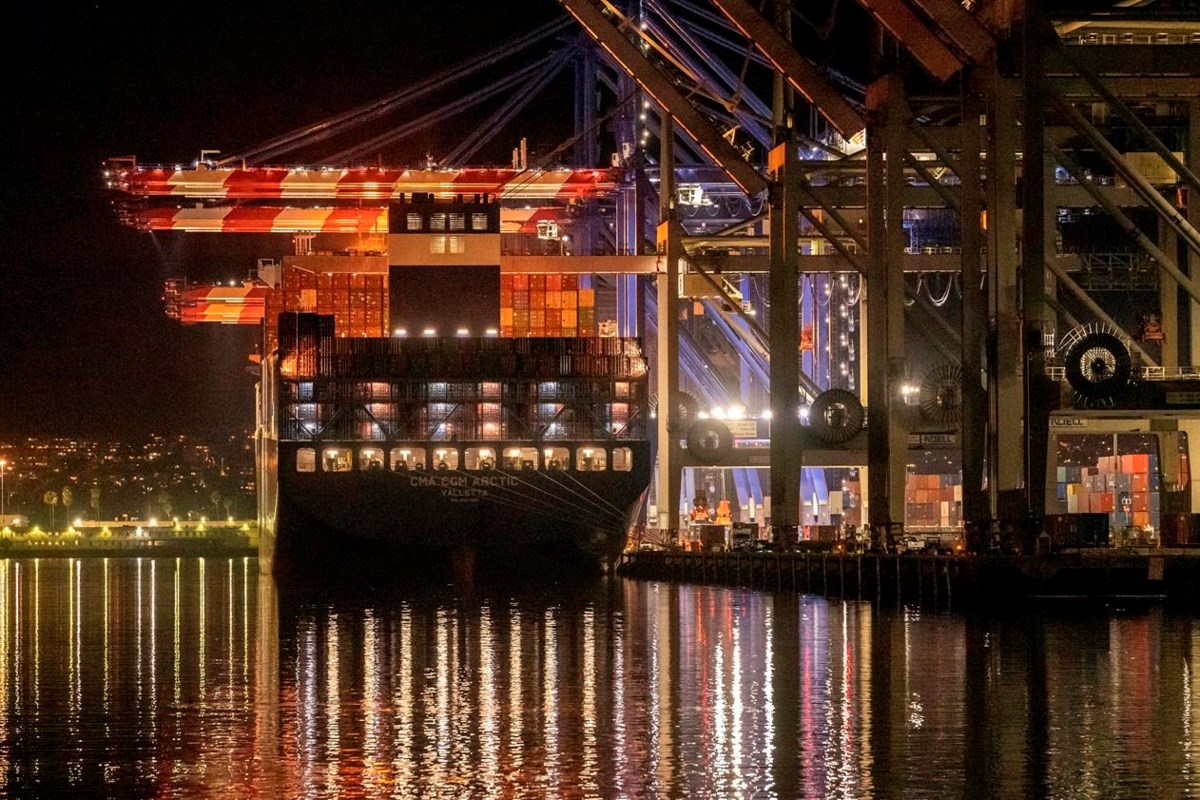 WASHINGTON (AP) — The U.S. economy expanded at a 2.9% annual pace from October through December, ending 2022 with momentum despite the pressure of high interest rates and widespread fears of a looming recession.
Thursday's estimate from the Commerce Department showed that the nation's gross domestic product — the broadest gauge of economic output — decelerated last quarter from the 3.2% annual growth rate it had posted from July through September. Most economists think the economy will slow further in the current quarter and slide into at least a mild recession by midyear.
The economy got a boost last quarter from resilient consumer spending and the restocking of supplies by businesses. Federal government spending also helped lift GDP. But with higher mortgage rates undercutting residential real estate, investment in housing plummeted at a 27% annual rate for a second straight quarter.
For all of 2022, GDP expanded 2.1% after growing 5.9% in 2021.
The economy's expected slowdown in the months ahead is an intended consequence of the Federal Reserve's aggressive series of rate increases. The Fed's hikes are meant to reduce growth, cool spending and crush the worst inflation bout in four decades. Last year, the Fed raised its benchmark rate seven times. It is set to do so again next week, though this time by a smaller amount.
The resilience of the U.S. job market has been a major surprise. Last year, employers added 4.5 million jobs, second only to the 6.7 million that were added in 2021 in government records going back to 1940. And last month's unemployment rate, 3.5%, matched a 53-year low.
"The news couldn't have been any better," President Joe Biden said of Thursday's GDP report. "We're moving in the right direction. Now, we've got to protect those gains."
Yet the good times for America's workers aren't likely to last. As higher rates make borrowing and spending increasingly expensive across the economy, many consumers will spend less and employers will likely hire less.
"Recent data suggest that the pace of expansion could slow sharply in (the current quarter) as the effects of restrictive monetary policy take hold," Rubeela Farooqi, chief U.S. economist at High Frequency Economics, wrote in a research report. "From the Fed's perspective, a desired slowdown in the economy will be welcome news."
Consumer spending, which fuels about 70% of the entire economy, rose at a sturdy 2.1% annual rate from October through December, down slightly from 2.3% in the previous quarter.
More recent numbers, including a 1.1% drop in retail sales last month, indicate that consumers have begun to pull back.
"That suggests higher rates were starting to take a bigger toll and sets the stage for weaker growth in the first quarter of this year,'' said Andrew Hunter, senior U.S. economist at Capital Economics.
Economists at Bank of America expect growth to slow to a 1.5% annual rate in the January-March quarter and then to contract for the rest of the year — by a 0.5% rate in the second quarter, 2% in the third and 1.5% in the fourth.
The Fed has been responding to an inflation rate that remains stubbornly high even though it has been gradually easing. Year-over-year inflation was raging at a 9.1% rate in June, the highest level in more than 40 years. It has since cooled — to 6.5% in December — but is still far above the Fed's 2% annual target.
"The U.S. economy isn't falling off a cliff, but it is losing stamina and risks contracting early this year," said Sal Guatieri, senior economist at BMO Capital Economics. "That should limit the Fed to just two more small rate increases in coming months."
One additional threat to the economy this year is rooted in politics: House Republicans could refuse to raise the federal debt limit if the Biden administration rejects their demand for broad spending cuts. A failure to raise the borrowing cap would prevent the federal government from being able to pay all its obligations and could shatter its credit.
Moody's Analytics estimates that the resulting upheaval could wipe out nearly 6 million American jobs in a recession similar to the devastating one that was triggered by the 2007-2009 financial crisis.
At least the economy is likely beginning the year on firmer footing than it did at the start of 2022. Last year, the economy shrank at an annual pace of 1.6% from January through March and by a further 0.6% from April through June. Those two consecutive quarters of economic contraction raised fears that a recession might have begun.
On corporate earnings calls for the April-June quarter of 2022, nearly half of companies in the S&P 500 had cited a "recession" — the highest such proportion since 2010 — according to the data provider FactSet. Forecasters at Bank of America and Nomura had predicted that a recession would hit by the October-December quarter.
But the economy regained strength over the summer, propelled by resilient consumer spending and higher exports.
____
AP Writers Christopher Rugaber and Josh Boak contributed to this report.
Paul Wiseman, The Associated Press
Ottawa gives $20.9-billion over five years in tax credits to stay competitive with U.S. on clean economy spending
The federal government is banking on a suite of new tax credits, a clean electricity grid and the carbon tax to spur the transition to a clean economy and counter vast subsidies rolled out by the United States that risk pulling capital south of the border.
In its budget unveiled Tuesday, Ottawa announced $20.9-billion over five years, the majority of which will go to new investment tax credits for clean electricity, clean hydrogen and clean technology manufacturing. It also expanded eligibility for tax credits for clean technology adoption and carbon capture, utilization and storage (CCUS).
The budget shows Prime Minister Justin Trudeau's government betting on investment tax credits to compete with incentives rolled out by the Biden administration as part of its US$369-billion Inflation Reduction Act. The spending document also shifts the Trudeau government's focus from climate change mitigation to the economic incentives required to meet emissions reduction targets.
In her speech to Parliament, Finance Minister Chrystia Freeland said new fiscal measures would ensure Canada's economy is not left behind during the clean transition, and position the country to benefit from new critical supply chains among allies that cut out unreliable dictatorships.
"We will ensure that Canada seizes the historic opportunity before us," she said.
The majority of the investment tax credits end in 2034 – lining up with Canada's goal for a net-zero electricity grid by 2035.
About 83 per cent of Canada's electricity supply comes from non-emitting sources. To bring that up to 100 per cent within 12 years, the government will implement a 15-per-cent refundable tax credit available to public, private and Indigenous power producers. It can be used to cover large-scale hydrogen and nuclear power projects, some abated natural-gas-fired generation, and equipment for electric transmission between provinces and territories.
The budget estimates the cost of the clean electricity tax credit over the next five years at $6.3-billion. The goal is to encourage electric utilities to build an east-west grid.
On top of that, as promised in the Fall Economic Statement, the budget introduces a clean hydrogen refundable tax credit which will cover between 15 per cent and 40 per cent of eligible project costs. The tax credit is estimated to cost $5.6-billion over five years.
The budget also rolls out a 30-per-cent clean technology manufacturing tax credit aimed at spurring business investment in areas such as the extraction, processing and recycling of critical minerals. It is expected to cost the treasury $4.5-billion over five years.
The clean electricity tax credit is in addition to a previously announced clean technology tax credit that covers 30 per cent of private-sector investments in areas such as wind, solar and small modular nuclear reactors. Eligibility for that program was expanded in this budget and its five-year cost is estimated at $6.7-billion. Companies cannot draw on both tax credits for the same project.
And the budget extends eligibility for the CCUS tax credit, increasing its costs by $516-million over five years to a total of $4.1-billion.
The federal government promised a substantive response to the U.S. Inflation Reduction Act in the budget in large part because of serious concerns in the business community that the Biden administration's measure would drive investment out of Canada. The American spending also pushes protectionist Buy America policies that Mr. Trudeau's government is threatening to mirror.
The budget says Canada is considering introducing new tit-for-tat parameters in the tax credits that would only grant foreign companies the equivalent access to tax credits that Canadian companies are eligible for in their respective countries. The move is meant to give Canada leverage as it tries to secure carve-outs from protectionist U.S. policies.
Robert Asselin, a senior vice-president with the Business Council of Canada, told The Globe and Mail that the path charted by Ms. Freeland is "generally good," in particular the focus on greening the electricity grid.
"It's foundational to everything else. If we don't have enough clean electricity, we'll struggle to decarbonize the economy," he said, adding that the government got "the big things right."
He said that investment-based tax credits give the government more predictability for its long-term budgeting and that copying the production tax credits offered by the U.S. would have "blown the bank."
However, Mr. Asselin said the budget falls short when it comes to incentives to develop new economic sectors. "There's nothing on research and development, nothing on industrial research," he said.
Chris Severson-Baker, the executive director of the Pembina Institute, a think tank, agreed that the focus on a cleaner grid is essential to a greener economy. But, he added: "We're not done."
"There certainly will be a role for future budgets to keep moving forward to get to net zero by 2050."
The Pathways Alliance, whose membership covers about 95 per cent of oil sands production, welcomed the expansion of CCUS supports but said it's still waiting on a better understanding of the government's intentions for carbon contracts for differences. The contracts, details of which have been promised by Ottawa, would provide a predictable price on carbon pollution and carbon credits, thereby ensuring that businesses can plan long-term investments in decarbonization and clean technologies.
Not yet accounted for amid the billions in new spending announced Tuesday is how much money the federal government paid to convince Volkswagen to build its first overseas electric vehicle battery manufacturing "gigafactory" in Ontario. Government officials told reporters the spending is accounted for within the budget but declined to disclose the cost. A formal announcement is expected in about a month.
What to expect from budget 2023 as 'storm clouds' gather over Canada's economy
Canada's Liberal government is in a tight spot heading into the 2023 federal budget.
A year of surging prices and rising interest rates has put fresh stress on Canadian households struggling to make ends meet.
Landmark investments in the green transition from the United States have turned up the heat on the Canadian government as it looks to stay competitive with the economic juggernaut south of the border.
And after years of higher spending and a surging recovery from the COVID-19 pandemic, storm clouds are gathering in the economy, putting new scrutiny on government coffers.
Chrystia Freeland, the government's finance minister and deputy prime minister, has pledged that the 2023 budget will include "targeted" support to help vulnerable Canadians but will not "pour fuel on the fire of inflation."
Can Ottawa thread the needle through the competing pressures and economic uncertainty while still meeting Canadians' ends?
Here's what economists think.
Budget planning in a 'challenging time'
The federal budget comes at a "challenging time" for Freeland and Prime Minister Justin Trudeau, says Sahir Khan, vice-president at the University of Ottawa's Institute of Fiscal Studies and Democracy.
Now in their third term of governing, Khan tells Global News that the Liberals' second budget of their current mandate is set to arrive amid a "change in context."
He says the Liberals have had the "good fortune" of inheriting large revenue surprises in previous budgets, which has helped the government spend more while staying fiscally sustainable.
But government revenues are set to dry up with the economy slowing, Khan warns, even as spending priorities mount.
Among the pressures facing the government are commitments already made on a new health-care accord with the provinces, defence spending both at home and in Ukraine and the green energy transition.
"Storm clouds" are gathering for a possible recession on the horizon, Khan notes, and the federal government will feel pressure to "keep some of their powder dry" for emergency spending to resuscitate the economy if the worst-case scenarios come to pass.
Randall Bartlett, senior director of Canadian economics at Desjardins, says that even with the first quarter of the year off to a stronger start than most economists anticipated, the government still finds itself in a bind with uncertainty about how much the economy slows this year.
"It's a challenging environment to do budget planning overall," he tells Global News.
How will inflation impact the budget?
A surging economy through the COVID-19 recovery helped push government revenues higher and Ottawa spent much of this money on support for Canadians hit hard by the pandemic.
While those programs have largely wound up, a recent analysis from the Bank of Montreal showed that government spending per capita is still 11.3 per cent higher than in the pre-pandemic era.
Bartlett says that while government revenues generally see a boost amid high inflationary periods, the federal government is about to experience the "insidious" nature of rising price pressures on the downturn.
Government spending supports that are indexed to inflation, such as Old Age Security (OAS), are now costing more, just as subsiding inflation and a cooling economy are set to slow government revenue growth, he says.
"We're going to continue to see those knock-on effects of high inflation on the spending side, even as those tailwinds to revenues start to fade," Bartlett says.
But Bartlett adds that the government is facing "a lot of political pressure" to continue to spend to support vulnerable households.
Some economists worry that too much direct financial support from the federal government will end up fuelling inflation, as Canadians use their contributions to buy more goods and services and end up stimulating the economy all over again.
Top officials at the Bank of Canada, which has raised its benchmark interest rate aggressively over the past year to cool the economy and tame inflation, have said that letting up on pandemic-era stimulus sooner could have limited inflation.
In order to avoid driving inflation higher with government support, Ottawa will need to be "well-targeted" in its spending plans, says Lindsay Tedds, associate professor of economics at the University of Calgary.
Rather than sweeping tax cuts, which would lessen the burden on households but could inadvertently spur more spending, Tedds tells Global News that the Liberals could again double the GST credit or top up guaranteed income supplements.
Doing it this way would ensure government spending goes more towards Canadians who need it to make ends meet on the basic necessities, she says.
"We're talking about just trying to get them through being able to pay rent and buy groceries and things like that. So it doesn't have an inflationary impact," she says.
Khan says the government could also "stagger" its promises, with spending ramping up in years three, four and five of its budget horizon. Doing so could allow the Liberals to keep money back to respond to emergencies while also showing Canadians they're listening to affordability concerns, he says.
Pressure from the U.S. demands action
Economists who spoke to Global News say the federal government is feeling pressure to respond to the U.S.'s Inflation Reduction Act, which rolled out a number of incentives for companies to make investments in the green economy south of the border.
Despite restrictions on the government coffers, the Liberals will need to put a "down payment" on some of the clean energy priorities it has talked about for years, Khan says.
If Ottawa does not roll out its own incentives to compete with the U.S., Canada risks losing jobs and investment from large-scale companies in the green economy, he argues.
"They will suck that capital and those jobs out if we don't look like we're doing the same for our industry," Khan says of the U.S.
"There's going to have to be something actually quite tangible in this budget. It can't just all be narrative."
Tedds agrees and notes that announcements on measures like carbon capture and storage will be attractive in Alberta.
Ottawa can't necessarily go toe-to-toe with American capital, however, and Bartlett says the government should focus spending on industries where Canada has a "comparative advantage."
He highlights critical minerals as one such area where Canada could position itself in the green economy.
'Champagne taste' and a 'beer bottle budget'
Tedds says Canadians should "moderate their expectations" for the upcoming budget.
While it's possible Canada avoids the worst of the economic downturn, the outlook is "too unpredictable" for the Liberal government to offer significant relief or big-ticket items in this budget, she says.
Tedds notes she'd like to see an overhaul of the employment insurance program to ensure that when and if Canada's jobless rate starts to rise, the government is ready to support Canadians through the downturn.
"We really should be recession-ready. There are some sectors that are really hurting, tech being one of them. We've seen massive layoffs, especially here in Calgary. And so there are people hurting," she says.
Despite all the pressures facing the Liberals in their third term in office, Khan says the Trudeau government will need to demonstrate that it's still "got some fire in its belly" and can deliver results for Canadians.
"I think this time it's going to be less about aspiration and more about perspiration," he says.
As opposed to a newly elected government delivering a budget of change in its first spending plans, the Liberals will have to prove they still have ideas and can make progress on projects that matter to Canadians, Khan says.
He expects the Liberals will devote a fair bit of the budget text to the already announced health-care spending announced in February as a "victory lap" of sorts.
If the government wants to hit every spending priority while maintaining the federal debt-to-GDP ratio — a key fiscal guardrail watched not only by the government but by credit rating agencies and international observers — it may have to find new sources of funding.
Bartlett says that with the revenue sources drying up and the Liberals under pressure to maintain their fiscal guardrails, tax hikes could be on the table, likely aimed at corporations or higher-income earners.
Otherwise, he says the Liberals might have "champagne tastes," but they're working with a "beer bottle budget."
"They're not going to get everything on their wish list," he says. "And so they need to they need to be mindful of that and exercise some genuine prudence."
— with files from Global News' Touria Izri
Climate Change, Deglobalization, Demographics, AI: The Forces Really Driving Our Economy
Our economy today has been described variously as "weird," "really weird" and "very, very weird."
Weird because this is a yo-yo economy where gas prices shot up to more than $5 a gallon and then settled back down. The inflation rate for used cars dropped, then accelerated at a 40 percent rate before deflating at a record rate. Housing has gone from boom to bust, then to boom again. Economic indicators have been described as "a Jackson Pollock painting of data points and trends."
Economists can't figure it out. Economic models are only getting us as far as separating top-flight economists into Team Stagflation and Team Soft Landing. Alan Blinder, the Princeton economist, talks about the prospects of the Federal Reserve nailing a soft landing like he is handicapping a team's Super Bowl prospects: "I think they still have a chance, but it's a tougher chance than it was."
Economists tried to deal with the twin stresses of inflation and recession in the 1970s without success, and now here we are, 50 years and 50-plus economics Nobel Prizes later, with little ground gained. The Fed and the Treasury Department buttressed the banking structure in the aftermath of the 2008 crisis. Fifteen years later, we are seeing it breached.
There's weirdness yet to come, and a lot more than run-of-the-mill weirdness. We are entering a new epoch of crisis, a slow-motion tidal wave of risks that will wash over our economy in the next decades — namely climate change, demographics, deglobalization and artificial intelligence. Their effects will range somewhere between economic regime shift and existential threat to civilization. The risks to the economy, to the stability of our society and to civilization are enormous if we don't get the economic models right for what's coming.
For climate, we already are seeing a glimpse of what is to come: drought, floods and far more extreme storms than in the recent past. We saw some of the implications over the past year, with supply chains broken because rivers were too dry for shipping and hydroelectric and nuclear power impaired.
For demographics, birthrates are on the decline in the developed countries. China's population is in decline, for instance, and South Korea just set a mark for the lowest birthrate in the developed world. As with climate change, demographic shifts determine societal ones, like straining the social contract between the working and the aged.
We are reversing the globalization of the past 40 years, with the links in our geopolitical and economic network fraying. "Friendshoring," or moving production to friendly countries, is a new term. The geopolitical forces behind deglobalization will amplify the stresses from climate change and demographics to lead to a frenzied competition for resources and consumers.
We can see the impacts of climate change, demographics and deglobalization coming. The fourth, artificial intelligence, is a wild card. But we already are seeing risks for work and privacy, and for frightening advances in warfare.
These risks are going to accelerate and affect us for decades. If our economic models can only get as far as Team Stagflation versus Team Soft Landing — if we can't get a firm hold on pedestrian economic issues like inflation and recession — the prospects are not bright for getting our forecasts right for these existential forces.
The problem here is not that our economic models don't work at all. The models seem serviceable when things are simple and stable, when we are in a steady state with tons of past data to draw on. The problem is that the models don't work when our economy is weird. And that's precisely when we most need them to work.
Economists have admitted as much. At the height of the 2008 financial crisis, Queen Elizabeth II asked the question that no doubt was on the minds of many of her subjects: "Why did nobody see it coming?" The response, some months later, by the Nobel laureate economist Robert Lucas, was blunt: Economics failed with the 2008 crisis because economic theory has established that it cannot predict such crises.
A key reason these models fail in times of crisis is that they can't deal with a world filled with complexity or with surprising twists and turns. For example, the mathematical models of economics analyze a representative agent — be that an individual or a firm — and assume the overall economy will behave the way that this one agent behaves. The problem here, and a problem broadly with complex and dynamic systems, is that the whole doesn't look like the sum of the parts. If you have a lot of people running around, the overall picture can look different than what any one of those people is doing. Maybe in aggregate their actions jam the doorway; maybe in aggregate they create a stampede.
Economists fancy themselves as the physicists of the social sciences, wielding mathematical models to bring solutions to the economic world. But we are not a mechanical system. We are humans who innovate, change with our experiences, and at times game the system. Reflecting on the 1987 market crash, the brilliant physicist Richard Feynman remarked on the difficulty facing economists by noting that subatomic particles don't act based on what they think other subatomic particles are planning — but people do that.
What if economists can't turn things around? This is a possibility because we are walking into a world unlike any we have seen. We can't anticipate all the ways climate change might affect us or where our creativity will take us with A.I. Which brings us to what is called radical uncertainty, where we simply have no clue — where we are caught unaware by things we haven't even thought of.
This possibility is not much on the minds of economists. Charting Fed policy or forecasting consumer demand might have surprises here and there but operate with a well-worn vocabulary. It's with the longer-term risks that "unknowable" has force.
How do we deal with risks we cannot even define? A good start is to move away from the economist's palette of efficiency and rationality and instead look at examples of survival in worlds of radical uncertainty. Take the cockroach: It has survived for hundreds of millions of years as rainforests turned into savannas and savannas turned into deserts. And it has done this with a coarse escape system, simply running from puffs of air on its cercal hairs. Not very elegant. It will never win the Insect of the Year award but has done well enough to survive a world of radical change.
In our time, savannas are turning into deserts. The alternative to the economist's model is to take a coarse approach, to be more adaptable — leave some short-term fine-tuning and optimization by the wayside. Our long term might look brighter if we act like cockroaches. An insect fine-tuned for a jungle may dominate the cockroach in that environment. But once the world changes and the jungle disappears, it will as well.
Rick Bookstaber has served as chief risk officer at major banks and hedge funds. His 2007 book, "A Demon of Our Own Design," warned of the coming financial crisis. His latest book is "The End of Theory."
The Times is committed to publishing a diversity of letters to the editor. We'd like to hear what you think about this or any of our articles. Here are some tips. And here's our email: letters@nytimes.com.
Follow The New York Times Opinion section on Facebook, Twitter (@NYTopinion) and Instagram.