US STOCKS-Tech stocks lift Wall Street as economic rebound slows – Reuters
(For a live blog on the U.S. stock market, click or type LIVE/ in a news window.)
* Weekly jobless claims unexpectedly rise to 870,000
* Nikola slides after Wedbush downgrade
* Accenture drops, BlackBerry rises on quarterly earnings
* Indexes up: Dow 0.39%, S&P 0.54%, Nasdaq 0.81% (Updates to early afternoon)
Sept 24 (Reuters) – Wall Street climbed in choppy trading on Thursday, with investors returning to the perceived safety of technology-related stocks as a surprise rise in weekly jobless claims signaled a slowdown in economic growth.
Nine of the 11 major S&P indexes were trading higher, with information technology leading gains.
Apple Inc, Amazon.com Inc, Netflix Inc , Nvidia Corp and Facebook Inc, which have outperformed at a time of increased economic uncertainty, rose between 0.5% and 2.7%.
"Investors are going to be needing stocks that can weather a lower growth path because if we don't get another round of fiscal stimulus, there's not going to be a lot more we can do to continue boosting the economic recovery," said Max Gokhman, capital markets strategist at Pacific Life Fund Advisors.
Waning hopes of more fiscal stimulus, signs of a faltering business recovery and a sell-off in technology-related names have weighed on U.S. stocks this month.
The S&P 500 briefly fell 10% below its intraday record high hit on Sept. 2. If the benchmark index closes at that level, it will enter correction territory.
Dow constituents, considered a barometer of economic confidence, lagged the S&P 500 on Thursday as data showed 870,000 Americans applied for jobless benefits in the week ended Sept. 19, up from 866,000 in the previous week.
Job cuts have spread to industries such as financial services and technology that were not initially impacted by the mandated business closures in mid-March because of insufficient demand.
At 12:32 p.m. ET, the Dow Jones Industrial Average was up 0.39%, the S&P 500 was up 0.54% and the Nasdaq Composite was up 0.81%.
The CBOE volatility index, which is hovering near two-week highs, is expected to climb in the run up to the quarter end next week.
"The key is the VIX index, which has not yet reached levels that would suggest a continued strong move to the downside," said Peter Cardillo, chief market economist at Spartan Capital Securities in New York.
"So you might get a day of bargain hunting followed by a day of selling, but as the last days of September come into place, we should begin to see some sort of window dressing by institutions."
Homebuilders climbed 0.8% as sales of new single-family homes increased to their highest level in nearly 14 years last month.
Nikola Corp, which is set for its biggest weekly decline ever, shed another 4.3% as Wedbush downgraded the stock to "underperform".
Accenture Plc fell 6.4% after the IT consulting firm forecast current-quarter revenue below expectations, while, U.S.-listed shares of Canadian security software firm BlackBerry Ltd jumped 5% after it posted a surprise rise in quarterly revenue.
Declining issues nearly matched advancers on the NYSE and the Nasdaq.
The S&P index recorded no new 52-week highs and two new lows, while the Nasdaq recorded seven new highs and 116 new lows. (Reporting by Sagarika Jaisinghani and Devik Jain in Bengaluru; Editing by Arun Koyyur)
Coronavirus: Alberta's top doctor says "we have a challenge" as 1440 cases confirmed over weekend – Global News
[unable to retrieve full-text content]
Cenovus Energy shares plummet on news of its $3.8B deal to buy Husky Energy
The all-share deal by Cenovus Energy Inc. to buy Husky Energy Inc. for about $3.8 billion will likely spark more mega-mergers among Canadian oil and gas majors, according to a veteran oilsands analyst.
"This is likely just the start of big deals in Canadian energy land and thus it begs the question of who is next?" said analyst Phil Skolnick of Eight Capital in a report on Monday.
"As seen in the U.S. with the accelerated M&A activity, when there's one meaningful transaction, there's likely more to come."
Several industry observers point to Calgary-based oilsands producer MEG Energy Inc. as the leading potential target, noting Husky's failed $3.3-billion hostile takeover attempt of its smaller rival two years ago.
In his report, Skolnick presents scenarios where Canadian Natural Resources Ltd. (sometimes referred to by its stock ticker, CNQ) or Imperial Oil Ltd. buy MEG, while also outlining the numbers involved if Canadian Natural combined with Imperial or Suncor Energy Inc., and if Suncor were to merge with Imperial.
"Some (scenarios) have been asked about before and I was just bringing up some new ones _ like a CNQ and Suncor merger is not something I've heard out there, but nor was Cenovus-Husky," he said in an interview.
"I'm not going to give zero chance to anything anymore."
Analysts generally applauded the surprise Cenovus-Husky hookup announced Sunday for its operational advantages but criticized the plus-20-per-cent premium in the price for Husky.
"The deal does makes strategic sense," said Manav Gupta of Credit Suisse in a note to investors.
"Like U.S. E&P (exploration and production companies), Canadian energy companies also need to come together, cut costs and become leaner to better adapt to lower energy demand in post pandemic world."
He said Cenovus's reputation as an efficient operator in its steam-driven oilsands projects will help Husky overcome its struggles with operational issues, including higher operating and administrative costs.
The companies have identified $1.2 billion in potential annual cost savings which will include workforce reductions.
But Gupta added the premium is "excessive" and joined other observers in predicting Cenovus shares would trade lower, as they did, falling by as much as 15 per cent to $4.15 in Monday trading in Toronto before closing down 8.4 per cent at $4.47.
Husky, meanwhile, gained as much as 14.2 per cent to $3.62 before closing up 12 per cent at $3.55 .
Husky shareholders are to receive 0.7845 of a Cenovus share plus 0.0651 of a Cenovus share purchase warrant in exchange for each Husky common share if the deal is concluded.
Cenovus shareholders would own about 61 per cent of the combined company and Husky shareholders about 39 per cent.
The transaction must be approved by at least two-thirds of Husky's shareholders but Hong Kong billionaire Li Ka-Shing controls 70 per cent of Husky's shares and has agreed to vote them in favour of the deal.
The announcement Sunday came just as Calgary's oilsands companies are about to start rolling out third-quarter financial results, with Suncor Energy Inc. set to report Wednesday and both Cenovus and Husky scheduled to report on Thursday.
© 2020 The Canadian Press
1 New Case Of COVID-19 In Windsor Essex As Of Monday – windsoriteDOTca News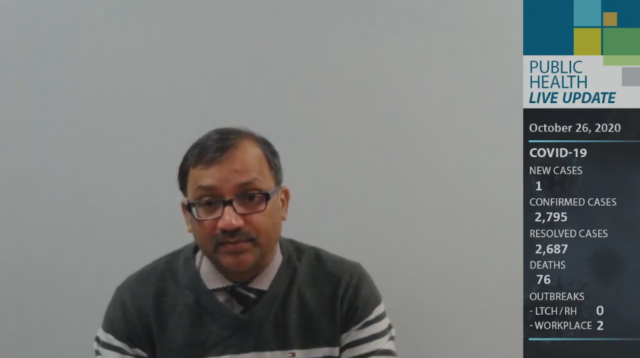 The Windsor Essex County Health Unit has announced 1 new case of COVID-19 as of Monday, bringing the local total to 2,795. They say 2,687 people locally have recovered.
Cases increased from 2,794 on Sunday October 25th to 2,795 on Monday October 26th and 32 cases of COVID-19 are currently active in Windsor-Essex.
The Health Unit says Monday's one new case is still under investigation.
Article Continues Below Local Sponsor Message
There have been no additional deaths due to COVID-19 as of Monday and the local death toll stands at 76.
As of Monday, the Health Unit lists 1 person as hospitalized with a confirmed case of COVID-19 in Windsor Essex, and 1 person in the ICU. Zero hospitalizations are listed at Windsor Regional Hospital.
Workplace Outbreaks
As of Monday, the Health Unit says the following workplaces are under outbreak:
1 construction company (in Lakeshore)
1 food & beverage services company (in Kingsville)
A workplace outbreak is declared when two or more employees test positive for COVID-19 within a reasonable timeline to suspect transmission in the workplace, according to the Health Unit. Officials with the Health Unit have said a workplace will only be named if a threat to the public exists.