USD/CAD Extends Top as Crude Oil Prices Rise, Yen May Gain Next – DailyFX
Canadian Dollar, Crude Oil, Euro, Yen, Australian Dollar – Asia Pacific Market Open
Canadian Dollar gains with crude oil, USD/CAD extended reversal

S&P 500 rose, White House pondering stock-investing tax incentive

U.S. Airbus tariff hike may fuel risk aversion, boosting the Yen next
Canadian Dollar Gains Alongside Crude Oil Prices, Euro Weakens
The Canadian Dollar outperformed against its major counterparts on Friday, extending the rally that prolonged throughout the week. Its rise occurred amid a pickup in crude oil prices, a key source of revenue for Canada. That can imply knock-on effects which could translate into monetary policy expectations.
Sentiment-linked crude prices were elevated as the markets continued shrugging off concerns about the impact of coronavirus on global growth. This follows China revising the method for counting cases, resulting in a strong surge in reports this past week. A swelling in the Fed's balance sheet added liquidity into markets.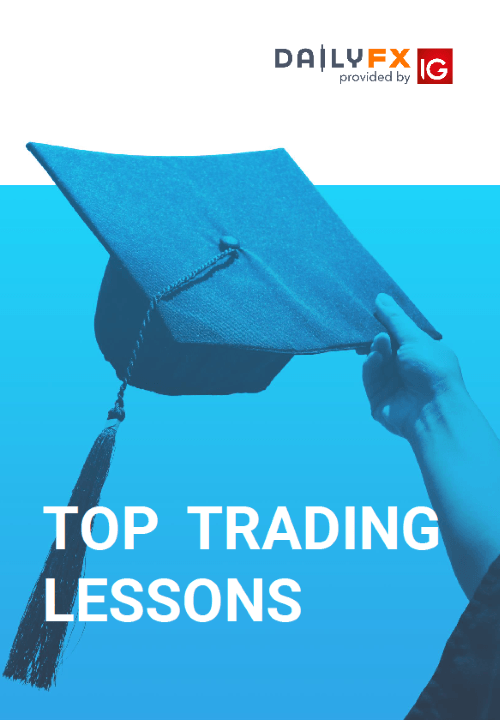 Recommended by Daniel Dubrovsky
Top Trading Lessons
The S&P 500 closed 0.18% to the upside on Friday after reports crossed the wires that the White House is looking into tax incentives for households to purchase stocks. The fate of this, alongside middle-class tax cuts, arguably leans on the outcome of this year's presidential election.
The Euro underperformed, closing at its lowest point against the US Dollar since April 2017. The single currency has been under pressure amid slowing European growth expectations. Preliminary figures showed Eurozone fourth-quarter GDP unexpectedly slowing to 0.9% y/y versus 1.0% anticipated.
Monday's Asia Pacific Trading Session – Japanese Yen, Australian Dollar
After market close Friday, the United States Treasury Representative announced that the country will raise levies on European-imported aircraft to 15% from 10%. This follows a green light from the WTO last year that ruled in favor of the United States imposing about $7.5b in tariffs against the European Union.
This may translate into a cautiously pessimistic mood as the new week gets rolling. Wall Street is offline Monday for the Presidents' Day holiday, lowering levels of liquidity. If Asia Pacific equities trade lower, the anti-risk Japanese Yen may gain at the expense of the sentiment-linked Australian Dollar.
Canadian Dollar Technical Analysis
As expected, USD/CAD turned lower following the emergence of bearish technical signals. Prices took out rising support from late January and have since seen downside follow-through. That places the focus on immediate support at 1.3208.
USD/CAD
BULLISH
Data provided by



of clients are net long.


of clients are net short.
| | | | |
| --- | --- | --- | --- |
| Change in | Longs | Shorts | OI |
| Daily | -3% | 11% | 9% |
| Weekly | 5% | 13% | 12% |
USD/CAD Daily Chart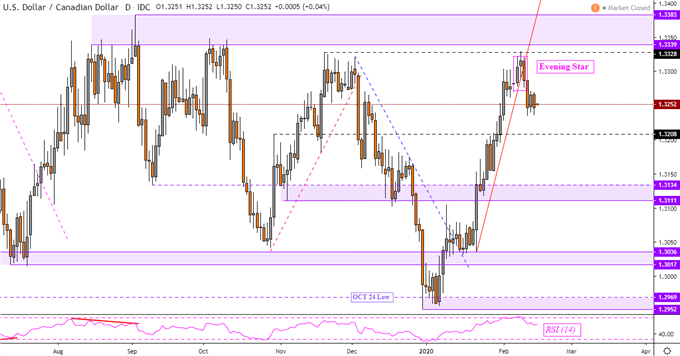 Chart Created Using TradingView
— Written by Daniel Dubrovsky, Currency Analyst for DailyFX.com
To contact Daniel, use the comments section below or @ddubrovskyFX on Twitter
BMO names new head of retail banking Subscriber content – theglobeandmail.com
Bank of Montreal gave two of its senior executives new responsibilities for winning over customers in an increasingly digital business.
Toronto-based BMO handed Cam Fowler the title of chief strategy and operations officer, a newly created role that wraps in all of the bank's branch and digital services. Mr. Fowler was the head of BMO's North American personal and business banking group. That job now belongs to Erminia (Ernie) Johannson, who is currently the head of BMO's North American personal banking and U.S. business banking teams. The promotions are effective March 1, and both Mr. Fowler and Ms. Johannson will report to BMO chief executive officer Darryl White.
In his new role, Mr. Fowler "will be responsible for a lot," Mr. White said. It will be Mr. Fowler's job to draw the bank's strategy, digital operations, innovation, procurement, workplace transformation, marketing and social impact initiatives more closely together.
"The world moves so quickly and the digital agenda is so important that the premium I put on being front-footed and having a view of the future, and investing horizontally across the enterprise, I'm relying on Cam to be a huge help to me to do that," Mr. White said.
Mr. Fowler is a 10-year veteran of BMO who has served as one of Mr. White's key lieutenants over the last two years. On Mr. White's first day as CEO in November, 2017, Mr. Fowler was promoted to president of North American personal and business banking, tasked with deploying new products and strategies across BMO's Canadian and U.S. footprint.
Ms. Johannson has been in charge of U.S. personal and business banking since 2018, and has significantly boosted the bank's American deposit base. Last year, her role expanded to include BMO's network of bank branches in Canada. She has also held roles in credit cards, payments, marketing and risk, and was the architect of the launch of BMO's nationwide U.S. digital bank a year ago.
"It's so natural, because she has done virtually every job that [her new role] encompasses," Mr. White said. Ms. Johansson will divide her time between BMO's Toronto headquarters and its U.S. base in Chicago. David Casper, BMO's U.S. CEO and head of North American commercial banking, will work closely with Ms. Johannson.
Your time is valuable. Have the Top Business Headlines newsletter conveniently delivered to your inbox in the morning or evening. Sign up today.
Bank of Canada decides against launching digital currency, but leaves door open – The Globe and Mail
The Bank of Canada doesn't yet see a need to create its own digital currency, even as some central banks advance toward e-money.
"We have concluded that there is not a compelling case to issue a CBDC [central bank digital currency] at this time," Bank of Canada deputy governor Timothy Lane said in a speech in Montreal Tuesday. Nevertheless, the bank is developing a contingency plan so that it is prepared for the possibility of such a digital option down the road.
"The Bank will build the capacity to issue a general-purpose, cash-like CBDC should the need to implement one arise," the bank said in a background note published on its website in conjunction with Mr. Lane's speech.
"While we don't know what the future may bring, we need to move forward to work out what a potential CBDC might look like and how it could be managed, if the decision were ever taken to issue one," Mr. Lane said in his speech. And he noted that the decision wouldn't be up to the Bank of Canada.
"That's a choice that Canadians and their elected representatives would need to make at the time," he said, adding that "the bank would need proper legislative authority to issue a CBDC."
The background paper indicated that it would take "several years" before the central bank would be in a position to launch its own digital currency.
The Bank of Canada has made a bank-issued digital currency a key research priority over the past year, as the development of private-sector alternatives, especially Facebook's proposed Libra cryptocurrency, have accelerated the urgency among the world's central banks to respond. The bank published a series of papers on the issue Tuesday. It has also formed a working group along with the central banks of England, Japan, the European Union, Sweden and Switzerland to combine their efforts on understanding the implications of CBDCs.
But many central banks look to be further down the road toward pursuing their own digital currencies than Canada is. In a recent survey by the Bank for International Settlements, about one in 10 central banks said they are likely to issue a digital currency within the next three years. China's powerful central bank is believed to be considering a launch of a digital currency within the year. Last week, Sweden's Riksbank announced the launch of a pilot program over the next year to test a new "e-krona" using blockchain technology, though it stressed that no decision has been made regarding introducing the currency.
Sweden is considered one of the world's most cash-less societies, with cash used for only about 15 per cent of retail payments. By comparison, Mr. Lane noted that, while Canadians' use of electronic payment methods has risen substantially in recent years, cash is still used in about one-third of transactions.
He said the case for a Bank of Canada digital currency would become more compelling "if we ever reach the tipping point where cash could no longer be used for a sufficiently wide range of transactions."
He added that another key factor would be if private digital currencies became widely adopted, something that could pose a risk to the stability of central bank currencies and the conducting of monetary policy.
"If either scenario came to pass, society may be well-served with a digital currency," he said.
Your time is valuable. Have the Top Business Headlines newsletter conveniently delivered to your inbox in the morning or evening. Sign up today.
Hong Kong Budget 2020: HK$10000 cash handouts for all adult permanent residents among raft of relief measures – Hong Kong Free Press
Hong Kong's financial secretary has announced a HK$10,000 cash handout to all permanent residents over the age of 18 in a bid to boost local consumption and ease economic woes in light of a fiscal deficit.
The relief measure involving an estimated expenditure of around HK$71 billion came amid negative economic growth since the second half of last year and the city's first deficit in 15 years as the economy took a hit from the US-China trade war, large-scale protests and the coronavirus outbreak.
But Paul Chan remained confident that fiscal reserves, previously estimated at HK$1.1 trillion, could weather the cost of the handout.
"I consider that, with ample fiscal reserves, the government has to increase public expenditure amid an economic downturn to stimulate the economy and ride of the difficult times with members of the public," he said as he delivered his fourth budget blueprint at the legislature on Wednesday.
Chan also announced a salary tax cut of 100 per cent for the 2019-20 year up to a ceiling of HK$20,000 – set to benefit 1.95 million taxpayers and cost HK$18.8 billion.
Other relief measures for the public:
Rates for residential properties for 2020-21 will be waived up to a ceiling of HK$1,500 per quarter – estimated to involve 2.93 million properties and cost HK$13.3 billion.
Eligible social security recipients will benefit from an extra month of Comprehensive Social Security Assistance payments, Old Age Allowance, Old Age Living Allowance or Disability Allowance. A similar arrangement will be rolled out for the Work Incentive Transport Subsidy. It will cost around HK$4.23 billion.
Lower-income tenants in government public housing will have a month of rent waived, with a total cost of HK$1.83 billion.
Exam fees for students sitting the 2021 Hong Kong Diploma of Secondary Education Examination will be waived, at a cost of about HK$150 million.
Relief measures for business:
Profits tax will be reduced by 100 per cent for the 2019-20 year to benefit 141,000 taxpayers at a cost of HK$2 billion.
Business registration fees will be waived for 2020-21, benefitting 1.5 million business owners at a cost of HK$3 billion. Company registry fees for annual tax returns will be waived for two years to benefit 1.4 million firms at a cost of HK$212 million.
A concessionary low-interest loan of up to HK$2 million will be provided to enterprises under the SME Financing Guarantee Scheme.
Rates for non-domestic properties for 2020-21 will be waived up to a ceiling of HK$5,000 per quarter in the first two quarters and a ceiling of $1,500 per quarter in the remaining two quarters for each non-domestic property. 420,000 properties will benefit, at a cost of HK$3.2 billion.
Non-domestic electricity accounts will enjoy a 75 per cent discount up to a ceiling of HK$5,000 for four months, at a cost of HK$2.9 billion. Likewise, water and sewage costs will be discounted by 75 per cent up to a cap of HK$20,000 and HK$12,500 respectively, costing HK$340 billion.
Local recycling firms will see a rental subsidy for six months, costing HK$100 million.
Tenants of government properties, government land and EcoPark will see rent discounts of 50 per cent, costing HK$573 million. Rent and fees for eligible operators of properties will be slashed by 50 per cent, costing HK$265 million.
Hirers of civic centres under the Leisure and Cultural Services Department will enjoy discounts of 50 per cent for six months, costing HK$23 million.
"In preparing this budget, I put the focus on 'supporting enterprises, safeguarding jobs, stimulating the economy and relieving people's burden,' Chan said.
"Hong Kong may have all sorts of shortcomings, but it is our home which allows diversity and freedom of development. Even if we have been disappointed, we can choose to feel hopeful for our future. Even if we are striving for different goals, we can work together to put aside our differences, make room for resolving conflicts, and drive Hong Kong forward," he said in his concluding remarks.