USD May Rise After Trump Called for Post-Election Delay in Stimulus Talks – DailyFX
2020 Election, USD, Trump, US Fiscal Stimulus Package – Talking Points
Trump calls of fiscal stimulus talks until after election, markets pay the price

Biden-Trump spread widest ever recorded ahead of vice presidential debate

AUD/USD fundamentals and technicals aligning – where is the pair headed?
28 DAYS UNTIL THE US PRESIDENTIAL ELECTION
It is officially four weeks until the US presidential election, and political volatility around the situation continues to build. President Donald Trump was recently released from the Walter Reed medical center, where he was being temporarily treated for Covid-19. Despite his quick return to the White House, recent polling data is indicating a landslide victory for Democratic nominee Joe Biden.
2020 US Election Polls
Following the first presidential debate on September 29, the spread between Mr. Biden and Trump widened to 25.5, the biggest divergence ever recorded between the two candidates. With the upcoming vice-presidential debate on October 7, this dynamic will likely be amplified if Biden's running mate Kamala Harris outperforms VP Mike Pence.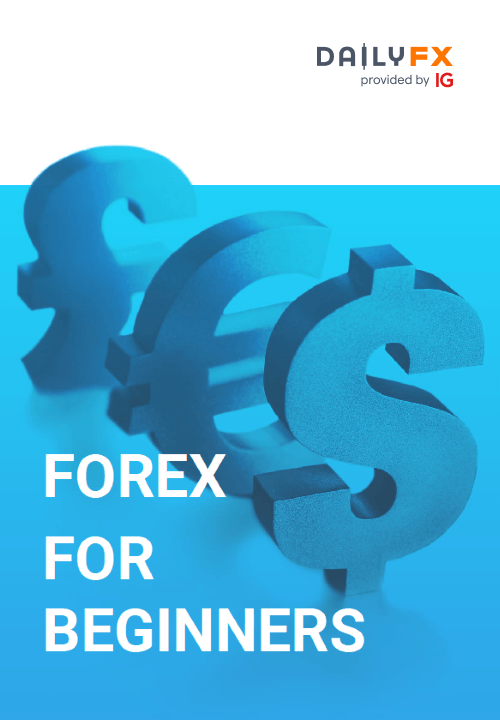 Recommended by Dimitri Zabelin
Learn how to become a more consistent forex trader
Fiscal Stimulus Talks Break Down, Drag Markets with Them
On Tuesday, US President Donald Trump announced that he is instructing key officials in his administration to cease all fiscal stimulus-related negotiations with Democrats until after the election on November 3. While talks up until this point were not encouraging, market price action suggested that investors were betting that the atmosphere of urgency for additional aid would force Republicans and Democrats to work together.
This kind of sentiment yielded results with Europe when the North-South fissure was temporarily put aside for greater unity, and perhaps investors thought the same political dynamic would occur in the US. House Democrats passed a $2.2 trillion stimulus package last week, but the bill has encountered friction from Republicans who fear that such a large stimulus would balloon the national debt even more.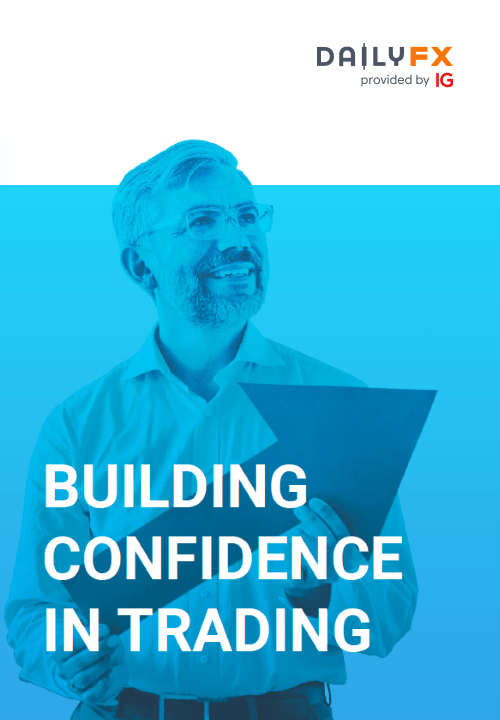 Recommended by Dimitri Zabelin
Don't give into despair, make a game plan
Why the market reaction to the news of the breakdown in talks between congressional lawmakers has elicited such a strong reaction reflects how urgent stimulus is needed. The growth-stimulating provisions of the last package are fizzling out or have already expired, leaving the economy running on fumes as cases spike and the need to reimpose lockdowns grow. In this environment of uncertainty, the haven-linked USD may rise.
AUD/USD Price Analysis
Perhaps not entirely by coincidence, the fundamental backdrop perfectly fits into the technical narrative. AUD/USD has been hovering at the lower tier of a key inflection range between 0.7206 and 0.7181 and is now showing signs of capitulation. The pair experienced its biggest one-day drop since the selling bout in September and may now retest support at 0.7018.
AUD/USD – Daily Chart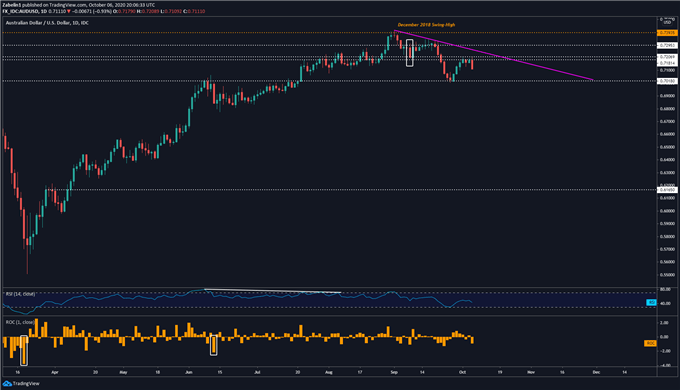 AUD/USD chart created using TradingView
— Written by Dimitri Zabelin, Currency Analyst for DailyFX.com
To contact Dimitri, use the comments section below or@ZabelinDimitrion Twitter
Cenovus-Husky deal to result in upward of 2150 layoffs – CTV Toronto
CALGARY —
Officials with Cenovus Energy confirm the acquisition of Husky Energy will result in the elimination of between 20 and 25 per cent of the staff of the combined company.
Together, the companies currently have 8,600 employees and contractors, which means between 1,720 and 2,150 layoffs are planned.
According to Cenovus, the majority of the staffing cuts will occur in Calgary.
Cenovus announced it had purchased Husky on the weekend through a $3.8 billion share transaction. The deal is expected to be finalized in 2021.
Following the announcement of planned cuts at the combine company, Energy Minister Sonya Savage says there's still reason for optimism regarding Alberta's energy sector.
"Those who wish to see Canada's energy sector shut down entirely will no doubt opportunistically seize upon today's news," said Savage in a statement. "But projections show continued global demand for fossil fuels well into the future. We believe that Canada should not cede that market to countries like Russia and Saudi Arabia.
"As companies across the globe navigate unprecedented economic times, job restructurings are an unfortunate reality of weathering the storm.
"As part of Alberta's Recovery Plan, the Government focused on ensuring that the oil and gas sector is in a strong position for recovery, while also diversifying the economy to create new jobs."
'Already struggling' Calgary downtown core will be hit hard by job cuts from Cenovus-Husky merger – National Post
Article content continued
"It's an unfortunate thing, because, the timing being such, the pandemic has affected everyone in Calgary and certainly in Alberta," Ball said. "For non-profits it means there's been an increase in the demands for their services."
It's especially acute for the cultural non-profits, most of which are based downtown, she said.
"Of course people working downtown creates a vibrancy 5 to 7 and 7 beyond for bars and restaurants and also live in-person events and so the arts sector is tied to, in some ways, the vitality of the downtown core."
Still, in spite of the doom and gloom, there are bright spots: On Monday, Suncor announced it would be relocating employees at its branch offices in the Toronto area to Calgary, essentially bringing 700 positions to Calgary.
"Yesterday, Suncor's leadership spoke with our Downstream employees and let them know that over the course of 2021, we'd be moving our Downstream head office from Mississauga and Oakville to Calgary," Suncor spokesperson Sneh Seetal said in an email.
Nenshi said that Suncor moving people to the city is good news, evidence of the city's appealing real-estate market, compared to overheated business markets such as Toronto, something he hopes will bring even more business to the city.
"That's really the pitch that we're making to a lot of firms," said Nenshi.
Woolley, for his part, also remains optimistic: "There is hope, I am a hopeful, optimistic Calgarian, I believe in our city, but it really does speak to the importance of us taking a look at economic diversification," said Woolley.
With files from Geoffrey Morgan
• Email: tdawson@postmedia.com | Twitter: tylerrdawson
UPDATE: 17 New COVID-19 Cases in Windsor-Essex – AM800 (iHeartRadio)
The Windsor-Essex County Health Unit is reporting 17 new cases of COVID-19 in our region.
Of the new cases, 12 are considered close contacts of confirmed cases. Further breaking that down, the health unit says nine of the 12 are household contacts of a confirmed case from the same household. Two other unrelated cases are close contacts of cases that visited from another jurisdiction and one case is a household contact from a different household.
According to the WECHU, the two households are not related to each other at this time.
Of the five remaining cases, three are community acquired and two are still being investigated.
There are still 44 active cases of COVID-19 in Windsor-Essex as well as outbreaks at two workplaces, one in the construction sector in Lakeshore and the food and beverage industry in Kingsville.
The health unit is not reporting any outbreaks at local schools, long-term care or retirement homes.
Meanwhile, the provincial government is reporting 827 cases of COVID-19. 355 new cases are in Toronto, 169 in Peel, 89 in York Region and 58 in Ottawa.