UTAM to reduce the carbon footprint of its long-term investments by at least 40 per cent by 2030 – News@UofT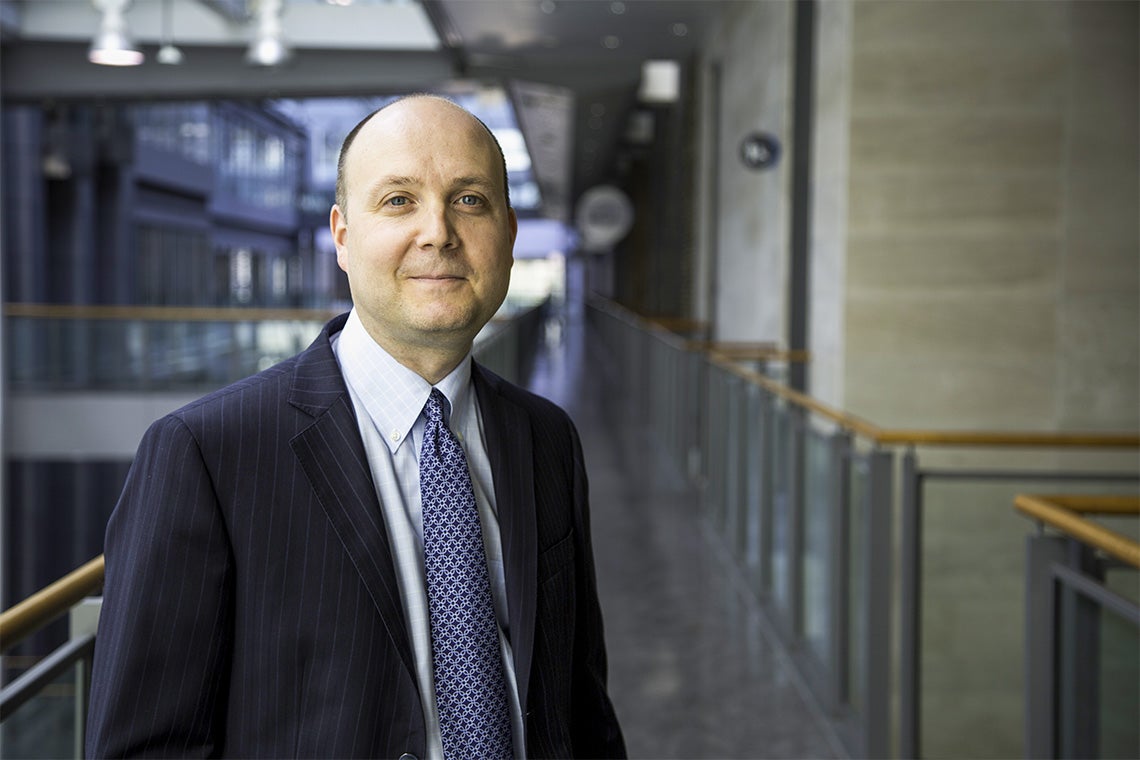 The University of Toronto Asset Management Corp. (UTAM), which manages over $10 billion in assets on behalf of the university, plans to reduce the carbon footprint of the endowment and pension investment portfolios by at least 40 per cent by 2030.
U of T's arms-length investing body outlined the commitment in its 2019 Carbon Footprint Report, which analyzed the carbon footprint of public equity, private equity, private real estate and private infrastructure holdings within the university's pension portfolio as of Sept. 30, 2018. The report uses the pension portfolio as a proxy for the endowment portfolio because the investments in each portfolio are substantially similar.
The planned 40 per cent reduction across the two portfolios would have three times the impact of simply eliminating all oil and gas companies, which UTAM estimates would reduce the carbon footprint of the portfolios by only about 13 per cent.
"This is a target that is ambitious yet achievable," said Daren Smith, president and chief investment officer at UTAM.
"Having a carbon reduction target is a highly effective way to address the risks and opportunities related to climate change in an investment portfolio."
The 2019 Carbon Footprint Report calculates the pension's carbon footprint in 2018 at 136.1 tonnes of carbon dioxide equivalent per million dollars invested – a 2.2 per cent reduction from 2017, which was the first year a carbon footprint was calculated and will serve as the base year for the 40 per cent reduction target to 83.5 tonnes or less by the end of 2030.
Smith said UTAM management worked closely with its board and investment committee, along with university leaders and stakeholders, to determine a carbon footprint-reduction target that is both significant from a climate action perspective and is consistent with the university's risk and return objectives for the pension and endowment portfolios.
While responsible investing has long been a component of UTAM's investment process, the organization adopted formalized environmental, social and governance (ESG) protocols in 2016 in response to U of T President Meric Gertler's 14-point plan to make U of T a leader in tackling climate change.
UTAM has since signed on to the United Nations-supported Principles for Responsible Investment (PRI), signed the Montreal Carbon Pledge and released carbon footprint and responsible investing reports, among other initiatives.
"The University of Toronto recognizes that the coming decade will be crucial in the fight against climate change," President Gertler said, noting the university pledged in its Low Carbon Action Plan to cut its own greenhouse gas emissions by 37 per cent from 1990 levels by 2030, putting it on a path to becoming a "net-zero" institution.
"We applaud UTAM for taking this latest giant stride in its ongoing efforts to address climate change and responsible investing while continuing to invest the university's assets prudently," President Gertler continued. "Although the 40 per cent reduction target for the pension portfolio is expected to be reviewed by the University Pension Plan (UPP) Trustees when the assets transfer to the new plan in 2021, we felt it was important to get started on this important initiative now instead of waiting any longer."
UTAM doesn't buy and sell individual securities itself, but hires external investment managers to invest assets on its behalf in what's referred to as a "manager of managers" approach. To that end, Smith said that one of the strategies under consideration to achieving the 40 per cent reduction target will be to work with investment managers to create lower carbon footprint portfolios.
"We've been talking to our investment managers to understand how they factor in material environmental, social and governance considerations, and that includes climate considerations," Smith said. "We score our managers on responsible investing as part of our investment due diligence.
"We rate the managers and encourage them to adopt best practices."
Smith, who sits on the board of the Canadian Coalition for Good Governance, said the approach enables UTAM to play a key role in influencing the approaches and attitudes of investment managers going forward. That, in turn, allows U of T to have a sustainable, long-term impact that goes well beyond that of its own investment holdings.
Smith cited an example of one investment manager who, thanks in large part to encouragement from UTAM, has become an emerging leader in responsible investment in their space.
In addition to announcing its carbon footprint reduction target, UTAM, on behalf of U of T's pension and endowment funds, endorsed the recommendations of the Task Force on Climate-Related Financial Disclosures (TCFD) that was established by the Financial Stability Board, a Switzerland-based organization that promotes oversight and regulatory policies for the financial system.
Starting in 2020, UTAM will provide reporting following the TCFD framework, which includes recommendations for companies and organizations pertaining to disclosure of their climate-related financial risks. The endorsement makes U of T the first Canadian university to endorse the TCFD recommendations on behalf of its pension and endowment funds, joining the ranks of over 930 public and private sector organizations in supporting the initiative.
"We are taking a comprehensive approach to addressing climate change," Smith said. "The carbon reduction target and our support for the TCFD recommendations are important aspects of this approach, but it also includes incorporating ESG factors into our investment decision-making process, active ownership through proxy voting and company engagement, and assuming an advocacy role with regards to policy-makers and regulators."
Huawei-built data centre a 'failed investment,' Papua New Guinea says – The Globe and Mail
A Huawei-built data centre in Papua New Guinea is a "failed investment," that country's government says, after a technical review found serious security vulnerabilities in what was designed to be an important piece of the country's digital infrastructure.
Dated encryption technology and the placement of some devices in the centre meant that "data flows could be easily intercepted," according to a review commissioned by Papua New Guinea's National Cyber Security Centre and obtained by The Globe and Mail. The security centre receives funding from Australia's Department of Foreign Affairs and Trade. Canberra was given a copy of the report, whose findings were first reported by the Australian Financial Review.
The report details numerous technical deficiencies in the National Data Centre, including firewall devices "with basic settings for defence"; the use of 3DES, a 1995-era encryption standard "considered openly broken since 2016"; and the installation of core switches outside firewalls, which means "remote access would not be detected." The physical configuration of the data centre was different from the schematics for its design, and the differences made it more vulnerable to hacking.
The data centre was financed by a US$53-million loan from the Export-Import Bank of China and designed by engineers from Huawei Technologies Co. Ltd. Its deficiencies have renewed questions about the trustworthiness of Huawei technology at a time when Ottawa and other Western capitals are mulling whether to allow equipment from the Chinese company in 5G networks.
"To some extent, we can conclude that it truly is a failed investment," Timothy Masiu, Papua New Guinea's Minister for Information and Communication Technology, said in a statement on Thursday. He suggested looking instead to cloud storage from companies like Amazon.comInc. and Microsoft Corp., before cautioning against geopolitical point-scoring over digital infrastructure. "Our national issues are our business, and must not be used to fit any other narrative," he said.
Outside Papua New Guinea, however, the problems with the data centre add to concerns about the security of technology made by a company headquartered in China, where the law compels organizations and citizens to "support, assist and co-operate" with the country's intelligence apparatus.
The United States, the U.K. and Australia have to varying degrees banned Huawei's 5G technology.
Last year, the UK's Huawei Cyber Security Evaluation Centre oversight board faulted Huawei more broadly for problems with "basic engineering competence and cyber security hygiene that give rise to vulnerabilities that are capable of being exploited by a range of actors." In April, 2019, Ian Levy, the technical director of the National Cyber Security Centre in the U.K., told the BBC that "the security in Huawei is like nothing else – it's engineering like it's back in the year 2000 – it's very, very shoddy."
Huawei was also the main digital supplier to the Chinese-built African Union headquarters, where, for five years, data were transferred to servers in Shanghai, according to reports in Le Monde Afrique and The Financial Times. Officials have denied such problems existed, and Huawei has said that if any data leaked, it wasn't from the company's equipment.
Still, such problems point to "a relatively immature … security culture in the company," said Christopher Parsons, a senior research associate at The Citizen Lab, which specializes in communications and security studies at the Munk School of Global Affairs and Public Policy.
In Papua New Guinea, "some of the issues being raised are not particularly advanced problems to have identified and then remediated," Mr. Parsons said. "The fact they weren't is unfortunate, and speaks poorly of the security culture that Huawei has."
Huawei did not offer an on-record response to detailed questions about the Papua New Guinea data centre from The Globe. It told the Australian Financial Review: "This project complies with appropriate industry standards and the requirements of the customer."
Huawei has a deep foothold in Papua New Guinea. The company built 4G networks for the country, a high-speed broadband network, and a network of submarine cables to connect coastal settlements. At least one local community complained that excavators used to lay underwater cable broke reefs.
Huawei was also the contractor for a national identity project that includes an electronic identification (e-ID) system backed by a database. That database, service for which has occasionally been interrupted for days, is at the National Data Centre.
The company's importance to Papua New Guinea means trouble with the data centre is "a very sensitive issue," the Ministry of Information and Communication Technology said in a chat message.
In Beijing, foreign ministry spokesman Zhao Lijian said the "Chinese government always requires Chinese companies, in their overseas operations, to strictly follow international regulations." But, he said, the Chinese government firmly opposes "some foreign media's malicious discussions about the data centre."
In Papua New Guinea, security vulnerabilities have become less of a concern than disrepair. The data centre has a slow internet connection, and some of its components – including backup batteries and an e-mail server – are broken. Software licences have expired, and the report says local authorities do not have enough funds to properly maintain the centre.
As a result, it "is not currently used by a significant portion of the government of PNG," the report found. "It is assessed that a full rebuild would need to occur to modernize the facility."
Our Morning Update and Evening Update newsletters are written by Globe editors, giving you a concise summary of the day's most important headlines. Sign up today.
When is the right time to start investing? Plus, the importance of patience and a growing disconnect between markets and the economy – The Globe and Mail
If we waited for an ideal time to start a lifetime of investing, few of us would ever get into the stock market at all.
The March crash was a great time, in retrospect. But a lot of investors held back because they worried about worse losses ahead as the pandemic spread globally. Stocks have powered back from their lows with a vengeance, which brings a new set of complications. If the economic recovery from the pandemic disappoints, stocks could fall again.
We have two vastly different sets of market conditions in March and August, but a common sense of caution about whether it's a good time to start investing. I offer this up as context for a recent question from a reader in Toronto: "My 27-year-old has never invested and is asking is this a good time to start? She is thinking of using a robo-adviser and has about $50,000 to invest. What would you suggest about timing and robo investment?"
First off, thumbs up to the idea of using a robo-adviser. It's a cost-effective way for investing newcomers to instantly start building a well-diversified portfolio of exchange-traded funds with a risk level tied to their personal needs.
Is now a good time to start investing through a robo-adviser or any other channel? Any time is a good time, if you handle it right.
This reader's daughter should consider a plan to have a preset amount transferred electronically to the robo account and invested every time she gets paid. As for the $50,000, she should give some thought to a staggered approach. Maybe invest $10,000 right now and an additional $5,000 each month for the next eight months. This would be in addition to those regular contributions from her paycheque.
Invest the entire $50,000 now and she runs the risk of getting hit by a nasty market pullback that shears off 20 per cent or 30 per cent of her investment in short order. Hold off on investing the $50,000 until after a crash and she runs the risk of missing the rally that follows all market downturns. It's asking a lot for an investing rookie to put $50,000 into a stock market that seems to be falling off a cliff.
— Rob Carrick
This is the Globe Investor newsletter, published three times each week. If someone has forwarded this e-mail newsletter to you or you're reading this on the web, you can sign up for the newsletter and others on our newsletter signup page.
Stocks to ponder
The Rundown
Stay patient if the pandemic's get-rich-quick phase has you feeling left out
Who knew five months ago that the pandemic would be such a money-making opportunity? Stocks are flying, the housing market is surging, gold has popped and bitcoin's on a tear. Did you miss the memo about pivoting from financial self-preservation to aggressive speculation? Feeling left out because you played it safe while others were daring?, writes Rob Carrick (for Globe subs)
How can Wall Street be so healthy when Main Street isn't?
The stock market is not the economy. Rarely has that adage been as clear as it is now. An amazing, months-long rally means the S&P 500 is roughly back to where it was before the coronavirus slammed the U.S., even though millions of workers are still getting unemployment benefits and businesses continue to shutter across the country. The Associated Press reports (for Globe subs)
Trading in securities could jeopardize your CERB benefits
As CERB benefits end, the Canada Revenue Agency's review of Canadians who received the benefit will move into high gear. There are some recipients who may mistakenly think they're entitled to CERB, but the taxman might disagree and ask for repayment. I'm talking about frequent traders in securities, including day traders. Tim Cestnick explains (for Globe subs)
Others (for subscribers)
Insiders continue their contrarian buying at Corus Entertainment
The week's most oversold and overbought stocks on the TSX
Friday's analyst upgrades and downgrades
Friday's Insider Report: CEO invests nearly $1-million in this beaten-down stock
Thursday's analyst upgrades and downgrades
Ten U.S.-listed technology companies with solid earnings growth
Nine global equity ETFs to augment your portfolio and reduce home-country bias
Investors in Belarus face 'dictator dilemma', Putin may hold the key
Others (for everyone)
Biden victory? Disputed election? Wall Street prices in November outcomes
Impasse! World market themes for the week ahead
Commodity traders face rising finance costs as big banks pull out
Globe Advisor
Are you a financial advisor? Register for Globe Advisor (www.globeadvisor.com) for free daily and weekly newsletters, in-depth industry coverage and analysis, and access to ProStation – a powerful tool to help you manage your clients'' portfolios.
Ask Globe Investor
Question: I would like to get some technology exposure for my portfolio. What do you recommend?
Answer: Unless you have a deep understanding of the technology space, I would not recommend buying individual tech stocks. A low-cost exchange-traded fund that provides diversified exposure is a better bet because it will help to control your risk. I'll discuss a few worthy candidates among the dozens available.
The iShares Core S&P U.S. Growth ETF (IUSG) isn't specifically a technology fund, but nearly 40 per cent of its weighting is in tech stocks such as Microsoft Corp. (MSFT), Apple Inc. (AAPL), Amazon.com Inc. (AMZN), Facebook Inc. (FB) and Alphabet Inc. (GOOG). You'll also find plenty of non-tech growth stalwarts such as Johnson & Johnson (JNJ) and Procter & Gamble Co. (PG), which increases diversification and may enhance stability. IUSG's management expense ratio is a rock-bottom 0.04 per cent and the fund pays a modest dividend yield of about 1.4 per cent.
For a pure-play tech fund, consider the Vanguard Information Technology ETF (VGT), which has an MER of 0.1 per cent. If you're investing in IUSG, VGT or any of the dozens of other U.S.-listed growth or technology ETFs, keep in mind that you'll need to buy them in U.S. dollars. This exposes you to currency conversion costs and exchange-rate volatility. If you want to eliminate or at least minimize such currency impacts, consider a Canadian-listed ETF such as the BMO Nasdaq 100 Equity Hedged to CAD Index ETF (ZQQ), which has about half of its assets in technology stocks and charges an MER of 0.39 per cent.
— John Heinzl
What's up in the days ahead
Click here to see the Globe Investor earnings and economic news calendar.
More Globe Investor coverage
For more Globe Investor stories, follow us on Twitter @globeinvestor
You may also be interested in our Market Update or Carrick on Money newsletters. Explore them on our newsletter signup page.
Compiled by Globe Investor Staff
Ontario Supports Municipalities with Critical Infrastructure Investments – Government of Ontario News
Priority Projects will help Create Jobs and Support Growth as the Province Safely Reopens after COVID-19
TORONTO – The Ontario government is investing more than $4.2 million through the Regional Development Program to support important infrastructure projects in the County of Simcoe, the Town of Tillsonburg and the City of Sarnia. These investments will help attract local investment and create jobs as the province starts down the path to renewal, growth and economic recovery.
"As the province continues to safely and gradually reopen and we turn our attention to growth and recovery, we are helping local communities and local municipalities create jobs," said Vic Fedeli, Minister of Economic Development, Job Creation and Trade. "These projects will make a significant impact in facilitating economic growth for the communities of Simcoe, Tillsonburg and Sarnia-Lambton. They will enable long-term measurable outcomes, including private sector investments, job creation, and growth of the regions."
Ontario is providing $1.5 million for the County of Simcoe to invest in the widening of the Lake Simcoe Regional Airport runway from 100 ft to 150 ft. With Ontario's support, the widening will increase safety, improve a key municipal asset and position Simcoe County for private-sector investment. The widening of the runway is a regional priority for the County and is considered a critical piece of infrastructure for future business opportunities and economic benefits.
"The Lake Simcoe Regional Airport is a gateway to our community, and this expansion provides an opportunity for significant growth and increased economic activity right here in Oro-Medonte," said Doug Downey, MPP for Barrie-Springwater-Oro-Medonte. "I appreciate that the Ministry of Economic Development has seen the great value in this project, and understands the significant impacts it will bring to rural Ontario. I thank them for partnering with the County to help ensure shovels will soon hit the ground!"
Ontario is providing more than $1.2 million for the Town of Tillsonburg to build and develop the Van Norman Innovation Park, which will give the region a competitive advantage in attracting new investment. With Ontario's support, the town will invest in critical infrastructure, including sewers, watermains and roads to make the innovation park investment ready. This will also encourage the growth of high-tech manufacturing cluster with a focus on the advanced manufacturing, automotive and agri-food processing sectors.
"Since taking office, our government has sent a clear message that Ontario is open for business and open for jobs," said Ernie Hardeman, MPP for Oxford. "We're creating an environment where businesses can focus on what they do best — developing great products and services and building successful companies. It's great to see the Town of Tillsonburg invest in the infrastructure that will help to attract and retain those businesses here in Oxford."
Ontario is providing $1.5 million for the City of Sarnia to build an oversized load corridor that will increase capacity of the Port of Sarnia and surrounding road networks. The oversized load corridor will facilitate the transportation of oversized loads from local industrial fabricators and manufacturers to national and overseas markets, addressing the costly and cumbersome process of transporting products. With Ontario's support, the City will invest in infrastructure improvements including overhead utility crossings, municipal roadways, and the deep-water Port of Sarnia.
"As a community we have been working on getting the funding for this project for nearly a decade," said Robert Bailey, MPP for Sarnia—Lambton. "This investment by the Ontario government is coming at just the right time as the economy starts to reopen. This project will help to support our world class fabrication shops and local industry by making it easier to move large industrial components and machinery to and from Sarnia Harbour."
To support regional priorities and challenges, the RDP provides cost-shared funding to municipalities and economic development organizations to help communities attract investment, diversify their economies, and plan for long-term sustainability. Provincial and local leaders will be joining together at the first virtual AMO 2020 Conference from August 17 to 19 to share experiences, build understanding, and plan for a strong future.
Quick Facts
The government launched the Regional Development Program for eastern and southwestern Ontario in November 2019. Businesses and municipalities can get financial support through the Eastern Ontario Development Fund (EODF) and Southwestern Ontario Development Fund (SWODF) and guided access to a range of complementary services and supports.