Vaccinations on hold as city awaits more doses – CBC.ca
Ottawa's COVID-19 inoculation program will be on hold for several days next week as health officials await further delivery of the Pfizer-BioNTech vaccine.
The Ottawa Hospital will run out of doses on Saturday, after which the vaccination clinic "is expected to be paused and resume operation toward the end of next week," the hospital confirmed to CBC in an emailed statement Friday.
Any remaining doses — the hospital didn't say how many — will be used for long-term care residents "as a priority," and for the health-care workers and other caregivers who were vaccinated last month but require their second doses within the 21-28 day period recommended by the manufacturer.
Because of the supply shortage, "some appointments already pre-booked will have to be rescheduled, and those individuals will be contacted with a new appointment time to ensure they receive their second dose within the timeframe outlined," according to the hospital.
There's no word yet on how many Pfizer-BioNTech doses are expected to arrive in Ottawa next week. The federal government said Friday it expects 280,000 doses a week to arrive in Canada until the end of January, increasing to 360,000 a week in February.
It's not clear when doses of the Moderna vaccine might also arrive in Ottawa.
Nursing homes a priority
So far, Ottawa has received 12,675 doses of the Pfizer-BioNTech vaccine. As of Wednesday, the hospital had administered 11,000 doses to about 10,000 people on site.
Residents of five long-term care homes also received vaccinations this week. Residents have been deemed a priority to receive the vaccine because the death rate among those who contract COVID-19 is extremely high.
In a memo on Friday, Ottawa's medical officer of health Dr. Vera Etches and Anthony Di Monte, the city's general manager of emergency and protective services, listed the order in which residents of the remaining long-term homes will be vaccinated.
Perley Rideau Veterans' Health Centre (already vaccinated once).
Carlingview Manor Long-Term Care Home (already vaccinated once).
Peter D. Clark Home (already vaccinated once).
St. Patrick's Home of Ottawa (already vaccinated once).
Garry J. Armstrong (already vaccinated once).
Saint-Louis Residence – Bruyère.
Extendicare Medex.
Extendicare West End Villa.
Extendicare Laurier Manor.
The Glebe Centre.
Madonna Care Community.
Extendicare Starwood 1.
Garden Terrace 14.Centre d'Accueil Champlain.
Granite Ridge Care Community.
Forest Hill.
Villa Marconi.
Carleton Lodge.
Revera Montfort Long-Term Care Home.
Osgoode Care Centre.
Salvation Army Ottawa Grace Manor.
Hillel Lodge.
New Orchard Lodge.
Revera Longfields Manor Long-Term Care Home.
Résidence Élizabeth Bruyère.
Manoir Marochel.
Sarsfield Colonial Home.
Royal Ottawa Place.
However, the city couldn't say when that might start.
"Specific dates cannot be determined at this time given vaccines are received from the province weekly and in amounts that fluctuate week over week," according to the memo. "Distribution planning must also consider inventory requirements for second vaccine doses, which have started to be administered."
Nova Scotia reports 3 new cases of COVID-19 Sunday – HalifaxToday.ca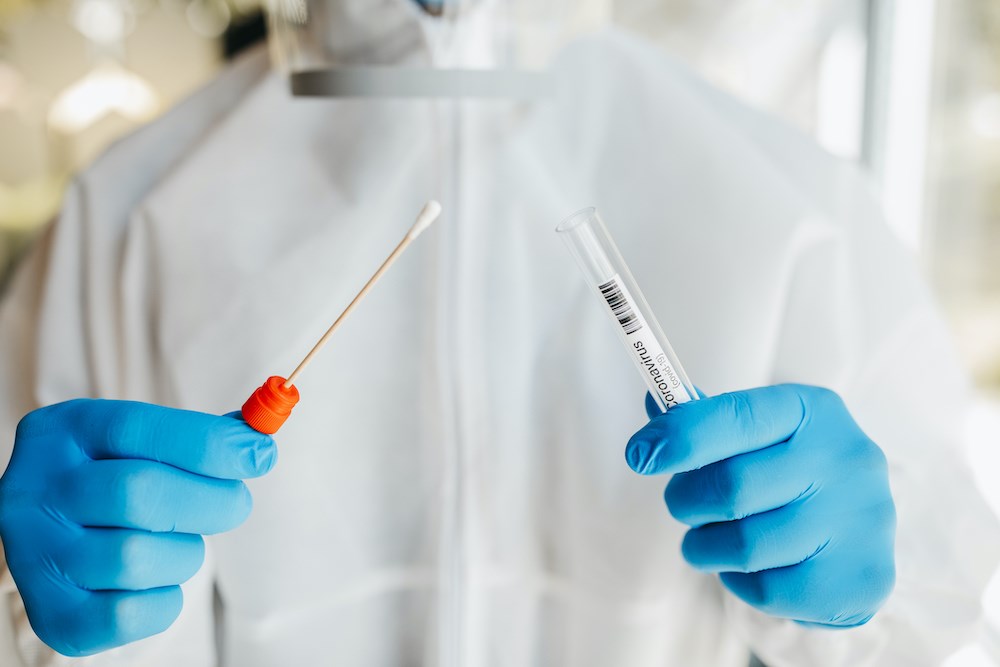 NEWS RELEASE
COVID-19/HEALTH/WELLNESS
*************************
Three new cases of COVID-19 are being reported in Nova Scotia today, Feb. 28.
One case is in Central Zone and is a close contact of a previous case.
One case is in Eastern Zone and is related to travel outside Atlantic Canada.
One case is in Northern Zone and is related to travel outside Atlantic Canada.
All three people are self-isolating, as required.
"I want to thank the Nova Scotians who have responded in great numbers to get tested, setting a one-day record at the lab," said Premier Iain Rankin. "Let's continue to make proactive testing a top priority. No matter whether you live in Halifax or elsewhere in the province, I encourage you, even if you don't have symptoms, to book an appointment at one of the primary assessment centres or drop into a pop-up testing site.
As of today, Feb. 28, Nova Scotia has 38 active cases of COVID-19.
Nova Scotia Health Authority's labs completed a record 4,839 Nova Scotia tests on Feb. 27, compared to the previous high of 4,125, completed on Nov. 30. Additional comparisons:
— Last Saturday, Feb. 20, the lab completed 1,698 tests.
— Including today's report, the average for the last seven days is 2,808 tests per day.
In addition, the number of people getting a pop-up test on both Friday and Saturday was four times higher than the average daily total.
Since Oct. 1, Nova Scotia has completed 211,008 tests. There have been 552 positive COVID-19 cases and no deaths. Two people are currently in hospital, in ICU. Cases range in age from under 10 to over 70. There are 514 resolved cases. Cumulative cases may change as data is updated in Panorama.
"While the case numbers are low today, we must remain vigilant and keep following the restrictions to ensure our communities stay safe," said Dr. Robert Strang, Nova Scotia's chief medical officer of health. "Follow all the public health measures and make testing part of your regular COVID-19 prevention measures. And if you have flu or cold symptoms, it is especially important you get tested for COVID-19."
Nova Scotians are strongly encouraged to seek asymptomatic COVID-19 testing, particularly if they have a large number of close contacts due to their work or social activities. Appointments can be booked at https://covid-self-assessment.novascotia.ca/ , by choosing the asymptomatic option. Rapid testing pop-up sites continue to be set up around the province as well. More information on testing can be found at https://www.nshealth.ca/coronavirustesting .
Visit https://covid-self-assessment.novascotia.ca/ to do a self-assessment if in the past 48 hours you have had or you are currently experiencing:
— fever (i.e. chills/sweats) or cough (new or worsening)
Or:
Two or more of the following symptoms (new or worsening):
— sore throat
— runny nose/nasal congestion
— headache
— shortness of breath/difficulty breathing
Call 811 if you cannot access the online self-assessment or wish to speak with a nurse about your symptoms.
When a new case of COVID-19 is confirmed, the person is directed to self-isolate at home, away from the public, for 14 days. Public health works to identify and test people who may have come in close contact with that person.
Anyone who has travelled from anywhere except Prince Edward Island must self-isolate for 14 days. As always, anyone who develops symptoms of acute respiratory illness should limit their contact with others until they feel better.
It remains important for Nova Scotians to strictly adhere to the public health order and directives — practise good hand washing and other hygiene steps, maintain a physical distance when and where required. Wearing a non-medical mask is mandatory in most indoor public places.
Nova Scotians can find accurate, up-to-date information, handwashing posters and fact sheets at https://novascotia.ca/coronavirus .
Businesses and other organizations can find information to help them safely reopen and operate at https://novascotia.ca/reopening-nova-scotia .
Quick Facts:
— additional information on COVID-19 case data, testing and vaccines is available at https://novascotia.ca/coronavirus/data/
— a state of emergency was declared under the Emergency Management Act on March 22, 2020 and extended to March 7, 2021
— online booking for COVID-19 testing appointments is available at https://covid-self-assessment.novascotia.ca/
Additional Resources:
Government of Canada: https://canada.ca/coronavirus
Government of Canada information line 1-833-784-4397 (toll-free)
The Mental Health Provincial Crisis Line is available 24/7 to anyone experiencing a mental health or addictions crisis, or someone concerned about them, by calling 1-888-429-8167 (toll-free)
If you need help with a non-crisis mental health or addiction concern call Community Mental Health and Addictions at 1-855-922-1122 (toll-free) weekdays 8:30 a.m. to 4:30 p.m.
Kids Help Phone is available 24/7 by calling 1-800-668-6868 (toll-free)
For help or information about domestic violence 24/7, call 1-855-225-0220 (toll-free)
For more information about COVID-19 testing and online booking, visit https://novascotia.ca/coronavirus/symptoms-and-testing/
*************************
Latest COVID update Feb. 27: 5 deaths,162 new cases, record high vaccinations – CKOM News Talk Sports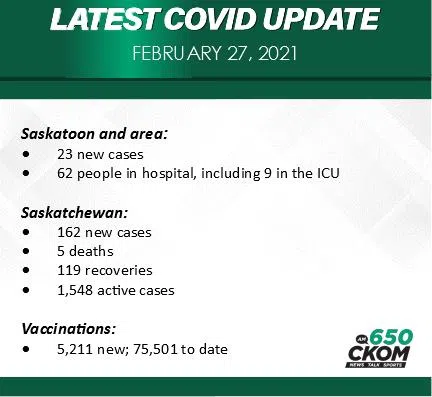 Saskatchewan saw a record amount of daily COVID-19 vaccinations as the province hit a total of 75,501 to date.
The record-high 5,211 doses were administered in the Saskatoon (254), Regina (286), far northwest (33), north-central (869), northwest (918), central-east (1202), central-west (403), southeast (570) and southwest (676) zones on Friday.
There were also five people with the virus who died in the province, bringing the number of Saskatchewan residents who have died with COVID to 385.
The deaths were reported in the 80 plus age group from the Regina (three), Saskatoon (one) and southeast (one) zones.
There were 162 new cases of the coronavirus reported in the province on Saturday, bringing the provincial total to 28,506 cases.
The new cases are located in the far northwest (27), far northeast (five), northwest (13), north-central (three), northeast (nine), Saskatoon (23), central-east (18), Regina (52), south-central (seven) and southeast (one) zones, while four cases are pending residence information. Nine cases with pending residence information were assigned to the far northeast (one), northwest (one), north-central (three), Regina (three) and south-central (one) zones.
The number of people in hospitals throughout the province battling COVID-19 continues to drop.
There are 151 people in hospital with the virus, including 135 people receiving inpatient care in the far northwest (five), far northeast (two), northwest (11), north-central (13), northeast (one), Saskatoon (53), central-west (one), central-east (seven), Regina (36), south-central (two) and southeast (four) areas.
Sixteen people are in intensive care with COVID in the northwest (one), Saskatoon (nine) and Regina (six) regions.
There are a total of 26,573 recoveries from the virus to date and 1,548 cases are considered active.
Canada adds 45 new COVID-19 deaths as P.E.I. introduces 'circuit breaker' measures – Global News
One of the provinces that's largely escaped the ravages of the COVID-19 pandemic abruptly moved to stem a burgeoning outbreak on Saturday, while Canada's two long-standing virus hot spots marked a grim anniversary and braced to pass some sobering milestones in their respective fights against the pandemic.
All of this comes amid another 2,724 cases of COVID-19 reported by health authorities across the country Saturday, pushing the national caseload to 864,132. Another 45 deaths were reported on Saturday as well, with the country's death toll standing at 21,960.
At least 811,300 patients have since recovered from contracting the virus however, while over 24.8 million tests and 1.83 million vaccine doses have been administered.
Prince Edward Island's newly announced "circuit-breaker" measures, which limit gathering sizes and social circles, are meant to clamp down on an outbreak of COVID-19 that officials believe is linked to the variant of the virus that first emerged in the United Kingdom.
"We do seem to be stuck in this tangled spider's web of COVID and it won't really let us out of its grip," P.E.I. Premier Dennis King said Saturday.
The measures come into effect Sunday and are set to last two weeks.
They also prohibit indoor dining and receptions for weddings and funerals, while limiting occupancy in retail stores and gyms.
The province counted six new cases of COVID-19 on Saturday, all among people in their 20s. None of the cases are linked to travel outside the province.
[ Sign up for our Health IQ newsletter for the latest coronavirus updates ]
P.E.I. has had 127 cases of the virus since the pandemic began, 10 per cent of which are currently active.

2:28


Alone and Apart: Loneliness pandemic's toll on mental health



Ontario, meanwhile, is poised to cross the 300,000 case threshold on Sunday after the 1,185 new infections counted Saturday pushed the overall tally to 299,754.
The province has been logging roughly 1,000 new cases per day in recent weeks. Ontario is also approaching 7,000 total deaths linked to the virus, with 6,960 recorded as of Saturday.
The province is taking a regional approach to its pandemic response, and is set to push two public health units back into lockdown on Monday — Simcoe-Muskoka and Thunder Bay.
Meanwhile, restrictions will loosen Monday in the Niagara Region, Chatham-Kent; Middlesex-London; Southwestern; Haldimand-Norfolk; Huron Perth; and Grey Bruce public health regions.
Meanwhile Quebec, Ontario's neighbour to the east, marked one year since detecting its first case of COVID-19.
In that time, it's seen 287,003 cases of the virus, including 858 that were announced Saturday. It also logged 13 more deaths for a total of 10,385.
But Premier Francois Legault said there was reason for optimism, as the infection rate has been relatively stable and the province has begun vaccinating members of the general public in some regions.
"We should receive around 175,000 doses of vaccine per week in March and therefore we will move quickly," Legault wrote. "We still have a few critical weeks ahead of us, especially because of the spring break and the new variants."
The province has 34 confirmed variant cases with 30 of them identified as the B.1.1.7 mutation first detected in the U.K.
Elsewhere, New Brunswick reported two new cases of COVID-19 on Saturday, while Nova Scotia and Newfoundland and Labrador each added four.
Manitoba recorded 88 new cases of the virus and four more deaths, while Saskatchewan added five deaths and 162 new infections.
Alberta, meanwhile, reported six new deaths linked to COVID-19 and 415 new diagnoses.
— With files from Global News
© 2021 The Canadian Press