Vancouver storm: A state of emergency has been declared in British Columbia – BBC News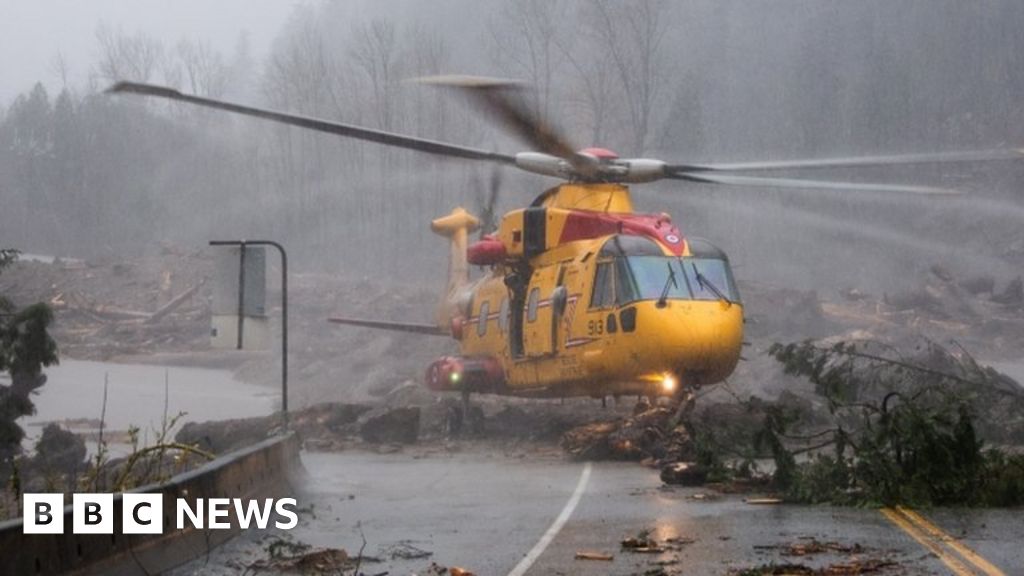 A state of emergency has been declared in the Canadian western province of British Columbia after a major storm cut road and rail links in the region.
The Canadian Armed Forces have been deployed to help thousands of stranded residents who have been trapped since the storm hit overnight on Sunday.
Prime Minister Justin Trudeau pledged assistance during a visit to Washington DC and said troops would help rebuild.
One woman was killed in a landslide, and two people are missing.
Officials expect more fatalities to be confirmed in the coming days.
What is the latest on the ground?
Thousands of farm animals have died and many more remain trapped by the flood waters after the storm passed through one of Canada's most agriculturally intensive areas.
Some 20,000 people are yet to return to their homes after an "atmospheric river" – a long strip of moisture in the air that transports water from tropical areas towards the poles – dumped the region's monthly rainfall average in 24 hours.
British Columbia Premier John Horgan announced the two-week emergency order on Wednesday.
He said that travel restrictions will keep people off flooded roads, and ensure that essential goods will "reach the communities that need them".
Helicopters on Wednesday dropped food supplies to stranded mountain communities after slides destroyed roads and floods submerged major highways.
The town of Tulameen has about 400 people trapped there, according to Reuters news agency.
Some communities at higher elevations have seen temperatures drop below freezing. Farmers and ranchers at lower elevations have struggled with widespread flooding and have lost much of their livestock.
Approximately 1,500 travellers became stranded in the town of Hope after roads closed, Grace Baptist Church Pastor Jeff Kuhn told BBC News in an email on Wednesday.
More rain is forecast for Thursday.
Is this due to climate change?
Officials in the region have attributed the natural disaster to the effects of climate change.
Mr Horgan said British Columbia must "bring the seven billion other souls that live on this planet to understand that we need to act now" to prevent these events in future.
The impact of climate change on the frequency of storms is still unclear, but we know that increased sea surface temperatures warm the air above and make more energy available to drive hurricanes, cyclones and typhoons. As a result, they are likely to be more intense with more extreme rainfall.
The world has already warmed by about 1.2C since the industrial era began and temperatures will keep rising unless governments around the world make steep cuts to emissions.
University of British Columbia atmospheric scientist Rachel White told the BBC that the massive devastation caused by this storm can likely be attributed to a combination of human-caused factors.
"As we warm up the climate, heavy rainfall events such as these are going to get more intense," she said.
"As we warm up the atmosphere, as we warm up the oceans – more water is evaporated from the oceans. So then when we have these atmospheric river events, essentially the atmosphere can carry more water towards our mountains." This then condenses into rain.
The extreme weather in Canada comes days after world leaders met for the COP26 climate conference in Glasgow.
The same region, British Columbia, suffered a record high heat wave in the summer that killed more than 500 people as well as wildfires, including one that destroyed the village of Lytton.
U.S. to revoke terrorist designation for Colombia's FARC, add breakaway groups
The United States will revoke its designation of the Colombian group the Revolutionary Armed Forces of Colombia as a foreign terrorist organization on Tuesday while designating two breakaway groups as such, a senior State Department official said on Friday.
A review of the terrorist listing – required every five years under U.S. law – found that the leftist organization known by the Spanish acronym FARC should no longer be listed, The official said.
But the two dissident groups that have formed out of FARC, La Segunda Marquetalia and FARC-EP, or People's Army, would be designated as foreign terrorist organizations, the official said.
"It's a realignment to address these current threats," the official said. "The FARC that existed five years ago no longer exists."
Founded in 1964, FARC was responsible for summary executions and kidnappings of thousands of people, including Americans.
On Tuesday, Reuters reported that the United States was preparing to remove FARC from the list five years after the group signed a peace agreement with Bogota.
The State Department notified the U.S. Congress on Tuesday of its planned delisting of FARC. The Colombian government was formally notified on Wednesday.
The government of Colombia did not immediately respond to a request for comment.
The decision will allow U.S. government agencies like the U.S. Agency for International Development to work on peace implementation in parts of Colombia where demobilized FARC soldiers are located, the official said.
"This is a priority for the Colombian government in the implementation of the peace agreement," the official said.
(Reporting by Daphne Psaledakis and Simon Lewis in Washington; Additional reporting by Oliver Griffin in Bogota; Editing by Mark Porter and Leslie Adler)
Tunisian police say they shot, wounded extremist trying to attack them
Tunisian police on Friday shot and wounded an extremist who sought to attack them with a knife and cleaver in the capital, authorities said.
The 31-year-old man, whose identity was not disclosed, shouted, "God is great. You are infidels," as he ran toward police officers near the interior ministry, the ministry said in a statement.
Witnesses and local media said police shot the man in the leg and arrested him. The man, who was previously labelled an extremist by the government, was taken to hospital and is being investigated by an anti-terrorism unit, officials said.
Tunisian security forces have thwarted most militant plots in recent years and they have become more efficient at responding to those attacks that do occur, Western diplomats say.
The last major attacks in Tunisia took place in 2015 when militants killed scores of people in two separate assaults at a museum in Tunis and a beach resort in Sousse.
(Reporting by Tarek Amara; Editing by Raissa Kasolowsky, Frances Kerry and Cynthia Osterman)
At least 19 killed in bus crash in central Mexico
At least 19 people were killed and 20 more injured on Friday when a passenger bus traveling on a highway in central Mexico crashed into a house, authorities said.
The brakes on the bus, which was heading to a local religious shrine in the state of Mexico, failed, according to local media reports. State authorities did not disclose the possible causes of the accident.
Assistant state interior secretary Ricardo de la Cruz Musalem said that the injured had been transferred to hospitals, including some by air.
The state Red Cross said 10 ambulances had rushed to the area.
(Reporting by Sharay Angulo; writing by Laura Gottesdiener)