Vietnam's answer to Tesla has U.S. in its electric sights
By James Pearson and Phuong Nguyen
HAIPHONG, Vietnam (Reuters) – Move over Tesla, how about a VinFast?
That's the proposition being offered by the automobile arm of Vietnam's largest conglomerate, Vingroup. It's betting big on the U.S. market with its VinFast line of cars and hoping that electric SUVs and a battery leasing model will be enough to woo consumers away from homegrown market leaders like Tesla and General Motors Co.
A recent arrival on the automotive scene and the No. 5 car brand in Vietnam, VinFast is not short on ambition, with its sights set on a U.S. listing and a valuation of as much as $60 billion, according to two sources familiar with its plans.
(GRAPHIC: VinFast fifth in terms of Vietnam sales in 2020 – https://graphics.reuters.com/VIETNAM-VINFAST/rlgvdzyjgvo/chart.png)
It will launch in North America and Europe in 2022, CEO Nguyen Thi Van Anh told Reuters, joining a crowded field of players seeking to compete with Elon Musk's Tesla, including a slew of loss-making upstarts fuelled by a Wall Street fundraising craze.
"We are going to North America – U.S., Canada – and Europe at the same time. In Europe, we're going to Germany, France and the Netherlands," Van Anh said in an interview at the company's sprawling factory complex near the northern port of Haiphong.
Standing behind VinFast is Vingroup, Vietnam's answer to a South Korean chaebol or catch-all conglomerate. Founded as an instant noodle business in post-Soviet Ukraine, the company's trajectory has mirrored that of Vietnam, one of Asia's fastest-growing economies, with interests spanning real estate, resorts, schools, hospitals and smartphones.
Even with such formidable local backing, VinFast has its work cut out as industry giants such as General Motors, Toyota and Volkswagen spend tens of billions of dollars to develop electric and driverless vehicles.
Founded in 2017 with a team led by former General Motors Co executives, the company is aiming to compete on vehicle size and price – pitching an electric SUV that Van Anh described as "more luxurious" than those currently on offer.
VinFast cars will also come with a battery leasing scheme that means the cost of the battery, one of the most expensive components of an electric car, will not be included in the final price.
"I'm going to give you a better product. I'm giving you an SUV. I'm giving you a more spacious car," said Van Anh, who will relocate next month from Hanoi to Los Angeles to head VinFast's U.S. operations.
According to a presentation prepared by the company for potential investors, VinFast cars will be cheaper compared to other electric-vehicle (EV) models.
A Tesla SUV sells for around $50,000, but Van Anh, who declined to discuss potential competitors, would not be drawn on how much a VinFast SUV would sell for. Two of the company's three electric models are destined for the United States, where the company is targeting annual sales of 45,000 cars, she said.
(GRAPHIC: Sales of battery electric vehicles in the U.S. market – https://graphics.reuters.com/VIETNAM-VINFAST/rlgvdzdojvo/chart.png)
AN EDGE OVER THE COMPETITION?
There is precedent for Asian carmakers cracking the U.S. market. Toyota in the 1970s and Hyundai in the 1980s overcame initial scepticism with products that eventually stole market share from U.S. manufacturers.
VinFast, which achieved annual sales of around 30,000 units last year in Vietnam and has yet to make a profit, faces an uphill battle.
"Their biggest challenge is convincing consumers that they have a solid product and a compelling value proposition," said Bill Russo, head of Shanghai-based consultancy Automobility Ltd and a former Chrysler executive.
"The product itself looks to have the right appearance and features, but this will only get you in the game. Winning requires a technology or business model edge over the competition."
(GRAPHIC: VinFast finances – https://graphics.reuters.com/VIETNAM-VINFAST/dgkvlyobmpb/chart.png)
The company is betting its battery leasing scheme – where customers would pay a monthly amount roughly equivalent to what the average consumer might spend on petrol – will win over U.S. customers.
When the battery, which uses cells from South Korea's Samsung SDI, is at 70% of its full lifespan, VinFast will replace it, Van Anh said.
A similar scheme has already been rolled out in China by Tencent-backed electric vehicle maker Nio, whose ES6 SUV has a starting price of around 358,000 yuan ($55,272).
No EV maker can compete with Tesla in the near future, according to Michael Dunne, chief executive of automotive consulting firm ZoZo Go, pointing to the U.S. company's across-the-board strengths.
"But the good news is that companies like VinFast do not have to beat Tesla to win. All they really need to do is convert a portion of the 65 million consumers who bought gasoline-powered cars in 2020 to switch over the electrics," said Dunne.
VinFast, whose manufacturing facility in Vietnam has the capacity to churn out 250,000 cars a year, is planning on conducting most of its U.S. sales online, removing the need for a costly dealership network. It has had 15,000 advance orders so far for its VF e34 electric car in Vietnam.
The company has hired Jeremy Snyder, a 10-year Tesla veteran, as its U.S. Chief Growth Officer.
Snyder told Reuters he was VinFast's first employee on the ground in the United States but, between full-time employees and consultants, the company now has around 100 people working there.
"It's very exciting to bring Vietnam and the United States closer through VinFast," he said.
TAPPING THE SPAC?
Vingroup's founder, Pham Nhat Vuong, Vietnam's richest man, has pledged to invest $2 billion of his own money into the car division and Vingroup has poured hundreds of millions of dollars into VinFast by issuing international bonds and selling off stakes in other units.
But expansion over the years has pushed up Vingroup's debt and losses at some of its ventures have squeezed its cashflow. To turbocharge its growth, VinFast will need more cash. The company is looking at tapping into a funding frenzy in the United States, where investors, including some of the world's biggest money managers, have poured billions into auto startups via blank-check companies known as special-purpose acquisition companies or SPACs.
Three sources with direct knowledge of the plans said VinFast was leaning towards a SPAC, although Van Anh declined to comment on when or how the company would generate funding in the United States.
Officials from the U.S. Securities and Exchange Commission will visit Vietnam soon to meet with Vingroup executives about its efforts to list, two separate sources said. If VinFast does list in the United States it will be the first Vietnamese company to do so. "When it happens, how it happens, whether by SPAC or by another method, we'll make the right decision at the same time," said Van Anh.
There are hundreds of SPACs searching for companies to take public and investors are desperate to identify the next Tesla, whose stratospheric market rally has made Musk one of the world's richest men.
Nio, which made a net loss last year of $860 million, has a market cap of around $67 billion, according to its New York stock listing and sold just under 44,000 cars last year, close to what VinFast is targeting in the United States.
A stream of EV-related startups notched up multi-billion dollar valuations last year despite not having products ready to sell but their shares have taken a knocking recently.
VinFast likes to distinguish itself from other EV startups.
"If you look at some of the SPAC deals that already happened, they do not really have what we currently have," said Van Anh.
"Even if we don't have a product in the world market, we have the products here."
($1 = 6.4771 Chinese yuan renminbi)
(Additional reporting by Khanh Vu in Hanoi, Kane Wu in Hong Kong and Norihiko Shirouzu in Shanghai; Editing by Carmel Crimmins)
Betsson Secures a 50% Stake in JDP Tech – Looking to Boost Growth in Latin America
Swedish iGaming giant Betsson has recently invested heavily into expanding into new markets as it seeks to continue to grow its business. The online sports betting and casino operator acquired a 50% stake in JDP Tech, a company offering payment processing focused on the South American market.
Through Betsson Perch Investments, a subsidiary of Betsson, the iGaming operator paid a total of €8.8 million in shares to JDP tech in order to obtain a 50% stake. JD Tech is a software development company focusing on payment processing solutions, a vital part of any iGaming company.
According to Pontus Lindwall, CEO of Betsson, the deal is an integral part of Betsson's long term strategy. He said: "This is a strategically important region for Betsson, and we see great potential for the company in the long term. With this major investment, Betsson is well-positioned to further expand our business in the Latin American online gaming market."
Why Payment processing is Important for the Latin American Market
Payment processing is important in any market, with consumers preferring to use sites that offer fast and secure payments without complicated requirements or rules. In Latin America, the iGaming market is expanding rapidly, and there's a need for sites offering convenient payments.
Latin American users expect to be able to deposit funds to their account quickly using their preferred method, and withdrawals should be fast and simple too. It's important that iGaming sites listen to the needs of the consumers and ensure that a wide range of popular payment methods are supported. For this, good payment processing software is an integral part of a site.
Latin American consumers have a growing number of options to choose from when it comes to iGaming, so they're likely to join a competitor if the site they're using doesn't offer the kind of service they expect.
How Betsson Aims to Expand in Latin America
Betsson has been targeted the Latin American market for some time now, and this recent acquisition represents part of the company's long-term strategy in this area of the world. In 2019, Betsson purchased a 75% stake in Suaposta, a Brazillian sports betting operator. This move came shortly after Brazil passed new sports betting regulations and aimed to put Betsson in the best position for the deregulation of the sports betting market.
Last year, Betsson also entered the Colombian market, buying a 70% stake in Colbet as it looked to expand its South American operations. In addition to this, Betsson is aiming to obtain an operating licence in Buenos Ares, Argentina.
In Mexico, the Swedish betting giant entered into a partnership with Big Bola Casinos, aiming to launch a sports betting service in later 2021. Big Bola Casinos is one of the few gambling operators licenced by the government of Mexico, giving Betsson an excellent opportunity to establish itself in a relatively undeveloped market.
These moves show that Betsson is serious about entering the Latin American market and is looking to become one of the biggest sports betting operators in the area. Through continued investments and partnerships, Betsson has taken steps to grow its business and bringing safe and convenient sports betting to a wider market.
After an initial slow start, Victorian over 50s are turning out to get their COVID jabs – ABC News
Brenda Holt would have been at the front of the line to get her COVID vaccination this morning, except there was no line.
Key points:
All Australians over 50 are eligible for the AstraZeneca shot today
Victoria's mass vaccination hubs were all reporting wait times of under 15 minutes this morning
People are being told to wait 14 days between the flu vaccination and the COVID vaccination
Brenda walked right on in to Melbourne's Royal Exhibition Building vaccination hub, got her jab and left with a tear in her eye as she moved a tiny step closer to being able to visit her family in Texas.
Anyone over the age of 50 can now get the AstraZeneca vaccine at a mass vaccination clinic but, in Melbourne at least, it was a seemingly slow start.
Wait times of under 15 minutes were being reported for people who arrived without an appointment at all of the high-volume vaccination centres in Melbourne, Geelong and Ballarat this morning.
By midday, wait times had stretched to more than an hour at the Exhibition Building, the Melbourne Convention and Exhibition Centre, and the Heidelberg Repatriation Hospital.
The state health department said the Royal Exhibition Building was booked out for appointments, and it was experiencing very high call volumes through its vaccine phone booking service.
Loading
Brenda expected more people to be waiting in line early to get the jab when the centres opened.
"I just am shocked and really disappointed," Brenda said.
"I think that we're in a bit of a bubble here in Australia, we don't understand how devastating it's been, and it's not real to us.
"We've been so lucky and we've handled this so well until the vaccination rollout, I have no idea why it's taken so long."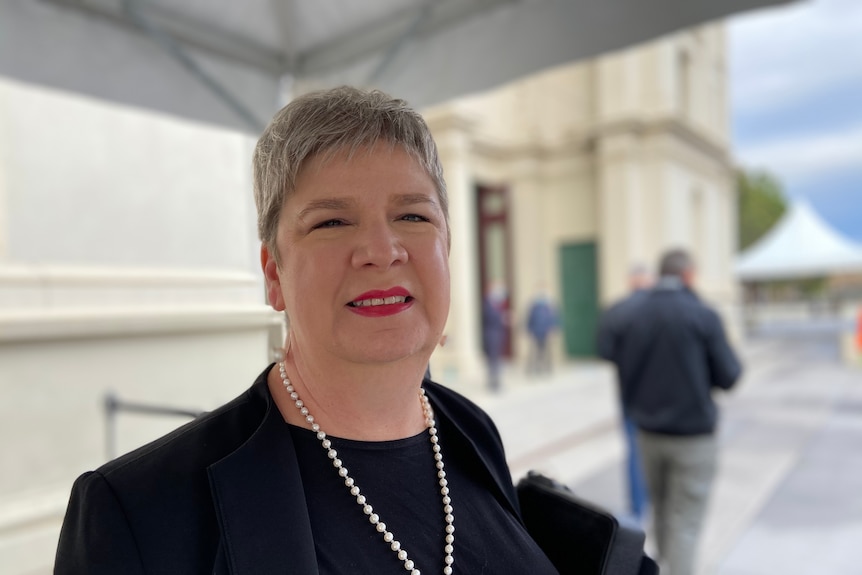 Everyone who booked will be vaccinated
Jeroen Weimar, Victoria's COVID-19 Response Commander, said by lunchtime, 8,500 people had called the COVID-19 hotline to make a booking.
"At the moment, what we're seeing is a really healthy demand for people coming out who want to get vaccinated," he said.
"Everybody who's got an appointment today will be vaccinated today. Everyone in line will get a vaccination today."
If the queues were too long at the end of the day, Mr Weimar said people would be asked to come back the next day.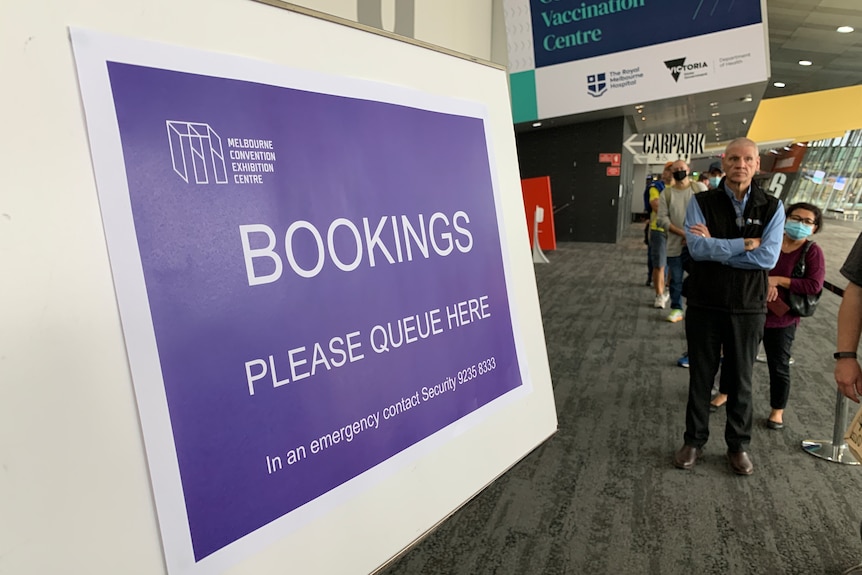 The Box Hill Hospital vaccination centre, in Melbourne's east, was very busy in the morning and some people were asked to go to a nearby clinic at Ringwood East, Mr Weimar said.
He said there were wait times of up to 90 minutes for some people who had not booked appointments at the large vaccination centres.
With a staff of 700 people handling the calls, he said the operation would be scaled up as appropriate.
"We will quite happily put hundreds more people into the phone lines if the demand is there to book vaccinations," Mr Weimar said.
"My request for Victorians would be, if you're eligible, come forward now so we can get you vaccinated.
"Let's have a really busy few weeks and months and then we can get on and get the rest of the community done."
So far, 520,000 Victorians have received their first dose of a vaccine.
There are now six high-volume vaccination hubs operating in Victoria, at the Royal Exhibition Building, Melbourne Convention and Exhibition Centre, the former Ford Factory in Geelong, the Heidelberg Repatriation Hospital, Sunshine Hospital and Mercure Ballarat.
Another 15 vaccination centres have opened today at these locations:
Bendigo Hospital
Latrobe Regional Hospital – Traralgon Racecourse
Albury Wodonga Health – Wodonga Community vaccination clinic
GV Health – Shepparton Showgrounds, McIntosh Centre
Eastern Health – Box Hill
Eastern Health – Ringwood East Community Clinic*
Northern Health – Epping
Monash Health – Monash Medical Centre*
Monash Health – Dandenong*
Monash Health – Kingston*
Monash Health – Moorabbin*
St John of God Hospital – Berwick*
Peninsula Health – Rosebud Hospital*
Peninsula Health – Frankston*
Austin Health – Olivia Newton-John Centre*
(* Phone bookings only initially, no walk-ins)
Another mass vaccination hub will open tomorrow at the Cranbourne Turf Club.
There are about two million Victorians now eligible to get the COVID vaccination.
The majority being vaccinated now are receiving the AstraZeneca vaccine, with a limited number of people under 50 in the 1a and 1b priority groups getting the Pfizer vaccine.
Epidemiologist Catherine Bennett said there may be some hesitancy to get the AstraZeneca vaccine, given reports of blood clots in a small number of people.
"As more people take up the vaccine, I think other people will then think yeah, there's a lot of benefits of this, and my friends are fine, and I'm OK with this," she said.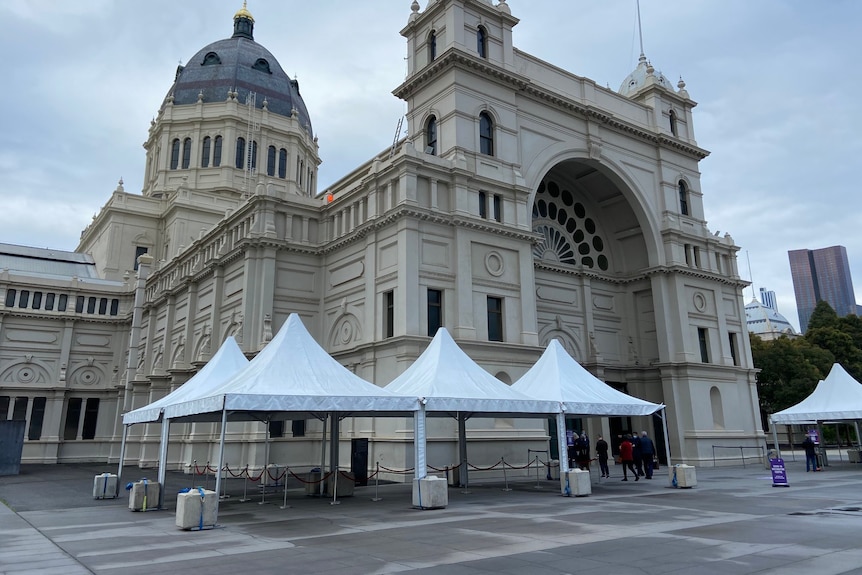 Professor Bennett said the vaccination scheme was starting to gather speed after a slow start.
"We've actually had four times as many jabs go out in the last four weeks, as did in the previous first six weeks of the rollout," she said.
"And in another two weeks, it steps up again, because that's when they can also access the vaccine through their GP."
Brenda said she understood the hesitancy some people might feel about the COVID vaccine, but the risk was small.
"Any of us who've taken any drugs at any time, I mean you take a risk and I think the risk of what this vaccine can do compared to what COVID could do to you are pretty stark," she said.
Dianne McKenzie was also among those getting vaccinated at the Royal Exhibition Building, and said she felt a sense of relief.
"Gotta say I'm really grateful, because I've been trying to keep safe, trying to keep my elderly mum safe by staying away from people, and this feels like a little bit of extra protection so I can stop worrying about myself and worrying about her and relax a little bit after a hard year," she said.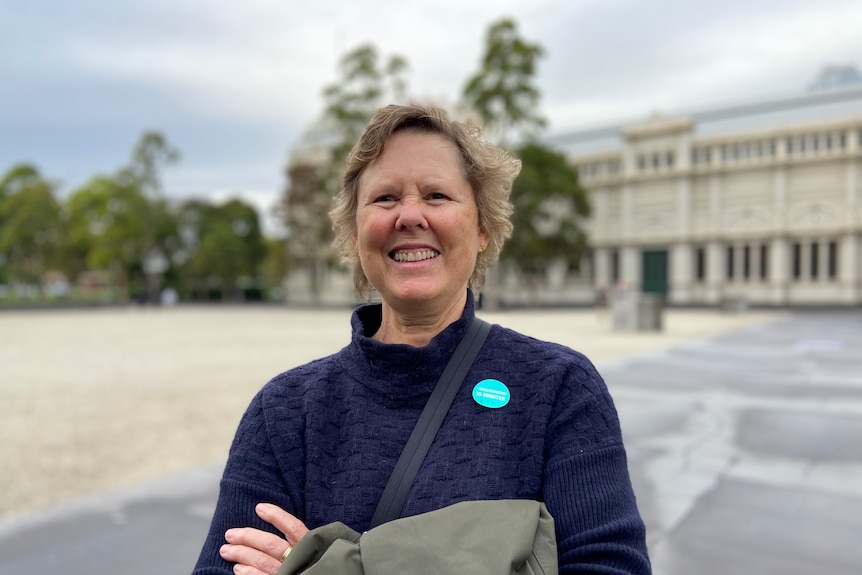 Melbourne Lord Mayor Sally Capp urged people to follow the advice of doctors after receiving her vaccine dose at the Convention and Exhibition Centre.
"The scariest part is actually admitting publicly that you are 50," she said.
"If that's the scariest bit then we're going to be OK. We know that all of the health experts have said that AstraZeneca is effective and I think it's really important that we keep listening to that health advice."
The Victorian health department is also recommending people who have had the flu vaccine wait for two weeks before receiving the COVID vaccine.
The department said there was no evidence the two vaccinations interact with each other, but if a person does have a reaction, the 14-day time frame would make it clear which vaccine they have reacted to.
Woodbine Racetrack will host a number of Pop-Up COVID-19 vaccine clinics this week – Vancouver Is Awesome
TORONTO — Woodbine Racetrack will be the site for a pop-up COVID-19 vaccine clinic this week.
Woodbine Entertainment announced Monday the clinic at the racetrack will begin Wednesday for the Rexdale community. The clinic will operate for at least three days and will be open to those 18 years and older living in 'hot spot' communities in M9V and M9W postal codes.
"We are very proud and grateful to be able to host this much needed pop-up clinic at Woodbine Racetrack for the Rexdale community," Woodbine CEO Jim Lawson said in a statement. "We look forward to working with our community partners over the coming days to deliver a positive experience that will benefit people throughout Rexdale."
The clinic will also be open to frontline essential workers who provide daily care to horses stabled at Woodbine Racetrack.
"These workers are critical to the wellbeing of more than 1,000 horses and obviously cannot work from home. Many of them live in dormitories on our property and in the surrounding areas," said Lawson.
This report by The Canadian Press was first published May 3, 2021.
The Canadian Press