VILLAGE ARCADE: Assassin's Creed: Valhalla learns from the past to create a uniquely polished experience – GuelphToday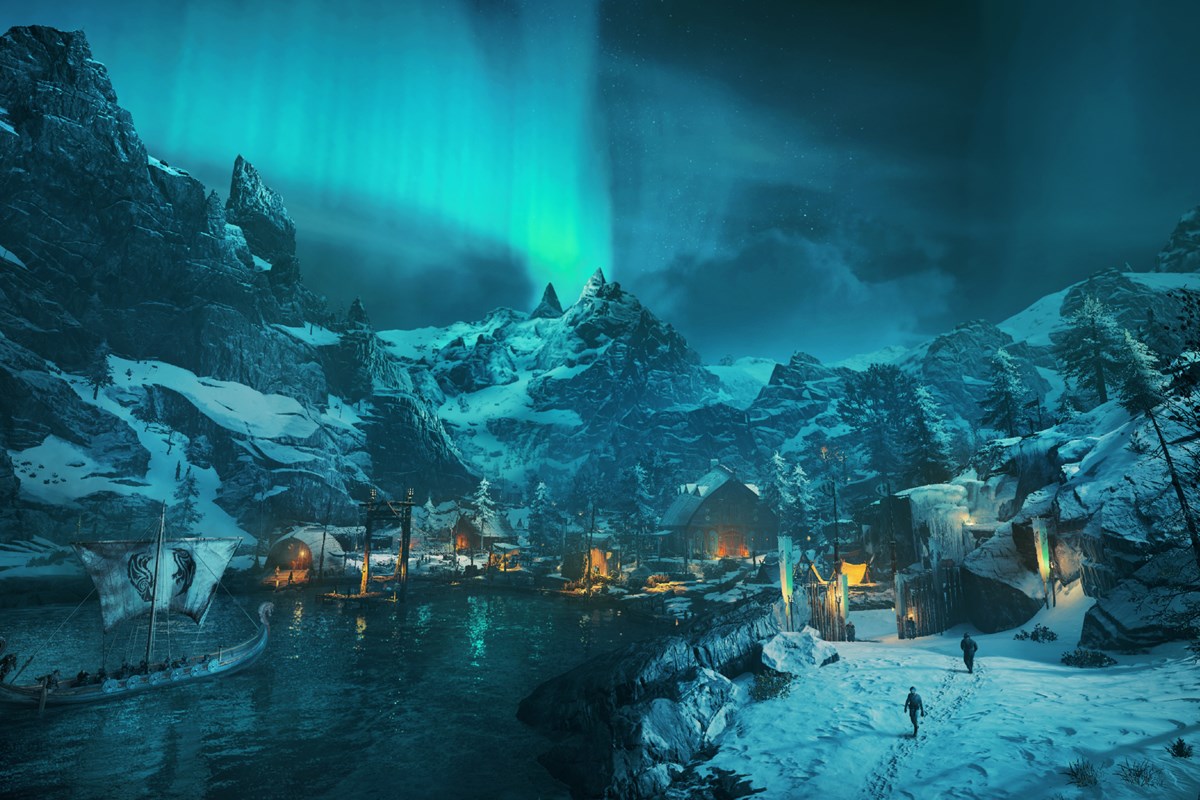 I picked up Assassin's Creed: Valhalla shortly after it went on sale around Boxing Day. I had just started some much deserved vacation time and I wanted to see what third-party developers were doing with the Xbox Series X—most of what I had played up to that point was from my backlog of games or first-party games optimized for next generation consoles.
I've always been interested in the science fiction/historical non-fiction mix that the series has offered and I had also just finished Assassin's Creed: Odyssey—so I was looking forward to playing something new in that universe.
I had read a few user reviews that painted the game in a negative light. People complained about the setting—it wasn't as beautiful as Odyssey's ancient Greece—and others said the game's combat lacked the finesse and elegance that past iterations offered.
But one of the biggest complaints I read was something I was looking for in a game: the length of time people were spending on it. I've always enjoyed games that offered a rich world that you could really sink some time into, but during a global pandemic I've been even more drawn to games with a lot of moving parts.
I took a gamble and spent some money hoping that the game would have enough to keep me interested despite having all these flaws people brought up online.
But what I didn't expect was that I'd fall in love with the game's "flaws," because what a lot of these reviews didn't provide was one crucial detail: context.
Gritty combat for a gritty era
Assassin's Creed: Valhalla follows Eivor—a Viking—as she embarks on a journey through Europe, starting with Norway, trekking through the United Kingdom and eventually a portion of Vinland (now what we call North America).
As a seasoned Viking, Eivor is no stranger to battle. Players focused on exploration will face battle in the form of raids with Eivor's crew—a team of Vikings known as Raven Clan.
And while those reviewers were right about the combat being different from past entries to the series, I disagree that this is a bad thing.
Valhalla's combat makes the game that much more believable. If Eivor was running around raiding with finesse, the game would feel a lot less immersive.
Instead, the combat in Valhalla feels more like a hack and slash with a layer of grit on top—something that resonates a lot better with the time period.
This truth carries into the graphical appeal of the game because of its authentic setting. The game might not be as pretty as Odyssey's ancient Greece, but that's because the game primarily takes place in the United Kingdom, where plains and hills are the common scenery.
But Valhalla makes these details stand out on a level that truly has to be experienced. The game takes place mostly in the fall and winter season, which gave the development team a lot of opportunities to create a really incredible colour palette.
The images might miss that Mediterranean appeal, but introducing fog, dynamic weather and vibrant autumn colours adds a new level of beauty to the Assassin's Creed universe.
A completely polished package
The point I'm trying to make here is that the sum of Valhalla's parts can't be compared to other games in the series.
I first looked at Assassin's Creed: Valhalla because I wanted something that could entertain me for hours as pandemic restrictions continued to escalate. I definitely got that from Valhalla, but more importantly I also found a polished game that completely immersed me in its world.
The game also evolves beyond the formula set up by Odyssey or even Origins. The new trilogy of Assassin's Creed games introduces an interesting web of stories, but Valhalla approaches this in a better way than past titles.
Rather than pummeling the player with side quest after side quest in order to gain enough skills to progress the main story, Valhalla puts the majority of its chips into the main story. That's not to say that Valhalla doesn't have any side content, but instead treats side quests as mysteries, rather than an overwhelming journal full of quests.
It's these changes, as well as a level of authenticity, that makes Valhalla an impressive game. Where Odyssey often felt like a job, Valhalla has proven itself to be that escape I was looking for.
China's Restrictions Delay iPhone 14 Development | by slashdotted | May, 2022 – DataDrivenInvestor
According to a source, iPhone 14 development is behind schedule owing to Chinese lockdowns
At least one iPhone 14 model is three weeks late
According to a fresh rumor today, the development of at least one iPhone 14 model is three weeks behind schedule owing to Chinese lockdowns, which might damage initial production levels in the worst-case scenario.
According to reports, Apple has instructed suppliers to accelerate product development efforts in order to make up for a lost time before the delay impacts the regular manufacturing schedule, which might impair the initial production numbers of the iPhone 14 series.
By the end of June, all new iPhone models should have completed the EVT and moved on to the verification step.
As speculation grows regarding the characteristics of the next iPhone 14 models, such as an always-on display, a fresh source claims that the development of the line has been slowed by China's coronavirus regulations.
All iPhone 14 versions are presently undergoing engineering verification testing (EVT), which involves Apple working with suppliers to optimize production processes and calculate manufacturing costs.
The unexpected lockdown shutdown of major Apple suppliers in Shanghai, as well as the effect on regional transportation, have caused the delay.
Apple is apparently working with its suppliers to expedite the process and get back on track.
The story seems to imply that, unlike the iPhone 12, the iPhone 14 will not be delayed and would instead come in the same September launch window as its current best iPhone, the iPhone 13.
Is the iPhone 14 going to be delayed?
According to this claim, it is doubtful that the iPhone 14 would be delayed.
The story does, however, raise the likelihood that one of the iPhone 14 versions may be substantially more difficult to get when it is introduced later this year.
The delay is claimed to be due to the internal development of the iPhone 14 series production process
. According to Nikkei, suppliers must adopt new manufacturing processes and adjust current production lines as part of a process known as New Product Introduction (NPI).
Last month, supposed real-world iPhone 14 display panels leaked online, revealing the suspected pill-shape and circular display cuts that would replace the conventional notch on this year's new iPhone models to house the front-facing camera and Face ID technology.
In March, claimed iPhone 14 Pro 3D CAD renderings leaked, revealing the device's reported redesigned pill-shape and circular display cutouts, which are likely to contain the iPhone's Face ID components and front-facing camera module, eliminating the rectangular notch from the device's display.
China's restrictions stymie iPhone 14 development — Mobile World Live
According to the news agency, Apple's iPhone 14 is being created by contract manufacturers Foxconn and Pegatron, with full production expected to begin in late August.
Nikkei Asia reported that engineering verification tests must be finished by the end of June in order to fulfill the manufacturing timetable and that one of the four iPhone 14 variants is three weeks behind schedule.
Due to the limitations, Pegatron paused manufacturing in its Shanghai and Kunshan plants earlier this year, while Foxconn halted operations at its Shenzhen factory.
Apple officials warned last month that supply concerns in China might affect sales by much to $8 billion in the current fiscal quarter.
If you enjoy reading this and want to support our job, consider signing up to become a Medium member. It's $5 a month, giving you unlimited access to stories on Medium. If you sign up using my link, I'll earn a small commission.
Luxury carmaker Maserati introduces convertible sportscar MC20 Cielo – Economic Times


MODENA: Maserati's turnaround plan aims to liberate the Stellantis luxury brand from being a "slave to volumes" which has weighed on quality, its CEO Davide Grasso said on Wednesday, unveiling a convertible version of its MC20 sportscar.
Maserati, which returned to operating profit last year, delivered 24,200 cars in 2021 – 7,300 units more than in 2020. That still leaves it far from 2017's peak, when it sold 51,500 cars.
"That was a success in terms of numbers, not necessarily for customers," Grasso said, adding defect rates at Maserati were at that time higher than the average in luxury and premium markets.

"You enter a vicious circle of unsold cars and bigger and bigger discounts," he said. "We were not good enough with quality, new powertrains, infotainment".
Grasso said Maserati's performance would keep improving this year and in 2023 in terms of market share, products, revenues and margins.

« Back to recommendation stories


The brand has recently unveiled its new Grecale SUV, which will be available in a full-electric (BEV) version in 2023. Next year Maserati will also introduce new versions of its Gran Turismo and Gran Cabrio models, and plans to make all its range electrified by 2025.

Chief Commercial Officer Bernard Loire said sales could potentially top 30,000 units this year though it was not a target.
"It's a projection based on our current performance," he said.
Loire said China, Maserati's second largest market after the United States, was being hit by an ongoing lockdown, but feedback from initial orders for Grecale were very positive.
"We see a much better second half," he added.
He said Grecale would allow Maserati to compete in a segment, worth around 40% of the luxury market, where the brand has not been present so far.

With deliveries expected to start in the first quarter of 2023, the new retractable hardtop MC20 Cielo – 'Sky' in Italian – will contribute to Maserati's sales only in 2023.
Fitted with a six-cylinder, three litre, 630 horsepower engine, for a top speed of over 320 km per hour, it will cost 260,000 euros ($277,000), 30,000 euros more than its coupe sister MC20. That's higher than entry level models of Ferrari and Aston Martin.
Combined capacity for MC20 and MC20 Cielo, both produced in Modena, northern Italy, amount to about 1,400 units a year, with flexibility to adapt output between the two models.
Their BEV versions are expected by 2025.

iPhone 14 production is "weeks" behind schedule thanks to the resumption of lockdowns in China – Notebookcheck.net