Virgin Galactic's SpaceShipTwo Unity 22 launch with Richard Branson: Here's when to watch and what to know. – Space.com
On July 11, Virgin Galactic will make a giant leap toward commercial suborbital spaceflight. The company will launch its first fully crewed flight of its SpaceShipTwo space plane Unity with a special passenger on board: the company's billionaire founder Richard Branson.
Branson, three crewmates and two pilots will launch on the historic flight after being carried into launch position by Virgin Galactic's carrier plane VMS Eve. They will take off from the company's homeport of Spaceport America in New Mexico, with a live webcast chronicling the flight. Here's everything you need to know about the mission, which Virgin Galactic has dubbed Unity 22.
Related: How to watch Virgin Galactic launch Richard Branson to space
More: How Virgin Galactic's SpaceShipTwo works (infographic)
What time is Virgin's Galactic launch & and can I watch?
[embedded content]
Virgin Galactic has not released a specific time for the actual Unity 22 launch, but the company has announced it will begin webcasting the mission at 9 a.m. EDT (1300 GMT). And it looks like it's going to be fun. The crew will walk out to the ship about an hour earlier.
Stephen Colbert, host of The Late Show on CBS, will host the webcast along with singer Khalid (who will debut a new single during the launch), former Canadian Space Agency astronaut Chris Hadfield and future Virgin Galactic astronaut Kellie Gerardi, who will launch on a research flight in 2022.
The webcast will begin with the Unity spacecraft and its carrier plane taking off from its runway at Spaceport America, which is located 55 miles (88 kilometers) north of Las Cruces, New Mexico.
Branson has stated that the entire flight will take about 90 minutes, including the ascent up to launch position, release, flight to space and glide back to Earth for a runway landing at Spaceport America.
Who is Virgin Galactic launching on Unity 22?
Image 1 of 6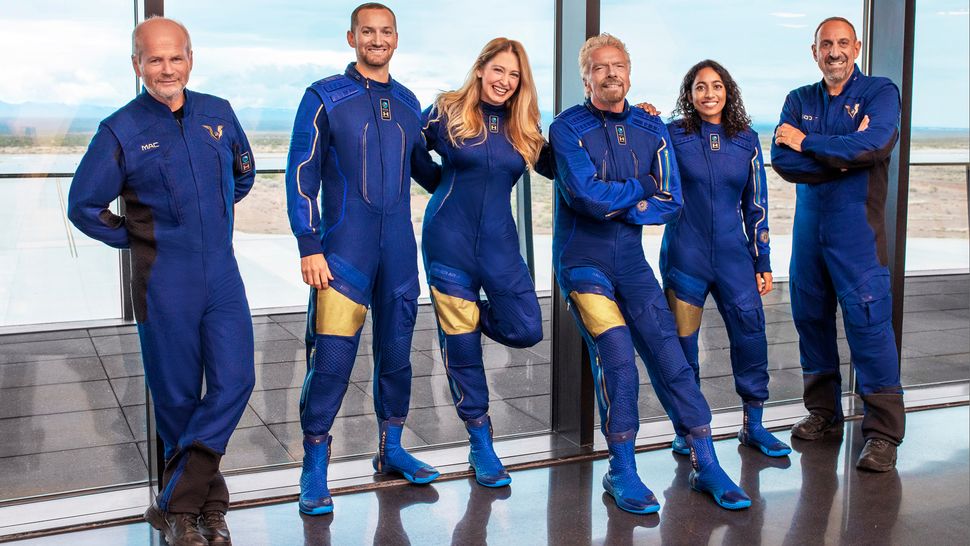 Image 2 of 6
Image 3 of 6
Image 4 of 6
Image 5 of 6
Image 6 of 6
Virgin Galactic will launch six people on the Unity 22 flight, although the spacecraft is designed to carry up to eight people (two pilots and six passengers).
Unity 22's crew includes four mission specialists:
Sirisha Bandla, Vice President of Government Affairs and Research Operations at Virgin Galactic. She will evaluate the human-tended research experience via an experiment from the University of Florida that requires several handheld fixation tubes to be activated at various points in the flight profile.
Colin Bennett, Lead Operations Engineer at Virgin Galactic. He will evaluate cabin equipment, procedures and the experience during the boost phase and weightless environment inside Unity.
Sir Richard Branson, founder of Virgin Galactic. Branson will evaluate the private astronaut experience. He will receive the same training, preparation and flight as Virgin Galactic's future ticket-buying astronauts and use the flight to fine ways to enhance the experience for customers.
Beth Moses, Chief Astronaut Instructor at Virgin Galactic. She will serve as cabin lead and test director in space. Her tasks include overseeing the safe execution of the test flight objectives. Moses has launched on Unity before.
Related: Meet the crew launching on Virgin Galactic's 1st fully crewed flight
Two veteran Virgin Galactic pilots will be at the helm of Unity during the launch. They have both launched to space on Unity before and are:
Dave Mackay: Mackay is Virgin Galactic's chief pilot and grew up in the highlands of Scotland. He is a former Royal Air Force pilot and flew for Branson's airline company Virgin Atlantic before joining Virgin Galactic.
Michael Masucci: Michael "Sooch" Masucci is a retired U.S. Air Force colonel who joined Virgin Galactic in 2013 who racked up over 9,000 flying hours in 70 different types of airplanes and gliders during more than 30 years of civilian and military flight.
Two other pilots will fly the VMS EVE carrier plane that will carry SpaceShipTwo into launch altitude. They are:
Frederick "CJ" Sturckow: A former NASA space shuttle commander who joined Virgin Galactic in 2013 with Masucci. A retired Marine Corps colonel, he was the first NASA astronaut to join the company and flew four space shuttle missions.
Kelly Latimer: Latimer is a test pilot and retired lieutenant colonel in the U.S. Air Force who joined Virgin Galactic's pilot corps in 2015. She was the first female research test pilot to join what is now NASA's Armstrong Flight Research Center.
What is Virgin Galactic's mission for Unity 22?
The primary objective for Unity 22 is to serve as a test flight for future passenger flights by Virgin Galactic. As its number suggests, this will be the 22nd flight of Unity, but only its fourth launch to space.
The four mission specialists will each evaluate different experiences that Virgin Galactic has promised its future customers, many of whom have already reserved trips to space with the company at $250,000 a seat.
Bandla, for example, will test the experience of performing experiments aboard Unity during different phases of the flight, including the weightless period. Branson will take note of the flight as a paying passenger to look for ways to enhance the trip for ticket holders looking for the experience of a lifetime.
Related: The long road to spaceflight for Virgin Galactic and Blue Origin
Moses is Virgin Galactic's Chief Astronaut Trainer and will ensure everyone is safe in their tests while Bennet will examine Unity's cabin performance to look for potential enhancements.
This mission is a critical flight or Virgin Galactic, which Branson founded in 2004. VSS Unity is the company's second SpaceShipTwo after the first, VSS Enterprise, broke apart during a 2014 test flight, killing one pilot and seriously injuring another. Virgin Galactic has made numerous safety upgrades to prevent such an accident from happening again.
What will Virgin Galactic's astronauts experience?
The mission will begin with takeoff from Spaceport America, where Virgin Galactic has built its "Gateway to Space" terminal to serve its future customers. The crews of Unity and Eve will walk out to their vehicles at about 8 a.m. EDT (6 a.m. local time, 1200 GMT). They'll be wearing custom Under Armour flight suits made for Virgin Galactic.
After takeoff, the carrier plane VMS EVE will haul the SpaceShipTwo VSS Unity (short for Virgin Space Ship) to an altitude of about 50,000 feet (15,000 meters), when it will drop the the spacecraft.
In Photos: Virgin Galactic's Sleek Under Armour Spacesuits for Space Tourists
After separation, Unity will ignite its hybrid rocket motor, which uses a mixture of solid and liquid propellant, to begin the boost phase. This will carry Unity to its target altitude above 50 miles (80 kilometers), where the pilots and crew can expect up to 4 minutes of weightlessness. They will exist their seats and enjoy sweeping views of the Earth below through the many round windows that dot the space plane's fuselage.
After that short encounter with weightlessness, the crew will climb back into their seats as Unity prepares to return to Earth. Pilots Mackay and Masucci will have "feathered" the spacectraft's twin tail booms to provide stability during atmospheric reentry.
The feathered tail will then be locked back into place for the glide back to Earth, which will end with a runway landing at Spaceport America. The entire flight, from takeoff to landing, should last about 90 minutes, Branson has said.
Will Virgin Galactic really reach space with Unity 22?
Virgin Galactic will launch Unity to an altitude above 50 miles (80 km), which NASA, the Federal Aviation Administration and the U.S. military classify as space. They will earn astronaut wings for reaching that height.
Another widely recognized boundary of space, the Kármán line, is at an altitude at 62 miles (100 km) above Earth. The SpaceShipTwo VSS Unity won't reach this milestone, which has led Virgin Galactic's competitor Blue Origin (which does fly higher than 62 miles) to call out Virgin Galactic for missing that mark.
Richard Branson has downplayed that criticism and saying that "the actual difference in experience is going to be almost non-existent," in an interview with NPR's Leila Fadel.
Where does Virgin Galactic launch SpaceShipTwo from?
Virgin Galactic initially launched SpaceShipTwo test flights from the company's facilities at Mojave Air and Space Port in California. However, in 2020 the company moved Unity and its carrier craft to its permanent home at Spaceport America, where it plans to fly regular passenger flights beginning in 2022.
Spaceport America is located near Las Cruces, New Mexico and is home to Virgin Galactic's "Gateway to Space" terminal, a welcome center and waiting room for ticketed passengers preparing for trips to space. It also sports a large hangar designed to fit multiple SpaceShipTwo spaceplanes and the VMS Eve. Virgin Galactic has also built a new vehicle, the SpaceShip III VSS Imagine.
When could I launch to space with Virgin Galactic?
If you booked a trip with Virgin Galactic early and have one of the first reservations, you may get your chance to fly in space as early as 2022. If not, there's a long wait ahead. And that's assuming you can afford the $250,000 ticket price.
Virgin Galactic has said it plans to begin passenger launches in 2022 after a series of final test flights in 2021. The company does have hundreds of reservations for customer flights in backlog from eager would-be astronauts that have been waiting for over 17 years (since Richard Branson first announced Virgin Galactic in 2004) for the SpaceShipTwo to finally fly. The company paused taking new reservations after the 2014 accident.
Virgin Galactic is expected to resume taking reservations for "a limited number of tickets for future spaceflights" sometime this year, according to its website.
Email Tariq Malik at tmalik@space.com or follow him @tariqjmalik. Follow us @Spacedotcom, Facebook and Instagram.
Stock market news live updates: Stock turn lower following last week's rebound – Yahoo Canada
U.S. stocks closed a choppy session lower Monday, weighed down by losses in technology shares, after the major indexes failed to sustain momentum from last week's rally.
The S&P 500 fell 0.3%, and Dow Jones Industrial Average dipped 60 points, or 0.2% after each benchmark wavered between the red and the green throughout the trading day. The Nasdaq Composite declined 0.9%.
The moves follow a sharp rebound Friday that saw the S&P 500 surge 3% during the session and over 6% for the week, its second-best week this year and its first weekly rise since late May. Still, the benchmark index is on pace for its worst opening six months since 1970.
During the previous session, the Dow rose more than 800 points, or 2.7%, while the Nasdaq increased by more than 3.3%, leading to weekly gains for the indexes of more than 5% and 7%, respectively.
Some Wall Street strategists are hopeful that markets may have found a bottom.
"As bad as [this year] has been for investors, the good news is previous years that were down at least 15% at the midway point to the year saw the final six months higher every single time, with an average return of nearly 24%," LPL Financial chief market strategist Ryan Detrick said in a note last week.
J.P. Morgan strategist Marko Kolanovic also predicted that U.S. equities may climb as much as 7% this week as investors rebalance portfolios amid the end of the month, second quarter, and first half of the year.
While sentiment on Wall Street appears optimistic, investors are in for a bevy of key economic reports and earnings that may sway markets this week and put hopes of a comeback to the test.
Quarterly results from Nike (NKE) and Micron (MU) will be closely watched for signs of rising inventories and slowing orders like Target and some other retailers have warned about recently, which may renew worries of an economic slowdown among Corporate America.
Traders also face a fairly loaded economic calendar this week, with the latest read on core PCE inflation – the Federal Reserve's preferred measure of consumer prices, the Conference Board's consumer sentiment survey, and manufacturing and housing reports due out through Friday.
On the move
Robinhood Markets (HOOD)'s stock surged 14% to close at $9.12 per share following a report from Bloomberg that cryptocurrency exchange FTX is considering a deal to acquire digital trading platform. Earlier in the day, Robinhood was in the spotlight after Goldman Sachs upgraded the brokerage to Neutral, about two months after the bank downgraded shares to Sell.

Coinbase (COIN) shares plunged nearly 10.8% to $55.96 after analysts at Goldman Sachs on Monday downgraded the cryptocurrency exchange to Sell from Neutral and slashed their price target on the stock to $45 from $70. Goldman also noted that while Coinbase recently announced it would cut 18% of staff, these layoffs will not be enough to bring the company's costs in line with lowered sales.

AMC Entertainment (AMC) rallied to cap trading up 13.6% despite a turbulent session for the broader markets. The stock rose amid increased mentions across forums such as Reddit's WallStreetBets and Stocktwits. AMC was also added to the Russell 1000 Index after an annual rebalancing.
—
Alexandra Semenova is a reporter for Yahoo Finance. Follow her on Twitter @alexandraandnyc
Click here for the latest stock market news and in-depth analysis, including events that move stocks
Read the latest financial and business news from Yahoo Finance
Download the Yahoo Finance app for Apple or Android
Follow Yahoo Finance on Twitter, Facebook, Instagram, Flipboard, LinkedIn, and YouTube
Man uses Apple Airtags to find stolen Range Rover | CTV News – CTV News Toronto
An Ontario man whose car was stolen from his driveway in midtown Toronto twice in three months is revealing how he tracked and located his second vehicle.
"It's pretty scary, but you can't live your life in fear," Lorne, whose surname CTV News Toronto has omitted due to safety concerns, said on Monday.
On April 1, his family moved to the Avenue Road and Lawrence Avenue area.
The following day, employees from an electronics company arrived at his house to install televisions. He placed the keys of his Range Rover Autobiography into a faraday box, which is designed to prevent criminals from copying a key fob and gaining access to a vehicle.
However, within minutes of the employees leaving his house, his car was stolen in broad daylight.
"The thieves were able to disable the tracker in my car, put there by the manufacturer," Lorne said.
Meanwhile, his wallet, along with his kids phones, which were in the car, were thrown out of the vehicle before it was stolen, which Lorne said he believes was a preventive measure to avoid him from tracking the location of his car.
His Range Rover was never recovered.
Thirty days later, he got a new car of the same model, but this time, he placed three Apple AirTag tracking devices inside – one in the glovebox, another in his spare tire in the trunk and a third under his back seat.
While Lorne said he typically parks in his garage, last Wednesday night, he didn't.
At 8:30 a.m. the next morning, he said his kids ran into his bedroom screaming, "Daddy, daddy, your car is gone."
Right away, he logged into his Find My app and located all three of his AirTags near Manville and Comsock roads in Scarborough, listed as a metal recycling plant.
After dropping his kids at school, he headed to that location and called the police. With no success reaching an officer, he drove to the 41 Division police station.
Toronto police spokesperson David Hopkinson confirmed to CTV News Toronto that a report of this nature was received by police on Thursday.
"I pressed my panic button and you heard it going off," Lorne said. "The next day I was told they recovered nine cars."
Due to an ongoing investigation, police could not comment further on the incident.
This time, however, Lorne said police recovered his vehicle and he anticipates it should be back in his possession soon.
While he said his AirTags worked in this case, he anticipates car thefts will only get increasingly sophisticated.
"It's not foolproof," he said.
Company buying Trump's social media app faces subpoenas – Yahoo Canada Finance
NEW YORK (AP) — The company planning to buy Donald Trump's new social media business has disclosed a federal grand jury investigation that it says could impede or even prevent its acquisition of the Truth Social app.
Shares of Digital World Acquisition Corp. dropped almost 10% Monday as the company revealed that it has received subpoenas from a grand jury in New York.
The Justice Department subpoenas follow an ongoing probe by the Securities and Exchange Commission into whether Digital World broke rules by having substantial talks about buying Trump's company starting early last year before Digital World sold stock to the public for the first time in September, just weeks before its announcement that it would be buying Trump's company.
Trump's social media venture launched in February as he seeks a new digital stage to rally his supporters and fight Big Tech limits on speech, a year after he was banned from Twitter, Facebook and YouTube.
The Trump Media & Technology Group — which operates the Truth Social app and was in the process of being acquired by Digital World — said in a statement that it will cooperate with "oversight that supports the SEC's important mission of protecting retail investors."
The new probe could make it more difficult for Trump to finance his social media company. The company last year got promises from dozens of investors to pump $1 billion into the company, but it can't get the cash until the Digital World acquisition is completed.
Stock in Digital World rocketed to more than $100 in October after its deal to buy Trump's company was announced. The stock closed at $25.16 Monday.
Digital World is a special-purpose acquisition company, or SPAC, part of an investing phenomenon that exploded in popularity over the past two years.
Such "blank-check" companies are empty corporate entities with no operations, only offering investors the promise they will buy a business in the future. As such they are allowed to sell stock to the public quickly without the usual regulatory disclosures and delays, but only if they haven't already lined up possible acquisition targets.
Digital World said in a regulatory filing Monday that each member of its board of directors has been subpoenaed by the grand jury in the Southern District of New York. Both the grand jury and the SEC are also seeking a number of documents tied to the company and others including a sponsor, ARC Global Investments, and Miami-based venture capital firm Rocket One Capital.
Some of the sought documents involve "due diligence" regarding Trump Media and other potential acquisition targets, as well as communications with Digital World's underwriter and financial adviser in its initial public offering, according to the SEC disclosure.
Digital World also Monday announced the resignation of one of its board members, Bruce Garelick, a chief strategy officer at Rocket One.
The Associated Press