Virgin Galactic's SpaceShipTwo Unity 22 launch with Richard Branson: Here's when to watch and what to know. – Space.com
On July 11, Virgin Galactic will make a giant leap toward commercial suborbital spaceflight. The company will launch its first fully crewed flight of its SpaceShipTwo space plane Unity with a special passenger on board: the company's billionaire founder Richard Branson.
Branson, three crewmates and two pilots will launch on the historic flight after being carried into launch position by Virgin Galactic's carrier plane VMS Eve. They will take off from the company's homeport of Spaceport America in New Mexico, with a live webcast chronicling the flight. Here's everything you need to know about the mission, which Virgin Galactic has dubbed Unity 22.
Related: How to watch Virgin Galactic launch Richard Branson to space
More: How Virgin Galactic's SpaceShipTwo works (infographic)
What time is Virgin's Galactic launch & and can I watch?
[embedded content]
Virgin Galactic has not released a specific time for the actual Unity 22 launch, but the company has announced it will begin webcasting the mission at 9 a.m. EDT (1300 GMT). And it looks like it's going to be fun. The crew will walk out to the ship about an hour earlier.
Stephen Colbert, host of The Late Show on CBS, will host the webcast along with singer Khalid (who will debut a new single during the launch), former Canadian Space Agency astronaut Chris Hadfield and future Virgin Galactic astronaut Kellie Gerardi, who will launch on a research flight in 2022.
The webcast will begin with the Unity spacecraft and its carrier plane taking off from its runway at Spaceport America, which is located 55 miles (88 kilometers) north of Las Cruces, New Mexico.
Branson has stated that the entire flight will take about 90 minutes, including the ascent up to launch position, release, flight to space and glide back to Earth for a runway landing at Spaceport America.
Who is Virgin Galactic launching on Unity 22?
Image 1 of 6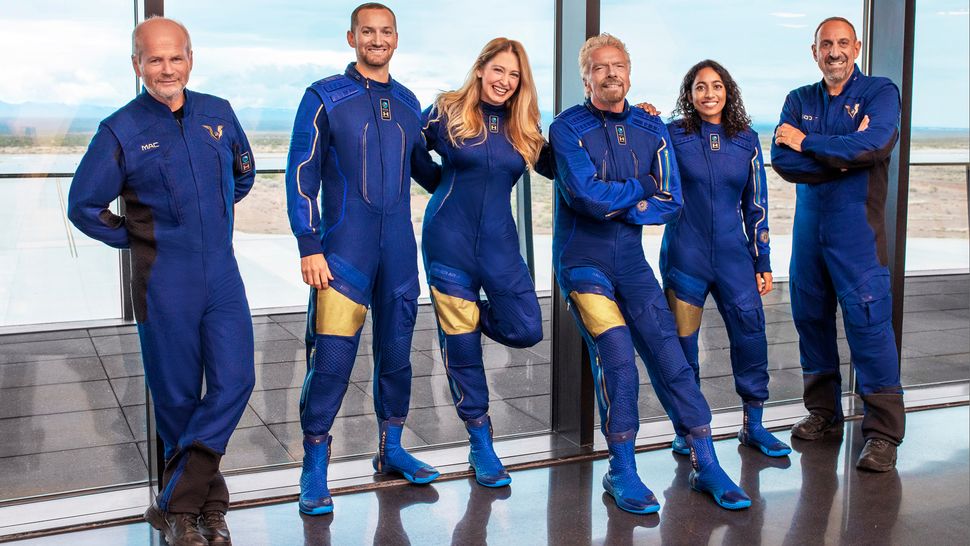 Image 2 of 6
Image 3 of 6
Image 4 of 6
Image 5 of 6
Image 6 of 6
Virgin Galactic will launch six people on the Unity 22 flight, although the spacecraft is designed to carry up to eight people (two pilots and six passengers).
Unity 22's crew includes four mission specialists:
Sirisha Bandla, Vice President of Government Affairs and Research Operations at Virgin Galactic. She will evaluate the human-tended research experience via an experiment from the University of Florida that requires several handheld fixation tubes to be activated at various points in the flight profile.
Colin Bennett, Lead Operations Engineer at Virgin Galactic. He will evaluate cabin equipment, procedures and the experience during the boost phase and weightless environment inside Unity.
Sir Richard Branson, founder of Virgin Galactic. Branson will evaluate the private astronaut experience. He will receive the same training, preparation and flight as Virgin Galactic's future ticket-buying astronauts and use the flight to fine ways to enhance the experience for customers.
Beth Moses, Chief Astronaut Instructor at Virgin Galactic. She will serve as cabin lead and test director in space. Her tasks include overseeing the safe execution of the test flight objectives. Moses has launched on Unity before.
Related: Meet the crew launching on Virgin Galactic's 1st fully crewed flight
Two veteran Virgin Galactic pilots will be at the helm of Unity during the launch. They have both launched to space on Unity before and are:
Dave Mackay: Mackay is Virgin Galactic's chief pilot and grew up in the highlands of Scotland. He is a former Royal Air Force pilot and flew for Branson's airline company Virgin Atlantic before joining Virgin Galactic.
Michael Masucci: Michael "Sooch" Masucci is a retired U.S. Air Force colonel who joined Virgin Galactic in 2013 who racked up over 9,000 flying hours in 70 different types of airplanes and gliders during more than 30 years of civilian and military flight.
Two other pilots will fly the VMS EVE carrier plane that will carry SpaceShipTwo into launch altitude. They are:
Frederick "CJ" Sturckow: A former NASA space shuttle commander who joined Virgin Galactic in 2013 with Masucci. A retired Marine Corps colonel, he was the first NASA astronaut to join the company and flew four space shuttle missions.
Kelly Latimer: Latimer is a test pilot and retired lieutenant colonel in the U.S. Air Force who joined Virgin Galactic's pilot corps in 2015. She was the first female research test pilot to join what is now NASA's Armstrong Flight Research Center.
What is Virgin Galactic's mission for Unity 22?
The primary objective for Unity 22 is to serve as a test flight for future passenger flights by Virgin Galactic. As its number suggests, this will be the 22nd flight of Unity, but only its fourth launch to space.
The four mission specialists will each evaluate different experiences that Virgin Galactic has promised its future customers, many of whom have already reserved trips to space with the company at $250,000 a seat.
Bandla, for example, will test the experience of performing experiments aboard Unity during different phases of the flight, including the weightless period. Branson will take note of the flight as a paying passenger to look for ways to enhance the trip for ticket holders looking for the experience of a lifetime.
Related: The long road to spaceflight for Virgin Galactic and Blue Origin
Moses is Virgin Galactic's Chief Astronaut Trainer and will ensure everyone is safe in their tests while Bennet will examine Unity's cabin performance to look for potential enhancements.
This mission is a critical flight or Virgin Galactic, which Branson founded in 2004. VSS Unity is the company's second SpaceShipTwo after the first, VSS Enterprise, broke apart during a 2014 test flight, killing one pilot and seriously injuring another. Virgin Galactic has made numerous safety upgrades to prevent such an accident from happening again.
What will Virgin Galactic's astronauts experience?
The mission will begin with takeoff from Spaceport America, where Virgin Galactic has built its "Gateway to Space" terminal to serve its future customers. The crews of Unity and Eve will walk out to their vehicles at about 8 a.m. EDT (6 a.m. local time, 1200 GMT). They'll be wearing custom Under Armour flight suits made for Virgin Galactic.
After takeoff, the carrier plane VMS EVE will haul the SpaceShipTwo VSS Unity (short for Virgin Space Ship) to an altitude of about 50,000 feet (15,000 meters), when it will drop the the spacecraft.
In Photos: Virgin Galactic's Sleek Under Armour Spacesuits for Space Tourists
After separation, Unity will ignite its hybrid rocket motor, which uses a mixture of solid and liquid propellant, to begin the boost phase. This will carry Unity to its target altitude above 50 miles (80 kilometers), where the pilots and crew can expect up to 4 minutes of weightlessness. They will exist their seats and enjoy sweeping views of the Earth below through the many round windows that dot the space plane's fuselage.
After that short encounter with weightlessness, the crew will climb back into their seats as Unity prepares to return to Earth. Pilots Mackay and Masucci will have "feathered" the spacectraft's twin tail booms to provide stability during atmospheric reentry.
The feathered tail will then be locked back into place for the glide back to Earth, which will end with a runway landing at Spaceport America. The entire flight, from takeoff to landing, should last about 90 minutes, Branson has said.
Will Virgin Galactic really reach space with Unity 22?
Virgin Galactic will launch Unity to an altitude above 50 miles (80 km), which NASA, the Federal Aviation Administration and the U.S. military classify as space. They will earn astronaut wings for reaching that height.
Another widely recognized boundary of space, the Kármán line, is at an altitude at 62 miles (100 km) above Earth. The SpaceShipTwo VSS Unity won't reach this milestone, which has led Virgin Galactic's competitor Blue Origin (which does fly higher than 62 miles) to call out Virgin Galactic for missing that mark.
Richard Branson has downplayed that criticism and saying that "the actual difference in experience is going to be almost non-existent," in an interview with NPR's Leila Fadel.
Where does Virgin Galactic launch SpaceShipTwo from?
Virgin Galactic initially launched SpaceShipTwo test flights from the company's facilities at Mojave Air and Space Port in California. However, in 2020 the company moved Unity and its carrier craft to its permanent home at Spaceport America, where it plans to fly regular passenger flights beginning in 2022.
Spaceport America is located near Las Cruces, New Mexico and is home to Virgin Galactic's "Gateway to Space" terminal, a welcome center and waiting room for ticketed passengers preparing for trips to space. It also sports a large hangar designed to fit multiple SpaceShipTwo spaceplanes and the VMS Eve. Virgin Galactic has also built a new vehicle, the SpaceShip III VSS Imagine.
When could I launch to space with Virgin Galactic?
If you booked a trip with Virgin Galactic early and have one of the first reservations, you may get your chance to fly in space as early as 2022. If not, there's a long wait ahead. And that's assuming you can afford the $250,000 ticket price.
Virgin Galactic has said it plans to begin passenger launches in 2022 after a series of final test flights in 2021. The company does have hundreds of reservations for customer flights in backlog from eager would-be astronauts that have been waiting for over 17 years (since Richard Branson first announced Virgin Galactic in 2004) for the SpaceShipTwo to finally fly. The company paused taking new reservations after the 2014 accident.
Virgin Galactic is expected to resume taking reservations for "a limited number of tickets for future spaceflights" sometime this year, according to its website.
Email Tariq Malik at tmalik@space.com or follow him @tariqjmalik. Follow us @Spacedotcom, Facebook and Instagram.
Canada posts surprise $3.2B trade surplus in June as oil exports surge – CBC.ca
Canada's trade surplus swung to its widest point since 2008 in June as exports of products like oil surged while imports shrank.
Statistics Canada reported Thursday that exports surged by 8.7 per cent to $53.8 billion. Energy led the way with exports rising by 22 per cent to $11.3 billion. That's the largest amount since March of 2019.
Cars and car parts were also up, by 14.9 per cent, as were metal and non-metallic minerals, which rose by 12.7 per cent.
All in all, Canada exported $4.3 billion more goods and services to the world in June than it did the previous month. That's the biggest monthly increase on record, if 2020's volatile numbers are stripped out.
While Canada was shipping more goods and services to the rest of the world, it was also buying less.
Imports fell one per cent to $50.5 billion as consumer goods fell by 3.7 per cent.
"This category was weighed down by a decline in clothing, footwear and accessories, which Statcan noted was in part due to restrictions in some parts of the country and port disruptions in Asia related to COVID-19 outbreaks," TD Bank economist Rishi Sondhi said.
Imports of cars and car parts, meanwhile, fell by 3.8 per cent.
One type of good that Canada imported a lot more of, however, was vaccines. Imports of vaccines rose by 74.5 per cent in the month to $745 million. That's 21 times higher than the amount of vaccines that Canada was importing the same month a year ago, before the country's COVID-19 vaccination effort ramped up.
U.S. exports surge even more
Almost all of Canada's trade surplus came from dealings with the U.S.
Canada posted a surplus of $8.3 billion with the U.S. for the month. With the rest of the world, however, Canada continues to have a trade deficit, although that deficit shrank to $5.1 billion, resulting in a total trade surplus of $3.2 billion.
"Canada's merchandise trade balance has posted surpluses in four of the first six months of the year, boosted by strong demand arising from U.S. re-openings and the rise in commodity prices," Bank of Montreal economist Shelley Kaushik said.
"Looking ahead, expect imports to recover as the economy reopens, while still-strong energy prices and U.S. growth should continue to support exports."
COVID-19 booster shot might be needed by winter, Moderna says as study continues – Global News
Moderna Inc. said on Thursday its COVID-19 shot was about 93 per cent effective through six months after the second dose, showing hardly any change from the 94 per cent efficacy reported in its original clinical trial.
However, it said it still expects booster shots to be necessary ahead of the winter season as antibody levels are expected to wane. It and rival Pfizer Inc and BioNTech SE have been advocating a third shot to maintain a high level of protection against COVID-19.
During a second-quarter earnings call, Moderna CEO Stephane Bancel said that the company would not produce more than the 800 million to 1 billion doses of the vaccine that it has targeted this year.

0:54


White House says U.S. prepared to provide COVID-19 boosters if needed



"We are now capacity constrained for 2021, and we are not taking any more orders for 2021 delivery," he said.
Moderna shares fell 3.6 per cent to around $403.87 in pre-market trading after closing at $419.05 on Wednesday.
The Moderna data compares favorably to that released by Pfizer and BioNTech last week in which they said their vaccine's efficacy waned around six per cent every two months, declining to around 84 per cent six months after the second shot.
Both the Moderna and Pfizer-BioNTech vaccines are based on messenger RNA (mRNA) technology.
"Our COVID-19 vaccine is showing durable efficacy of 93 per cent through six months, but recognize that the Delta variant is a significant new threat so we must remain vigilant," Bancel said.
The comment comes as public health officials across the world debate whether additional doses are safe, effective and necessary even as they grapple with the fast-spreading Delta variant of the coronavirus.
Meanwhile, Pfizer is planning to seek authorization for a third shot later this month, and some countries like Israel have begun or plan to start administering a booster shot to older or vulnerable people.

BOOSTER CANDIDATES
Separately, Moderna said its studies of three different booster candidates induced robust antibody responses against variants, including the Gamma, Beta and Delta variants.
It said neutralizing antibody levels following the boost approached those observed after the second shot.
For this year, Moderna has signed vaccine contracts worth $20 billion in sales. It has agreements for $12 billion in 2022, with options for another roughly $8 billion in sales and expects to produce between 2 billion and 3 billion doses next year.
The company, however, has not been able to keep pace with the much larger Pfizer, which expects to manufacture as many as 3 billion doses this year and 2021 sales to top $33.5 billion.
Moderna's vaccine was authorized for emergency use in adults in the United States in December and has since been cleared for emergency or conditional use in adults in more than 50 countries.
The company expects to finish its submission for full approval with the U.S. Food and Drug Administration this month.
It posted second-quarter sales of $4.4 billion, slightly above expectations of $4.2 billion drawn from 10 analysts polled by Refinitiv. Its COVID-19 shot is the firm's first authorized product and sales were just $67 million a year earlier.
Moderna earned $2.78 billion, or $6.46 a share, beating quarterly expectations of $5.96 a share.
(Reporting by Michael Erman in New Jersey and Manas Mishra in Bengaluru; editing by Kirsten Donovan, Edwina Gibbs and Arun Koyyur)
U.S. President Biden seeks to boost fuel economy to thwart Trump rollback – CTV News
DETROIT —
The Biden administration wants automakers to raise gas mileage and cut tailpipe pollution between now and model year 2026, and it has won a voluntary commitment Thursday from the industry that electric vehicles will comprise up to half of U.S. sales by the end of the decade.
The moves are big steps toward U.S. President Joe Biden's pledge to cut emissions and battle climate change as he pushes a history-making shift in the U.S. from internal combustion engines to battery-powered vehicles. They also reflect a delicate balance to gain both industry and union support for the environmental effort, with the future promise of new jobs and billions in new federal investments in electric vehicles.
The administration on Thursday announced there would be new mileage and anti-pollution standards from the Environmental Protection Agency and Transportation Department, part of Biden's goal to cut U.S. greenhouse gas emissions in half by 2030. It said the auto industry had agreed to a target that 40% to 50% of new vehicle sales be electric by 2030.
Both the regulatory standards and the voluntary target will be included in an executive order that Biden plans to sign later Thursday.
The standards, which have to go through the regulatory process including public comments, would reverse fuel economy and anti-pollution rollbacks done under President Donald Trump. At that time, the increases were reduced to 1.5% annually through model year 2026.
Still, it remained to be seen how quickly consumers would be willing to embrace higher mileage, lower-emission vehicles over less fuel-efficient SUVs, currently the industry's top seller. The 2030 EV targets ultimately are nonbinding, and the industry stressed that billions of dollars in electric-vehicle investments in legislation pending in Congress will be vital to meeting those goals.
Only 2.2% of new vehicle sales were fully electric vehicles through June, according to Edmunds.com estimates. That's up from 1.4% at the same time last year.
The White House didn't release information on the proposed annual mileage increases late Wednesday, but Dan Becker, director of the safe climate campaign for the Center for Biological Diversity, said an EPA official gave the numbers during a presentation on the plan.
The official said the standards would be 10% more stringent than the Trump rules for model year 2023, followed by 5% increases in each model year through 2026, according to Becker. That's about a 25% increase over the four years.
Last week, The Associated Press and other news organizations reported that the Biden administration was discussing weaker mileage requirements with automakers, but they apparently have been strengthened. The change came after environmental groups complained publicly that they were too weak to address a serious problem.
Transportation is the single biggest U.S. contributor to climate change. Autos in the U.S. spewed 824 million tons (748 million metric tons) of heat-trapping carbon dioxide in 2019, about 14% of total U.S. emissions, according to the EPA.
The voluntary deal with automakers defines an electric vehicle as plug-in hybrids, fully electric vehicles and those powered by hydrogen fuel cells.
Environmental groups said the administration should move faster.
"This proposal helps get us back on the road to cleaning up tailpipe pollution," said Simon Mui of the Natural Resources Defense Council. "But given how climate change has already turned our weather so violent, it's clear that we need to dramatically accelerate progress."
Scientists say human-caused global warming is increasing temperatures, raising sea levels and worsening wildfires, droughts, floods and storms globally.
"We urgently need to cut greenhouse gas pollution, and voluntary measures won't cut it," Becker said.
Several automakers already have announced similar electric vehicle sales goals to those in the deal with the government. Last week, for instance, Ford's CEO said his company expects 40% of its global sales to be fully electric by 2030. General Motors has said it aspires to sell only electric passenger vehicles by 2035. Stellantis, formerly Fiat Chrysler, also pledged over 40% electrified vehicles by 2030.
The Trump rollback of the Obama-era standards would require a projected 29 mpg in "real world" stop-and-start driving by 2026. It wasn't clear what the real world mileage would be under the Biden standards. Under Obama administration rules, it would have increased to 37 mpg.
Automakers said they would work toward the 40% to 50% electric vehicle sales goal.
"You can count on Toyota to do our part," said Ted Ogawa, the company's North America CEO.
General Motors, Stellantis and Ford said in a joint statement that their recent electric-vehicle commitments show they want to lead the U.S. in the transition away from combustion vehicles.
They said the change is a "dramatic shift" from the U.S. market today, and can only happen with a policies that include incentives for electric vehicle purchases, adequate government funding for charging stations and money to expand electric vehicle manufacturing and the parts supply chain.
The United Auto Workers union, which has voiced concerns about being too hasty with an EV transition because of the potential impact on industry jobs, did not commit to endorsing a 40% to 50% EV target. But UAW said it stands behind the president to "support his ambition not just to grow electric vehicles but also our capacity to produce them domestically with good wages and benefits."
Under a shift from internal combustion to electric power, jobs that now involve making pistons, fuel injectors and mufflers will be supplanted by the assembly of lithium-ion battery packs, electric motors and heavy-duty wiring harnesses.
Many of those components are now built overseas, such as China. Biden has made the development of a U.S. electric vehicle supply chain a key part of his plan to create more auto industry jobs.
"We are in a global competition for who gets to make the clean cars of the future, and President Biden's leadership means that we'll develop that manufacturing and those supply chains right here in America," said Sen. Tom Carper, D-Del., who chairs the Senate Environment and Public Works Committee.
In a bipartisan infrastructure bill awaiting Senate passage, there is US$7.5 billion allocated for grants to build charging stations, about half of what Biden originally proposed. He wanted $15 billion for 500,000 stations, plus money for tax credits and rebates to entice people into buying electric vehicles.
The Alliance for Automotive Innovation, a large industry trade group, said it will work with the administration to reach zero carbon emissions from transportation. But it said the best opportunity for environmental benefits will come after 2026 as more electric vehicles are sold.
The industry, it said, will invest more than $300 billion in electrification by 2025, producing 130 electric models by 2026. Only about 50 are available today.
——
Associated Press writers Hope Yen and Seth Borenstein in Washington contributed to this report