Wall St Week Ahead: U.S. economic resilience could add luster to semiconductor shares – Reuters.com
NEW YORK, Feb 24 (Reuters) – Signs of a resilient U.S. economy are boosting the appeal of semiconductor stocks, even as worries over the Federal Reserve's monetary policy tightening weigh on the sector along with the broader market.
The Philadelphia SE Semiconductor index (.SOX) is up about 16% so far this year, dwarfing the 3% year-to-date gain for the S&P 500 (.SPX) and the Nasdaq Composite's (.IXIC) 8.5% rise.
Semiconductors were among the worst hit areas in last year's market rout, which saw the SOX index lose 36%, fueled by worries of an imminent recession. They have been standouts in the market's 2023 rebound, supported in part by evidence that the U.S. economy continues to be robust even after the Federal Reserve unleashed its most aggressive monetary policy tightening in decades to fight inflation.
With semiconductors a key component in countless products, some investors are betting economic strength could help the shares outperform.
Despite last year's recession fears, the market now believes "the economy is going to continue to chug along," said King Lip, chief strategist at Baker Avenue Wealth Management, whose firm owns shares of Nvidia (NVDA.O) and On Semiconductor (ON.O). "If that's the case, then I think semiconductors can do very well."
Latest Updates
View 2 more stories
Of course, economic strength has been a double-edged sword for stocks lately. Semiconductor shares have pulled back recently along with broader markets on worries of a "no landing" economic scenario in which strong growth keeps inflation elevated and prompts the Fed to raise interest rates higher for longer. More insight into the state of the economy comes next week with a raft of data due, including consumer confidence and durable goods.
Still, virtually all of the 30-component Philadelphia semis index have outperformed the broader market this year, led by heavyweight Nvidia's (NVDA.O) roughly 60% year-to-date gain.
The chip designer's shares rose 14% on Thursday after it forecast first-quarter revenue above estimates as its CEO said use of its chips to power artificial intelligence services had "gone through the roof in the last 60 days."
The rally in Nvidia's shares has catapulted its market value to $570 billion, making it the sixth most valuable S&P 500 company after electric automaker Tesla (TSLA.O).
Whether the group maintains its momentum could depend on companies hitting earnings estimates that were marked down severely in the last year.
Forward 12-month earnings estimates for semiconductor companies declined 28% from June of last year to January, the largest such downward revision in a decade, according to Stacy Rasgon, an analyst at Bernstein.
"We have had one of the larger earnings resets that we have had in a quite a while," Rasgon said.
Earnings for the S&P 500 semiconductor and semiconductor equipment industry, which has a nearly 6% weight in the index, are expected to fall 20% this year, but are seen perking up in the last quarter of the year, according to Refinitiv IBES.
"It's not that fundamentals are incredibly good right now," said Peter Tuz, president of Chase Investment Counsel. But, he said, "the outlook down the road seems to be a little bit better than it was in late 2022."
Not every chip stock has thrived. Intel (INTC.O) shares have slumped 5% this year. The company earlier this week cut its dividend payout to its lowest in 16 years amid slowing demand for its chips used in personal computers and data centers.
While chip stocks might benefit from a stronger economy, few expect them to be immune to the adverse effects of higher Treasury yields, which have surged along with Fed rate expectations. Rising yields offer investment competition to stocks and make equities more expensive in standard analyst valuation models – particularly for tech companies, whose market value is more dependent on future profits.
And if tighter Fed policy eventually brings on a recession in the second half of the year, as some fear, semis could suffer.
Burns McKinney, a portfolio manager at NFJ Investments, also sees declining demand in the personal computer market after the pandemic boom as yet another obstacle for the sector.
Nevertheless, he believes the sector could thrive in the longer-term, especially if signs of cooling inflation eventually allow the Fed to slow its monetary policy tightening later in the year. McKinney holds positions in Texas Instruments (TXN.O) and ASML Holding (ASML.AS).
"Lower data prints should give the Fed the ability to take their foot off the brakes, and if that takes place it would be a positive for cyclical tech stocks," McKinney said.
Reporting by Lewis Krauskopf; additional reporting by David Randall in New York and Noel Randewich in San Francisco; Editing by Ira Iosebashvili and Deepa Babington
Our Standards: The Thomson Reuters Trust Principles.
NOVA Chemicals sets bold ESG aspirations to lead the plastics circular economy – Financial Post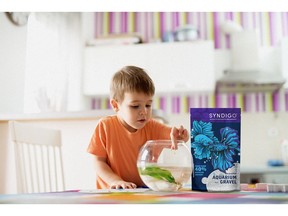 Article content
• Net-zero by 2050 • 30 per cent of polyethylene sales from recycled content by 2030 • Reduce Scope 1 and 2 absolute CO2 emissions by 30 per cent • Become a Top 30 company in Canada •Investment of USD $2-4 billion
Article content
CALGARY, AB, March 22, 2023 (GLOBE NEWSWIRE) — NOVA Chemicals Corporation ("NOVA Chemicals") today announced sector-leading ESG ambitions to drive the circular economy for plastics, in line with its vision to become the leading sustainable polyethylene producer in North America.
Article content
By 2030, the company aims to:
Set new industry standards for driving the transition to the plastics circular economy and solidifying the market for recycled polyethylene, with 30 per cent of its polyethylene sales[i] from recycled contet;
Be at the forefront of decarbonization by reducing its Scope 1 and 2 absoute CO2 emissions by 30 per cent[ii]; and
Become a Top 30 company in Canada.
Outlined in NOVA 2030: Our Roadmap to Sustainability Leadership, NOVA Chemicals has also shared its aspiration to reach net-zero Scope 1 and 2 emissions by 2050.
Article content
"NOVA's Roadmap to Sustainability Leadership details a strong plan forward for the company to become the leader in sustainable polyethylene production while building on our commitments to developing innovative solutions for our customers, enabling the circular economy, and being a responsible steward of our environment," stated Danny Dweik, CEO. "Plastic products play an essential role in our daily lives. With our renewed purpose of reshaping plastics for a better, more sustainable world, we have developed a clear pathway to become a catalyst for a low carbon, zero-plastic-waste future."
To achieve these aspirations, NOVA Chemicals anticipates investing between USD$2-4 billion by 2030 to expand its sustainable product offerings, decarbonize assets, and build a state-of-the-art mechanical recycling business while exploring new advanced recycling technologies to create high-quality, high-performance recyclable and low carbon plastics.
Article content
Building on its proprietary, Advanced SCLAIRTECHTM technology (AST), NOVA Chemicals will explore expanding its product portfolio to include the development of innovative, advanced materials. These new product offerings, which will include the company's first ASTUTE™ polyolefin plastomers line, will better serve existing customers and provide more options for sustainability-focused end markets such as electric vehicles and renewables.
NOVA Chemicals has already begun growing its portfolio of recycled and recyclable polyethylene resins through its recently announced launch of SYNDIGO™ recycled polyethylene, a new portfolio of products made from circular polymers to encourage both waste and emissions reductions.
Article content
The company's 2030 aspirations are shorter-term objectives that will help NOVA Chemicals reach its ultimate goal of achieving net-zero Scope 1 and 2 absolute CO2 emissions by 2050. NOVA Chemicals has developed a technical solutions-focused roadmap for decarbonizing its asset base by improving energy efficiencies, electrifying and acquiring renewable power, and exploring clean hydrogen as a low carbon fuel source and Carbon Capture, Utilization, and Storage (CCUS). The company will also continue to pursue new technologies to abate and eliminate emissions from its production processes, such as the development of its proprietary Low Emissions Ethylene Process (LEEP™) technology.
The company has also announced a virtual power purchase agreement (VPPA) with Shell Energy for renewable power, marking the first of many opportunities to increase low carbon, renewable energy in its power portfolio.
Article content
Today's announcement builds upon NOVA Chemicals' long-standing commitment to developing innovative solutions for its customers while enabling the circular economy and preparing for and responding to a changing world. NOVA's approach to managing its material ESG topics including Responsible Care® and its commitment to the environment, health, and safety, can be found in its annual ESG report.
Learn more about NOVA 2030: Our Roadmap to Sustainability Leadership.
– 30 –
About NOVA Chemicals Corporation
NOVA Chemicals aspires to be the leading sustainable polyethylene producer in North America. Our driving purpose is to reshape plastics for a better, more sustainable world by delivering innovative solutions that help make everyday life healthier and safer and acting as a catalyst for a low carbon, zero-plastic-waste future. NOVA Chemicals' innovative and quality product offerings, value chain collaboration, and unique customer experience is what sets us apart; our customers use our products to create easy-to-recycle and recycled content films, packaging, and products. Our employees work to ensure health, safety, security, and environmental stewardship through our commitment to sustainability and Responsible Care®.
Article content
NOVA Chemicals, headquartered in Calgary, Alberta, Canada, has nearly 2,500 employees worldwide and is wholly owned by Mubadala Investment Company of the Emirate of Abu Dhabi, United Arab Emirates. Learn more at www.novachem.com or follow us on LinkedIn.
NOVA Chemicals' logo is a registered trademark of NOVA Brands Ltd.; authorized use.
Advanced SCLAIRTECH™, SYNDIGO™, LEEP™, and ASTUTE™ are trademarks of NOVA Chemicals.
Responsible Care® is a registered trademark of the Chemistry Industry Association of Canada.
This news release contains forward-looking statements. By their nature, forward-looking statements require NOVA Chemicals to make assumptions and are subject to inherent risks and uncertainties. NOVA Chemicals' forward-looking statements are expressly qualified in their entirety by this cautionary statement. In addition, the forward-looking statements are made only as of the date of this news release, and except as required by applicable law, NOVA Chemicals undertakes no obligation to update the forward-looking statements to reflect new information, subsequent events or otherwise.
Article content
Statements in this news release as to future aspirations, ambitions or goals, including any projections or plans to reduce emissions or emissions intensity, and projections or plans to increased recycled polyethylene or in respect of circularity, to increase the size, value or ranking of NOVA Chemicals, or in regards to any investments or investment amounts, are forward-looking statements. In addition, any roadmaps related to the foregoing represent forward-looking statements as well. Any actual future results could vary depending on NOVA Chemicals' ability to execute on a timely and successful basis, on policy and consumer support, changes in laws and regulations, unforeseen difficulties, and the outcome of research efforts or technology developments.
---
[i] On a volume basis
[ii] Under operational control, 2020 baseline
Attachments

'Already past the point of no return': JPMorgan says the U.S. is probably headed for a recession as economic 'engines are about to turn off' – Yahoo Finance
A series of banking crises this month headlined by the failure of Silicon Valley Bank has forced analysts from multiple banks, including JPMorgan Chase, to rewrite their recession forecasts from scratch, as months of small victories against inflation and a relatively strong economy were potentially swept away in under two weeks.
Even if the government and the private sector are able to successfully contain contagion from the bank collapses spreading through the economy, the failures may still lead to lasting damage for the U.S. financial system. Some banks are teetering on the edge in Europe and the U.S., while jittery markets and the promise of stricter regulation could lead to a credit crunch—a steep decline in banks' willingness to lend caused by a lack of funds.
It adds up to an impossible choice the Federal Reserve has to make when officials meet on Wednesday: Slow down the pace of interest rate hikes or plow ahead to bring down resurgent inflation and risk amplifying damage to the economy. But as far as the Fed is concerned, hopes of engineering a soft landing for the economy and avoiding a recession may already be in the rearview mirror.
"The Fed is facing a difficult task on Wednesday, but it is likely already past the point of no return," JPMorgan strategists led by Marko Kolanovic, the bank's chief global markets strategist, wrote in a note to clients Monday. "A soft landing now looks unlikely, with the airplane in a tailspin (lack of market confidence) and engines about to turn off (bank lending)."
It is still unclear how far contagion from SVB will spread. New York–based Signature Bank failed days after SVB, requiring sweeping government measures to restore confidence that account holders in both banks would be made whole, but other small-sized and regional banks remain in precarious positions. San Francisco–based First Republic remains at high risk, although larger U.S. banks banded together last week to provide a $30 billion deposit to prop up its finances. Treasury Secretary Janet Yellen also pledged Tuesday that the government was prepared to step in again if issues at other banks "pose the risk of contagion." But even if depositors are safeguarded, the damage may have already been done.
"Even if central bankers successfully contain contagion, credit conditions look set to tighten more rapidly because of pressure from both markets and regulators," JPMorgan wrote.
The analysts referred to current challenges as a possible "Minsky moment," named after the American economist Hyman Minsky, who famously predicted that extended bull markets naturally end in epic and monumental collapses. A Minsky moment happens when the inevitable check comes due and the house of cards finally falls down. JPMorgan analysts wrote our Minsky moment is nearing as the past few weeks alone have seen a number of economic and geopolitical threats to the world, including banking crises on both sides of the Atlantic, China striking a new diplomatic deal with Saudi Arabia and Iran, and Chinese President Xi Jinping's high-profile trip to Moscow and visit with sanctioned Russian counterpart Vladimir Putin, who was recently issued an international arrest warrant for war crimes committed in Ukraine.
Investors and historians have warned for years that an extended bull market in the U.S. since 2009 would inevitably lead to an economic overcorrection: "The long, long bull market since 2009 has finally matured into a fully-fledged epic bubble," investor and market historian Jeremy Grantham wrote in 2021. More recently, Grantham has been warning of an all-consuming "everything bubble," which he called "pretty damn big" during an interview this month with economist David Rosenberg.
"'There are decades where nothing happens; and there are weeks where decades happen,'" JPMorgan analysts wrote, citing a famous Vladimir Lenin quote.
JPMorgan isn't the only major bank to have downgraded its economic forecasts in recent weeks; Goldman Sachs also told clients last week the banking crisis could deliver a severe blow to U.S. economic growth. And former Treasury Secretary Larry Summers has warned multiple times in recent months even before the banking crisis that the economy could be headed for a "Wile E. Coyote moment," having already run off a cliff edge but still blissfully unaware of the sudden crash about to happen.
The longest bull market in U.S. history that began in 2009 only ended in 2020 because of the COVID-19 pandemic. The short-lived 2020 recession was quickly replaced by another ferocious bull market in 2021, but after a year of slowing growth, the long-awaited Minsky or Wile E. Coyote moment may have finally arrived.
This story was originally featured on Fortune.com
More from Fortune:
The US interest-rate decision the world is watching – BBC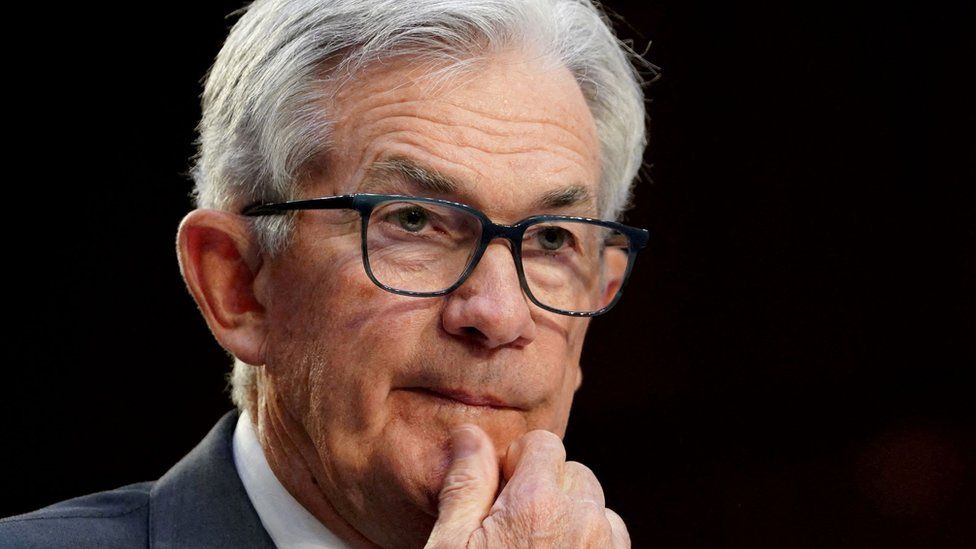 The global economy is facing a slew of problems – and all eyes are looking in one direction: America.
Two banking failures in the US this month have raised fears about the health of the financial system.
At the centre of the crisis is the US central bank.
Since last year, authorities at the Federal Reserve have been leading the charge to raise interest rates, as they wrestle to rein in price increases driving up the cost of living.
With risks to the economy rising, can that campaign continue?
Just two weeks ago, Chairman Jerome Powell warned the bank might need to raise interest rates further and faster than expected, citing concerns that progress on stabilising prices was stalling.
The rate at which prices rise was 6% in the 12 months to February – far higher than the 2% rate considered healthy.
But the recent banking turmoil has many investors betting the Fed will be especially keen to avoid startling financial markets with a big move.
Many analysts expect officials to raise rates by 0.25 percentage points – or perhaps hold off on an increase entirely.
Whatever the decision, Mr Powell is squarely in the hot seat – with little chance of satisfying his many critics.
"This is probably the toughest decision the Fed has had to make in a while," says Ryan Sweet, chief economist at Oxford Economics, who is expecting a 0.25 percentage point increase.
He says Mr Powell will "have to play the two-handed economist perfectly", convincing investors that the central bank can still raise rates to fight inflation on the one hand, while using other tools to combat stress in the financial system.
"The biggest challenge is going to be communication and the Fed doesn't have a really good track record."
Mr Powell, a lawyer who was appointed to lead the Fed by former President Donald Trump, already had work to do to restore credibility, after he infamously described the price rises that started to hit America in 2021 as "transitory".
The bank failures have added to the scrutiny, putting into focus costs from the rapid rate rise campaign, while raising questions about whether the Federal Reserve had been too lax in its oversight.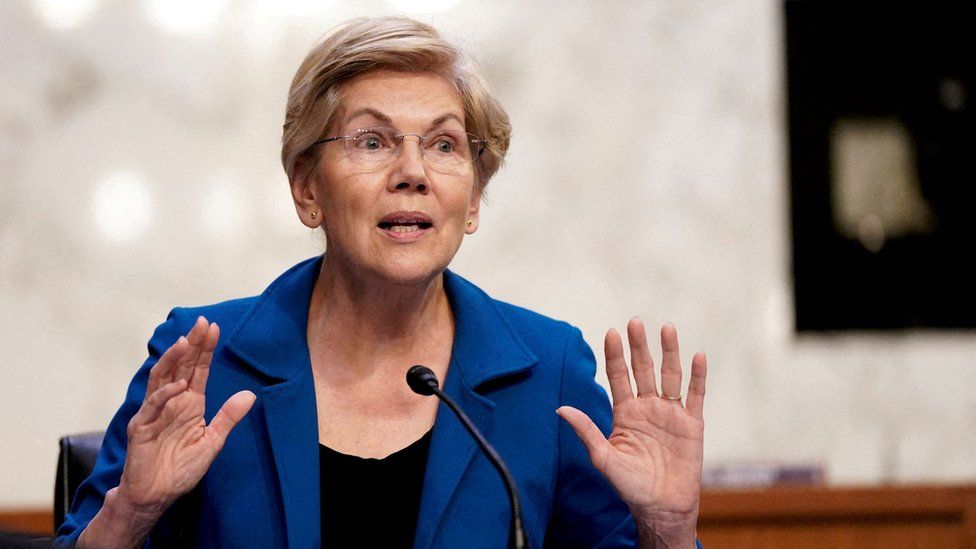 Senator Elizabeth Warren, a progressive Democrat who has long faulted Mr Powell's response to inflation, has accused him of presiding over an "astonishing list of failures", including faulty supervision.
She said this week she did not think he should remain in his post.
And though the reasoning is different, criticism of Mr Powell has also grown louder on Wall Street and in Silicon Valley.
"The Fed should have reacted to inflation six months earlier, and then raise rates more gradually. Instead they slammed on the brakes and now we have a car crash," venture capitalist David Sacks wrote on Twitter in the wake of the bank failures.
With outcry widening, the White House this week issued a statement affirming US President Joe Biden's "confidence" in Mr Powell.
Mr Sweet said such an unusual step is a sign in part of a more toxic turn in politics.
"I think on both sides, they're much more quick to criticise and point the finger," Mr Sweet said.
Over the past year, the Fed has raised its key rate – what it charges banks to borrow – from near zero to more than 4.5% – the highest level since 2007.
But strong hiring has helped the economy hold up better than many expected, despite a sharp slowdown in the housing market and struggles in the tech sector, where low borrowing costs had helped fuel growth.
Still, the recent banking panic is likely to push the US economy into recession sooner than expected – and there is little doubt that pressure on Mr Powell has increased, Mr Sweet said.
"Anytime you get any stress in the banking system all eyes turn to the Federal Reserve."