Want To Be More Popular On Social Media? Try Doing These Simple Things – Forbes
Have you ever noticed that social media tends to mirror real life?
There are plenty of helpful and kind people lurking in the digital realm, something I've proven to myself when I post a question on Twitter and watch as followers offer helpful tips and advice. You may have noticed there are also many nasty trolls in real life and online.
You might wonder how you can demonstrate that you are one of the likable ones. Of course, avoiding constant criticism can help. Not engaging in heated conversations, pointing out what others are doing wrong, or making fun of them might also help.
These tips are meant to help you become more popular on social media, gain a few new followers, and possibly even make some actual friends on virtual platforms.
1. Ask people questions in chat
Things that work well in real life tend to work in a virtual space as well. When you ask people questions about themselves, you are showing you are interested in that person. On social media, it works the same way. How many kids do you have? What have you been working on lately? When we do that in a chat or even in public in a comment or post, it means we are not just into our own bubble but we want to enter into the bubble of someone else. That makes you more likeble because, for starters, no one likes a selfish person. Mostly, we all tend to like those who are expressing interest in what we're doing in life.
2. Promote others
Too often, especially in business, we tend to post about our own accomplishments. We announce a new product or brag about a new hire. That's human nature, but on social media, it's important to fight against that tendency. Instead, choose to promote what other people are doing and saying. If someone made a big announcement, go ahead and create your own post about it. People like to know when we notice them. If you promote others, they might do the same for you. In terms of likability on social media, we tend to gravitate toward those who have less to say about themselves and more to say about everyone else.
3. Add to the conversation someone else started
Commenting is one of the most common ways to build a following. As I mentioned, constantly trumpeting your own endeavors doesn't work. If you add something insightful and useful to the post someone else made, you might attract a few new followers. Why is that? For starters, it means people know you are a collaborator on social media. You will likely comment on one of their posts and not just toot your own horn. Also, if you comment on the post of an influencer, it is far more likely someone will see your comment. In the end, this idea of commenting about what everyone else is doing makes you more likable. You are not just churning your content about yourself. You are joining others in a shared experience.
Facebook, YouTube take down Bolsonaro video over false vaccine claim
Facebook and YouTube have removed from their platforms a video by Brazilian President Jair Bolsonaro in which the far-right leader made a false claim that COVID-19 vaccines were linked with developing AIDS.
Both Facebook and Alphabet Inc's YouTube said the video, which was recorded on Thursday, violated their policies.
"Our policies don't allow claims that COVID-19 vaccines kill or seriously harm people," a Facebook spokesperson said in a statement on Monday.
YouTube confirmed that it had taken the same step later in the day.
"We removed a video from Jair Bolsonaro's channel for violating our medical disinformation policy regarding COVID-19 for alleging that vaccines don't reduce the risk of contracting the disease and that they cause other infectious diseases," YouTube said in a statement.
According to the Joint United Nations Programme on HIV and AIDS (UNAIDS), COVID-19 vaccines approved by health regulators are safe for most people, including those living with HIV, the virus that causes acquired immunodeficiency syndrome, known as AIDS.
Bolsonaro's office did not respond immediately to a request for comment outside normal hours.
In July, YouTube removed videos from Bolsonaro's official channel in which he recommended using hydroxychloroquine and ivermectin against COVID-19, despite scientific proof that these drugs are not effective in treating the disease.
Since then, Bolsonaro has avoided naming both drugs on his live broadcasts, saying the videos could be removed and advocating "early treatment" in general for COVID-19.
Bolsonaro, who tested positive for the coronavirus in July last year, had credited his taking hydroxychloroquine, an anti-malarial drug, for his mild symptoms. While Bolsonaro himself last January said that he wouldn't take any COVID-19 vaccine, he did vow to quickly inoculate all Brazilians.
In addition to removing the video, YouTube has suspended Bolsonaro for seven days, national newspapers O Estado de S. Paulo and O Globo reported, citing a source familiar with the matter.
YouTube did not respond to a separate Reuters request for comment regarding the suspension on Monday night.
(Reporting by Pedro Fonseca in Rio de Janeiro; Additional reporting by Gram Slattery in Rio de Janeiro and Anthony Boadle in Brasilia; Writing by Gabriel Araujo; Editing by Leslie Adler)
Somali drama wins Pan-African film festival grand prize
Somalia's entry "The Gravedigger's Wife" by Finish-Somali writer-director Khadar Ayderus Ahmed won the prestigious Stallion of Yennenga grand prize for best film at the Pan-African film festival in Ouagadougou, Burkina Faso, on Sunday.
The poignant drama about a gravedigger's struggles to raise money to pay for his wife's surgery, took home the 20 million franc CFA ($35,714) prize money and the golden stallion statue.
The film, which was Somalia's first official entry for the Best International Feature Film category at the 2021 Academy Awards, premiered at the Cannes Film Festival in July.
Ahmed, who was not in Ouagadougou to collect his prize, has previously said the film was inspired by incidents that happened in his family.
Mauritanian film director Abderrahmane Sissako, who chaired the jury for the 17 feature films in the competition, told Reuters that it was a courageous movie from a country which does not make a lot of films. "So when there is a film such as this one from there, it should be encouraged."
"It is a beautiful film that tells a story with humanity. It is a love story also," Sissako said after the ceremony presided over Presidents Macky Sall of Senegal and Roch Marc Kabore of Burkina Faso.
The Pan-African Film and Television Festival of Ouagadougou, known as Fespaco, is the largest biannual meeting of African cinema which attracts international and African cinema and television professionals from the continent and the diaspora to the Burkinabe capital.
This 27th edition was postponed by nearly eight months to Oct. 16-23, 2021, due to the COVID-19 pandemic and security challenges the country is facing.
($1 = 560.0000 CFA francs)
(Reporting by Anne Mimault and Thiam Ndiaga; Writing by Bate Felix; Editing by Daniel Wallis)
Media Literacy Week – The Manitoba Teachers' Society – The Manitoba Teachers' Society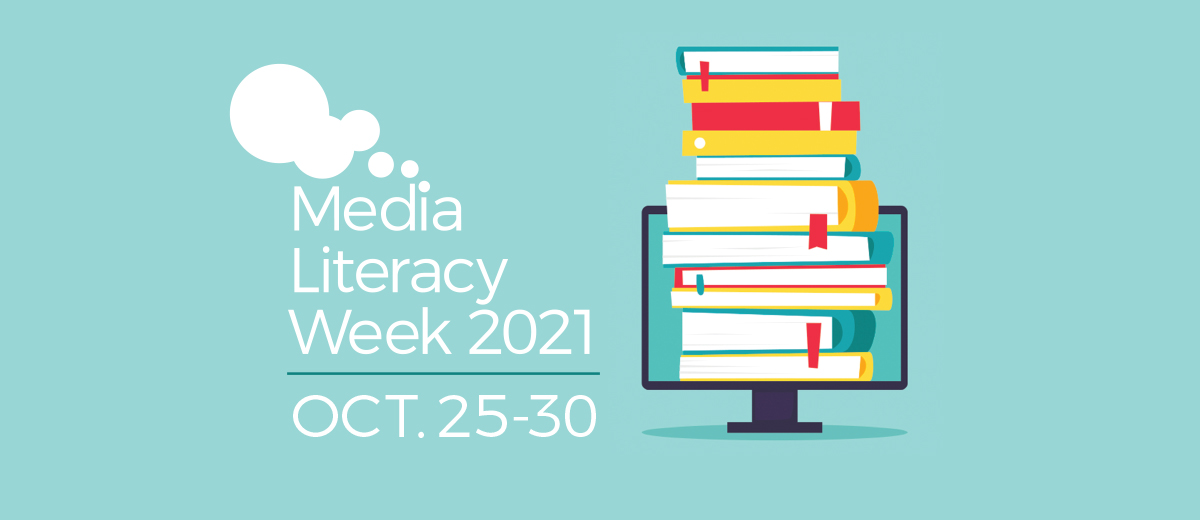 October 25, 2021
---
Be Media Smart
Media Literacy Week Oct.25 to 30
According to a Statistics Canada poll (Canadian Perspectives Survey Series, conducted from Sept. 14 to Sept. 20, 2020) four in 10 Canadians were spending more time on social media and messaging services (41 per cent) since the onset of the pandemic.
Young Canadians aged 15 to 34 (57 per cent) were most likely to have increased their use of social media and messaging services.
As a result, this year's Media Literacy Week aims to put the spotlight on the essential digital literacy skills needed by today's digital citizens.
Hosted by MediaSmarts, Canada's centre for digital and media literacy, the annual event invites all Canadians – teachers, students, seniors, community groups, libraries and museums – to celebrate by engaging in digital media literacy activities.
To celebrate the week, MediaSmarts has also created five themed days with free resources anyone can use and a Media Literacy Week Teachers' Hub with curated lessons and activities for students from kindergarten to Grade 12.
MediaSmarts is also hosting A Conversation About Researching Digital Media Literacy in Canada, which will bring together academics to discuss researching digital media literacy in Canada on Thursday, October 28 at 12:30 p.m. EST.
Media Literacy Week is run in partnership with the Canadian Teachers' Federation (CTF/FCE) and the Canadian Commission for UNESCO (CCUNESCO).
Canada's 16th annual Media Literacy Week runs from Oct. 25 to 30.