Washington, DC climate protesters drag paint on glass cover of art sculpture
Climate protesters in Washington, D.C. were handcuffed on Thursday after they dragged paint on a glass cover protecting an art sculpture.
The incident happened at the National Gallery of Art by the activism group Declare Emergency in an attempt to bring attention to climate change, according to the Washington Post.
After two people from the group smeared their hands across the glass covering of Edgar Degas's "Little Dancer Aged Fourteen," they were removed by police in handcuffs.
One of the individuals taken into custody wasn't issued any criminal charges but is banned from the museum for life, according to a tweet from the group.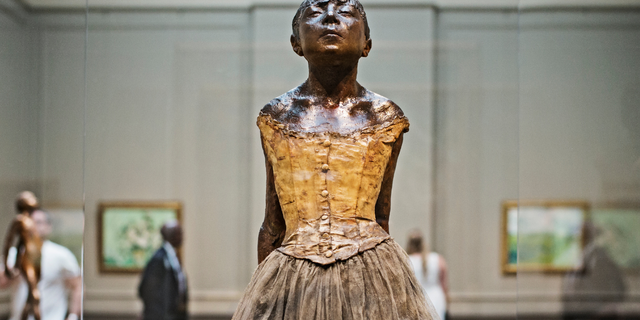 The group tweeted that they wanted to send a message about climate change.
"Around 11 am today two parents who are terrified about their children's futures (as well as all children) made a statement at the National Gallery in DC. Climate change will cause famine, floods, droughts and destruction unless we act now," Declare Emergency tweeted.
Declare Emergency told Fox News Digital in a statement that it understands the importance of art, but also needs to show how urgent the climate change issue is.
"We understand the value and importance of art in our society, and we also know that it and everything we love is at stake if we don't tackle the climate emergency with the urgency that it deserves," the group said. "We have to convey how dire this situation is, in whatever nonviolent way that we can. We need to engage with the climate emergency emotionally, and actions such as this one draw that out in us. They bring us to the emotional state that we need to be in to realize how bad things really are. Only after getting to that place will we find the motivation and the resolve to truly save ourselves."
In response to criticism on Twitter, the group tweeted that it's a "complete moral failure of our government to protect its own citizens."
Tuesday's climate protest is hardly the first time that an activism group has defaced artwork in attempts to bring attention to their cause.
In March, German climate activists defaced a work of art near the country's parliament.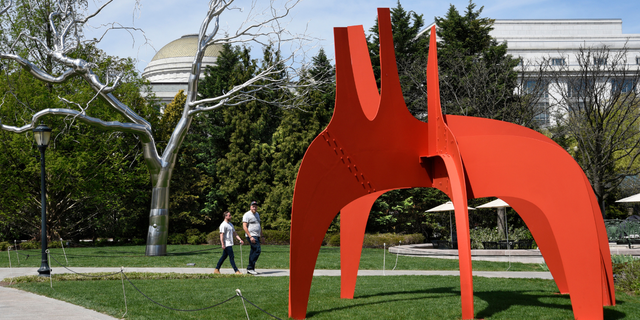 Members of The Last Generation appeared to have thrown black liquid over glass plates which displayed 19 articles of the German Constitution.
In a statement, the German group said that its government wasn't protecting citizens' "fundamental rights" because of the country's use of fossil fuels.
Parliament Speaker Bärbel Bas harshly criticized the protest.
"Those are the fundamental rights on which the demonstrators from Last Generation themselves base the justification for their actions," Bas said in a statement. "I can only hope that the glass plates of the artwork were not permanently damaged."
Fox News Digital reached out to Declare Emergency for comment.
Fox News' Timothy Nerozzi contributed to this report.
Jolene Arcand on her art for 'Mother. Sister. Daughter.' – CBC.ca
Growing up, Jolene Arcand was surrounded by art. Her mother sketched, beaded and played the accordion, while her father played guitar, sang and worked in tech.
Although she loved being creative, it wasn't until Arcand was 35 that she decided to pursue art as a full-time career. Now, she says it's her way of "finding peace through chaos."
The Alberta-based artist and graphic designer also created the artwork behind CBC Manitoba's "Mother. Sister. Daughter." project, which investigates the progress made on each call for justice of the National Inquiry into Missing and Murdered Indigenous Women and Girls.
CBC spoke to the artist about how she finds inspiration and what was behind the work she created for "Mother. Sister. Daughter."
What inspires your art lately?
Recently, my inspiration has come from discovering a deeper understanding of my Métis roots, culture and history. I truly believe art in all forms inspires people and change. I am grateful to be a part of it.
I am inspired by how art and design visually tell our stories: the truths, the injustices, the beauty and the resiliency. My style is not just one style. It changes with my environment, experiences, resources and time.
What inspired your art for "Mother. Sister. Daughter."?
The concept is inspired by connections to Mother Earth and its healing and teachings. I ensured there was movement and change in the concept because this project is about addressing issues, taking action and implementing the changes necessary to end the genocide of Indigenous women and girls.
The clouds in the sky represent this change and movement, and the reds in the clouds represent urgency and a call to action. It portrays the contrast needed to get attention. I want people to stop scrolling and pay attention to the message.
What do the symbols you chose to include represent?
Does your process change when working on a project with themes like MMIWG?
Since I walk with grief and loss in my heart daily, I understand it. Embracing the heaviness with empathy comes naturally to me. My mother was part of the Sixties Scoop, and she didn't get to know her birth family until she was in her 20s.
I do a lot of research before ideating concepts. Sometimes, the research findings are emotional. I cried a lot during the research, but it was something I needed to go through. It's important to give this project the attention and detail it deserves, so I ask myself how these women would want to be portrayed.
What does it mean to you to bring awareness to MMIWG through art?
It means everything. This issue is close to my heart as I feel this deep connection to helping our mothers, sisters, daughters and two-spirit people by helping to bring this national emergency to an end.
Art has this amazing ability to communicate information using visual storytelling, and storytelling is one of the many pillars of Indigenous cultures. I am honoured to help bring awareness to MMIWG through design and to be a part of such an important project.
I am seeing more Indigenous artists bringing awareness to MMIWG and other issues. It's so incredibly important for us to keep this alive and loud to ensure the voices of MMIWG are remembered, recognized and heard.
What advice do you have for other Indigenous artists about using art to bring awareness to MMIWG?
I encourage you to research everything, read and listen to the stories and feel all the emotions (as hard as it may be). Let the emotion empower you and the direction of your art. Don't shy away from inspiration. Keep going and keep creating, even if you feel discouraged or down. Find art in anything you do, whether sketching or beading — you can be seen and heard.
I'm reminded of a Louis Riel quote: "My people will sleep for 100 years, but when they awake, it will be the artists who give them their spirit back." The more we create and design, the more impact we will have and the more awareness we can bring to help end this national tragedy.
---
Find more from Jolene Arcand on her website and Instagram.
This conversation has been edited and condensed.
Art in the Park sees another year of huge crowds – Windsor Star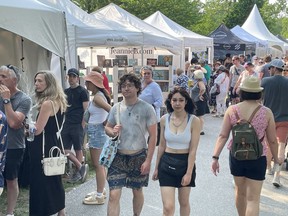 Article content
Perfect weather helped to draw big crowds to Art in the Park at Willistead Park on the weekend.
Article content
"We like to say summer begins with Art on the Park," said the organization's chairman Allan Kidd.
The event, run by the Rotary Club of Windsor (1918), is now in its 44th year and it continues to grow, he said.
"A hot day like this is perfect," he said. "This is potentially another record crowd. We set a record last year," with 27,000 paying attendees. "We're on track to do that again."
The annual show is attended by people from other provinces in Canada and Kidd noted one person who was familiar with Art in the Park when he lived in South Africa.

With 275 exhibitors and 15 musical performers, the event is a major fundraiser for the Rotary Club to support community projects around the world, Kidd said.
Last year, Art in the Park raised $80,000 to help with the maintenance and restoration of Willistead Manor, which itself provides the ideal setting for the event, he said. The Rotary Club also uses funds raised to support other causes.
Article content
"We're a charitable group. We buy wheelchairs and we drill water wells and we build schools," said Kidd , who noted people don't realize the event supports charitable causes.
"There's a disconnect in the public eye," Kidd said. "I like to say this is our gift to the community. We have this festival, everybody comes (and) for a couple of bucks they have a ball. All of these people are philanthropists without knowing it."

Solange Silivria of Windsor and friend Todd Mansell relaxed at a picnic table late Saturday. Silivria comes to the event every year.
"It's something that I used to do every year with my mum and she has since passed," she said. "I continue to do the tradition and come every single year and walk around. It's something that she loved to do."
Article content
Silivria's mother, Charlene Evon, used to run Bart Evon Designer Furniture, in LaSalle.
"I always try to meet up with friends or bring friends and come and enjoy the lovely artwork and the amazing talent, and walk around and just enjoy the day," she said.
Exhibitor Jasmine Samsair, a Windsor mixed-media abstract artist, put her work on display at the park for just the second year.
"I've always loved coming to Art in the Park," she said. "I didn't know there was such a market for abstract art. I thought why not give it a shot. I actually ended up doing really well last year and it was just so great meeting so many people."
Art in the Park is a good opportunity to get artists' work in front of the public, she said.
"Even if I don't make any sale… the biggest thing that I find is exposure. I find that doing Art in the Park, the main thing was people discovering you, noticing your work and getting your name out there."

20,000 people attend Art in the Park
It was a lovely weekend for a stroll in the park and more than 20,000 people had the same idea for this year's Art in the Park at Willistead Park in Windsor, Ont.
The two-day festival features 275 different art vendors, food and ice cream trucks and music from a number of performing artists.
"It's a wonderful thing because we see that our artists and our performers are being supported and that means a lot to us," said Aggie Sarafianos, who hasn't missed a single year of Art in the Park since it started back in 1979.
"The history, the atmosphere, the feeling that you get when you're here is just second to none," she said. "The camaraderie of the neighborhood is here, it's very blatant."
Vendors seemed quite pleased with the turnout, reporting strong sales this weekend.
"We're told that it's the best organized festival that we go to, so we love to hear that," said Allan Kidd, the chair of Art in the Park, indicating they will try to squeeze in 300 vendors next year.
The event is put on by the Rotary Club of Windsor, with proceeds going to restoring Willistead Manor, digging water wells in Africa, and buying wheelchairs for kids in Windsor.
"Everybody that comes in here has a good time but they are all philanthropists because I can't do it without them," said Kidd. "Every dollar is put to good use cause we're all volunteers. We're grateful for the public and I think they love what we do too."