Waterloo Region launches outdoor picnic table tour
KITCHENER —
Colourful works of art will be on display throughout Waterloo Region, in a new fresh air exhibit that takes visitors on a walkable art adventure.
With local tourism taking a hit over the lockdown, the Waterloo Regional Tourism Marketing Corporation is launching the Art Fresco Public Art project.
Over the next week, 50 local artists will paint designs on picnic tables and their works of art will be displayed on restaurant patios across the region.
The Art Fresco picnic table tour is aimed at generating interest in local eateries.
"It's super important because it represents so many communities coming together with one end goal, and that's to get people connecting and supporting local," says Diane Murenbeeld, director of marketing for Explore Waterloo Region.
The theme of the tour is "Waterloo Region United" in order to encourage people to dine locally.
The lumber and metal legs for each table were purchased locally and Home Hardware donated the paint.
Source: – CTV News
'You don't have to like every piece of art': Nenshi condemns outrage towards proposed BLM murals – Global News
Calgary Mayor Naheed Nenshi has condemned comments Thursday toward Pink Flamingo, a group behind a series of proposed Black Lives Matter murals.
The group announced on Wednesday that the murals would be delayed until next summer following a public racist backlash over a decision to replace the popular Giving Wings to the Dream piece by Calgary artist Doug Driediger in 1995 on the side of a building on 7 Avenue and 1 Street S.E., which was once occupied by the Calgary Urban Project Society.
That backlash has forced Pink Flamingo, which cited security concerns, to close the comments on its Facebook page.
The group told Global News that they would not be commenting further due to concerns over their safety.
"You're a bunch of hateful bigots hiding behind a rainbow flag," one person wrote to the group, which was later shared on their Instagram page.
"You people are evil and will be destroyed," another comment read.
"What is happening to the people at Pink Flamingo is disgusting and it has no place in this city," Nenshi said on Thursday. "I couldn't care less what you think about that mural, you have no right whatsoever in this city to engage in that kind of threatening behaviour, and if that's how you feel, find another place to live."
Nenshi said that he, like many others in the city, did not think it was a good idea to replace the existing art on the proposed site of the first mural, but said he had no issue with having the conversation.
However, he said the conversation around the murals has taken a racist tone.
"What I don't appreciate is the people who have used this as an excuse to fight the issue of anti-racism," Nenshi said. "I don't appreciate the racists who have used this as an excuse to push their own views."
Peter Oliver, with the Beltline Urban Murals Project (BUMP), said the group is also deeply disappointed by the comments being directed toward Pink Flamingo.
BUMP had partnered with Pink Flamingo to provide logistical support for the murals.
"We think its a bad look for Calgary," Oliver said.
"I think its an important question for the city: what kind of place do we want to be? Do we want to be a welcoming and inviting and tolerant city, or do we want to be known as a place that's intolerant?"
Calgary Arts Development, which had also partnered with Pink Flamingo to assist in facilitating the mural project, released a statement on Thursday also sharing its disappointment.
"It is greatly disappointing and alarming that there are some who have also taken this opportunity to voice their views in a way that has resulted in great harm and threats of violence being directed to Pink Flamingo leadership," the statement read.
"This is not the Calgary we know and we implore all citizens to not let us become known for being a city of hate and divisiveness."
City council approved $120,000 from the city's public art reserve for the mural project following a notice of motion to combat systematic racism in Calgary.
Council took part in three days of public testimony from Calgarians who shared their experiences with racism within public institutions and in their daily lives in the city.
However, Ward 3 city councillor Jyoti Gondek said council didn't go about the process in the right way; as the proposal narrowly passed eight votes to seven.
"In this case, I have to be honest, I think we did a terrible job of public engagement, and we got what we got," Gondek said on 770 CHQR Global News Radio on Wednesday.
"Council tried to be nimble and responsive to an issue, and we tried to do something that could have been meaningful, but sometimes you need to rely on tried and true practices, that being public engagement."
Nenshi disagreed with that assessment on Thursday, and said he supported the work that Pink Flamingo put into the project.
"When we engage the public on this stuff, we only engage a segment of the public, and if we've learned anything in those anti-racism hearings, it's that we're not always getting through to different communities," Nenshi said.
"We specifically asked Pink Flamingo to go do that in a different way; so for members of council or others to step back and say we should've done it our old way, which we always criticize, is, I think, a bit disingenuous."
The mural project is the latest public art installation in the city to undergo backlash over the years in the city, but for Lori Williams, a political scientist at Mount Royal University, the outrage surrounding this specific project is rather unfortunate.
"As long as there is taxpayer-funded art, there will be controversies over that," Williams said. "The terribly unfortunate thing about this is the fact that those who oppose this for racist reasons probably feel like they've won the day."
Nenshi said he is in favour of taking a step back and delaying the mural project until next year, so the city can scout new locations for the murals.
"You don't have to like every piece of public art. I don't like every piece of art," Nenshi said. "But what we have to do is appreciate peoples' work and their craft and their desire to make this city better."
© 2020 Global News, a division of Corus Entertainment Inc.
Senior curator Michelle Gewurtz leaves Ottawa Art Gallery for position in Peel Region – Ottawa Citizen
Article content
The former senior curator of the Ottawa Art Gallery has left that institution for a new position in Peel Region.
Michelle Gewurtz officially assumes her duties as Supervisor of Arts and Culture for the Peel Art Gallery, Museum and Archives as of Aug. 17.
Gewurtz had also been an adjunct research professor at Carleton University and served in "curatorial, educational outreach, and advisory capacities" at SAW Gallery in Ottawa, A Space Gallery and Gallery 44 in Toronto, the Richmond Art Gallery in British Columbia, Kniznick Gallery in Waltham, Mass., and The Freud Museum in London.
"I'm delighted to join PAMA in the role of Supervisor of Arts and Culture," Gewurtz said in a media release issued by the gallery based in Brampton, Ont. "I look forward to working with PAMA's team to present new ideas and develop community-oriented programming. Together, we'll enhance the art gallery and museum as a central cultural meeting place for the diverse communities of Peel Region and beyond."
Catherine Sinclair is now listed as deputy director and chief curator of the Ottawa Art Gallery.
Local artist Kathryn Durst to create public art mural in downtown Peterborough – kawarthaNOW.com
Peterborough artist Kathryn Durst has been chosen to create a public art mural in downtown Peterborough commissioned by the First Friday Ptbo Art Crawl.
The mural will cover the two interior walls of the alleyway of the Commerce Building, at the northwest corner of Water and Hunter streets, which is home to the studios of many of the artists who have participated in the monthly art craw (currently on hiatus due to the pandemic).
The mural project is supported by the Peterborough Downtown Business Improvement Area (DBIA) and Ashburnham Realty, which owns the Commerce Building.
Advertisement – story continues below
The First Friday Ptbo mural selection committee reviewed proposals from 20 local artists before selecting Durst's proposal for the mural.
Born in Peterborough, Durst graduated from St. Peter Secondary School and then studied animation at Sheridan College. She was an intern at Pixar Animation Studios and worked at several animation studios before launching a career as an illustrator for children's books.
She achieved international media coverage for illustrating the New York Times best-selling children's book Hey Grandude!, written by Sir Paul McCartney and published by Penguin Random House in 2019.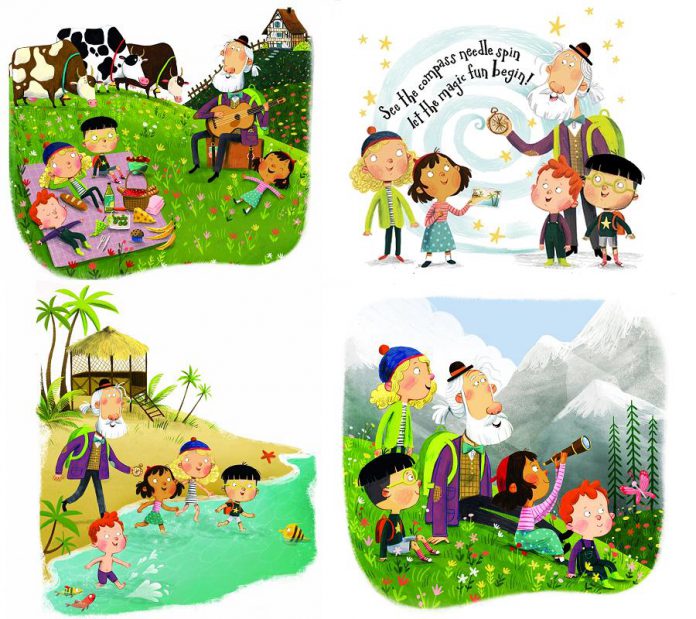 The 30-year-old Durst lives in Peterborough with her dog Chili.
To see samples of her art, visit her website at www.kathryndurst.com or her Instagram account @kathryndurst.
Durst receives a $3,000 award to create the mural, which must be completed using exterior latex paint only by the end of August.
When the mural is completed, First Friday Ptbo will be host a mural launch in September (date to be confirmed).