We are in possession of a working Xbox Series X – Ars Technica

It's a busy week for all things Xbox. On Monday, Microsoft confirmed its acquisition of the Bethesda and ZeniMax game-dev family to fuel the Xbox ecosystem going forward. On Tuesday, the company launched preorders for this November's Xbox Series X and Xbox Series S.
And today, Microsoft topped all of that off by shipping us a "non-final" Series X of our own—and I have immediately begun testing it.

Sam Machkovech


Sam Machkovech


Sam Machkovech


Sam Machkovech


Sam Machkovech


Sam Machkovech


Sam Machkovech


Sam Machkovech


Sam Machkovech


Sam Machkovech


Sam Machkovech


Sam Machkovech


Sam Machkovech


Sam Machkovech


Sam Machkovech


Sam Machkovech
As the above gallery shows, Ars Technica received a package from Microsoft's headquarters in Redmond, Washington, containing a "non-final" Xbox Series X console, the brand-new Xbox gamepad, and a 1TB "storage expansion" card, as built to the Xbox Velocity Architecture spec and made by Seagate. Nothing else came in this box (besides an HDMI 2.1 cable and a power cord, anyway).
Microsoft sent us this package under severe conditions, and the biggest is that, as of today, we cannot preview or describe any of the above contents beyond showing you photos. You likely have a lot of questions about them. My colleagues sure did, as evidenced by the explosion in Ars staff-chat activity as soon as the package arrived.
In the meantime…
For now, I can point to prior coverage to catch you up, since some of your brand-new questions may already have answers:
The data-transfer standard of Xbox Velocity Architecture is meant to unify "next-gen performance" across Series X and Series S, which means any locally installed games on your next-gen Xbox must be installed on an NVMe 4.0-rated drive. Should you wish to expand either system's built-in storage capacity (1TB for Series X, 512GB for Series S), you'll need to purchase a proprietary NVMe 4.0-rated expansion card. The card in the above gallery is the previously revealed 1TB model made by Seagate. We do not yet know pricing for this card or if other manufacturers are on board to produce and sell similar drives.
Microsoft has previously confirmed that external drives connected via USB Type-A 3.1 connections will be compatible with both Xbox Series models. These will only boot previous generations' software; Series-gen games can be stored on older, external drives, but they won't boot until moved back to the system's NVMe drives. Microsoft has not yet publicly confirmed how classic games loaded on older drives will compare to the same games loaded on NVMe 4.0 drives, but at the very least, Microsoft has assured fans that their older Xbox One add-on drives are compatible (and will leave precious space open on the built-in drive).
In addition to the new, proprietary "expansion card" port, Series X's ports include the following: three USB Type-A 3.1 ports; one HDMI 2.1 port; and one Ethernet port, rated 802.3 10/100/1000. Unlike all Xbox One models, Series X and S skip the "HDMI-in" port that worked with set-top boxes. In terms of wireless features, Xbox Series X supports 802.11ac Wi-Fi connectivity and the dual-band Xbox Wireless protocol.
Controllers, display shells in the wild

Sam Machkovech


Sam Machkovech


Sam Machkovech


Sam Machkovech


Sam Machkovech
In August, a white version of the mildly updated Xbox gamepad landed in some consumers' hands. We'd already seen the controller when Series X emerged in late 2019, particularly its new "share" button, but impressions of the share functionality have yet to leak. The updated d-pad, which now has additional plastic framing around its corners in a style resembling the Xbox Elite, was described by one of the August leakers as "one of [his] favorite parts" of the new controller.
In March 2020, Digital Foundry's Richard Leadbetter explained how Series X's array of ventilation dots—and fans directly beneath them—figure into the new console's cooling system:
Air gets pumped in from the bottom, goes through the system… in a PC, airflow isn't just defined by having inlets and outputs so to speak. You want physical air space in it. But there's nothing in this. It's airtight. Everything goes through the design, and it's packed in there. Then [air] reaches the top to a 130mm diameter fan and goes straight out of the top. We also had [Series X] on its side, [airflow] seemed to work just fine going out there.
Empty shell "display" versions of both new Xbox Series models went out to select members of the press last week, at which point Microsoft confirmed one detail about the Series X design: the round "base" on one of its sides is not removable by default.
Last of all, the disc drive on the front of Series X supports 4K UHD Blu-Ray, which it has in common with Xbox One X and Xbox One S. It's also compatible with existing Xbox, Xbox 360, and Xbox One discs, and loading older, compatible games into the Series X disc drive will prompt some form of file download to your system's local storage. How exactly that works on Series X, on the other hand, has yet to be seen.
Stay tuned
If you have additional questions after seeing this hardware, there's a 5-percent chance we can point you to other existing information or coverage to answer them. Otherwise, if we don't reply, please do not fret. We're listening. And as soon as we're allowed to tell you more (on dates we can't publicly confirm just yet), we will.
For now, here's a cheeky peek at me holding all 9.8lbs of the Xbox Series X.
Listing image by Sam Machkovech
iPhone 12 Pro Max battery smaller than iPhone 11 Pro Max, according to regulatory filing – AppleInsider
A Chinese regulatory filing spotted on Tuesday suggests Apple's iPhone 12 Pro Max sports a less capacious battery than last year's iPhone 11 Pro Max.
A filing with the Chinese Ministry of Industry and Information Technology's Telecommunication Equipment Certification Center (TENAA) cites iPhone 12 Pro Max's battery capacity as 3,687 mAh. By comparison, iPhone 11 Pro Max, which the 12 Pro Max replaces, was powered by a 3,969 mAh cell.
Lending credence to the document, the 3,687 mAh figure matches listings discovered on hardware certification platforms in July.
The TENAA page also says the 12 Pro Max comes with 6GB of RAM, mirroring information discovered in plist files included with Apple's Xcode 12.1 beta last week.
Despite the apparent reduction in capacity, Apple says the iPhone 12 Pro Max performs similarly to last year's handset. A comparison tool — somewhat vaguely — claims both iPhone models offer up to 20 hours of video playback between charges. That could be a negative for existing 11 Pro Max owners who need a midday top up.
This year's iPhone includes a number of enhancements, some of which are major power sinks. New photography capabilities like 10-bit HDR and Dolby Vision HDR video recording are perhaps high on the list, but the main check to a long-lasting handset is the inclusion of power-hungry 5G connectivity. Nowhere will that be more noticeable than in the U.S., where iPhone supports speedy mmWave technology.
Apple is doing its best to balance 5G support with handset longevity. As part of that effort, a new battery-saving feature dubbed "Smart Data Mode" automatically transitions iPhone 12 series devices between 4G LTE and 5G as iOS deems necessary. For example, iPhone might remain on 4G for web browsing and listening to music, but will switch to the faster, low-latency 5G for a FaceTime call.
Last week, regulatory filings from Brazil's ANATEL revealed battery specifications for iPhone 12 mini and iPhone 12 Pro, which boast 2,227 mAh and 2,815 mAh cells, respectively.
Apple is due to initiate iPhone 12 Pro Max pre-orders on Nov. 6 ahead of wide availability a week later.
The Moon Is Getting Cell Service – Futurism
Zero Bars
NASA wants any human presence on the Moon to have a great cell signal, so it's investing in a lunar 4G network.
The Space Agency gave Nokia's Bell Labs a $14.1 million in grant money to build out the Moon's telecom infrastructure, Business Insider reports. With the goal of having a network up and running by 2030, the goal is to get a network in place that could help any sort of outpost on the Moon manage life off-world.
Roaming
NASA wants anyone on a Moon base to be able to use the network to navigate their area — sort of like how we look up directions — as well as stream video messages and remotely steer rovers and other space robots, Business Insider reports.
"This mission will validate the future of other operational deployments and the potential for human habitation on the moon," Bell Labs tweeted last week.
This mission will validate the future of other operational deployments and the potential for human habitation on the moon. (6/6)

Learn more about the "Tipping Point" project here: https://t.co/M372GpU09q

— Bell Labs (@BellLabs) October 15, 2020
Moon Base Operational
The planned 4G network is just one of several investments NASA made recently with the goal of setting up a long-term base of operations on the Moon and, eventually, beyond.
"Together, NASA and industry are building up an array of mission-ready capabilities to support a sustainable presence on the Moon and future human missions to Mars," NASA administrator Jim Bridenstine said in a press release.
READ MORE: NASA gave Nokia $14.1 million to build a 4G network on the moon [Business Insider]
More on Moon exploration: Scientists: Astronauts Could Build Moon Base Using Human Urine
iPhone 12 Pro Max Has Smaller 3,687 mAh Battery According to Regulatory Filing
Apple's new iPhone 12 Pro Max is equipped with a 3,687 mAh battery, which is around 7% less capacity than the 3,969 mAh battery in the iPhone 11 Pro Max, according to a regulatory filing published by TENAA, the Chinese equivalent of the FCC.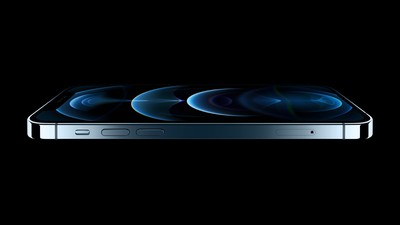 The regulatory filing, spotted by MacRumors, also lists the iPhone 12 Pro Max with 6GB of RAM as seen in benchmark results last week.
Apple has filed many products with TENAA over the years, and the listings have proven to be accurate on multiple occasions. Last year, for example, accurate battery capacities and RAM in the iPhone 11, iPhone 11 Pro, and iPhone 11 Pro Max appeared in the database a few days prior to those devices launching. A rumor also suggested that the iPhone 12 Pro Max would have a 3,687 mAh battery earlier this year.
Despite having a smaller battery, Apple's tech specs indicate that the iPhone 12 Pro Max has the same battery life as the iPhone 11 Pro Max, with both devices providing up to 20 hours of video playback and up to 80 hours of audio playback.
Apple never discloses battery capacities or RAM in iPhones, but teardowns of the new devices should confirm these details in the coming days.
Source:- MacRumors