Webcams and social media apps are changing the way we experience hurricanes – CNN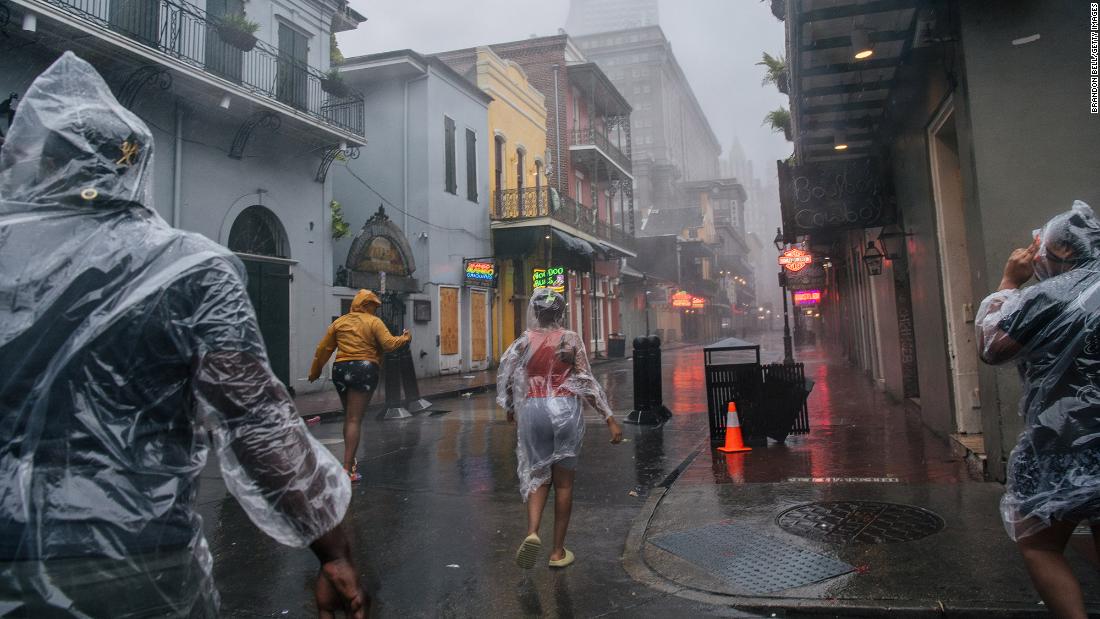 In an ever-more-internet-connected world, we are getting close-up views of extreme weather in ways that were hard to imagine a generation ago.
When Hurricane Ida barreled ashore and ransacked the Louisiana coast on Sunday, we were able to see the storm surge inundate Grand Isle through
remote
video
cameras
that were
installed
by storm chasers.
Locals also uploaded web-connected security camera footage of the rising waters to social media and streamed the winds on Facebook Live. Reporters weren't embedded in these coastal and low-lying areas because the danger was simply too great, so webcams were the main way to assess the damage on Sunday.
Later in the day, as the center of Ida moved closer to New Orleans, residents posted panicked
pleas
for
help
on Twitter and other sites. Local reporters shared
videos
of
homes
that have been flooded. Other videos
on Twitter
and Instagram showed debris flying through the air in New Orleans.
Traffic cameras and levee monitoring webcams also provided dozens of views from inside the storm.
Some locations lost power and/or internet connectivity, but an impressive number of the cameras remained online throughout the day. It was the latest sign that the way we witness landfalling hurricanes is changing — perhaps providing a more visceral education for the public. Can all the live feeds and social snapshots, showing the real-time reality of the weather, cause viewers to take the threat more seriously?
And/or do some folks see the video clips and decide to head outside with their own cameras? "A video of a man plowing headlong into storm surge from Hurricane Ida garnered a stern warning from National Weather Service officials," urging everyone to stay inside, Missy Wilkinson of The Advocate
reported Sunday afternoon.
Storm chasers could not be dissuaded. Numerous chasers showed Ida's storm surge pouring into towns like
Golden Meadow
,
Larose
and
LaPlace
. One camera crew said they were
surrounded
by water but were safe at a Motel 6 with high-enough ground.
By nightfall, a man on Twitter who called himself an oil field worker had posted a
video
from the actual site of the landfall, Port Fourchon, showing a
toppled crane and other damage.
Through texts, video clips and live streams, we're experiencing hurricanes in new ways.
"Dark and dirty" in New Orleans
The situation in New Orleans went from bad to worse as night fell on Sunday.
Power was knocked out
across the city.
"This is the hardest day of my 30 year career. And tomorrow isn't looking much better. We are being devastated," David Bernard, the chief meteorologist at WVUE, the Fox affiliate in New Orleans,
said
around 8:30 p.m. Central time.
Around the same time, I asked CNN
senior producer
Sarah Boxer to describe what it felt like in the city. "Dark and dirty," she responded: "Our hotel lost power hours ago, security has been hit with flying debris, and the storm has been unrelenting — but our crews are resourcefully crafting safe spaces for us to still be live and tell the story. Mercifully, we haven't seen anyone on the streets for the last few hours in the French Quarter as the city continues battening down — and our teams will continue to report no matter when the lights come back on."
"Physically shaking"
At WGNO, the ABC affiliate in New Orleans, newsroom staffers evacuated to interior hallways as the winds picked up. Reporters said that one of the station's satellite dishes was
"smashed"
outside. Then part of the roof was
ripped away
.
The weather center is "physically shaking at this point," meteorologist Brooke Laizer
said
. Her colleague Hank Allen
tweeted
, "flakes of ceiling falling on me in studio here." Water started
leaking
into the newsroom, as well. But the station stayed on the air through it all.
"We've had a lot of damage here at WGNO, but we've got to stay on the air to keep you posted," Laizer said during the 10 p.m. hour.
More Ida coverage notes
— CNN has been live for 40+ straight hours, and will stay live overnight Sunday into Monday.
— The Weather Channel will also stay live. "We still have a long night to go," Justin Michaels said
on the air
around 9 p.m.
— David Muir came in to anchor Sunday's "World News Tonight." NBC had Tom Llamas co-anchor the "Nightly News" from New Orleans, with Hallie Jackson co-anchoring from Washington.
— NBC's Al Roker was
slammed on social media
after being "slammed by waves" during "Sunday Today." To his critics who said he was putting himself in harm's way, he responded that he knows how to stay safe. And to the trolls who said he was too old to be doing this, he said, "Screw you… Try to keep up!"
— Powerhouse NOLA station WWL's live broadcast from its studios in the French Quarter occasionally switched to its backup studio in Baton Rouge, partly to make the point that it has built-in redundancy.
Van life looks idyllic on social media. But for couples, it can be challenging – CNN
(CNN)It looks like a dreamy life of freedom on the open road: golden sunsets, cozy bunks and endless photo ops amidst stunning views of nature.
A
growing cult of nomads
are taking long road trips — sometimes for months — in tricked-out camper vans, often documenting their travel highlights on Instagram with the hashtag #vanlife.
But for couples, especially inexperienced ones, this seemingly carefree lifestyle can come with unique problems. Sharing cramped quarters and isolated from their support networks, couples on the road say they must battle boredom and logistical challenges day after day without driving each other crazy.
The death of Gabby Petito, 22, while on a cross-country trip this summer with her fiancé, Brian Laundrie, has brought new attention to aspects of van life that don't make it into sunny social media posts.
Evidence shows
the couple had
some tense moments
on the road in the days before she disappeared.
Petito's remains were found Sunday in Wyoming. Nobody has been charged in her death.
Authorities are looking for Laundrie
, 23, who has gone missing since returning alone earlier this month to his parents' home in Florida.
Many couples romanticize the idea of road trips but fail to plan key details in advance and end up trapped in a toxic situation, says
Chicago-area psychologist John Duffy
, who has worked with van life couples.
"A trip like this may feel like a heady, exciting adventure that will draw you closer together, and often it is. But the days, I've heard, can be long and arduous. Naturally, you get on each other's nerves, at least some of the time," Duffy said.
"And if you haven't spent some significant time together, you may find yourselves in an uncomfortable — and, in the extreme, dangerous — level of discomfort and conflict."
Sharing a small space can take a toll
The #vanlife lifestyle has grown in popularity in recent years, fueled by social media posts, DIY van conversion videos on YouTube and the desire to escape crowds during the pandemic.
CNN spoke to a handful of couples who have roamed the US in vans. They say they have been following developments in the Petito case, riveted by the story of the young couple who shared their interests and appeared on social media to have a perfect life.
"I followed the case borderline obsessively. Gabby had devastating and heartbreaking bad luck," says
Sierra Peters-Buckland
, 28, a van lifer who's gone on monthslong trips with her girlfriend, Annette Hayward. "But, vanlife did not kill Gabby, traveling did not kill Gabby, the national parks did not kill Gabby. A person killed Gabby."
For Peters-Buckland, the allure of the van life beckoned last year. She quit her job at a sporting goods store in Oceanside, California, packed her bags and started planning a cross-country trip.
In April, she and Hayward bought a white Mercedes Sprinter van they nicknamed Chance. They decked it out in crisp white linen and curtains to soften the van's wooden interior, packed a few belongings and stashed bear spray in various spots to protect against intruders. Then they hit the road.
On their last trip Peters-Buckland and her girlfriend drove 24,000 miles and visited 42 states and 50 national parks. They saw buffalo, bears, moose and bighorn sheep. One Instagram pic showed
a sunrise over Death Valley National Park
; the coffee mug in the foreground says, "Enjoy the Journey."
But long days and numerous daily tasks on the road can take a toll, says Peters-Buckland. She says their journeys taught them valuable lessons on handling conflict.
"Travel, especially budget travel, can be tiring and cause extra strains having to make decisions every day … expect the hard times, expect the unexpected and have strategies in place if you're in a relationship that can get into heated arguments," Peters-Buckland says, adding that she and Hayward learned to resolve their disputes quickly.
Of course, some couples have abusive relationships from the beginning, and their problems can't be blamed on a long journey in a van.
But even so, too much bickering on the road is a bad sign, van lifers say.
"If the arguments are happening super regularly, becoming aggressive, or causing deep sadness, the reality is you should not be traveling together in a small space. And probably not be in a relationship," Peters-Buckland says. "We need to stop normalizing toxic behavior so more people don't end up like Gabby."
Van lifers must take care of their mental health
Van lifers say they meet like-minded people and make friends all over the country. But it can be lonely being away from their social circles.
Navod Ahmir
has been driving his black 2018 Ford Transit van cross-country on a part-time basis for a year now. He's been up and down the East Coast and to a gathering of Black nomads in Georgia. His partner regularly comes along for the ride.
"I think the importance of community and how much being alone on the road for long periods can take a toll on your mental health isn't discussed enough," says Ahmir, 28, of Rocky Mount, North Carolina. "It's a balancing act between learning to be more social and living with fewer attachments to people and things."
With a support system hundreds of miles away and nowhere to flee after a disagreement, couples are forced to get creative about resolving conflicts, he says. Ahmir and his partner are careful to take breaks from each other when needed.
"For example, if I'm taking a nap, then my partner may relax in the cabin, work at a nearby park bench or explore the area until I wake," he says. "Communication is key, as it's equal parts listening to understand and speaking up for yourself."
Like stationary couples, van life couples must practice patience and find what works best for their lifestyle, he says.
Ahmir works remotely in finance and is planning to make his van life permanent later this year. But he says Petito's case has made him and his partner refocus their priorities to maintain a healthy relationship while on the road.
"We read a lot of personal development books and strive to apply that knowledge to our daily lives, which filters into our relationship," he says. "Because of this case, we'll be highlighting our focus on better communication."
Long trips take a lot of planning
Chicago resident Katherine Kulpa, 31, has gone on several road trips with her boyfriend in a rented ProMaster cargo van.
Van life for couples involves detailed planning that factors both people into the equation, she says.
"It requires a lot of teamwork and communication. You have to make joint decisions on travel plans, often times on the fly," she says. "Traveling as a couple is fun, but sharing a smaller space can be challenging if you're not organized."
On their most recent trips — to North Carolina's Outer Banks last fall and Shawnee National Forest in Illinois this summer, security was also a concern. They traveled with their dogs, Kasper and Daisy, and stuck to campsites at night.
They also shared their travel itinerary in advance with family and friends.
"Social media makes most travel look more glamorous than it is. There are definitely parts of van trips that are tough," she says. "If you don't have a shower or bathroom inside either that can be a challenge, and usually means you have to find a campsite or public restroom. The van can get messy easily, so you have to stay organized."
Couples should first ask themselves key questions
Heading out on the road for weeks or months at a time requires major logistical and financial planning.
For couples, that should also include talking with a therapist or life coach, says Duffy, the psychologist.
"Talk through a series of questions: How long do we plan to be gone? What is the purpose of the trip? How much do we plan to spend?" he says. "One couple I worked with spent some time in session talking at length about who would be driving, leading to a discussion about control in their relationship. These are important discussions to engage in ahead of the trip."
Couples should also figure out how they will manage changes in plans or emergencies, he says. And while road-trippers can't prepare for every contingency, a plan can help with problem solving and conflict management, Duffy says.
Young couples often have less experience living together and resolving issues together. Confine them to a small space for days or weeks at a time and there is an increased potential for conflict, he says.
A core idea of such trips is to create memories together, but couples should also have a plan for spending time apart to give each other space, Duffy says.
"Some can do that silently within the vehicle, even seated next to one another," he says. "Others will need to pull over in a town or out on the road, and allow each other that space. Without planning a method for conflict management ahead of time, the van … can quickly become a toxic and unhealthy environment."
Media Release – September 24, 2021 – Guelph Police – guelphpolice.ca
Home Invasion Investigation
On the morning of September 16th, 2021, three adult males and an adult female forced their way into an apartment in a residential building located near the intersection of Speedvale Avenue East and Stevenson Street North in the City of Guelph.
An adult male resident was struck with a firearm, and other weapons were brandished during this incident. The male resident and an adult female resident were ultimately able to lock themselves in a room and contact the Guelph Police Service for assistance. The three males and female fled on foot.
The male resident was transported to hospital, treated for his injuries and released.
Police later located the three males inside another apartment in the building and they were subsequently arrested.
Through investigation, police identified the female involved and a warrant was issued.
This was a targeted incident and there is no concern for public safety.
A 26 year old Guelph male has been charged with:
-Disguise With Intent
-Break, Enter And Commit Indictable Offence
He was held in custody pending a bail hearing on September 24th.
A 27 year old Guelph male has been charged with:
-Disguise With Intent
-Break, Enter And Commit Indictable Offence
-Use Firearm While Committing Offence
-Possession Of A Weapon For A Dangerous Purpose x2
-Breach Probation
-Fail To Comply With Judicial Release Order
He was held in custody pending a bail hearing on September 24th.
A 33 year old Guelph male has been charged with:
-Disguise With Intent
-Break, Enter And Commit Indictable Offence
-Possession Of Weapon For A Dangerous Purpose
-Fail To Comply With Judicial Release Order
He was held in custody pending a bail hearing on September 29th.
On September 23rd, just before 9:46am, police observed the female as a passenger in a motor vehicle driving near the intersection of Wellington Street West and Fife Road. A traffic stop was initiated, and an adult male driver fled the area on foot.
The female was subsequently arrested.
A search incident to arrest revealed 1.18 grams of Fentanyl.
Further investigation revealed that both the vehicle and the vehicle plates were stolen.
A 30 year old Guelph female has been charged with:
-Disguise With Intent
-Break, Enter And Commit Indictable Offence
-Use Firearm While Committing Offence
-Possession Of Weapon For A Dangerous Purpose
-Assault With A Weapon x2
-Breach Probation
-Fail To Comply With OIC Undertaking
-Possession Of A Controlled Substance – Schedule I
-Possession Of Stolen Property Under $5,000 x2
She was held in custody pending a bail hearing on September 24th.
Please note that police found a second adult female in the vehicle during the traffic stop. She was also subsequently arrested.
A 23 year old Guelph female has been charged with:
-Possession Of Stolen Property Under $5,000 x2
She will appear in court on January 14th, 2022.
The male who fled the vehicle on foot was not located.
Anyone with any information is asked to contact Constable Jenifer Nadalin at 519-824-1212 ext. 7523, email her at jnadalin@guelphpolice.ca, leave an anonymous tip at CRIME STOPPERS 1-800-222-TIPS (8477) or submit an anonymous tip online at www.csgw.tips.
Road Rage Incident Leads To Weapon Charges
On September 23rd, 2021, just before 6:01pm, a road rage incident occurred between two adult male drivers, which lead to both males exiting their motor vehicles out front of a residence located near the intersection of Starwood Drive and Eastview Road in the City of Guelph. One of the males then pulled foldable knife out of his pocket, opened the blade and held it out in a threatening manner. He eventually left the area in his vehicle.
At 10:32pm, the male who had the knife turned himself into the Guelph Police Service station and was subsequently arrested.
A 29 year old Guelph male has been charged with:
-Assault With A Weapon
-Possession Of A Weapon For A Dangerous Purpose
He will appear in court on January 11th, 2022.
Motor Vehicle Collision Investigation
On September 23rd, 2021, just before 4:52pm, a collision occurred between two motor vehicles near the intersection of Dawson Road and Speedvale Avenue West in the City of Guelph. The collision resulted in minor injuries but significant damage to both vehicles.
Anyone with any dash camera footage in the area or any information at all is asked to contact Constable Lindsay Porterfield at 519-824-1212 ext. 7182, email her at lporterfield@guelphpolice.ca, leave an anonymous tip at CRIME STOPPERS 1-800-222-TIPS (8477) or submit an anonymous tip online at www.csgw.tips.
Stolen ATV
Some time between midnight and 8am on September 23rd, 2021, a shed in the backyard of a residence located near the intersection of Edinburgh Road South and Waterloo Avenue in the City of Guelph was entered. An ATV was then taken, as its key was left in the ignition.
However, the vehicle wasn't in good working order and was difficult drive, so it was abandoned around the corner from the residence, and was recovered by police at 9am.
Anyone with any information is asked to contact Constable Joshua van Breda at 519-824-1212 ext. 7417, email him at jvanbreda@guelphpolice.ca, leave an anonymous tip at CRIME STOPPERS 1-800-222-TIPS (8477) or submit an anonymous tip online at www.csgw.tips.
The Guelph Police Service would like to encourage the public to never leave keys in the ignition of an unattended motor vehicle.
Multiple Motor Vehicle Collisions And Driving Complaints
Over the past 24 hours the Guelph Police Service received reports of 14 motor vehicle collisions and 11 driving complaints occurring throughout the City of Guelph.
The Guelph Police Service would like to encourage the public to slow down and follow the rules of the road in order to help ensure everyone arrives to their destination safely.
Calls for Service in the last 24 hours: 227
Black Press Media Weekly Roundup: Top headlines this week – Summerland Review – Summerland Review
Good afternoon and happy Friday!
Before you start off your weekend full of sunshine, cooler weather and pumpkin patch adventures, catch up on some of this week's news headlines from the Okanagan-Shuswap region.
Woman found dead at Highway 33 and Nickel Road in Kelowna
Kelowna RCMP launched an investigation after the body of a woman was found at Highway 33 and Nickel Road in the city.
Police said they don't have much information surrounding the woman's death or the cause of it, but the investigation is ongoing.
Fundraisers set up for family of Penticton murder victim
Fundraisers have been set up for a Penticton murder victim's family.
Taig Savage's mother, Tracey, previously lost two other children in a house fire. The goal of the fundraisers is to support her as she goes through losing a child in a tragic way for the third time.
One person died and another person was taken into police custody after a morning shooting in Vernon on Monday (Sept. 20).
Vernon North Okanagan RCMP said the victim and the man in custody are known to each other. As he is still in custody, police said there is no further threat to public safety.
Boaters want Shuswap Lake channel dredged but obstacles deter city
Boaters have been asking the City of Salmon Arm to dredge the channel that leads into Shuswap Lake, but the mayor and his staff say that the high costs and government requirements to dredge are keeping them from doing it.
Staff added that dredging is a temporary solution and has a short life span.
And that's all for this week. Have yourself a good and safe weekend.
---
@twilamam
twila.amato@blackpress.ca
Like us on Facebook and follow us on Twitter.