Weekly poll results: the 2022 iPads fail to impress
The new 2022 iPads went on sale this week, but most of our readers will not be picking one up. The opinions in last week's poll were against the new Apple slates and with the same reasoning too – higher price, not enough upgrades to entice would-be buyers.
In the case of the iPad Pro 11 (2022) and iPad Pro 12.9 (2022), a MacBook Air is seen as a better tool for getting some work done on the go. macOS has always been geared towards work and creativity and has only gotten better over the years. Is iPadOS finally ready to let you harness the full power of the Apple M2 chipset?
Well, the new iPadOS 16 brought important improvements to multitasking with Stage Manager, which works even better when you hook up the tablet to an external monitor. However, this works on M1 iPads too, including the latest iPad Air, which despite a recent price hike is still cheaper than the Pros. Looking at 256GB slates, the Air is now $750, the iPad Pro 11" (2022) is $900. Also, the 2021 Pros work just as well, unless you really need that hover feature with the Apple Pencil.
Price is a major issue for the iPad (2022) as well – it now starts at $450, while the 2021 model is still available for $330. Yes, the new one is better with USB-C and a 5G option (vs. Lightning and 4G), but most don't see it as $120 better. So, last year's tablet is seen as the better pick for those who want a cheap iPad.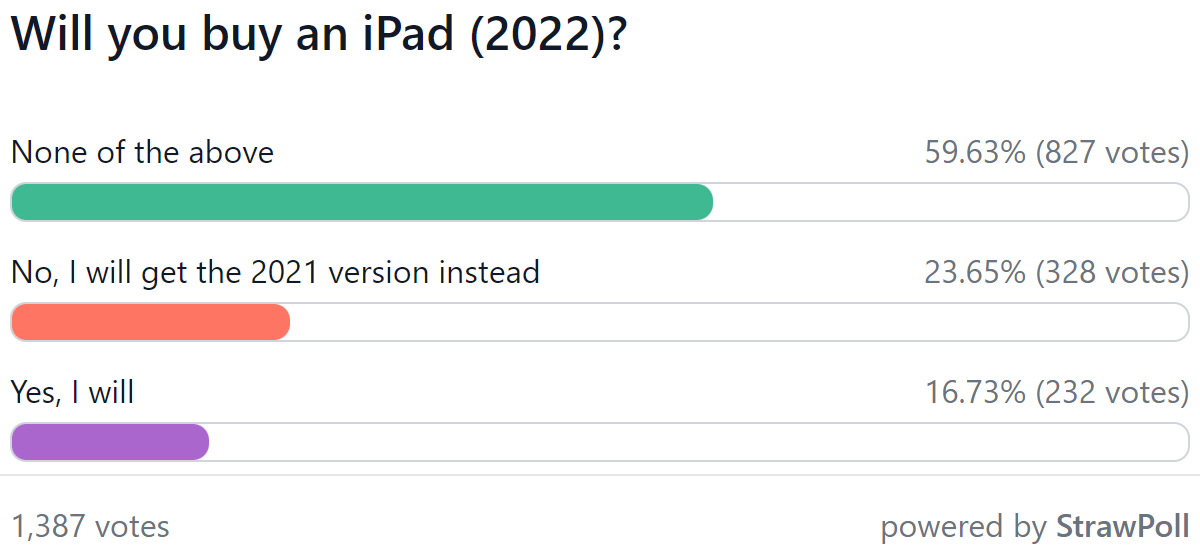 And judging by the amount of negative votes (around 2/3rds), most people don't want a cheap iPad. Or in some cases they don't want a new cheap iPad – many in the comments said they have an old iPad that still does everything they need from it and see no incentive in upgrading.
We have no doubts that Apple will continue selling millions and millions of iPads. But it seems that the 2022 iterations will be part of the pack rather than the leaders of it.
After Heated Battle, Genshin Impact Wins Player's Voice at The 2022 Game Awards – IGN
Genshin Impact has won the Player's Voice award at The Game Awards 2022, following an intense battle against Elden Ring and Sonic Frontiers.
Unlike other awards bestowed at The Game Awards, which are primarily determined by members of the press and other influential individuals in the industry, the Player's Voice category is 100% fan-voted. Earlier this week, ahead o the show, the results projected that Genshin Impact would edge out both Sonic Frontiers and Elden Ring. Other nominees for the Player's Voice category include God of War: Ragnarok and Stray.
Although Elden Ring, in particular, did not get selected, FromSoftware's latest project did go home with a few awards, including Best Art Direction and Best Game Direction. For more on the winners from this year's Game Awards, check out our roundup that features the nominees and winners of each category.
Taylor is the Associate Tech Editor at IGN. You can follow her on Twitter @TayNixster.
Video: Super Mario Bros. Movie "Mushroom Kingdom" Official Reveal – Nintendo Life
When he's not paying off a loan to Tom Nook, Liam likes to report on the latest Nintendo news and admire his library of video games. His favourite Nintendo character used to be a guitar-playing dog, but nowadays he prefers to hang out with Judd the cat.
Quebec judge authorizes class-action lawsuit against 'addictive' Fortnite video game
A Superior Court judge has authorized a lawsuit brought by Quebec parents who allege their children became addicted to the popular online video game Fortnite.
Justice Sylvain Lussier issued the ruling on Wednesday after hearing arguments in July regarding the class-action request from three parents who described how their children had symptoms of severe dependence after playing the game.
"The court concludes that there is a serious issue to be argued, supported by sufficient and specific allegations as to the existence of risks or even dangers arising from the use of Fortnite," the judge ruled, noting that the action "does not appear frivolous or manifestly ill-founded."
The firm that brought the suit, Montreal-based Calex Legal, has drawn parallels to a landmark civil suit mounted against the tobacco industry in Quebec, which alleged an intent to create something addictive without proper warning.
"Our motion was heavily inspired by the tobacco motion just in terms of what we were alleging," lawyer Alessandra Esposito Chartrand said in an interview. The manufacturer's legal responsibility is "basically the same," she added.
The parents alleged the game was deliberately made highly addictive and has had a lasting effect on their children, but the court did not go that far.
"The court finds that there is no evidence for these allegations of the deliberate creation of an addictive game," the judge noted. "This does not exclude the possibility that the game is in fact addictive and that its designer and distributor are presumed to know it."
One of the parents, identified by initials in the filings, said their son had played 6,923 games and got angry when his parents tried to limit his game time, including by putting a lock on the computer. Another child played more than 7,700 times in two years playing a minimum of three hours a day. All reported behavioural issues.
The judge authorized the lawsuit for any players residing in Quebec since Sept. 1, 2017, who have become addicted after playing Fortnite Battle Royale, made by U.S.-based Epic Games Inc., exhibiting a host of repercussions on activities including family, social, educational or professional.
There is no dollar figure attached to the lawsuit, with any potential compensation to be determined by the court.
A second category in the class action will look at in-game purchases, with the court declaring purchasers under the age of 18 could be eligible for restitution and a refund of their money.
As of Wednesday, Esposito Chartrand said 200 people have come forward.
Epic Games did not respond to a message seeking comment on Thursday. The defendants have 30 days to seek permission to appeal.
The company's lawyers had argued before the court that the evidence provided was insufficient and that video game dependence is not a recognized condition in Quebec, adding that the American Psychiatric Association says there is insufficient evidence to classify it as a unique mental disorder.
The judge said those issues would be argued on the merits, but noted the World Health Organization in 2018 declared video game addiction, or "gaming disorder," a disease.
"The fact that American psychiatrists have requested more research or that this diagnosis has not yet been officially recognized in Quebec does not make the claims in question 'frivolous' or 'unfounded,"' Lussier wrote.
"The harmful effect of tobacco was not recognized or admitted overnight," he added.