West Windsor business owner pleased with Ottawa investment | CTV News – CTV News Windsor
The Ford government announced Friday they will be offering grants to businesses impacted by the occupation in the nation's capital.
"The last month, two months or so we did get hurt and hopefully they're going to compensate us," Fred Bouzide, owner of Fred's Farm Fresh tells CTV News.
Bouzide says any support is helpful to businesses that were forced to close, or were too difficult for customers to get to.
His grocery and greenhouse business is down $30,000 in February this year versus last.
The blockade at the Ambassador Bridge, which started Feb. 7, first led to a long lineup of transport trucks stuck on Huron Church Road.
Then, after the blockade was cleared the weekend of Feb. 12 Windsor police barricaded the cross streets to protect the border from future protests.
One of them was the intersection of Northwood Street and Industrial Drive.
"Valentine's Day we got hurt quite a bit because nobody could come to our store. So we've dumped quite a few dozen roses," says Bouzide.
That intersection was the first one to be cleared, and Bouzide says business has been picking up the last few days.
But admits, customers are unsure about the evolving situation.
"We're still getting phone calls, like today and yesterday, 'is it okay to come down? Are you open?'" says Bouzide.
He's hopeful an announcement is forthcoming, from both upper levels of government, for support for businesses like his.
According to a news release, each Ottawa business will be eligible for a $5,000 grant for "non-deferrable operating expenses incurred during the blockade."
The province is spending a total of $11.5 million, with $1.5 million of it going to Tourism Ottawa.
The funding will "reinforce its brand as a world-class city while encouraging visitor and tourism spending" in the national capital region.
Bouzide says he'd have to look at the fine print, if it was offered to him, to decide if $5,000 is enough to help his business rebound.
But one thing is for sure he says, "I hope they help us out."
Calgary sets quarterly venture capital investment record – Calgary Herald
Alberta attracted $466 million worth of investment in the first quarter of 2022, $433 million of which was in Calgary alone
Article content
Calgary is on pace to shatter all previous venture capital investment records in the city and the province.
Article content
Alberta attracted $466 million worth of investment in the first quarter of 2022, $433 million of which was in Calgary, according to the Canadian Venture Capital and Private Equity Association Q1 report on Tuesday. In all of 2021, there was $561 million worth of venture capital investment in Alberta, $500 million of which was in Calgary.
Article content
"We knew it was going to be a significant quarter for the province of Alberta, but we weren't expecting this much activity this fast in 2022," said Economy, Jobs and Innovation Minister Doug Schweitzer. "It really is a testament to the growth of the industry and also the maturity of the industry in Alberta."
Article content
In 2020, the province had a record year of venture capital growth over 12 months at about $450 million worth of investment.
Article content
Kim Furlong, CEO of CVCA, credited investments made by the province years ago to make Alberta's risk-tolerant environment more appealing to startups and investors.
The numbers were boosted across the board due to record investment in Canada, but Calgary is starting to take a bigger piece of the pie. Calgary still trails Toronto ($2.19 billion), Montreal ($928 million) and Vancouver ($454 million) in total dollars, but it is closing the gap, especially in Western Canada.
Over the past several years, Calgary has seen rapid growth in the startup sector and venture capital investment, setting records every year.
Brett Colvin, CEO of Calgary startup Goodlawyer, said there has been a dramatic shift in the approach to the sector. When he was originally looking at launching his company he was considering Toronto, Montreal or Vancouver, but three years ago the environment began to change in his hometown.
Article content
He added that successes such as Neo Financial, Benevity, Solium Capital and others will only help grow the sector more.
"There is this palpable energy within government, business and the wider community that startups and technology will be key drivers to our city's future and long-term success," he said. "Fundamentally, the attitudes have shifted and the opportunity — that it seems like a lot of people are in agreement with — for the long-term success of our city lies in startups, lies in tech. It's an incredible time to be a startup founder in Calgary."
Still, he would like to see the return of the Alberta Investor Tax Credit, which he said was critical to early-stage investment for his company. The credit was phased out by the government beginning in 2019.
Article content
Schweitzer pointed to other initiatives the province has put its weight behind to stimulate growth, acting on the advice of the Innovation Capital Working Group. These moves include injecting $175 million into the Alberta Enterprise Corp. to increase liquidity in the sector and attract outside investment, efforts to improve the talent pool and improve mentorship through accelerator projects.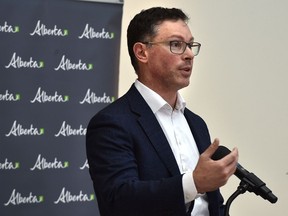 Edmonton was the beneficiary of just $18 million in venture capital investment in the first quarter. Schweitzer said Calgary began its pursuit of these dollars and startups before the provincial capital. He pointed to organizations such as Calgary Economic Development pushing this mission, noting Innovate Edmonton is attempting to do the same.
Article content
Furlong, however, warned there are some signs of potential slowdown in the next few quarters due to factors such as inflation and wage pressures, geopolitical pressures including the Russian invasion of Ukraine, and an overheated market. She said it is important for people to continue pushing for growth in the sector.
"Let's celebrate the success that we saw," she said. "Regardless of what's on the horizon, let's stay the course, because the types of companies and what it produces — jobs, exports — the talent that it attracts, all of it put together is essential for us thinking about how we transform Canada into an innovative economy."
Twitter: @JoshAldrich03
US, European Firms Rethink China Investment After Lockdowns – BNN
(Bloomberg) — US and European businesses are reconsidering their investments in China after the lockdown in Shanghai and restrictions in other cities caused major disruption to their operations.
The American and European Union chambers of commerce in separate briefings said their members are rethinking their supply chains and whether to expand investment in the face of China's zero tolerance approach to combating Covid-19.
"The Covid lockdowns this year and the restrictions over the past two years are going to mean that three, four, five years from now, we will most likely see investment decline," Michael Hart, president of the American Chamber of Commerce in China, said Tuesday in Beijing.
While this doesn't mean an immediate shift outside of China, Hart said that many firms that source from China are asking where else they can get supplies, and whether they should be building or sourcing from somewhere else.
The outlook is shared by European companies. Many members of the European Union Chamber of Commerce in China are putting investment plans on pause and starting to consider whether to leave the country, the business group's representatives said at a briefing Monday. Uncertainties about a potential next wave of outbreaks are taking a heavy toll on business confidence, they said.
"Uncertainty is really the keyword, because there's no view, no outlook about how long this could last, and what will be next after Shanghai," said Massimo Bagnasco, vice president of the European chamber.
Read More: China Vows to Ease Supply Chain Woes in Foreign Chamber Meeting
Profits of foreign firms in China are falling, and companies have become increasingly vocal about the impact on their businesses from Covid lockdowns and restrictions. Earlier this month, more than half of US firms said they were reducing or delaying investment plans and expected lower revenue due to the economic fallout from extended lockdowns, which have clogged the world's biggest port, closed highways and shuttered factories and businesses.
And last week, respondents to a survey by the German Chamber of Commerce in China reported that nearly 30% of their foreign employees had plans to leave China because of Covid. The chamber surveyed 460 companies.
The restrictions that began in March in Shanghai and elsewhere come on top of existing travel controls, which have made it hard for employees of foreign firms to travel to China or visit headquarters overseas.
The travel restrictions have left AmCham "very concerned" about US and other foreign investment into China, Hart said at a press conference to launch the chamber's 2022 White Paper.
China usually ranks among the top three destinations for investment among AmCham's member companies, but "it is falling in preference," Hart said, adding that if people can't travel to the country, it will "decline as an investment destination."
European businesses continue to face challenges including lost production days, labor shortages and supply chain and logistics disruptions due to lockdown measures. The pressure to leave China will rise significantly if the obstacles don't improve by the end of the year, said Joerg Wuttke, president of the chamber.
The economy is also unlikely to rebound this time around as sharply as it did in 2020 because of ongoing headwinds from the crackdown on the technology sector, a persistent property market slump, and capital flowing out of China as the China-US interest rate differential diminishes, according to Wuttke.
Read more: China's Covid Exit Hinges on Seniors Who Don't Want Vaccines
Wuttke urged China to accelerate its vaccination efforts, as the vaccine uptake among those older than 65 has slowed in recent months.
"You cannot hold an economy hostage by 150-to-160 million people that are insufficiently vaccinated," he said. "This has to change, it can't go on forever."
(Updates with details about a survey by the German chamber of commerce in paragraph eight.)
©2022 Bloomberg L.P.
Peru mining protests risk clogging $53bn investment pipeline – MINING.com
With global prices soaring on high demand, that now threatens a mining investment pipeline of some $53 billion and could stall future projects expected by investment bank RBC to make up 12% of the world's copper supply in years to come.
"Without any world-class projects on the horizon, the prospects for sustaining production are not good," said Gonzalo Tamayo, analyst at Macroconsult and a former Peruvian mines and energy minister.
Mining executives and analyst met last week in Peru's capital Lima, where the main concern was falling investment tied to rising social protests. A central bank report shows investment dipping some 1% this year and 15% in 2023.
The conflicts, mainly in poor Andean areas where communities feel bypassed by the huge mineral wealth beneath their soils, have started to bite, with protesters emboldened under Castillo who won election pledging to redistribute mining wealth.
Southern Copper'sCuajone mine was paralyzed for almost two months earlier this year.
Las Bambas, owned by China's MMG Ltd, suspended operations in April after an invasion of the mine by communities demanding what they called ancestral lands. The mine, which produces 2% of the world's copper output, remains offline.
Las Bambas had received government approval in March to expand the mine, a plan which is now under threat.
Álvaro Ossio, vice president of commercial and finance for ​​Las Bambas, said in a presentation at the Lima event, that the country faces a big task to benefit from high global prices.
"The great challenge that remains for all Peruvians is to take advantage of this great opportunity in these future trends," he said.
Peru's last big mining investments were in Anglo American's Quellaveco and Minsur's Mina Justa of a combined $6.6 billion. Their operations starting this year will help Peru hit annual output of 3 million tonnes of copper by 2025, experts say.
However, other major projects like Southern Copper's Tia María, Michiquillay and Los Chancas worth some $6.7 billion, Buenaventura's near billion dollar Trapiche and Rio Tinto's $5 billion La Granja remain up in the air.
Not all was downbeat, however.
The world's largest gold miner, Newmont Mining, said at the event that it was considering expanding into copper production in Peru, with a potential future return to the canceled Conga project.
Analyst Tamayo, though, stressed recent protests against mining had become harder to resolve.
"Now there are protests that stop mines in full operation," he said. "The mining firms feel that the State does not support them and that the State has ceased to be the arbiter in conflicts."
(By Marco Aquino; Editing by Adam Jourdan and Richard Pullin)