What is Clubhouse, the booming invite-only voice chat app? | Daily Sabah – Daily Sabah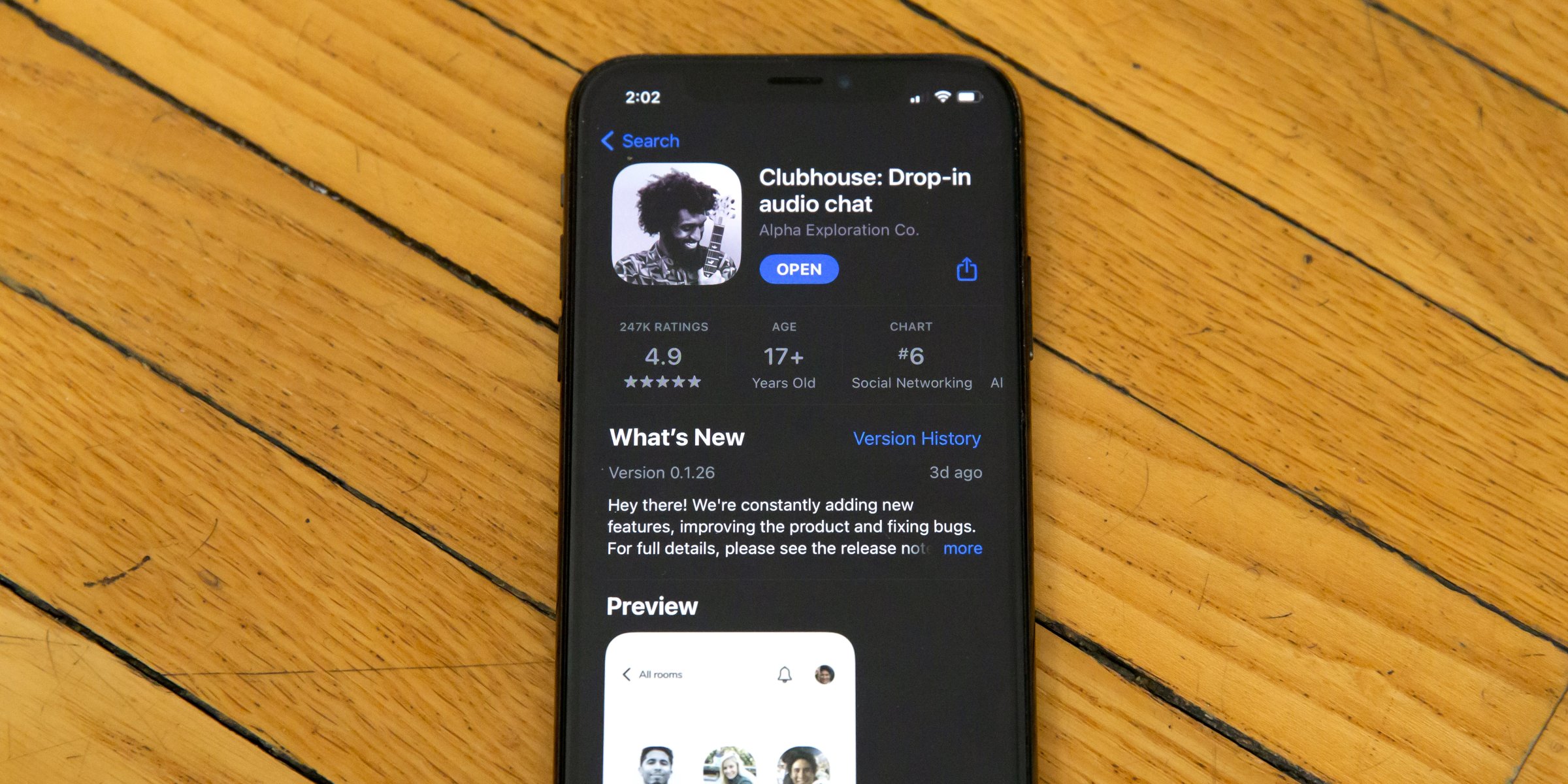 Clubhouse, an invitation-only audio chat app launched less than a year ago, has caught the attention of tech industry bigshots like Tesla CEO Elon Musk and Facebook CEO Mark Zuckerberg – not to mention the Chinese government, which has already blocked it in the country.
What is Clubhouse, you ask?
What is Clubhouse?
The iPhone-only app, once you are in, lets you start or listen in on conversations on a whole host of topics, from tech to pro sports, parenting, black literature and so on. There are no posts, photos or videos – only people's profile pictures and their voices.
Conversations can be intimate, like a phone call, or might include thousands of people listening to a talk by boldface names, like a conference or stage interview. Think part podcast, part conference call, part social media. It is free to use and there are no ads, at least not at this point.
How do I get in?
Currently, the only way to get an invitation is to score one from someone already using Clubhouse. It is still the "beta" version, like Gmail was in its early days, when it was a badge of nerd worthiness to get an account.
If you do not know anyone who can invite you yet, you may not have to wait much longer. When Clubhouse first came out, new members only got two invitations. That number has now grown to five, signaling that the app feels ready to broaden its audience. You can also download the app and get on a waiting list to be let into Clubhouse.
This is part of the app's current appeal – like an exclusive club, only it is expanding by the minute. The aura has been magnified by the star power of early members such as rap star Drake, actor Jared Leto, actress Tiffany Haddish, and influential technology figures such as venture capitalist Marc Andreessen and Twitter CEO Jack Dorsey. Although Clubhouse has not divulged how many people are using its service, its app has been downloaded 5.3 million times, according to analytics firm App Annie.
Once you have an invitation, you can import your Twitter profile – or start from scratch – and then follow people or "clubs" on a broad range of topics. The app encourages people to use their real names, though this does not appear to be enforced. You will also need an iPhone – Clubhouse does not yet work on Android phones and is not on the web.
Who made Clubhouse?
It was created by Silicon Valley entrepreneur Paul Davison, best known for a location-driven social networking app Highlight that Pinterest bought in 2016, and a former Google engineer, Rohan Seth.
Although it obviously was not planned, they probably could not have picked a better time to start welcoming a select few into Clubhouse. The app made its debut last March, just as people were being ordered to stay at home to battle the pandemic and found themselves eager to talk to other people besides their family or roommates.
Why is it getting more attention now?
The primary reason is probably that Musk and Zuckerberg recently made surprise appearances on Clubhouse. When two technology icons worth a combined $280 billion choose to use the same app to get their message out within a few days of each other, people tend to sit up and take notice.
In his Jan. 31 appearance, Musk began by discussing his mission to get to Mars through its rocket ship company Space X and sharing his views on cryptocurrency, artificial intelligence and the ongoing pandemic. But then he rocked Clubhouse by summoning Robinhood CEO Vlad Tenev to the virtual stage for an interview about the app's role in transforming GameStop's stock from a dud into a Wall Street sensation that at least briefly devastated sophisticated investors who had bet the shares would continue to decline.
That interview illustrated two points that are important to remember about Clubhouse. Although the app itself says it does not record the discussions occurring within its rooms, that does not mean other participants are not. And the posted recordings of discussions like that also prove there are ways for getting around Clubhouse's 5,000-person limit in its rooms.
Zuckerberg's Feb. 4 appearance on Clubhouse did not delve into anything quite as hot as the GameStop frenzy, but his presence still added to the curiosity about the app. In true Facebook fashion, the company is also reportedly working on a copycat, known internally as Fireside.
Is it all tech industry people?
While the early users of Clubhouse were largely venture capitalists and startup folks, as the app's user base has expanded so has the diversity of its members. Users can now explore subjects such as "Ask A Coach: Life, Love & The Pursuit of Joy, Money/Health," "Bitcoin Basics for Baby Boomers," "Drag Race Clubhaus," "Investing While Black" and "Plant-Based Basics for Beginners with Dietitian Jasmine."
What happened in China?
Thousands of Chinese users have flocked to the app in recent months, lured by the unfettered discussions it allowed with people abroad – particularly about democracy, Taiwan and other sensitive topics.
That was especially striking given that President Xi Jinping's government is increasingly hostile to independent voices. Clubhouse allowed many mainland users their first direct communication with people in Hong Kong and Taiwan and with exiles from the Uighur Muslim minority in the northwestern region of Xinjiang.
The app was removed from Apple Inc.'s China store by at least Dec. 16, according to Benjamin Ismail, an activist with the group Apple Censorship, which tracks censorship in the Apple Store. Users still could download it if they had access to an Apple app store abroad.
But on Monday, Chinese users lost access to Clubhouse, much the way thousands of other websites and social media apps have been blocked by the Chinese Communist Party using the world's most extensive system of internet filters.
APH reporting three new COVID cases – SooToday
Algoma Public Health is reporting three new COVID-19 cases in the Algoma region, all in the Elliot Lake area.
The new cases bring the total number of cases in the region since the beginning of the pandemic to 199.
Case No. 197, tested on Feb. 26, is under the exposure category of close contact, meaning the individual was infected through close contact with another known confirmed case.
Cases 198 and 199, both tested on Feb. 25, are in the unknown exposure category, meaning they did not have any recent international travel or close contact with a known confirmed case.
All three individuals are currently self isolating.
APH is currently reporting six active cases in the region with two people hospitalized.
Joe Rogan Podcast Guest Struggles for 8 Minutes to Send Picture from Samsung to iPhone [VIDEO] – iPhone in Canada
Apple's iOS and Google's Android have a long history of abysmal cross-platform compatibility in everyday use, especially when it comes to file sharing.
In the latest episode of his podcast, The Joe Rogan Experience, host Joe Rogan and professional mixed martial artist Dustin Poirier and UFC Lightweight Champion showcase just how hard it is to share images between an Android device and an iPhone.
It takes nearly 8 minutes to text a couple of images from Dustin's Samsung phone to Joe's iPhone, as can be seen in the clip below. Poirier struggles to figure it out, saying his Samsung phone won't let him send the image to Rogan's phone, noting how he can't send a photo to a number that is not in his contact list:
[embedded content]
Granted, the whole process would have gone much smoother (and the loss of image quality when texting images from an Android device to an iPhone would have been avoided) if Dustin had simply emailed the images to Joe instead.
However, sharing images between two phones shouldn't be that complicated, should it? With Apple's AirDrop feature, sharing images between iPhones is a breeze. With Google's Nearby Share feature, so is sharing images between two Android devices.
You only start seeing problems when you have an Android device on one end, and an iPhone on the other. While the two mobile platforms exist within the same ecosystem, the divide between them is never more apparent than when you try making them talk to each other.
Joe ends up writing his phone number down on paper, and asks Dustin to text him or call him.
Dustin also says how when he sends images from his Samsung to his wife's iPhone, the image quality is degraded, but not vice versa. Joe replies that's because of AirDrop and iMessage, which isn't exactly an answer.
"This is the worst Samsung advertisement of all time," added Rogan, during the frustration of the situation.
Joe takes this opportunity to tout the simplicity and straightforwardness of Apple's approach to file sharing–he instantly AirDrops the images received to his producer Jamie's iPhone in seconds.
"You send me the picture and it took about 10 minutes, and then bam, Jamies gets the picture", concluded Rogan.
Schitt's Creek Mansion Returns to Market With Price Reduction – BNN
(Bloomberg) — When TV location scouts want a house to suggest fabulous wealth, it's hard to do better than one that looks like a 17th century French palace. And with its frescoed ceilings, crystal chandeliers, marble staircase, and grand domed cupola, that's exactly the look Van Lapoyan was going for when he built his Toronto mansion.
The 24,000-square-foot residence has more than 25 film and television credits to its name, including the multi-Emmy Award-winning comedy series Schitt's Creek, where it was glimpsed as the Rose family's abode before they lost their fortune and were forced into the show's eponymous rural backwater. Now Lapoyan has put his mansion up for sale with an asking price of C$19.9 million ($15.7 million).
Having spent the first part of his career in Toronto's construction industry, building custom homes for other people, the condo-developer decided in 2008 he'd build a dream house for himself on a lot in the city's North York neighborhood, at 30 Fifeshire Rd. It's near the exclusive Bridle Path area where the rapper Drake has a Toronto manor.
Designing the place took two years, plus three in construction to get everything exactly the way Lapoyan wanted, from the home theater to the two pools (indoor and outdoor), the golf simulator, and the wine cellar. Trickiest was the three-story structure's outer facade and patio, which he insisted be made of limestone brought from Indiana and inserted with marble that had to be lifted into place with cranes.
Now the 67-year-old is planning to retire someplace that lacks Toronto's frigid winters, and he says the 12-bedroom, 16-bathroom house is too big for just him and his wife. Having lived in it for only seven years, Lapoyan admits he built it in part just to prove he could.
"It was a challenge for myself in terms of how can I achieve it. Can you do it? Can you make something beautiful and enjoy it?" Lapoyan says in a telephone interview. "It is a landmark, everyone knows it's a landmark. They come everyday to take pictures of the house. During construction, I had a lot accidents in front of it because drivers were all just looking at the house instead of the road."
Lapoyan first fell in love with the baroque, rococo, and neoclassical styles of architecture that influenced his home while a university student in Paris. In keeping with the monumental aspirations of that period, he christened his home "La Belle Maison" in a marble panel set into the balcony above the front door.
"When I was a student in Paris, I used to walk on the streets and just be amazed by these beautiful buildings," he says. "I'd be walking up the street, and then I'd hit a pole because I was watching the buildings and how beautiful they were."
And though the classical-bas reliefs, Tuscan columns, and marble balustrades of his home's interior may suggest Marie Antoinette-levels of decadence to some filmmakers and TV location managers, for Lapoyan they are timeless architectural elements, especially compared to more modern styles he dismisses as faddish.
"Modern houses today are very in vogue, and people like it, but classical houses never go out of fashion," he says. "Whether it's now or in 10 years or in 50 years, you're still going to love that house."
The house's size meant Lapoyan barely noticed film crews when they were shooting in it, even when they worked late into the night. He says he didn't see much of the Schitt's Creek team when they were there, except when he stopped by to shake star Eugene Levy's hand. Although the Canadian series premiered in 2015, international audiences searching for something to binge watch amid pandemic lockdowns helped turn it into a sensation last year. The show's final season went on to sweep all seven major comedy categories at the Emmy Awards, setting a record for most wins by a comedy.
Lapoyan says the series' success has brought increased attention to his house, which has been on and off the market since 2019, when it was first listed for C$21.8 million.
"All of a sudden, we received a huge amount of interest because of Schitt's Creek, and we've been bombarded with phone calls and emails," he said. "We used to get local interest. Now we get interest from Vancouver, from Montreal, from London, from New York—all over the place."
For fans with a more modest budget the small town motel where the Rose family spends most of the series is also up for sale, with a sticker price of just C$2 million.
©2021 Bloomberg L.P.