What protests in China may mean for the economy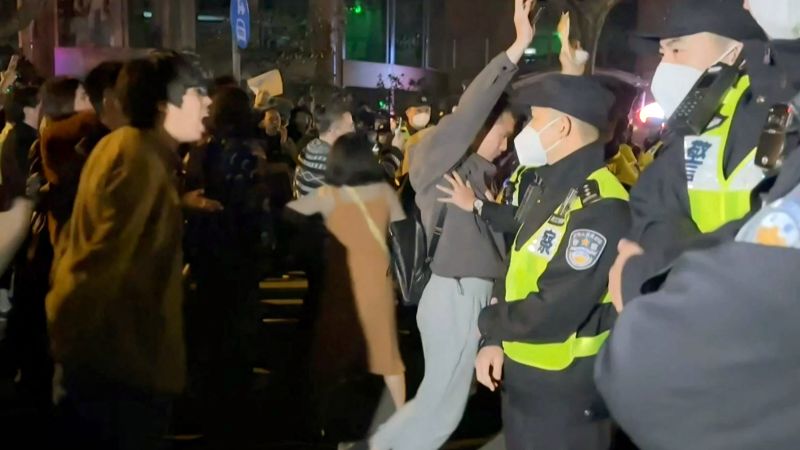 A version of this story first appeared in CNN Business' Before the Bell newsletter. Not a subscriber? You can sign up right here. You can listen to an audio version of the newsletter by clicking the same link.
Protests against China's prolonged and restrictive Covid regulations spread across the country over the weekend. The demonstrations against Chinese President Xi Jinping and his costly zero-Covid policy are an exceedingly rare case of widespread civil disobedience.
While the protests represent an unprecedented challenge for Xi, they also carry economic and market implications. Oil plunged and hit 2022 lows on Monday, while shares of companies that rely on China for production felt the heat. Apple fell by 2.6% following reports that unrest at one of its factories could result in 6 million fewer iPhone Pros this year.
What's happening: China's controversial zero-Covid policy has affected everyday life and weighed heavily on the economy. When outbreaks get bad enough, entire cities are closed: Shanghai was shut down for about two months this spring and Chengdu, a city of 21 million people, was locked down in the fall.
Earlier this month, Beijing eased some Covid-related restrictions, sparking hopes that the economy could soon fully reopen, but local governments once again tightened controls as cases surged. The policy doesn't seem to be working, as cases hit record highs, but China's low vaccination rate, relatively ineffective vaccines and aging population mean the alternative could be very deadly.
The mounting political tension has also been difficult to interpret. The protests at first seemed focused on Covid restrictions, but now appear to carry broader demands for political reform: The blank sheets of paper held up by demonstrators in Shanghai, the country's financial hub, have already become iconic symbols of defiance against a government that limits free speech.
Economic impact: People under lockdowns say they struggle to find food and other necessities. Economic growth has slumped and unemployment has been been rising as a consequence of the lockdowns.
The policy has also led to major global production constraints that are sustaining inflation. Global supply chain pressures increased moderately in October after five consecutive months of easing, largely due to increases in Asian delivery times, according to the Federal Reserve Bank of New York's Global Supply Chain Pressure Index.
However, commodities slid on China concerns Monday. Oil prices dropped sharply, with investors concerned that surging Covid cases and protests in China may sap demand from one of the world's largest oil consumers.
What's next: Chinese government officials are in a strange spot. They don't want to end their covid policy but they also want to ensure that the political unrest doesn't grow. Companies that do business in China are watching closely for any clues about what the future may hold. They're also considering moving production away from the country in the long term — Apple has already shifted some of its manufacturing to India.
Goldman Sachs, in a research report published late on Sunday, predicted that protests could lead China to scrap its zero-Covid policy earlier than previously expected, with "some chance of a forced and disorderly exit."
But the next few days could be pivotal. If protests flare up again, the Chinese government will likely be forced to react in some way. On Tuesday, it announced an "action plan" to boost vaccination rates among the elderly. But "with a rapid spread of new COVID cases, it's hard to envision a broad lifting of restrictions that would boost the country's economic outlook for next year significantly," said Christopher Smart, chief global strategist at Baring. "In any case, the continuing uncertainty of pandemic policy will lead to further pressures on global supply chains and keep prices higher than they would otherwise be."
Big data week
US investors took a short break from the trading floor last week as they celebrated the Thanksgiving holiday. Now, the vacation is definitely over. This week is chock full of important economic data releases, many of which will help guide the Fed's next interest rate hike decision in December.
Here's what to keep an eye out for.
Tuesday brings a housing bonanza: At 9 a.m. ET the September House Price Index (HPI), a measure of the change in single-family house prices, is due out. The September S&P/Case-Shiller House Price Index, which measures the change in the selling price of single-family homes in 20 metropolitan areas across the United States, is also due out.
Also on Tuesday: The Conference Board's November measure for the level of consumer confidence in economic activity. That's a leading indicator as it can predict consumer spending.
Wednesday is a big Fed day: Federal Reserve Chair Jerome Powell will discuss the economy and labor market at an event hosted by the Brookings Institution at 1:30 p.m. ET. A question and answer session with the audience is also expected. Traders will closely watch his speech for hints about future monetary policy.
Fed Governor Lisa Cook will also discuss the economic outlook and monetary policy at an event hosted by the Detroit Economic Club, and Fed Governor Michelle Bowman will discuss the future of small banks, with a question and answer session afterward.
More data: Wednesday also brings some employment data. First up is The ADP National Employment Report, a measure of the monthly change in private employment, based on the payroll data of approximately 400,000 US business clients. Next comes October JOLTS, a survey by the US Bureau of Labor Statistics to measure job vacancies.
Revised numbers for third-quarter GDP and PCE inflation are also expected out and October Pending Home Sales which measures the change in the number of homes under contract to be sold.
Thursday is all about inflation: October's Personal Consumption Expenditure Price Index is expected at 8:30 a.m. ET. The index measures changes in the price of goods and services purchased for consumption. Core PCE, which excludes gas and food, is the Fed's preferred inflation measure.
Friday is jobs day: Here comes government unemployment numbers for November. Given that full employment is one of the Federal Reserve's mandates, it is very closely watched.
Chicken is on the menu this holiday season
Expect heavier holiday promotions this season, say Bank of America analysts. Why? Retailers are dealing with an excess of inventory they're trying to get rid of, but it also comes down to timing.
Last year, Americans did their holiday shopping earlier in the year because they were worried about shortages and because the Omicron Covid wave kept people out of stores ahead of the holidays. This year things are expected "to mimic a normal pre-pandemic holiday," wrote the analysts, with the exception of one thing: There's an additional day between Thanksgiving and Christmas this year because Christmas Eve falls on a Saturday.
"We think this will likely result in a frenzied game of chicken, with shoppers waiting until the very last minute for great deals and retailers balancing selling at the highest price with moving through enough product," said Lorraine Hutchinson, a research analyst at Bank of America.
Bond correction coming: What an economist and an investor say about inflation – Financial Post
[unable to retrieve full-text content]
Bond correction coming: What an economist and an investor say about inflation Financial Post




Source link
Freeland meets with provincial, territorial finance ministers in Toronto
TORONTO — Deputy Prime Minister and Finance Minister Chrystia Freeland is hosting an in-person meeting Friday with the provincial and territorial finance ministers in Toronto to discuss issues including the current economic environment and the transition to a clean economy.
The meeting will focus on the economic situation both domestically and globally, according to a federal source with knowledge of the gathering, including discussions on how to provide incentives and supports to be competitive with the U.S.'s Inflation Reduction Act.
U.S. President Joe Biden's Inflation Reduction Act includes electric-vehicle incentives that favour manufacturers in Canada and Mexico, as well as the U.S.
The incentives, which were already revised to include Canada and Mexico after originally focusing on the U.S., are now facing criticism from Europe about North American protectionism.
The source, who spoke on the condition they not be named to discuss matters not yet made public said the ongoing challenges with health care in Canada will also come up at the meeting. More substantive discussions on that will be held next week when the prime minister meets with premiers on Feb. 7.
In her opening remarks, Freeland said it's essential for Canada to have its rightful place in the transition to a clean economy, calling it one of the biggest challenges of the moment.
We are in a situation with a lot of economic uncertainty globally, said Freeland, adding that later in the day, the ministers will have a discussion with Bank of Canada governor Tiff Macklem.
"I think that conversation with the governor will be useful and important for all of us," she said.
Despite the need to address health care challenges, Canadian jobs and the transition to a clean economy, Freeland said the government recognizes it also has to contend with real fiscal constraints.
Freeland will hold a closing news conference at 3:30 p.m. local time.
The meeting comes at a tense time for many Canadian consumers, with inflation still running hot and interest rates much higher than they were a year ago.
The Bank of Canada raised its key interest rate again last week, bringing it to 4.5 per cent, but signalled it's taking a pause to let the impact of its aggressive hiking cycle sink in.
The economy is showing signs of slowing, but inflation was still high at 6.3 per cent in December, with food prices in particular remaining elevated year over year.
Interest rates have put a damper on the housing market, sending prices and sales downward for months on end even as the cost of renting went up in 2022.
Meanwhile, the labour market has remained strong, with the unemployment rate nearing record lows in December at five per cent.
— With files from Nojoud Al Mallees in Ottawa and James McCarten in Washington
This report by The Canadian Press was first published Feb. 3, 2023.
The Canadian Press
Pakistan PM warns of IMF bailout conditions
Pakistan's Prime Minister Shehbaz Sharif has said that the government will have to agree to International Monetary Fund (IMF) bailout conditions that are "beyond imagination".
Sharif's comments on Friday came after an IMF delegation landed in Pakistan this week for last-ditch talks to revive vital financial aid which has stalled for months.
The government has held out against tax rises and subsidy-slashing demanded by the IMF, fearful of a backlash before elections due in October.
"I will not go into the details but will only say that our economic challenge is unimaginable. The conditions we will have to agree to with the IMF are beyond imagination. But we will have to agree with the conditions," Sharif said in televised comments.
The global lender has set strict conditions before resuming the bailout programme for Pakistan, such as asking the government to allow a market-determined exchange rate for the local currency, ease fuel subsidies, and control circular debt in the power sector.
Pakistan's economy has been in dire straits, stricken by a balance of payments crisis as it attempted to service high levels of external debt, amid political chaos and a deteriorating security situation. On Wednesday, year-on-year inflation had risen to a 48-year high leaving Pakistanis struggling to afford basic food items.
Before the IMF visit, Islamabad began to bow to pressure with the prospect of national bankruptcy looming and no friendly countries willing to offer less painful bailouts.
The government loosened controls on the rupee to rein in a rampant black market in US dollars, a step that caused the currency to plunge to a record low. Artificially cheap petrol prices have also been raised.
Letters of credit are no longer being issued, except for essential food and medicines, causing a backlog of thousands of shipping containers at a Karachi port stuffed with stock the country can no longer afford.
Sajid Amin, a senior official at the Sustainable Development Policy Institute, a research institute in Islamabad, said Sharif's statement revealed the depth of the challenges facing the economy.
"Without any doubt, the economic situation is tough. Pakistan is facing multiple crises, including balance of payment crisis, political instability – issues which have delayed decision making from government," he told Al Jazeera. Amin further said that the delays in the last few IMF reviews have led to increased uncertainty and panic in the market.
"Two of the major IMF conditions, market-determined exchange rate and petrol price increase, are majorly met already. The talks are now more focused on how to meet Pakistan's circular debt target in the power sector. The fund has not accepted the government's plan and has asked for a revised plan to deal with the circular debt problem," he added.
Uzair Younus, director of the Pakistan Initiative at the Atlantic Council's South Asia Center said that the major hurdle in the IMF negotiations seemed to be the scale and pace of actions required to reduce the fiscal deficit and circular debt. He noted that the IMF's terms did not seem unreasonable, especially considering the number of times Pakistan has reneged on promises.
"A key issue that remains is the increase in electricity prices and a credible plan to reduce the circular debt. Pakistan has paused these increases for several months, citing floods and other challenges. The IMF wants a rapid increase in rates to reduce the circular deficit, but the government wants to stagger these increases," the Washington, DC-based analyst told Al Jazeera.
It was no surprise that the IMF was not eager to agree to a staggered approach, given that Pakistan did not have much credibility left when it comes to following through on its agreements, Younus added.
Amin said that given the precarious economic situation in the country, the government must do whatever it takes to get the IMF on board.
"The government must understand, and I think it does understand to some extent, that inflationary pressure and other costs are much higher than the costs of IMF conditions. I think this statement, therefore, may be preparing ground and making people ready for tough measures that the government is going to take to meet the IMF conditions."
The tumbling economy mirrored the country's political chaos, with former Prime Minister Imran Khan heaping pressure on the governing coalition in his bid for early elections while his popularity remains high.
Khan, who was removed last year in a no-confidence motion, negotiated a multibillion-dollar loan package from the IMF in 2019.
But he reneged on promises to cut subsidies and market interventions that had cushioned the cost-of-living crisis, causing the programme to stall.
It has been a common pattern in Pakistan, where most people live in rural poverty, with more than two dozen IMF deals brokered and then broken over the decades.