What's Happening in the World Economy: The US Recession Risk
The U.S. Recession Risk
Given America's pandemic recession is only judged to have ended in April 2020, discussion of a double dip so soon seems premature.
Yet, David Blanchflower of Dartmouth College and Alex Bryson of University College London have kicked off such a debate.
In a new research paper released last week, they used history to wonder if a recent decline in consumer expectations suggests the world's biggest economy is already in recession again.
Every slump since the 1980s has been foreshadowed 18 months ahead of time by drops of at least 10 points in gauges of consumer expectations from the Conference Board and University of Michigan, according to the authors.
The Conference Board's index dropped in September to the lowest since November last year, although the University of Michigan's gained.

"Downward movements in consumer expectations in the last six months suggest the economy in the United States is entering recession now," wrote Blanchflower and Bryson.
The good news is that other indicators are more upbeat. Even in Friday's disappointing jobs report, the unemployment rate dropped top 4.8%. A single monthly rise of at least 0.3 percentage points in that measure is also a handy projector of recessions, the economists found.
And even while Wall Street banks are cutting their forecasts for economic growth they still see robust expansion. Goldman Sachs, for example, told clients on Sunday that they now project the U.S. economy growing 5.6% this year and 4% next, even though both rates are slower than previously anticipated.
But there's no denying risks are mounting. The delta variant has shown the pandemic will be here for a while, supply chains are squeezed and ports congested, food and fuel prices are surging, the labor market still has problems and fiscal and monetary policy makers may be pulling back stimulus soon. The debt limit fight has only been delayed.
For those quick to scoff at the risk of a slump, let's also remember economists are pretty terrible at forecasting such turns. A 2018 study discovered that of 153 recessions in 63 countries from 1992 to 2014, only five were predicted by a consensus of private-sector economists in April of the preceding year.
Time to cross fingers and hope history doesn't repeat.
The Week Ahead
U.S. consumer inflation and prices paid to producers probably advanced at healthy paces in September, suggesting cost pressures continue to percolate.
The widely followed consumer price index is projected to match August's 0.3% monthly increase and the 5.3% year-over-year gain, according to the median of economists surveyed by Bloomberg.
The government's gauge of producer prices is seen accelerating to 8.7% on an annual basis.
Also this week, the International Monetary Fund meetings begin, the Federal Reserve releases minutes of its last meeting and Chile's central bank may raise interest rates.

The inflation theme is certainly occupying the minds of investors.
Read our quarterly guide to central banks here and our deep dive into whether inflation is transitory or not here.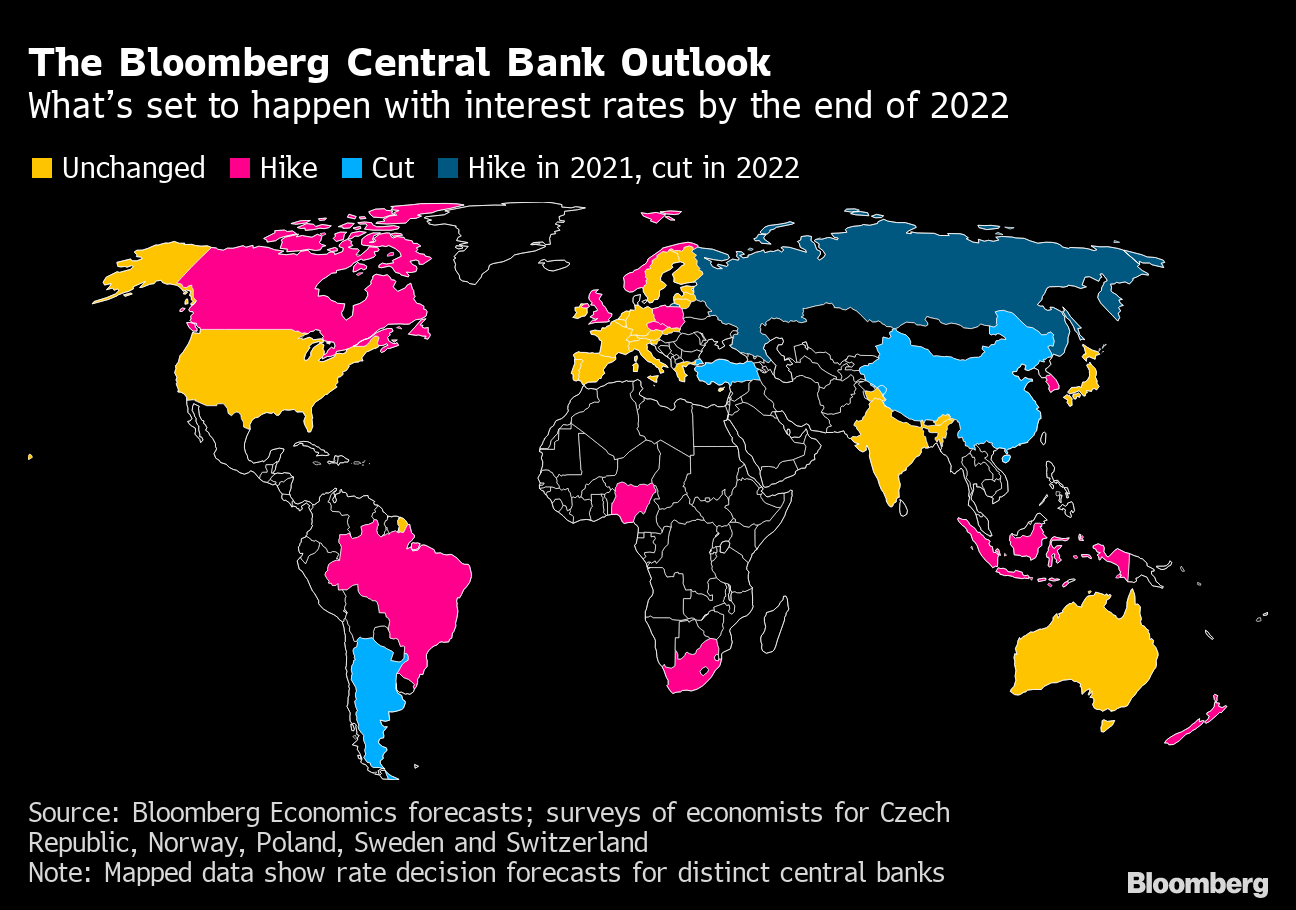 For a full rundown of the week ahead, click here.
Today's Must Reads
Just in | The Nobel prize for economics was awarded to David Card, Joshua D. Angrist and Guido W. Imbens for their work using natural experiments.
IMF chief | The fund's executive board plans to deliberate further Monday over the fate of the lender's chief, Kristalina Georgieva, after discussions Sunday with her and the law firm that alleged improper actions in her previous job at the World Bank.
BOE signals | Two Bank of England officials reinforced signals of an imminent rise in U.K. interest rates to curb inflation, with one telling households to brace for a "significantly earlier" increase than thought.
Supply snarls | Factory workers are leaving Vietnam's industrial heartland to avoid virus lockdowns, threatening the supply of  clothes and shoes shipped to the American market.
India trade | India is racing to wrap up a clutch of quick-fire bilateral trade pacts by the end of March, officials said, as economic necessity spurs a shift from New Delhi's usual go-slow approach on such deals.
Need-to-Know Research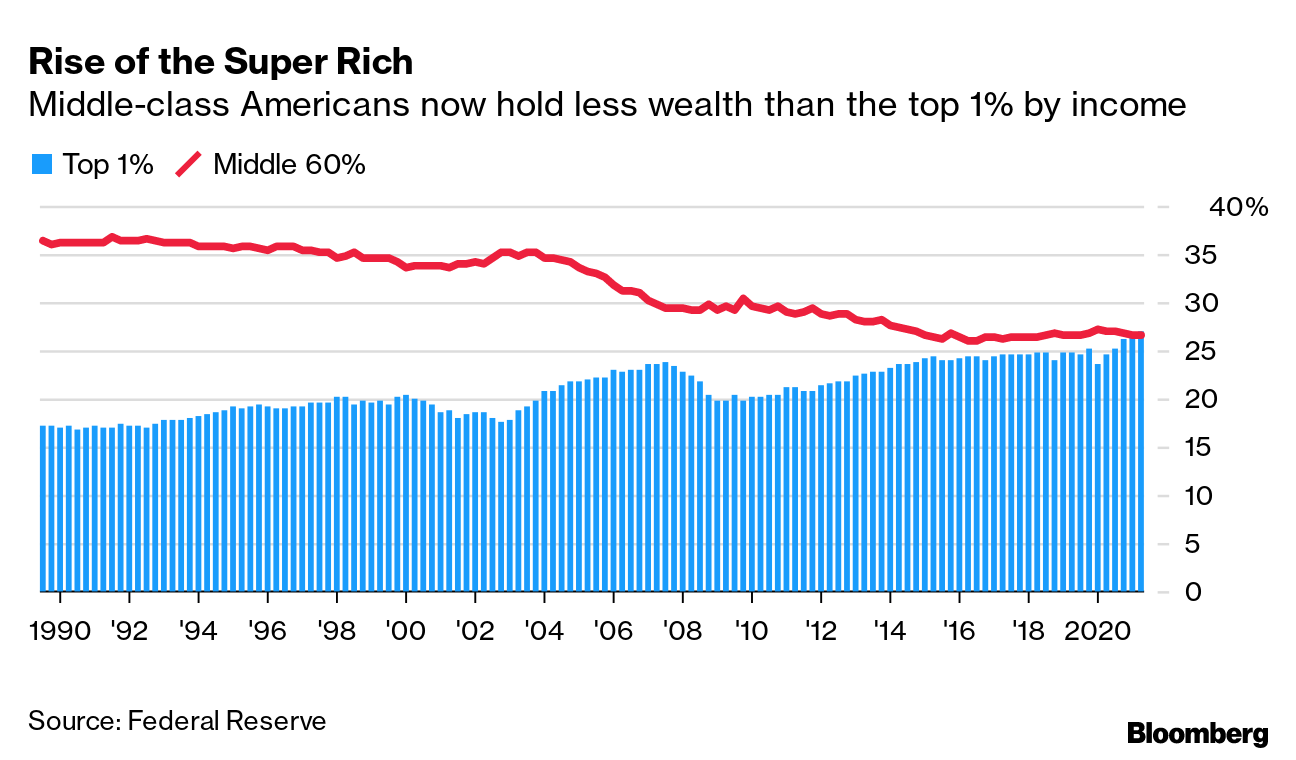 After years of declines, America's middle class now holds a smaller share of U.S. wealth than the top 1%. The middle 60% of U.S. households by income — a measure economists often use as a definition of the middle class — saw their combined assets drop to 26.6% of national wealth as of June, the lowest in Federal Reserve data going back three decades. For the first time, the super rich had a bigger share, at 27%.
The data offer a window into the slow-motion erosion in the financial security of mid-tier earners that has fueled voters' discontent in recent years. That continued through the Covid-19 pandemic, despite trillions of dollars in government relief.
Surprise Growth Makes South Africa's Economy Bigger Than Before Pandemic Struck – BNN Bloomberg
(Bloomberg) — South Africa's economy is bigger than before the coronavirus pandemic struck, after growing faster-than-expected in the third quarter on increased farm output.
Gross domestic product expanded 1.6% in the three months through September, compared with a contraction of 0.7% in the previous quarter, Statistics South Africa said Tuesday in a report released in the capital, Pretoria. The median of 12 economists' estimates in a Bloomberg survey was for growth of 0.4%. The economy grew 4.1% from a year earlier.
Full-year growth may also surprise on the upside. The central bank forecasts an expansion of 1.8% and the National Treasury 1.9%. For the nine months through September, an early indicator of where full-year growth may land, GDP grew by 2.3% from last year.
The 2.3% expansion in the first three quarters is a "reasonable indicator" of the annual number, said Joe de Beer, deputy director-general of economic statistics at the agency. "I can't see it differing by more than" half a percentage point "from just a mathematics point of view," he said.
"After taking into account the firmer-than-expected third-quarter figure, we expect growth to average closer to 2.5% in 2022, before slowing to just above 1% next year," said Sanisha Packirisamy, an economist at Momentum Investments.
At an annualized 4.6 trillion rand ($265 billion) in the third quarter, GDP is about 53 billion rand bigger than the fourth quarter of 2019, before the pandemic struck. A contraction in the prior three months had reversed gains made in the first quarter that made it bigger.
The quarterly expansion comes even after Africa's most-industrialized economy experienced record power cuts because state electricity utility Eskom Holdings SOC Ltd. couldn't keep pace with demand from its old and poorly maintained plants. Industries behind the better-than-expected growth were agriculture and transport, which grew 19.2% and 3.7% quarter-on-quarter respectively.
Strong exports of mineral, vegetable and paper products also contributed.
Still, South Africa's economy remains stuck in its longest downward phase since World War II and hasn't grown by more than 5% annually in 15 years. The government's National Development Plan, a 2012 economic blueprint co-authored by President Cyril Ramaphosa, says that level of expansion is needed for sustainable job creation in a nation where almost a third of the workforce is unemployed.
Slow structural reforms, political uncertainty and high levels of crime continue to weigh on fixed-investment spending in South Africa, with private companies wary of committing large sums of money to domestic projects. Gross fixed capital formation climbed 0.3% from the previous quarter.
Household spending, which comprises about two-thirds of GDP, declined 0.3% in the third quarter. It's likely to come under further strain from high inflation and interest rates that are at a level last seen more than five years ago.
Weak growth is forecast for the final quarter because of continued rolling blackouts and a strike over wages that took place at Transnet SOC Ltd., South Africa's state-owned logistics company that operates most of the harbors in the nation, in October. The central bank forecasts expansion of 0.1% this quarter.
Lackluster economic growth and mounting price pressures pose a threat to social stability in one of the world's most unequal societies and may stymie efforts to reduce fiscal deficits and debt.
–With assistance from Simbarashe Gumbo and Rene Vollgraaff.
(Updates with economist comment in paragraph five. An earlier version corrected household spending figure in paragraph 11)
©2022 Bloomberg L.P.
World Economy Heads for One of Its Worst Years in Three Decades – BNN Bloomberg
(Bloomberg) — The world economy is facing one of its worst years in the three decades as the energy shocks unleashed by the war in Ukraine continue to reverberate, according to Bloomberg Economics.
In a new analysis, economist Scott Johnson forecasts growth of just 2.4% in 2023. That's down from an estimated 3.2% this year and the lowest — excluding the crisis years of 2009 and 2020 — since 1993.
However, the headline figure is likely to mask diverging fortunes, with the euro area starting 2023 in recession and the US ending the year in one. By contrast, China is projected to expand more than 5%, boosted by a faster-than-expected end to its zero-tolerance Covid strategy and support for its crisis-hit property market.
Differences will also be on display when it comes to monetary policy after a year in which central banks "dashed toward restrictive territory in a pack," Johnson wrote.
"In the US, with wage gains set to keep inflation above target, we think the Fed is headed toward a terminal rate of 5%, and will stay there till 1Q24. In the euro area, meanwhile, a more rapid decline in inflation will mean a lower terminal rate and the possibility of cuts at the end of 2023."
In China, where authorities are torn between a desire to support the recovery and concern about the weakness of the currency, "limited" rate cuts are on the cards.
Read more: Global Growth Set to Slow From 3.2% in 2022 to 2.4% in 2023
©2022 Bloomberg L.P.
Securing good jobs, clean air, and a strong economy – Prime Minister of Canada
Autoworkers have been a keystone of the Canadian economy for generations. By investing in the future of the auto industry, we are not only securing good middle-class jobs, we are fighting climate change, and building an economy that works for generations to come.
Since January alone, Canada has secured several historic manufacturing deals for electric vehicles (EVs), hybrids, and batteries – deals that will create and secure thousands of good, middle-class jobs and provide the world with clean vehicles. Today, we are seeing the results of one of those deals start to roll off the line.
The Prime Minister, Justin Trudeau, was joined today by Premier of Ontario, Doug Ford, to open Canada's first full-scale EV manufacturing plant, General Motors of Canada Company's (GM) CAMI assembly plant in Ingersoll, Ontario. Starting today and going forward, the plant will build fully electric delivery vans – the BrightDrop Zevo 600 – which will help cut pollution and keep our communities healthy for our children and grandchildren.
Thanks in part to a $259 million investment from the Government of Canada, GM's CAMI assembly plant was able to retool its operations to build these electric vans. By 2025, the plant plans to manufacture 50,000 EVs per year. This investment has helped secure thousands of well-paying, high-quality jobs across GM facilities, and is helping advance the electrification of Canada's automotive sector.
The Government of Canada will continue to work to attract investment from companies around the world as we build our EV supply chain – from mining critical minerals to manufacturing batteries, and vehicles. By taking action today, we are positioning Canada as a global leader in EVs, fighting climate change, securing good jobs, and building an economy that works for all Canadians – now and into the future.
Quotes
"When we invested in GM's project to build Canada's first full-scale electric vehicle manufacturing plant in Ingersoll, we knew it would deliver results. Today, as the first BrightDrop van rolls off the line, that's exactly what we're seeing. This plant has secured good jobs for workers, it is positioning Canada as a leader on EVs, and will help cut pollution. Good jobs, clean air, and a strong economy – together, that's the future we can build."
"Today is proof that our historic investments in EV manufacturing are paying off. With the first BrightDrop vans coming off the assembly line, we're seeing the skill of Canadian workers making a huge difference as the world moves to EVs. Our government, in partnership with GM, is cementing Canada's leadership in the EV supply chain."
"This milestone represents GM at our best – fast, flexible and first in the industry. The BrightDrop Zevo is a prime example of GM's flexible Ultium EV architecture, which is allowing us to quickly launch a full range of electric vehicles for our customers. And, as of today, I am proud to call the CAMI EV Assembly team the first full-scale all-electric manufacturing team in Canada."
"This is a very exciting moment – a revolution in the way we transport people and goods. Today marks a huge day for BrightDrop, as we expand our footprint and begin producing the Zevo electric vans at scale, and a huge milestone for Canada on the road to a brighter future. Opening the CAMI plant is a major step in providing EVs at scale and delivering real results to the world's biggest brands, like DHL Express, who will be our first Canadian customer."
Quick Facts
The Government of Canada's $259 million investment supports GM's more than $2 billion project to reignite production at its Oshawa assembly plant, after operations stopped in 2019, and transform its CAMI assembly plant in Ingersoll.
The investment is being made through both the Strategic Innovation Fund and its Net Zero Accelerator Initiative.
The Government of Ontario made a matching contribution of up to $259 million toward the project.
Founded in 1918, General Motors of Canada Company (GM) is one of the largest automotive manufacturers worldwide. It is headquartered in Oshawa, Ontario, and is one of Canada's largest automotive manufacturers.
GM is planning to introduce 30 new electric vehicles by 2025, eliminate tailpipe emissions from new light-duty vehicles by 2035, and become carbon neutral in its global products and operations by 2040.
The automotive sector contributes $16 billion to Canada's gross domestic product and is one of the country's largest export industries.
The automotive sector supports the employment of nearly 500,000 Canadians.
The 2030 Emissions Reductions Plan, released in March, puts Canada on track to achieving our goal of cutting emissions by 40 to 45 per cent below 2005 levels by 2030 while continuing to build a strong economy.
To make zero-emission vehicles more affordable and accessible, the Government of Canada offers incentives of up to $5,000 off the purchase or lease of a light-duty zero-emission vehicle through the Incentives for Zero-Emission Vehicles (iZEV) Program. Since May 2019, close to 176,000 Canadians have taken advantage of this program.
Since 2015, the Government of Canada has invested $400 million in building approximately 35,000 zero-emission vehicle charging stations across the country.
Associated Links