What's up: Music, art and history
Seven years ago, the world lost the Purple One — the great Prince Rogers Nelson — to an accidental fentanyl overdose at Paisley Park, his Minnesota home. Today the impact of opioid use continues to ravage communities the world over, as it had prior to his death, including right here in Manitoba.
With that in mind, a group of local DJs and artists (including Mama Cutsworth, DJ Hunnicutt, Wandag and Hari Vijaijay) will come together on April 21 — the seventh anniversary of Prince's death — for a night of Prince/Prince-adjacent tunes at The Tallest Poppy in support of Sunshine House and their mobile overdose prevention site. Slide into your best purple threads, don a raspberry beret and dance the night away to Prince's best tracks in support of an organization working to prevent overdoses and fostering harm reduction in our community.
Tickets for the event, presented in conjunction with the Tallest Poppy, Synonym Art Consultation and Sunshine House, are $15 at the door.
— Ben Sigurdson
The Stampeders celebrate a sweet 50 years
Friday, April 21, 7:30 p.m.
Burton Cummings Theatre
Tickets: $84-$94 at ticketmaster.ca
It's been five decades since a banjo riff turned the Stampeders into one of Canada's greatest rock successes.
Rich Dodson's banjo signals the beginning of Sweet City Woman, a rock song that's as recognizable as any in the Canadian rock canon — it earned the band four Juno Awards in 1971 and millions of records sold in Canada and the United States — and one that will most likely be the climax of the Stampeders' concert Friday night at the Burton Cummings Theatre.
The Calgary rock trio is celebrating its 50th anniversary with a cross-country tour – held two years later owing to the COVID-19 pandemic – and reunites lead guitarist and banjoist Dodson, drummer Kim Berly and Ronnie King on bass.
While Sweet City Woman opened the door for the Stampeders to enter the SOCAN Songwriters Hall of Fame, they proved to be more than a one-hit wonder. Two other Dodson-penned Stampeders' hits, Monday Morning (1971) and Wild Eyes (1974), earned the band SOCAN Classics awards in 2015.
The Winnipeg concert is one of three Stampeders' shows in Manitoba this week. They also play the William Glesby Centre in Portage la Prairie tonight (tickets available at prairiefusion.tickit.ca) and the Western Manitoba Centennial Auditorium in Brandon Saturday (wmca.ca for tickets).
— Alan Small
Oddities and Art Show
Saturday, April 22 and Sunday, April 23 , 11 a.m.-7 p.m.
Ralph Brown Community Centre (520 Machray Ave.)
Details on their Facebook events page
A "first of its kind" event focusing on Indigenous made art and music from local creators makes its debut this weekend.
Oddities and Art Show is the brainchild of Tele Laferriere, a Métis artist behind Cyanide Oddities; Scintilla, owned and operated by Amanda Lee; and social enterprise Grey Jay Healing.
The event hopes to bring the Indigenous artist community together, celebrating and supporting Manitoba-based vendors, performer and speakers. The aim is to expand the market to hold events throughout the year.
Visitors will be able to view and purchase art by Eagle Woman Prints, meet yoga practitioner Om-digenous Yoga & Wellness by Dawn, and buy designs created by Metis beader Jessie Pruden of Bead n Butter.
"After speaking to our elders, we were encouraged to push forward with this as part of Grey Jay Healing's initiatives to co-create spaces for Indigenous people to thrive," says Rene Hince of Grey Jay Healing.
There will also be a children's art corner, food vendors and draws across both days. Country blues and rock band Burnelvis will also be making an appearance.
— AV Kitching
Gathering historical threads
Wednesday to Saturday, 12 to 4 p.m.
C2 Centre for Craft, 1-329 Cumberland Ave.
Visit c2centreforcraft.ca for more information
Nine days remain to catch Gathering: Indigenous Beadwork, Embroidery and Quillwork, an exhibit of historic and contemporary handcrafts at C2 Centre for Craft.
The outgoing show features work from as far back as the 1800s alongside satchels, mossbags, tea cozies, moccasins and gauntlets from five local Indigenous artists.
Gathering is the result of a year-long project between the Manitoba Crafts Museum and Library and Ross House Museum. Curators set out to find and study centuries-old Indigenous craftwork tucked away in the collections of 11 small museums from across the province. Researchers, artists and Elders were enlisted to help uncover the origin story of each piece since most items were catalogued by their collector, not their creator.
The exhibition aims to celebrate rarely displayed artwork with the hope of identifying long forgotten Indigenous artists.
Modern crafters Bronwyn Butterfield, Maeghen Fillion, David Heinrichs, Tashina Houle-Schlup and Shauna Ponask created original pieces for the show, which respond to their own familial histories and crafting traditions.
"Displaying these pieces alongside each other, we hope to honour those stories of love and care passed down through time," reads Margaret Firlotte's curatorial statement.
Gathering closes Saturday, April 29.
— Eva Wasney
Tomson Highway brings memoir to Free Press book club
Monday, April 24, 7 p.m.
Online
Admission is free
There's still time to read Tomson Highway's critically acclaimed 2021 memoir Permanent Astonishment in advance of his appearance at the next virtual Free Press book club meeting, which happens on the last Monday of the month.
The book, which won the $60,000 Hilary Weston Writers' Trust Prize for Nonfiction in 2021, details Highway's early years growing up as the second-youngest of 12 children near the Manitoba-Nunavut border, the death of five of his siblings, and his experiences at residential school, as well as the tragic 1990 AIDS-related death of his brother, Rene, an acclaimed dancer.
Highway is likely best known for his work as a playwright, having penned The Rez Sisters, Dry Lips Oughta Move to Kapuskasing and The (Post) Mistress. His impressive bibliography also includes works of fiction, essays and children's books. His latest book, 2022's Laughing With the Trickster: On Sex, Death and Accordions, was based on his Massey Lectures.
The author will be joined by Free Press literary editor Ben Sigurdson, McNally Robinson Booksellers' Chris Hall and Free Press manager of audience engagement Erin Lebar for the virtual book club. He will read from Permanent Astonishment, discuss his life and writing and take questions from viewers and readers. Register here: www.winnipegfreepress.com/book-club
— Jen Zoratti
Art in the Park sees another year of huge crowds – Windsor Star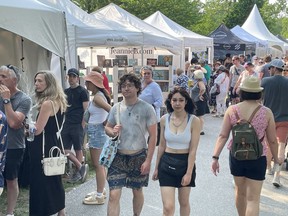 Article content
Perfect weather helped to draw big crowds to Art in the Park at Willistead Park on the weekend.
Article content
"We like to say summer begins with Art on the Park," said the organization's chairman Allan Kidd.
The event, run by the Rotary Club of Windsor (1918), is now in its 44th year and it continues to grow, he said.
"A hot day like this is perfect," he said. "This is potentially another record crowd. We set a record last year," with 27,000 paying attendees. "We're on track to do that again."
The annual show is attended by people from other provinces in Canada and Kidd noted one person who was familiar with Art in the Park when he lived in South Africa.

With 275 exhibitors and 15 musical performers, the event is a major fundraiser for the Rotary Club to support community projects around the world, Kidd said.
Last year, Art in the Park raised $80,000 to help with the maintenance and restoration of Willistead Manor, which itself provides the ideal setting for the event, he said. The Rotary Club also uses funds raised to support other causes.
Article content
"We're a charitable group. We buy wheelchairs and we drill water wells and we build schools," said Kidd , who noted people don't realize the event supports charitable causes.
"There's a disconnect in the public eye," Kidd said. "I like to say this is our gift to the community. We have this festival, everybody comes (and) for a couple of bucks they have a ball. All of these people are philanthropists without knowing it."

Solange Silivria of Windsor and friend Todd Mansell relaxed at a picnic table late Saturday. Silivria comes to the event every year.
"It's something that I used to do every year with my mum and she has since passed," she said. "I continue to do the tradition and come every single year and walk around. It's something that she loved to do."
Article content
Silivria's mother, Charlene Evon, used to run Bart Evon Designer Furniture, in LaSalle.
"I always try to meet up with friends or bring friends and come and enjoy the lovely artwork and the amazing talent, and walk around and just enjoy the day," she said.
Exhibitor Jasmine Samsair, a Windsor mixed-media abstract artist, put her work on display at the park for just the second year.
"I've always loved coming to Art in the Park," she said. "I didn't know there was such a market for abstract art. I thought why not give it a shot. I actually ended up doing really well last year and it was just so great meeting so many people."
Art in the Park is a good opportunity to get artists' work in front of the public, she said.
"Even if I don't make any sale… the biggest thing that I find is exposure. I find that doing Art in the Park, the main thing was people discovering you, noticing your work and getting your name out there."

20,000 people attend Art in the Park
It was a lovely weekend for a stroll in the park and more than 20,000 people had the same idea for this year's Art in the Park at Willistead Park in Windsor, Ont.
The two-day festival features 275 different art vendors, food and ice cream trucks and music from a number of performing artists.
"It's a wonderful thing because we see that our artists and our performers are being supported and that means a lot to us," said Aggie Sarafianos, who hasn't missed a single year of Art in the Park since it started back in 1979.
"The history, the atmosphere, the feeling that you get when you're here is just second to none," she said. "The camaraderie of the neighborhood is here, it's very blatant."
Vendors seemed quite pleased with the turnout, reporting strong sales this weekend.
"We're told that it's the best organized festival that we go to, so we love to hear that," said Allan Kidd, the chair of Art in the Park, indicating they will try to squeeze in 300 vendors next year.
The event is put on by the Rotary Club of Windsor, with proceeds going to restoring Willistead Manor, digging water wells in Africa, and buying wheelchairs for kids in Windsor.
"Everybody that comes in here has a good time but they are all philanthropists because I can't do it without them," said Kidd. "Every dollar is put to good use cause we're all volunteers. We're grateful for the public and I think they love what we do too."
Tomás Saraceno: Web(s) of Life; Tate Britain rehang review – a five-star show that's all generosity, and a reckoning with history
To reveal what happens inside Tomás Saraceno's new show for the Serpentine Gallery is hardly a spoiler. Nothing could lessen the impact. In galleries of pitch darkness, spotlights pick out an unfolding sequence of ethereal silver visions, all of them apparently floating in midair.
One spreads like the Milky Way – points of light gathering in cosmic drifts. Another hovers like spectral morning mist. A third has a gleaming upright disc at its centre, woven of what seems to be the most exiguous gauze of metal threads, held in place by barely visible guy lines.
They appear to be drawings in thin air; and yet they are also sculptures – silk structures so tremulous and fine they shiver in the circumambient air. To learn how they are made (and who made them) is still to know nothing at all of the mysterious workings of the artists themselves – none other than several rare species of spider.
Saraceno is the great spider man of contemporary art. Born in Argentina in 1973, he trained first as an architect, and one senses his profound appreciation of the way spiders create buildings as works of art. So much so that he has not boxed in their structures. There is no glass. Whisper ever so slightly and these webs move with your breath. The wonder they engender is exactly what stops you from reaching out to touch.
These spiders, who create such beauty, have very poor sight. They do not hear as we do either. Visitors can sit in a repurposed confessional box staring closely at a spectacular web that hangs where the priest would usually sit; through the wooden seat run occasional tremors. This is roughly what the spider senses of the world as it works. Saraceno's marvellous installation is a form of synaesthesia as homage: you witness the web while experiencing intermittent vibrations and blinking through a filigree grille.
A riveting film, in another gallery, shows the spider diviners of western Cameroon at work with clay pots and cards made of distinctively incised leaves. These cards are effectively the answers to vital questions asked by local people (or perhaps even by you too, now that Saraceno has built the diviners a website through which you can correspond). The spiders move the cards to give their wisdom. It feels as strange and mythical as the Oracle at Delphi.
By now, having surrendered your mobile phone on entry to some charming artists who return it with a divination card on exit, you will have realised that webs are a metaphor for the way Saraceno works. The spiders have answers that no phone can give; no phone can capture the magical webs. And phones involve batteries that require lithium, subject of another of Saraceno's art campaigns, and of a beautifully shot film screening in the central rotunda.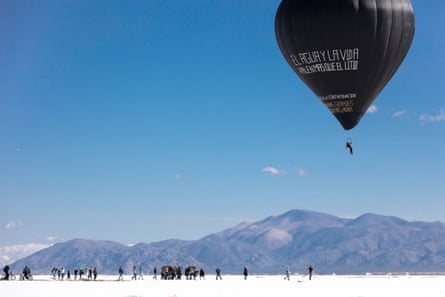 This concerns the Indigenous communities of Jujuy in Argentina who are fighting for the preservation of vital land and water threatened by the relentless mining for lithium to supply our wretched batteries. The narrative of words, images, protests and interviews is deeply absorbing. And, not incidentally, you will also see a flotilla of black balloons (sculptures, too, in their way) that are powered to fly across the sparkling white salt flats of Jujuy using solar energy. These are another of Saraceno's attempts to find a way, as he puts it, "to levitate without any violence to the earth". His flight in 2020 broke 32 records and was then the longest fossil-free flight in history.
One side of the Serpentine Gallery is entirely open to the green landscape outside. Animals of all sorts are welcome (there is a ladder for squirrels, a house for birds, welcoming sculptures of dogs, deer and hedgehogs). Children have their own secret gallery. The roof is laid with solar panels to supply energy. Pedal the bicycles outside and you power up the voices of Jujuy on headphones.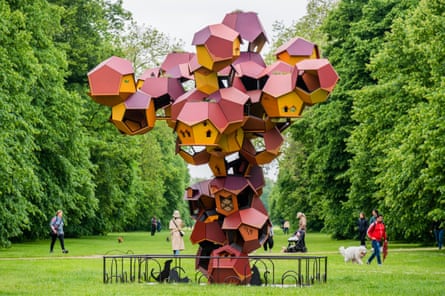 Saraceno's work is as delicate and involving as the webs he displays. Artist, scientist, activist, philosopher, inventor, composer, he is a Renaissance mind for the 21st century. And what is so striking about this captivating exhibition, in all its generosity, is that Saraceno believes that everyone else is as curious and optimistic as he is: that art can have active agency.
It is 10 years since Tate Britain last reorganised its collection, a decade so turbulent even art institutions could not remain heedless. The new rehang embraces many more women and artists of colour, introduces much more historical context about patronage, society, race, class and politics, and stints (mercifully) on Bacon, Hockney, Freud et al, who scarcely need further enlargement. There are sufficient new names, overdue revivals and close-focus galleries – an electrifying William Blake, a fascinating room of one's own devoted to Woolf-era women – as to educate the mind and eye and renew the experience.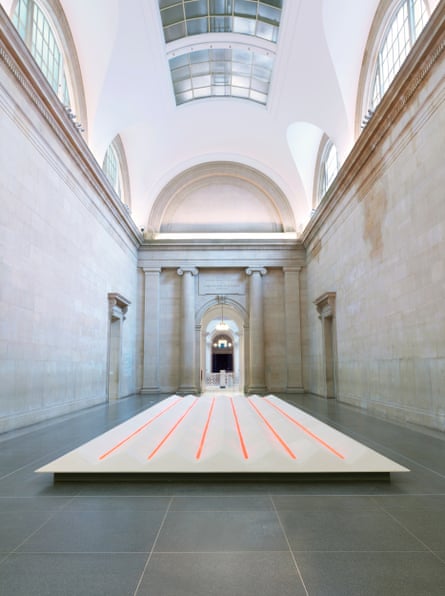 The faults are many and obvious. Above all, this rehang treats artworks as documents. An 18th-century tea party allows for sermonising on tea (imperialism), sugar (slavery) and servants (oppressed), but the picture itself is atrocious. George Stubbs and Samuel Palmer are told off for ignoring rural conditions in their spellbinding harvests and twilights. Annie Swynnerton gets a whole room for her cloyingly awful art because she was a suffragist who painted Millicent Fawcett.
And for a rehang more interested in history than art, it's oddly erratic. Thin on the English civil war, say; Waterloo, the welfare state, LGBTQ+ rights. As for the spelling: Magna Carter?
But the Duveen Galleries are terrific: Vong Phaophanit's 1993 neon rice field in its mysterious glowing dunes; Rachel Whiteread's mind-splitting cast of a double staircase, labyrinthine and vertiginous; Susan Hiller's reprise of the walls of sudden and heroic deaths from London's Postman's Park.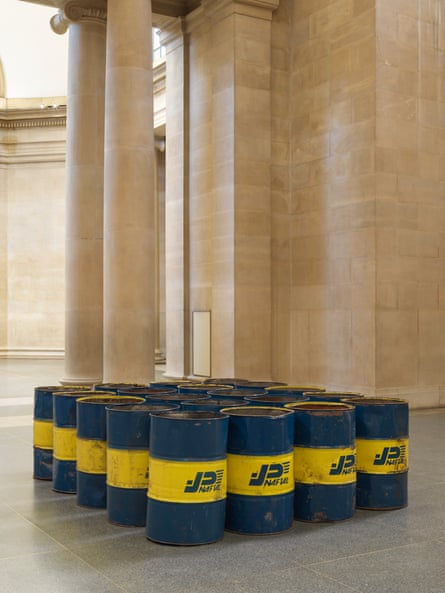 The rooms are jewel-coloured and densely hung. All the old favourites remain – Turner, Gainsborough, Constable, the pre-Raphaelites – alongside sharp recent purchases: the haunting interiors of Iraqi painter Mohammed Sami; Zineb Sedira's superbly wry films (early hit of the last Venice Biennale); Lydia Ourahmane's haunting oil barrel installation – the first artwork legally to leave Algeria since it gained independence in 1962, with its redolent scent and its ghostly inner music, which finally reached here in 2014.
It will all change again – and quite possibly should, in much less than a decade this time. Some of the texts will have dated by then, some of the biases faded. But in the meantime, this rehang opens its arms to the present. The art can hold its own against the preaching any day, after all. Just look more and read less.
Star ratings (out of five)
Tomás Saraceno: Web(s) of Life ★★★★★