Where to buy kids' masks in Canada and what to look for – Global News
Notebooks, pencils, binders, laptops — and face masks. As families get ready for a new school year in the midst of the novel coronavirus pandemic, face coverings are likely to be on the back-to-school shopping list, at least for children who are heading back to the classroom.
The federal government has yet to release mask guidelines for children, which chief public health officer Theresa Tam has promised by the end of the week. But some provinces like Ontario and Alberta have established students in grades four to 12 will be required to wear masks. In Ontario, that's mandatory anywhere indoors on school property, while in Alberta it's a requirement whenever social distancing is not possible.
READ MORE: Canada to release mask guidelines for children, recommend them for kids aged 10+
Masks for children in kindergarten to Grade 3 are "encouraged" in Ontario and "optional" in Alberta.
Students in the Northwest Territories will also have to wear a mask whenever physical distancing cannot be maintained, such as when moving through hallways, going to the restroom or riding the bus.

2:35


Coronavirus: Dr. Tam says 'layers of protection' needed for back-to-school safety



What makes a good face mask for kids?
Don't get too fussed about the various options, says Dr. Isaac Bogoch, an infectious disease specialist at Toronto General Hospital.
"Cover the mouth and nose, that's all that matters," he says.
But face coverings should also be comfortable so that kids will wear them, he adds.
That's where parents may want to do some research.
Face coverings for kids should be easy to put on and take off and allow for ease of movement as kids horse around and play, says Suzanne Willard, associate dean of global health at Rutgers University's School of Nursing.
READ MORE: Where to buy face masks online in Canada and how to choose
That's why gaiters, neck tubes that can be pulled up above the nose, may be a good option, says Willard, who used to work in paediatrics.
While many gaiters aren't meat to be face masks, some manufacturers and local designers are starting to make double-layer neck tubes intended to work as face coverings amid the epidemic.
"Is it as good as a regular cloth mask? I don't think so," says Willard. "But is it better than nothing? Yeah."
Cloth masks for COVID-19 should be made of at least two layers of tightly-woven fabric such as cotton or linen, according to Canadian government guidelines.
READ MORE: N95 masks unsafe to use after 2nd sterilization
Willard adds the material should be breathable, too.
"When you start getting into the nylons — the non-natural fabrics — then it increases the chances of you sweating," she said.
That, in turn, causes your mask to get wet and lose its integrity, making it easier for viruses and bacteria to move back and forth, she added.
A face-shield, in addition to a mask, may also be an option for parents concerned about protecting the eyes, says Willard. Although, she adds, "if a kid has an itchy eye, they're still going to scratch their eye."

9:42


Parenting Playbook: Return to School



How many masks should parents buy?
Buy as many masks as you'd buy underwear for your child, Willard says.
Kids get messy, so it's a good idea to toss their cloth masks in the laundry at the end of every school day, just like parents would with the rest of their clothes, Willard says.
And since accidents happen at school, it's good practice to make sure they have an extra clean mask at hand in their backpack or cubby, she adds.

5:37


Coronavirus: Is it safe for kids to return to school?



Where to buy kids' masks
You can buy kids' face masks from major clothing retailers, Canadian designers as well as a wealth of small businesses selling through Etsy or Instagram.
You may want to browse customer reviews for feedback on fit as well as masks shrinking or losing their shape after being washed.
Here are a few options:
Features: Kids face masks are one-size-fits-all and made with three-ply, 100 per cent cotton poplin.
Price: $12 for a pack of three, $15 for a pack of 5 or $30 for a pack of 10, depending on models
Features: These triple-layer cotton masks come in mixed prints and over-the-ear loops. You'll find girls, boys and unisex prints.
Price: $20 for a pack of three
Features: This Edmonton-based company makes cotton masks with elastic that secure behind the head, not the ears. The inner layer is made of organic cotton, and there a filter pocket.
Price: $49 for a pack of three
Features: Sold over Instagram, these masks have a distinctly Torontonian flair with Blue Jays and Raptors prints (although you'll also find Batman and princess themes). Made of 100 per cent cotton they come in three kiddie sizes: baby, small kid, and big kid.
Price: $15, plus $5 for an optional filter pocket
Features: Made of CoolNet UV+® fabric, these masks come with adjustable straps that fit around the head and neck and a filter pocket.
Price: $40 includes five replacement filters
Etsy is full of local craft makers producing and designing fabric masks for adults and children. It's also one of the few places online where you'll find neck gaiters meant to serve as face masks. Below is a double-layer cotton and spandex model made by Pennsylvania-based Weehourshandmade. One size fits most kids aged three to 13 and costs $16.73 plus cross-border shipping.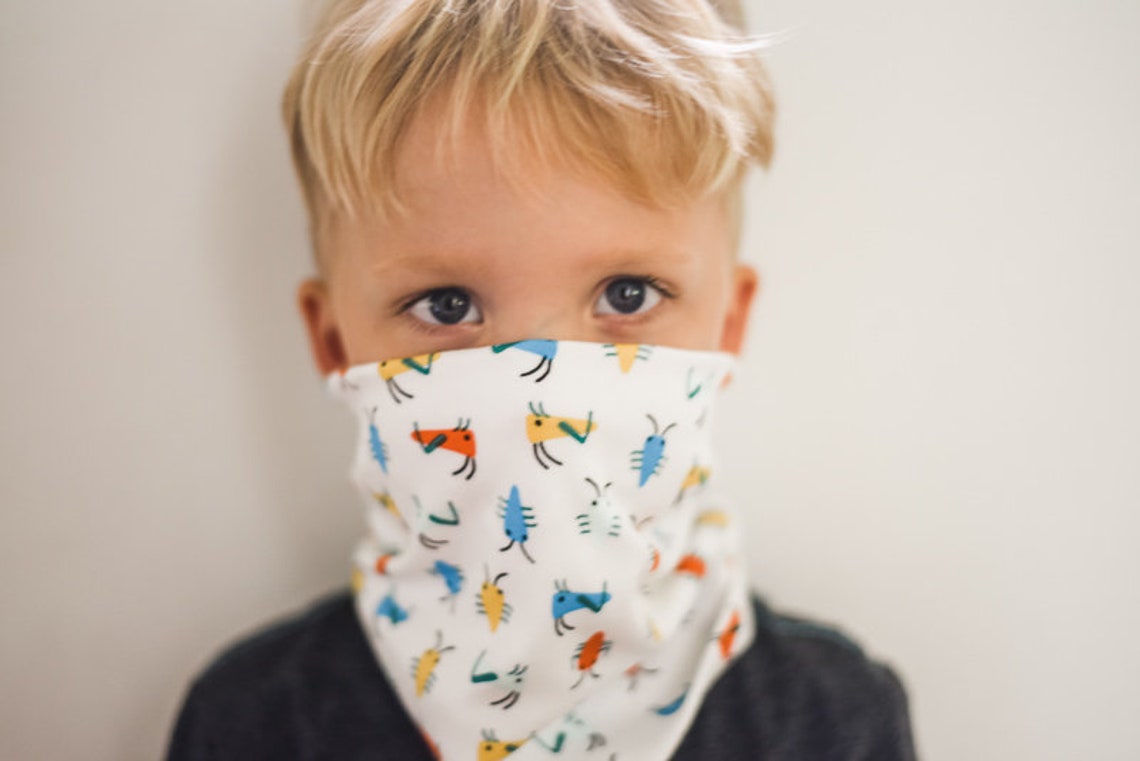 Will my kid wear a mask?
Social media threads suggest many parents are skeptical about whether their little ones will tolerate a piece of cloth over their nose and mouth for several hours a day.
Willard, though, is optimistic.
While adults have a hard time taking to things they're not used to, kids are often much more adaptable, she says.
"I have seen kids take on the mask, as this is what you do."
© 2020 Global News, a division of Corus Entertainment Inc.
Trump claims Canada wants U.S. border reopened – CTV News
OTTAWA —
U.S. President Donald Trump says that Canada wants to see the Canada-U.S. border reopened, but the federal government says it'll make the decision based on public health advice.
"We're looking at the border with Canada. Canada would like it open, and you know we want to get back to normal business," Trump said outside the White House on Friday.
"We're going to be reopening the borders pretty soon," Trump said, adding that he thinks the U.S. is "rounding the turn" in that country's still massive COVID-19 outbreak.
To date there have been more than six million cases of COVID-19 in the U.S. and more than 198,000 Americans have died. Over the course of the crisis there have been 141,565 confirmed COVID-19 cases in Canada, and more than 9,000 deaths.
On Friday federal officials on both sides of the border announced that the Canada-U.S. border closure would be extended for at least another month, until Oct. 21.
The land border between the two countries has been closed to all non-essential travel since March 21, a move first made to limit the spread of the virus.
The agreement, as it stands, exempts the flow of trade and commerce, as well as temporary foreign workers and vital health-care workers such as nurses who live and work on opposite sides of the border.
Tourists and cross-border visits remain prohibited, though some restrictions on close family members have been eased allowing families to reunite, while others continue to call for further compassion for non-married couples and others who are still not permitted to cross.
Pandemic tensions have flared in Canada over prospective American visitors, some of whom have used loopholes in the rules to enter the country.
CTVNews.ca reached out to Prime Minister Justin Trudeau's office for comment, and spokesperson Chantal Gagnon pointed to Public Safety Minister Bill Blair's comments earlier on Friday about the continuation of the border restrictions.
"We will continue to base our decisions on the best public health advice available to keep Canadians safe," Blair said in a tweet.
In the latest episode of CTV News' podcast Trend Line, Chair of Nanos Research Nik Nanos said that "people in Canada see what's happening in the United States, and they have significant concerns about the risks to Canadians because of the pandemic."
[embedded content]
Canada's Public Health Agency president resigns amid rising coronavirus cases – Global News
Tina Namiesniowski, the president of the Public Health Agency of Canada, has resigned leaving the department in charge of leading country's response to the coronavirus without a leader, amid rising cases of the virus in some of Canada's most populous provinces.
In a letter to staff released by Health Canada, Namiesniowski said she needed "to take a break" and "step aside so someone else can step up" to lead the public health agency tasked with coordinating Canada's response to COVID-19. Namiesniowski was appointed to the job in May 2019.
Her resignation comes as caseloads of the virus have surged in Ontario, B.C. and Quebec and criticism about the federal government's response to the virus in the early stages of the pandemic has mounted.
A spokesperson for Health Canada said, "a replacement will be announced next week."
[ Sign up for our Health IQ newsletter for the latest coronavirus updates ]
"This is a very difficult decision for me but I think it's the right one," Namiesniowski said. "You really need someone who will have the energy and the stamina to take the Agency and our response to the next level.
"Even though I might not have accomplished everything I would have liked to have done, I truly hope the foundation for change I've championed through our work on PHAC of the future will help serve as a road map moving forward."
READ MORE: Canada adds 870 new cases, 6 deaths in last 24 hours
According to her LinkedIn profile, Namiesniowski worked as the executive vice-president of the Canada Border Services Agency and served as an assistant deputy minister at Agriculture Canada and Public Safety Canada.
"I will support the transition of a new President and then I am going to take some time to reconnect with my husband, kids and aging father and think about my own next steps," she wrote. "I do want to remind everyone about how much of a toll this relentless pace can have on each of us and our loved ones so please try and look after yourselves and each other."
PHAC, which Namiesniowski formally headed, faced criticism over a depleted national emergency stockpile of personal protective equipment (PPE) and reports that the Global Public Health Intelligence Network (GPHIN) – a federal pandemic early warning system — was shut down last year.
Namiesniowski said in her email Friday, "it is hard to believe that close to ten months has elapsed since the Agency picked up the initial GPHIN signal on December 31st, 2019, about a cluster of cases in Wuhan of an unknown respiratory illness," but did not mention the ongoing controversy around GPHIN.
Last week, Health Minister Patty Hajdu ordered a review over the warning system matter and reports that officials working on it were silenced, just months before the global outbreak of the coronavirus.
Hajdu said in a statement that a "full and expeditious independent review" has been requested.
"We were concerned to learn of reports that GPHIN analysts felt that they were not able to proceed with their important work, and that some scientists didn't feel fully empowered. That's why we have ordered a full and expeditious independent review of GPHIN," said Hajdu's office in a statement.
"This independent review is an important step in restoring GPHIN and ensuring that it can continue its valuable contributions to public health in Canada and around the world."
© 2020 Global News, a division of Corus Entertainment Inc.
Canada's premiers push for $28B top-up to annual federal health care spending – CBC.ca
Canada's premiers are demanding $28 billion in additional federal funding to cover their ballooning health care costs — a boost that would bring annual transfers to $70 billion.
The premiers have agreed unanimously to call on the Liberal government to address what they call an "absolutely critical" situation.
The premiers are meeting in Ottawa today to map out their demands ahead of next week's throne speech.
Ontario Premier Doug Ford, Manitoba Premier Brian Pallister, Alberta Premier Jason Kenney and Quebec Premier François Legault — the incoming chair of the Council of the Federation — met in person, with other premiers joining virtually.
"It's time for the federal government to do its fair share," Legault said.
Ford said that as the demand for health care services has risen, support from the federal government has been decreasing.
"We're in desperate need of your support," he said.
The proposed increase would mean the federal government would cover 35 per cent of provinces' health care costs, up from the current 22 per cent. Right now, the provinces spend $188 billion on health care, with the federal government covering $42 billion.
"We need the support from the federal government. We're asking the fed government to support all Canadians. Be a true partner when it comes to health care," Ford said.
Pallister said Canadians are living in fear because of the consequences of federal underfunding, such as longer waits for services and diagnoses.
"Right now, millions of Canadians are waiting for an appointment for a test, for consequential treatment, for surgery. Those delays are painful. A lump that isn't diagnosed is not fun," he said.
"Every single day right now in Canada, there are people in fear directly of the consequences of delay, and their families join in that fear, and their friends join in that fear."
Pallister said it's been a longstanding problem that has gone unaddressed. He said it's time for the federal government to resume its "rightful role as a true funding partner" in order to shorten wait times and improve health care.
Ford and Legault met in Mississauga, Ont., last week to discuss economic recovery and health preparedness as the number of active COVID-19 cases rises in parts of the country.
"Premier Ford is in Ottawa to join his fellow Premiers ahead of the throne speech to press the federal government on critical priorities for the people of Ontario, including strengthening frontline health care, helping people and businesses get back on their feet, and moving shovel-ready infrastructure projects forward," said Ford's spokesperson Ivana Yelich in an email.
The federal government is providing $19 billion to the provinces to help ease the financial burden of the pandemic; about $10 billion of that sum is for health-related expenses.
But Ford and Legault said more long-term funding is needed to address critical health care issues that predate the pandemic, such as the increasing cost of new medical technologies and drugs and an aging population.
The federal government will transfer almost $42 billion to provinces and territories for health care this fiscal year under an agreement that mandates an an annual increase of three per cent.
Legault has said that the federal contribution is well below the 50 per cent share originally agreed upon decades ago.
Before the premiers' meeting, Ford sat down with Ottawa Mayor Jim Watson and the city's chief medical officer of health, Dr. Vera Etches.
The provincial government has imposed stricter rules on gatherings in the Ottawa, Toronto and Peel regions after their COVID-19 infections spiked.