Why Beige Is The Preferred Color For Rich Women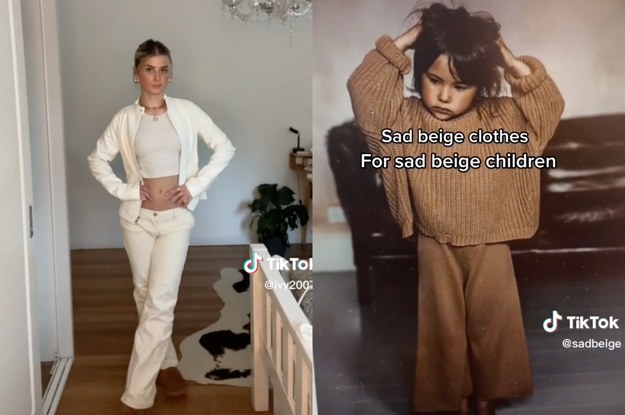 More generally, DeRoche believes that beigeification has taken off among the hoi polloi, like yours truly, because of high-end brands like the Olsen twins' the Row, which have made luxury staples in neutral colors a status symbol (it may look like I'm wearing a simple pair of slacks with a sweater, but the outfit costs more than your rent).
"That's kind of trickled down to people to say, 'Oh, well, the wealthy don't wear color,'" she said.
Amy Wax is an artist and color expert who specializes in helping people choose the colors that best express who they are in their homes, offices, and clothes. A person who gravitates toward beige, she said, values comfort and warmth: It's classic, it never goes out of style, and it is soothing.
"Beige creates that sense of calmness and tranquility," she told me.
It's also versatile; with an underlying palette of beige, it's easy to add pops of color at your discretion. Wax has noticed that since the pandemic began, many design trends have been incorporating earth tones, browns, slate blue, and sage green, which essentially turns the home into a tranquil oasis reminiscent of the outdoors.
"I think we're not afraid to use those colors of nature again, because we were surrounded by it [during COVID lockdowns]," she said. "And it felt good."
The same principles apply when it comes to clothing. Wax said that beige conveys warmth and safety; cloaking yourself and your baby in these muted tones can signal to the world that you have it all together.
"It's something that's very understated — it's almost like they don't need color," she said. "They're fine. They're totally secure. They're safe."
Safety, security, control: If beigeification conveys anything, it may be a sense of care.
Obi, Oyedepo's leaked conversation throws LP's media team into confusion – Vanguard
[unable to retrieve full-text content]
Obi, Oyedepo's leaked conversation throws LP's media team into confusion Vanguard




Source link
New Rules Limit Media's Ability to Cover Ukraine War
washington — 
Regulations from Ukraine covering media access to the front lines of the war have drawn criticism from reporters and media advocates who say the rules are not proportionate with the dangers for war correspondents.
Two of Ukraine's operational commands, in the country's east and south, released new rules in March governing how media can operate in areas under their control.
The rules bar journalists from working in "red zones" deemed the most dangerous and require a military press officer's escort to work in less dangerous "yellow zones."
Journalists can work freely in "green zones." And commanders will have discretion to allow reporters access to red zones in certain circumstances, according to local media.
Restrictions 'worrying'
But media watchdogs have said that the new regulations mean journalists are now denied access to over 50 municipalities in Ukraine.
"It's worrying that such a decision can be made to restrict the access of journalists," said Jeanne Cavelier, the Eastern Europe expert for media watchdog Reporters Without Borders, or RSF. "It's in [Ukraine's] interest" to facilitate reporting on the war.
At least one command later removed the order from its website, Cavelier told VOA.
Officials are advising journalists to connect with press officers directly when planning an assignment "to know in which color it is, if they're allowed [access] or not," said Cavelier.
The order is part of amendments to regulations under martial law governing how journalists can work.
All military commanders are now required to classify the territories under their control into separate zones.
Ukraine's Washington embassy did not reply to VOA's email requesting comment.
VOA emailed the Ukraine Ministry of Defense on Friday to ask whether the rules are now being enforced, and for its response to media concerns. At publishing time for this article, VOA had not received a response.
A Ministry of Defense statement provided to the advocacy group the Committee to Protect Journalists said, however, that the rules are meant "to improve interaction with representatives of the mass media while working in combat areas."
Media risks
Russia's invasion of Ukraine has made the country one of the deadliest for journalists. More than a dozen local and foreign correspondents have been killed there in the past year while on assignment.
The war also attracted large numbers of freelance journalists, many of whom were unfamiliar with working in conflict zones.
"The thing about war is the situation can change day to day and even hour to hour," said Clothilde Redfern, director of the Rory Peck Trust, an organization that supports freelance journalists.
"The situation in Ukraine is changing all the time, and up-to-date, accurate in-country information is crucial for journalists' safety," she said.
Other media experts told VOA they thought the restrictions were excessive and not commensurate with the risks for journalists.
Sergiy Tomilenko, president of the National Union of Journalists of Ukraine, told VOA that "the new rules of military accreditation should not completely stop coverage of this war." He added that areas should be considered red zones only if reporting is impossible there because of the conflict.
Skepticism on safety
Oksana Romaniuk, the head of the Institute of Mass Information, a local press freedom group, said the restrictions appeared to be about safety, but she said she thought they were more about control.
"We do not think that it is connected with the desire to make the work of journalists safer. It is, rather, connected with the desire to make everything work like the army," she told VOA from Kyiv.
Romaniuk said she thought Ukraine's north and west operational commands had developed similar rules but had not yet published them because of the criticism of the other commands' policies.
"They're too rigid," Karol Luczka said of the rules. Luczka, who focuses on Ukraine for the International Press Institute, a media rights organization, said, "There shouldn't be a pre-established list of places which are excluded to journalists."
"Access should really only be based on the situation on the ground," on an ad hoc basis, Luczka said.
Cavelier, of RSF, said it's important that the Ukrainian government balance journalist safety with the freedom to report. "We understand that some parts of the front line — very hot areas — are forbidden for journalists," she said, but that doesn't mean journalists should be barred entirely.
Details on the new regulations have also been unclear, analysts said, with zone lists on some fronts incomplete. This has added to the confusion and frustration, Cavelier said.
Military escorts — which Ukraine's Institute of Mass Information said are in short supply — are also supposed to escort reporters in yellow zones, but some journalists already live and work in yellow zones full time. That has led to questions about how a journalist based in one of those areas is supposed to operate.
Alongside the war on the ground in Ukraine is a battleground on the internet, with disinformation pushed out in an effort to influence opinion.
"Journalists in Ukraine are crucial to countering Russian disinformation," said IPI's Luczka. "In order to ensure that the world continues to trust Ukraine in terms of what is going on on the front lines, journalists need to be present."
The ultimate consequence, said Romaniuk, is that some stories may never be told.
Reporting that, for the past year, has documented crimes and informed people about the plight of Ukraine's people will now be harder to achieve.
"For us, it is extremely important to tell the world, because people are dying every day," Romaniuk said. "It is the only thing that gives us hope and gives us strength and resilience."
Facebook users consume more fake news than users of Twitter, other social media sites: Study
When it comes to election misinformation on social media, Facebook takes the cake, according to a new study which found heavy Facebook users were far more likely to consume fake news than Twitter or other social media sites.
The study, published earlier this month in the peer-reviewed journal Government Information Quarterly, found Facebook users read the most fake news about the 2020 U.S. presidential election and reported the most concern about votes not being counted properly.
They also found the biggest factor in whether a person reported being suspicious about the election results was their level of fake news consumption, not their method of casting their vote.
According to the study, a big part of the problem with relying on social media for news is that these sites have algorithms designed to keep you scrolling and engaged, meaning that they're likely to keep serving you the same content you're engaging with and make it harder to climb out of a disinformation hole once you are in it.
"What we saw in this study is that if you aren't careful, the bias that you bring into your news consumption can be absolutely confirmed and supported if you are in a place like Facebook where the algorithms feed into that," Robert Crossler, study co-author and an associate professor in the WSU Carson College of Business, said in a press release.
Those who got their news about the 2020 election primarily by navigating directly on a news website were less likely to consume fake news, the study found, and were more likely to believe that the election had unfolded the way it did.
U.S. President Joe Biden's win in 2020 was accompanied with unproven allegations pushed by former U.S. President Donald Trump that the election had been stolen from him and that many votes for him had gone uncounted. Allegations of voter fraud with mail-in ballots and with Dominion voting machines were spread after the election, but none of these claims stood up in court, and few legal experts supported this position.
However, the lack of factual support didn't stop the story from spreading widely on social media.
It's not new that Facebook and other social media sites can be drivers of disinformation and fake news, but it's trickier to measure how consuming fake news affects a person's perception of reality.
In order to get a better understanding of this, the Washington State University-led study designed three surveys relating to how political alignment, fake news consumption and voting method each individually impacted a person's perception of the election.
In the study, "fake news" was defined as articles and sites spreading disinformation that was provably incorrect, not articles or sites with information perceived to be false from a partisan standpoint.
The first two surveys were given to different groups of voters prior to the election, both containing hypothetical scenarios for participants to react to.
The first posited a scenario where the participant would either be voting in-person, through the mail or online. Once the participant had read the scenario of their voting method, they were asked questions about how concerned they were about votes being counted properly, and how much news they got from various news organizations.
The second survey gave the scenario of all voters needing to use mail-in ballots that would be counted either by a government official, a neutral party or by a voting machine. They were then asked again about their concerns regarding votes being counted and their news sources.
The third survey was presented to a group of actual voters after the election. Participants filled out what their voting method had been, and then answered the same questions presented in the previous two surveys. They then reported what percentage of their news they got from direct navigation, Twitter, Facebook, or other social media sites.
Researchers were surprised to find the voting method — whether people voted by mail or in-person — had no measurable impact on how likely participants were to be worried about votes not being counted properly.
Instead, the more a person reported receiving their news from social media, particularly Facebook, the more likely they were to be heavily concerned about votes not being counted.
This suggested to researchers that Facebook, more so than other social media sites, was elevating sources spreading these fears.
"I don't think that Facebook is deliberately directing people towards fake news but something about how their algorithm is designed compared to other algorithms is actually moving people towards that type of content," Stachofsky said. "It was surprising how hard it was to find the websites Facebook was directing people to when we looked for them in a web browser. The research shows that not all social media platforms are created equal when it comes to propagating intentionally misleading information."
The study also found there was no age group more likely to read fake news, which is different from other studies, suggesting that there could be a higher proportion of younger adults consuming fake news than had been previously thought.
Authors noted that more research needs to be done to understand how disinformation spreads and how it can be combatted, particularly in a political climate where the partisan divide in the U.S. is increasing the distrust in mainstream media. They're hoping that this study could spur social media sites to think more about how their algorithms impact their users.
"This supports the argument that people need to be encouraged to be information or news literate," Crossler said. "Right now, we are talking about the elections, but there are a lot of other issues, such as the war in Ukraine, that directing people to misinformation is not only misleading but also potentially dangerous."