Why Israel is leading the world with COVID-19 vaccinations – Yahoo News Canada
CBC
Ask Nadine Currie Jackson what her perfect day looks like, and she instantly gets a vision.It's cold. Wintertime. The sun is just coming up, snow is coming down. And she's outside, enjoying it, in her bathing suit. In the Bay of Fundy."There's something magical about sitting in the water in the middle of January or February and watching the snow falling around you," Currie Jackson said. "That's heaven to me."For several years now, the Beaver Harbour resident has been taking almost-daily dips in the bay's famously frigid waters, all year round. Currie Jackson is a registered massage therapist, massage therapy teacher and athlete who is passionate about nature and about pushing her body to its limits. Over the years, those passions have driven her to master short track speed skating, competitive inline skating, road racing and strength training.A few years ago, she discovered the chilling thrill of cold-water immersion and the habits of Dutch extreme athlete Wim Hof, founder of the Wim Hof Method of frequent cold exposure, breathing techniques and meditation.Nirvana for those who crave the coldFrom then on, she was taking the icy plunge on a daily basis and began taking the Wim Hof Method certification course."What usually happens with me is that with anything I take an interest in, I just jump in with two feet, and so I decided I wanted to become an instructor in it," Currie Jackson said.Once she began the certification courses, she said, "I started to understand why I enjoyed the cold water so much, and it became something I wanted to do every day."The Bay of Fundy is renowned for having the world's highest tides, but also for its cold water.With average summer water temperatures of between 8 and 12 C and winter temperatures of between 0 and 4 C, it's never what most would consider a comfortable place to take a dip.But it's nirvana for Currie Jackson and others who crave the cold.Cold-water immersion fans cite physiological benefitsWim Hof Method followers cite the physiological benefits of cold-water swims, such as decreased inflammation, reduced stress levels and improved sleep.Currie Jackson says those are definitely a factor for her, but she couldn't do it if she didn't enjoy it. "This is something that's just part of my natural day, and if I don't do it, I actually feel strange," she said. "It just sets my mood for the rest of the day." > The Bay of Fundy is something people around the world wish they had access to for cold-water immersion, and we have it on our doorstep. – Nadine Currie JacksonThere's a ritual to it, she said, and it typically goes like this.First, she gears up: swimsuit, Neoprene water shoes, a warm hat, and "if it's really cold," Neoprene scuba diving gloves. Then she heads for the beach.There, she warms herself up, does some visualization and intentions and calms her mind. Then she walks into the water, slowly. "This is not like a polar plunge, where people run in and run back out," she said. "You want to go in with intent, as calm as you can be, because that's part of the process … for your brain to be able to say 'It's fine, you're OK.' "Mindfulness, safety are crucial to the ritualOnce she's in the water, she stays there, not moving around and swimming but just exposing her body to the cold.She stays in for no fewer than two minutes — that's when the physiological benefits begin to kick in — and sometimes as long as 15 or 20 minutes."I just go by how I feel," she said. "It's not a competition, and it's important for me to be aware of what's going on in my own body. Making sure I feel fine and that I'm not breathing too fast, or feeling lightheaded."The mindfulness is a key component of the cold-water plunges, Currie Jackson said, but so is safety.She advises anyone considering taking the plunge to first get proper instruction to avoid putting themselves in any danger.> There are days when it's too choppy, or I just have a feeling that it's not a good day to go in. So I follow those instincts. – Nadine Currie JacksonThe training protocol involves exposing the body to cold water gradually, with cold showers and then cold baths, before ever taking on the ocean."Nature is not a controlled environment," she said. "There are days when it's too choppy, or I just have a feeling that it's not a good day to go in. So I follow those instincts."Other times, if the water seems "a bit challenging," she'll bring a friend along.Often, her husband will accompany her — "I haven't convinced him to go in yet" — and sometimes he'll just surprise her, appearing unexpectedly and serenading her while she's in the water. 'It's amazing how many people do this now'When the pandemic finally loosens its grip on things, Currie Jackson plans to travel to Poland to take the final certification module that will enable her to become a Wim Hof Method instructor. But for now, she'll continue with her daily ritual of cold-water immersion and connecting with other Maritime chill-seekers on social media."It's amazing how many people do this now," she said.She loves seeing the concept being embraced here, and seeing New Brunswick's natural wonders being appreciated, too."Most of us live in areas on or close to a body of water, and I feel it's an untapped resource," she said. "The Bay of Fundy is something people around the world wish they had access to for cold-water immersion, and we have it right here on our doorstep."
Military to support vaccination efforts in northern Ontario Indigenous communities – pentictonherald.ca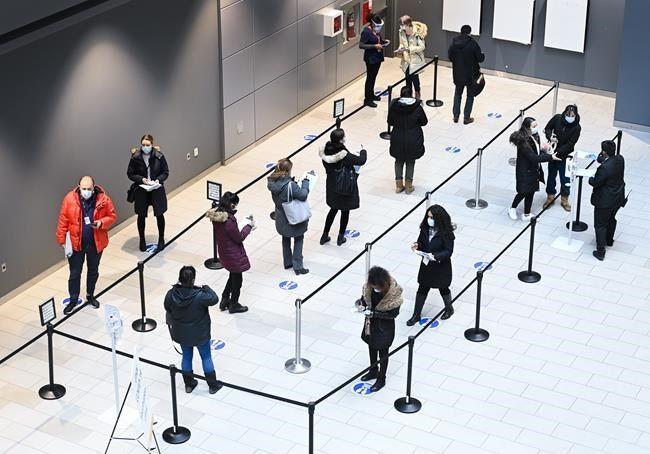 TORONTO – The Canadian military is set to help with COVID-19 vaccine distribution in northern Ontario, as officials investigate the death of a teenager who had the virus and worked at a long-term care home in the province's southwest.
Federal Public Safety Minister Bill Blair tweeted Sunday that the Canadian Armed Forces will support vaccine efforts in 32 communities of the Nishnawbe Aski Nation. The move came after a request from the province for assistance in getting vaccine to First Nations communities, he wrote.
"ur government will always be there to support the fight against #COVID19," he wrote on Twitter.
The Nishnawbe Aski Nation, whose territory comprises 49 remote communities in northwestern Ontario, did not immediately comment on the pending deployment.
Meanwhile, officials in Middlesex-London said Sunday that a male teen who worked in a long-term care facility in the region was among the three deaths reported on the area's COVID-19 case site earlier in the weekend.
Dr. Alexander Summers, associate medical officer of health for the Middlesex-London Health Unit, said he couldn't provide the exact age or any other details about the teen.
But he said the person was a staff member of the long-term care home who was recently diagnosed with COVID-19 and died earlier in the week.
"Through the course of our investigation, the potential exposures could be many, but certainly the long-term care home is a potential exposure for this individual," Summers said in an interview.
Summers said to his knowledge, the teen was not hospitalized with COVID-19.
He is the youngest person to have died after contracting the virus in the county, Summers said, noting the majority of deaths they've seen among COVID-19 patients have been in an older demographic.
"It can have severe impacts on people of all ages and this story and this unfortunate and tragic situation as a reminder of that," Summers said.
"Certainly, this is a very rare occurrence. It's a rare event. And the investigation continues as to understanding what exactly might have happened. However, regardless, it's a sad day."
The Roberta Place Retirement Lodge long-term care home in Barrie, Ont., north of Toronto, also made headlines over the weekend after health officials said a U.K. variant of COVID-19 was behind a deadly outbreak there.
On Sunday, the Simcoe Muskoka District Health Unit said it had learned of an additional individual with the U.K. variant within the region.
The unit said that individual had close contact with a person who is also part of a COVID-19 outbreak at Bradford Valley Care Community, a long-term care home in Bradford West Gwillimbury, south of Barrie.
Officials are now investigating whether that outbreak is also due to the U.K. variant.
Ontario reported 2,417 new cases of COVID-19 and 50 more deaths related to the virus on Sunday.
The numbers were slightly up from Saturday's 2,359 cases, though deaths declined by two from previous figures.
Health Minister Christine Elliott said there were 785 new cases in Toronto, 404 in Peel Region, 215 in York Region and 121 in Niagara.
Over 48,900 tests had been completed in Ontario over the past 24 hours.
The province reported that 4,427 doses of a COVID-19 vaccine were administered since the province's last report, and 1,436 are hospitalized with the virus.
A total of 280,573 doses of the COVID-19 vaccine have been administered in Ontario so far.
Since the pandemic began, there have been 255,002 confirmed cases of COVID-19 in Ontario. Of those, 225,046 have recovered and 5,803 people have died.
On Monday, the province plans to issue the results of a weekend-long expansion of its "inspection blitz" of big-box stores to ensure they were following COVID-19 guidelines.
The workplace inspections, which started in the Greater Toronto and Hamilton areas last weekend, stretched out to Ottawa, Windsor, Niagara and Durham regions.
Preliminary figures from Saturday showed inspectors went into 310 big-box stores and issued 34 tickets and 53 orders, Labour Minister Monte McNaughton said Sunday.
Overall, inspectors found the stores were only at "64 per cent compliance, which the minister said wasn't good enough.
"The three big issues that we're finding this weekend: masking protocols aren't being followed, in some cases; the physical distancing is still an issue in some stores; and this weekend we found that some of these big-box stores don't have a safety plan that's required of them to prevent COVID-19 from coming into the workplace," McNaughton said in an interview.
"Every business should know at this point in the pandemic what's expected of them."
This report by The Canadian Press was first published Jan. 24, 2021.
Note to readers: This is a corrected story. A previous version said there had been 102 deaths in Ontario over the past 24 hours. There were, in fact, 50 deaths.
Health unit probes whether COVID-19 variant behind 2nd Ontario long-term care home outbreak – CBC.ca
The Simcoe Muskoka District Health Unit is investigating whether an outbreak at a long-term care home in the town of Bradford West Gwillimbury is due to the variant first detected in the United Kingdom.
At a news conference on Sunday, the health unit said a person linked to the Bradford Valley Care Community has tested positive for the variant. This person has had close contact with another person who is a part of the outbreak at that home, it said.
Dr. Charles Gardner, medical officer of health for the Simcoe Muskoka District Health Unit, said the Public Health Ontario Laboratory told the health unit about the positive case late Saturday.
"Given this situation, we are working together in partnership with the residence to implement additional measures to contain the spread while pursuing the necessary tests to determine if it is the U.K. variant of COVID-19 that is the cause of this outbreak," Gardner said in a new release.
The health unit said it is investigating "all other connections" to the person who tested positive. Gardner said the person worked in a retail setting in Simcoe County that offered curbside pickup, and two COVID-19 cases are linked to this setting.
The news comes after the health unit said the variant is behind a deadly outbreak at Roberta Place Long Term Care in Barrie, Ont., on Saturday. Genome sequencing on six COVID-19 samples from the home have been identified as the highly contagious variant.
An outbreak at Roberta Place, first declared on Jan. 8, has resulted in the deaths of 40 residents and one essential caregiver as of Sunday.
There are 127 resident and 86 staff cases of COVID-19 at Roberta Place. Six residents are also in hospital with COVID-19.
The outbreak at Bradford Valley Care Community, meanwhile, was declared on Jan. 14. As of Sunday, six residents out of 230 and three staff out of 260 have tested positive for COVID-19.
The health unit said more testing will be done to determine whether the outbreak is due to the variant. It added that the outbreak is "well under control at this time with a relatively low case count," but the possibility that it may be due to the variant must be assessed and managed.
Dr. Andrea Moser, chief medical officer for Sienna Senior Living, which owns and operates the facility, said in a news release on Sunday that staff members at the home are working to contain the outbreak.
"We are being extremely vigilant in our monitoring for signs and symptoms of COVID-19 and are taking all of the necessary steps to protect the safety of our residents and team members," Moser said.
"We are working proactively with public health and community partners, as fighting the virus will require everyone's expertise and teamwork."
Staff at home implementing measures to control outbreak
Moser said case and contact measures are being undertaken, including:
Extending the length of isolation for cases and close contacts.
More readily identifying close contacts.
Quarantining all household contacts of confirmed or probable cases as quickly as possible.
The health unit said its staff vaccinated most of the residents in Bradford Valley Care Community on Jan. 15 as a protective measure against COVID-19.
As of Jan. 16, all residents of long-term care homes in Simcoe Muskoka have been offered their first dose of immunization against COVID-19, the health unit added.
Moser said about 60 per cent of staff members and 96 per cent of residents at Bradford Valley Care Community have received the first dose of the Pfizer-BioNTech vaccine.
"We appreciate all the efforts from our partners in the community with the rollout of the vaccine and will continue working closely with them as additional doses are available for deployment," she said.
Simcoe-Muskoka top doc on UK COVID variant in area: 'All eyes are watching us right now' – Sudbury.com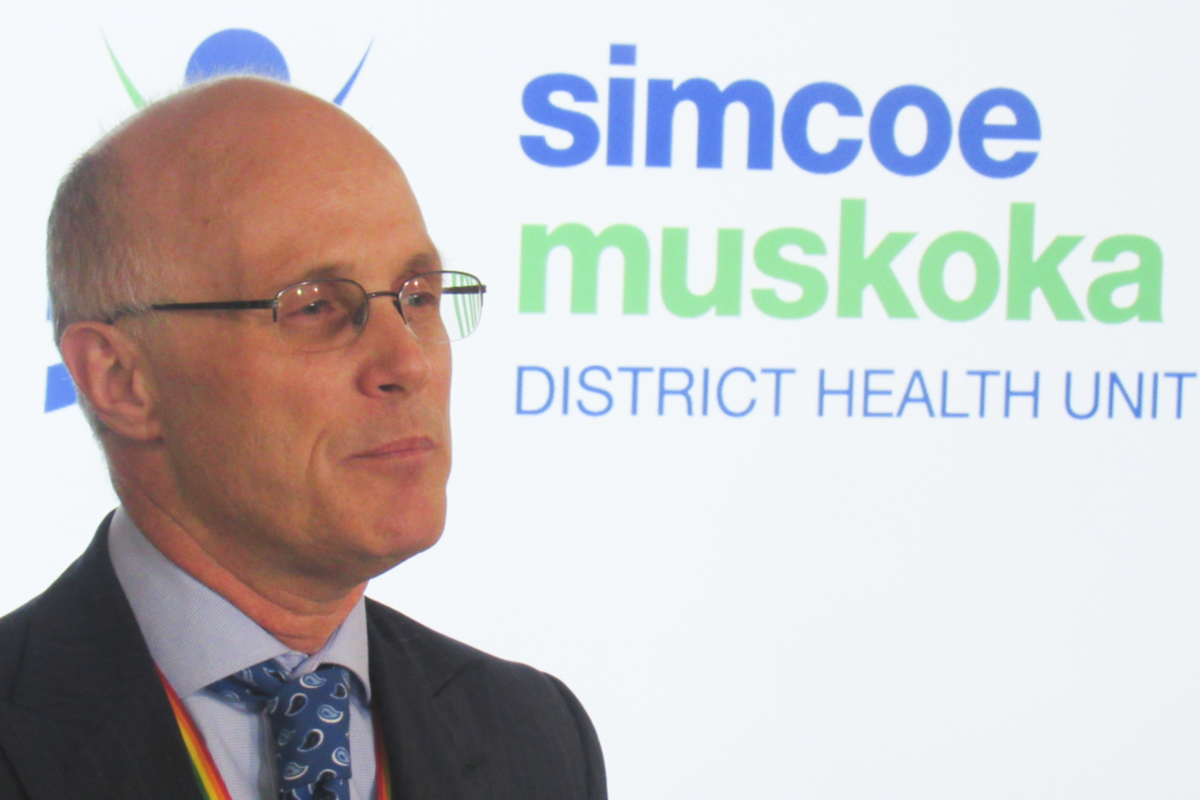 BARRIE – As more details emerge about the presence of the United Kingdom variant of COVID-19, it could also mean more changes to protective measures in long-term care homes, the local community, and abroad.
On Saturday, public health officials confirmed the more virulent UK B.1.1.7 variant is present at Roberta Place in south-end Barrie, where the death toll has now reached 40***.
There are 127 residents — which represents all but two residents — who have tested positive for the virus, as well as 86 workers, which represents approximately half of the entire staff. Six residents and one staff member are currently hospitalized at Royal Victoria Regional Health Centre (RVH).
The outbreak at the 137-bed Roberta Place long-term care home was first declared on Jan. 8.
This week, it was reported that a worker may have brought the virus into the Essa Road facility after being in contact with an international traveller. Simcoe–Muskoka medical office of health Dre. Charles Gardner was asked if charges could be laid if someone wasn't following quarantine rules.
"When we look at the situation, we actually don't see violation of any of the recommendations from the province, nor was there a violation of the Quarantine Act with regards to the individual who was travelling," he said Saturday during a Zoom call with reporters. "So the exposure in question did not take place out in the community."
The staff member who contracted the virus did not show symptoms at the beginning when they went to work, the doctor noted.
"They were asymptomatic when they were tested routinely," Gardner said.
Public health officials have been reluctant to release any information that could identify either the staff member or the traveller, but Gardner did confirm traveller is a resident of Simcoe–Muskoka.
"There's no requirement to be in isolation and not go into work solely because one has been in contact with a traveller who's asymptomatic," Gardner said.
"We need to keep learning about this virus as we go," he added. "I have no doubt that, with this variant, we're going to continue to have to change and tighten up requirements."
Questions have also been raised about staff at Roberta Place going between rooms of residents who were positive for the virus and others who were not.
"I would agree that the home never successfully put in place the kind of cohorting… where you maintain the restriction on the movement of staff, or the exposure of staff to cases and non-cases," Gardner said. "That was something that certainly was not the optimum practice in an outbreak and that wasn't established, in part because of how quickly this spread and in part because the number of staff that became ill, they had such a difficulty maintaining the adequate staffing in the first place."
Cohorting is a strategy to reduce risk of transmission by assigning health-care workers to patients or groups of patients based on patient exposure or infection.
Gardner said it can be "challenging" to do that, however, during a fast-moving outbreak.
"This moved very quickly," he said. "There were 40 cases that emerged over the course of a single weekend at the very beginning. The rapid pace made it difficult to put those measures in place."
David Jarlette, president of Jarlette Health Services, which operates Roberta Place, said the virus came into the long-term care home so quickly they weren't able to achieve cohorting "in a quick and timely fashion."
With so many staff and team members infected at Roberta Place, Gardner said they have had to take a multi-faceted approach to ensure staffing levels are sufficient at the facility. Jarlette Health Services has reallocated staff and also brought in temporary workers from outside organizations, such as the Red Cross.
An occupational health and safety team has been formed involving the health unit and other health-care partners. They also want to make sure all employees are offered the vaccine, Gardner said.
"From what we have seen, the uptake for this has been very, very strong, but we need to continue that as new people come into the facility," he added.
There will be ongoing monitoring at Roberta Place through rapid testing by Orillia Soldiers' Memorial Hospital (OSMH), which has been granted temporary leadership of the long-term care home following an order under the Health Protection and Promotion Act (HPPA). Testing will be done on a twice-weekly basis. Anyone who shows symptoms or who has a positive result will be placed in isolation at home, or hospitalized if needed.
Gardner said they hope to contain the variant to the site and limit spread into the community. This includes "a more strict threshold" for people who are at higher risk and more intensive follow-up. In cases where the person cannot isolate at home, they could be put up in a hotel to reduce the risk of spread to household members, he added.
"Our goal is to avoid transmission into the community," the doctor said.
Gardner conceded community spread involving the UK variant is likely already happening.
"It's certainly on the edge," he said. "It would depend on their contacts beyond their household and whether or not we're starting to see spread there. We haven't seen that yet, but we're on the very edge."
Gardner said health officials also want to protect long-term care homes and retirement facilities from community spread.
If outbreaks are seen at other facilities, Gardner said he will have the genome sequencing done to determine whether the variant is showing up in those other facilities.
With the local emergence of the UK variant, BarrieToday asked Gardner if any modifications to protocols or protective measures will be put in place at other long-term care homes in Simcoe–Muskoka.
In regard to Roberta Place, case and contact management has already changed to identify people who are considered high-risk.
"If in fact there's been an exposure that's just momentary, rather than 15 minutes or more, we're considering that a high-risk contact and those individuals go into isolation or quarantine," Gardner said.
As well, people in full protective gear who have been in a confined space for more than 30 minutes with an infected person, they will also be considered a high-risk exposure. The isolation period for such instances is being extended from 10 days to 14.
"The experience that has been seen with the UK variant in other countries has been of a higher viral load and therefore possibly a longer period of viral shedding," said Gardner, resulting in a longer period of isolation. "We certainly will have to learn from this with regard to what we do at other sites. The whole province will have to learn as we go.
"All eyes are watching us right now," the doctor added.
Gardner said the situation at Roberta Place will have a "profound" effect on other long-term care homes.
"We all need to be on the alert," he said.
The immunization of all residents retirement homes is another immediate change in protocol at long-term care homes, Gardner said. Last weekend, vaccinations were completed for all residents of long-term care homes in Simcoe–Muskoka. That focus has now shifted to retirement homes in the region. There are still 16 homes to go, which Gardner expected to be done by Wednesday.
***This information has been updated with the most recent numbers.