Why Should You Invest in the Stock Market?
A reader asks:
Do you think the stock market is a form of a Ponzi scheme and eventually investors will figure that out and quit investing? The average dividend payout for all stocks is a little over 1%. Back in the 1958 the average lifespan of a corporation was 58 years, but is now down to around 15 years. So, why are people investing in the stock market? The answer is they hope to make money by selling a piece of paper (stock certificate) to someone else (the greater fool) at a nice profit. If there is no one to buy your piece of paper, you will not make money in the long run.
The short answer is, no, I do not think the stock market is a form of a Ponzi scheme.
In a Ponzi scheme old investors are being paid off by money "invested" by new investors. There is no business plan. There are no revenues or profits being created.
The stock market is a collection of corporations. Those corporations make products and perform services. Consumers and other businesses pay money for those products and services.
That results in revenue. Some of that revenue is used to pay the costs of running the business but whatever is leftover can be used to pay down debt, buyback shares of stock, pay dividends to investors or be reinvested back into the business.
The profits of a business accrue to the equity investors in those corporations. So as the sales, dividends and earnings grow over time, the stocks are worth more money.
It is true that the dividend yield is much lower today than it was in the past. This is the dividend yield on the S&P 500 going back to 1950:
The dividend yield was 7% in the early-1950s!
It's now more like 1.6%.
There are a number of reasons for this.
The stock market was still wildly undervalued in the aftermath of the Great Depression and WWII. The 1950s bull market took care of that.
The stock market is certainly more overvalued today than it was back then.
Dividends were also a more prominent feature for investors. Most investors preferred bonds back then so stocks were forced to pay higher dividends to entice people to invest in stocks.
But it's also true that stock buybacks were not really part of the capital allocation decision for management back in the day. It wasn't until laws were changed in the early-1980s that CEOs were able to more easily buy back their own shares.
Yardeni Research publishes a chart of both dividends and buybacks to show the combined yield from both: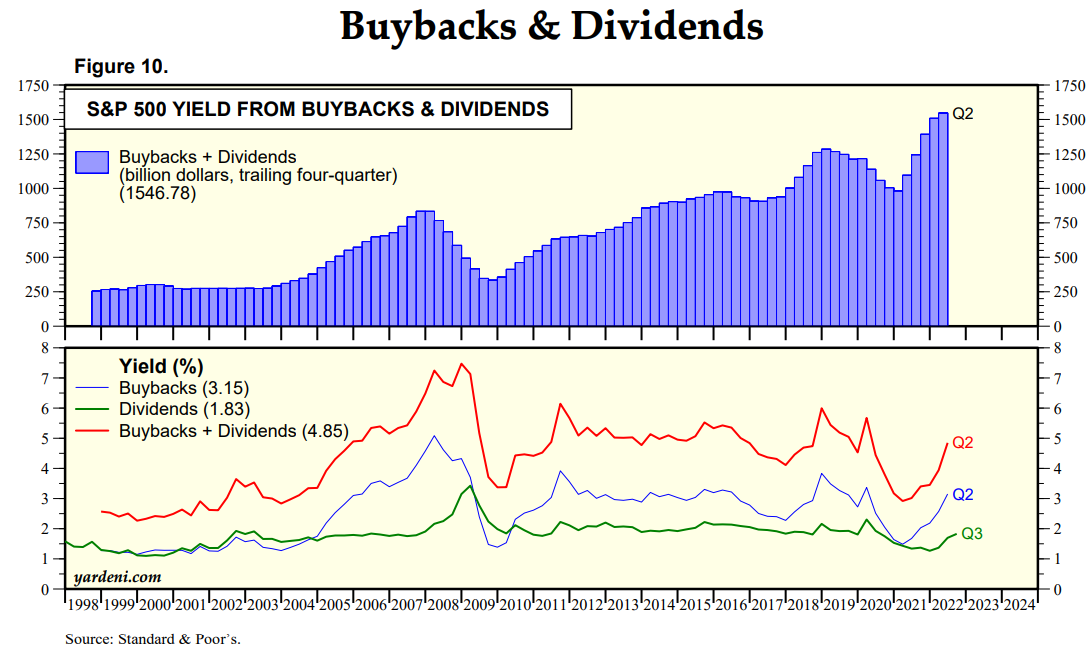 It's close to 5%.
Dividends and buybacks are effectively the same thing so that cash has simply gone in a different direction.
Buybacks are far more cyclical than dividends but you can see this yield has hovered between 4-7% for much of this century.
Yield also doesn't tell the whole story.
Dividends per share were $1.15 back in 1950. Today dividends are more than $60/share. That's compounded annual growth of almost 6% per year.
Earnings growth was similar over this time, growing from $2.34/share in the 1950s to around $190/share today. That's a little more than 6% per year.
The average inflation rate over that time is around 3.5% per year. This means earnings and dividends are growing at nearly 3% per year more than the rate of inflation.
That's a pretty good deal if you ask me.
It's also true that companies don't last nearly as long as they did in the past.
Geoffrey West looked at the long-term data for his book Scale:
28,853 companies traded on U.S. stock market from 1950-2009. Almost 80% of those companies (22,469) were gone by 2009 (through buyouts, mergers, failure, etc.).
Fewer than 5% of companies remain over rolling 30 year periods.
The risk of a company dying does not depend on its age or size as the probability of a 5-year-old company that dies before turning 6 is the same as that of a 50-year-old company reaching age 51.
The estimated half-life of U.S. publicly traded companies was 10.5, meaning half of all companies that go public in any given year will be gone in 10.5 years.
There was just a 12 percent survival rate for the firms on the Fortune 500 list in 1955.
I see this development as a positive, not a negative. This is innovation in action.
Owning a piece of the stock market allows you to profit from the new up-and-coming businesses that are putting the old ones out to pasture.
Now, supply and demand are part of the equation.
If more people want to own stocks, the amount investors are willing to pay for them (ie, valuations) will rise.
If fewer people want to own stocks, the amount investors are willing to pay for them will fall.
But even if fewer people wanted to own stocks in the future it's not like the profits would stop accruing. You would probably just see more corporations buy back their own shares of stock and reap the rewards of an ever-shrinking shareholder base.
Owning shares in the stock market gives you access to the profits, dividends, sales, growth, innovation and ingenuity of the biggest and best companies in the world.
If Charles Ponzi's scheme gave his investors access to that his name would not be used in a derogatory way.
Canada expected to buck trend of big investment banking layoffs – Reuters
TORONTO, Jan 26 (Reuters) – Some of Canada's top investment banks plan to maintain staffing levels to meet client expectations for the same level of coverage through the ups and downs of business cycles, head hunters and industry executives said.
U.S. investment banks, including Goldman Sachs (GS.N), began cutting over 3,000 employees on Jan. 11 citing a challenging macroeconomic environment, raising fears Canadian banks may follow suit. Like their global peers, many Canadian investment banks had staffed up during the pandemic only to see dealmaking slow last year.
At Royal Bank of Canada (RY.TO), the country's biggest lender, for instance, headcount at its capital markets division jumped by 71% over the two years ending Oct. 31, 2022 to 6,887 employees.
But in the meantime Canadian dealmaking fell 39.7% last year to $89.7 billion. That is more than the 36% drop in global deal values to $3.8 trillion following a stellar 2021, according to data from Dealogic.
Yet, Canadian banks have not announced layoffs and some even say they may increase headcount, though dealmaking in the new year is down nearly 50% to $3.2 billion from a year ago, according to Dealogic.
"Right now there is a sense that there isn't a need for cuts in the system," Dominique Fortier, partner at recruitment firm Heidrick & Struggles' Toronto office, told Reuters.
"When there was an upswing in 2021, it happened so quickly that there was no corresponding increase in hiring and so I don't see that we'll have the same decrease in terms of headcount coming."
Toronto Dominion Bank (TD.TO), which last year agreed to buy New York-based boutique investment bank Cowen Inc (COWN.O), expects to continue to grow its global investment banking business as it work towards closing the deal, a spokesperson said.
Desjardins, another Canadian lender, will continue to invest in its growing capital markets division, a spokesperson said.
EXPENSIVE PROPOSITION
Bill Vlaad, a Toronto-based recruiter who specializes in the financial services sector, said that while there was some nervousness around the stability of investment banking teams, Canada is unlikely to see U.S.-level redundancies aside from the annual cull of poor performers called "maintenance layoffs."
"The U.S. is very nimble. They will go in and out of hotspots very quickly. Canada doesn't have that same luxury and has to stay relatively consistent in coverage," said Vlaad.
"You have a consistent group of people working…and they don't fluctuate all that much year to year, decade to decade."
But another down year for dealmaking could see bonuses taking a hit.
RBC, which was ranked No. 2 in Canada M&A, equity capital markets and debt capital markets last year according to Dealogic, has no layoff plans for investment banking in Canada, a source with knowledge of the matter said.
Spokespeople for JP Morgan, which topped the M&A league table last year, Scotiabank (BNS.TO) and Canadian Imperial Bank of Commerce (CM.TO) declined to comment. BMO did not respond to requests for comment.
Headhunters and lawyers say it's less expensive to lay off bankers in the United States compared to Canada.
Howard Levitt, senior partner at employment law firm Levitt Sheikh, said Canadian investment banking employees would be entitled to somewhere between four and 27 months severance with full remuneration depending on their status, re-employability, age and length of service.
Reporting by Maiya Keidan
Editing by Denny Thomas and Deepa Babington
Our Standards: The Thomson Reuters Trust Principles.
Weaker Orders, Investment Underscore Ailing US Manufacturing – BNN Bloomberg
(Bloomberg) — US manufacturing showed more signs this week of succumbing to the Federal Reserve's aggressive interest-rate hikes that are taking a bigger bite out of demand and risk upending the economic expansion.
The government's first estimate of gross domestic product for the fourth quarter and a report on December factory orders for durable goods pointed to sizable downshifts in both spending on business equipment and bookings for core capital goods.
The durable goods report Thursday showed orders for nondefense capital goods excluding aircraft — a proxy for business investment — dropped 0.2% in December after no change a month earlier. Over the fourth quarter, bookings for these core capital goods posted the weakest annualized gain since 2020. Shipments, an input for GDP, decreased for the third time in four months.
"Taken in tandem with the output data where industrial production has declined in six of the past eight months, it is increasingly evident that the manufacturing recession is well underway," Wells Fargo & Co. economists Tim Quinlan and Shannon Seery said in a note to clients.
Also on Thursday, the GDP report showed outlays for business equipment dropped an annualized 3.7%, the largest slide since the immediate aftermath of the pandemic. That decline was part of a broader demand slowdown, which included a smaller-than-forecast advance in personal spending.
While GDP growth beat expectations, details of the report that offer a clearer picture of domestic demand were decidedly weak. Inflation-adjusted final sales to private domestic purchasers, which strip out inventories and net exports while excluding government spending, rose at a paltry 0.2% rate — also the weakest since the second quarter of 2020.
Last month's retreat in core capital goods orders indicates manufacturing output, which already registered sharp declines in the final two months of 2022, may struggle to gain traction this quarter.
Read more: Weak US Retail Sales, Factory Data Heighten Recession Concerns
The slump in housing is also spilling over into producers of non-durable goods. Shares of Sherwin-Williams Co. tumbled this week after the paintmaker pointed to pressures stemming from a weak residential real estate market and inflation.
"We currently see a very challenging demand environment in 2023 and visibility beyond our first half is limited," Chief Executive Officer John Morikis said on a Jan. 26 earnings call. "The Fed has also been quite clear about its intention to slow down demand in its effort to tame inflation."
An accumulation of inventories only adds to the headwinds. Inventory building accounted for about half of the 2.9% annualized increase in fourth-quarter GDP. For the year as a whole, inventories grew $123.3 billion, the most since 2015.
With demand moderating, there's less incentive to ramp up orders or production as companies make greater efforts to sell from existing stock.
In addition to the aforementioned data, the latest surveys of manufacturers show sustained weakness. Measures of orders at factories in four regional Fed surveys have all indicated multiple months of contraction.
All surveys released so far for this month are consistent with an overall contraction in activity that extends back through most of the second half of 2022.
Next week, the Institute for Supply Management will issue its January manufacturing survey and economists project a third-straight month of shrinking activity.
©2023 Bloomberg L.P.
Opinion: Now is the time to invest in post-secondary education – Edmonton Journal
Article content
If the last few years have taught us anything, it's that the world — and the global economy — can go through seismic shifts in a relatively short amount of time. Since I began my term as president of the University of Alberta in 2020, we have witnessed a pandemic and a corresponding global recession, followed by an economic rebound. We have turned the corner, perhaps more quickly than any of us could have imagined. Alberta's economic outlook is now positive, with ATB Financial predicting 2.8-per-cent real GDP growth in 2023.
Article content
To ensure a prosperous future, we must maintain an Alberta that attracts and retains talented people and investments. With a strong post-secondary learning system, Albertans can get the high-quality training and skills they need — right here at home — to meet the labour market needs of tomorrow's economy.
Article content
The province is facing a continuously tight labour market. The Government of Canada's October Labour Market Bulletin for Alberta warned: "While the province has been experiencing an economic windfall recently, labour shortages in key sectors, especially the health-care sector, continue to threaten growth." By 2030, experts predict an acute need for more engineering, health care, science and business professionals.
Article content
We are fortunate that our province is home to a young and growing population. The number of Alberta high school graduates is projected to grow by 20 per cent in the next five years. To accommodate this demographic boon, we urgently need to grow Alberta's post-secondary sector so that these high school graduates will have the opportunities they need to thrive in Alberta's growing economy.
We are tackling this challenge head-on at the University of Alberta, where we are home to 25 per cent of Alberta's post-secondary students. In partnership with the province, we've been actively investing in enrolment growth to support these areas of greatest demand. We now have record-high enrolment, with over 44,000 students, including over 1,600 Indigenous students.
Article content
Last year, the U of A received $48.3 million from the provincial government's Alberta at Work program to support enrolment growth. This investment is paying dividends, enabling us to grow by another 2,600 students, increasing the number of young Albertans who can study at home at one of the world's top 100 universities. But we're not going to stop there. We're aiming to increase our enrolment to over 50,000 students by 2026.
With Alberta's upcoming 2023-23 budget on the horizon, we have proposed to the Government of Alberta an ambitious plan to grow by another 3,500 students, targeted to the areas of greatest employer and student demand. With this expansion, we can reach our goal of over 50,000 students by 2026. We are keen to play our part in continuing to meet the needs of tomorrow's labour market, ensuring a bright future for the province.
University of Alberta graduates are critical drivers of economic growth and prosperity. Over the last decade, 84 per cent of our graduates have stayed in Alberta, helping to grow and diversify the economy. Ninety-four per cent of our graduates are employed two years after graduation, with 97 per cent of graduates working in a job related to their field of study.
When the U of A grows, everyone in Alberta benefits.
Bill Flanagan is president and vice-chancellor of the University of Alberta.