Why We Must Amplify Artists And Embrace Art In Wartime (Putin's Invasion Of Ukraine Erodes Culture) – Forbes
"To evoke in oneself a feeling one has once experienced, and having evoked it in oneself, then, by means of movements, lines, colors, sounds, or forms expressed in words, so to transmit that feeling that others may experience the same feeling—this is the activity of art." _ Leo Tolstoy, What is Art? (1897)
As Vladimir Putin's senseless invasion of Ukraine ignites global fury, the clamor to vilify all people and all things Russian rages at levels unseen since the height of the enduring Cold War. Everyday Russian people are suffering, alongside their Ukrainian and Belorussian siblings, trapped in the domestic prison built by sanctions, living in constant dread that Putin will exhort his minions to pluck them from their desks and factory production lines to become soldiers fueling his bloodthirsty aggression.
Extending justified abomination for Putin to all Russians harms our collective humanity and undermines the cultural fabric that serves to comfort, inform, and enlighten us in times of strife. Putin doesn't own the legacies and lives of the masters of visual and performing arts living and working in Russia or those of Russian heritage. Erasing Russian culture in a misguided protest against Putin only underscores his ownership of all things Russian.
Celebrating artists living and working in Russia or of Russian heritage is a powerful affront to Putin. Recognizing their vast contributions to humanity demonstrates that the creative force of the 144 million people living in the motherland and another 30 million ethnic Russians living abroad is more powerful than a warlord who oppresses his own people along with innocent victims in Ukraine. Feeding anti-Russian hate empowers Putin's criminal agenda. Russophobia is inherently problematic, as it theoretically homogenizes an ethnic identity comprising more than 160 peoples inhabiting the territory of contemporary Russia, including 40 groups who are officially recognized as indigenous.
Artists chronicle and decode our collective joys and struggles, triumphs and failures, and the fungible, frustrating space between. What better way to undercut Putin's faux Russianess than to amplify the contemporary artists who subvert every Putinesque erosion of creative consciousness? February 24 marked the escalation of the bitter, simmering eight-year Russo-Ukrainian War, and hurled it into the global spotlight, as if the centuries-long strife was breaking news.
Embrace flamboyance over neo-feudalism. Envision a future Russia where outrageous imagery, installation, and performance eclipse Putin's outrage.
It's soul-affirming that more than 24,000 people visited the Cosmoscow International Contemporary Art Fair earlier this month, the highest turnout since it launched a decade ago. Seventy-two galleries from Moscow, St. Petersburg, Voronezh, Nizhny Novgorod, Yekaterinburg, Kaluga, and Vladivostok presented more than 1,600 works of contemporary art.
"According to our feelings, the atmosphere at the fair this year was very lively. At the same time, for us, this fair turned out to be one of the most difficult in our practice," said Marina Gisich, founder of Marina Gisich Gallery and winner of Cosmoscow 2022 Stand Prize. "In difficult times, you want to look for new sources of inspiration and survival. And in that sense, Cosmoscow has probably become such an island of emotional stability."
Art is an expression of the human condition which enables and encourages us to experience the range of emotions and perspectives of other people throughout history, including the creators, the subjects depicted in artworks, and anyone we interact with through discussion of art. It helps us work toward cultivating empathy and acknowledging the collective human struggle. Only then can we work toward effecting social change that can foster the western construct of peace, which is elusive to many people around the world.
As western media turns its gaze firmly on its decades-long favorite source of disdain — Russia — it's essential to recognize that wars continue to rage around the world, threatening and subjugating everyday people everywhere.
It's easy to turn our focus away from the world's longest civil war, because its rare to spy a western headline. Conflict erupted between various ethnic groups in Myanmar in 1948, the year the country gained independence from the United Kingdom. An estimated 13,646 casualties have been reported so far this year, according to the Armed Conflict Location & Event Data Project (ACLED). Civil war and terrorist insurgency persist in Afghanistan and Mali, civil wars continue in Colombia, Ethiopia, Libya, Syria, Yemen, terrorist insurgency won't let up in Algeria, Burkina Faso, Cameroon, Chad, the Democratic Republic of the Congo, Iraq, Mozambique, Niger, Nigeria, Tanzania, and Tunisia, and South Sudan remains embroiled in ethnic violence.
Honor the work of artists everywhere, in spite of the governments that oppress the people.
Photos from See Every Star at Art Basel 2022 – E! Online – E! NEWS
Diplo 'Wins' Art Basel Miami by Topping ATM's Leaderboard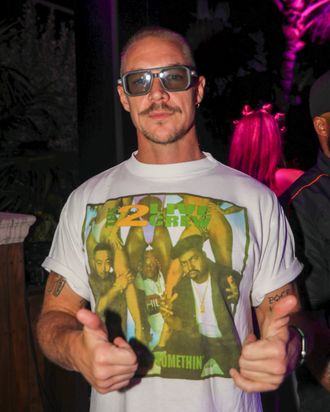 Photo: Thaddaeus McAdams/Getty Images for Ocean Drive
Diplo has about $3 mil in the bank, FYI. The celebrity DJ who once streamed Sophie Turner's wedding to Joe Jonas (remember that?) claimed to have "won" Miami Art Basel this year. One of the most talked-about pieces at the annual art fair is an ATM that posts your picture and bank balance if you use it. The ATM has a leaderboard, which Diplo topped on December 2. At the time he posted his "high score" on social media, Diplo had $3,004,913.06 in his account. So we know his cash assets, but do we know if he's in on the joke? This piece is from Brooklyn art collective MSCHF, who are known for their trolly stunt art. "ATM Leaderboard is an extremely literal distillation of wealth-flaunting impulses," MSCHF co-founder Daniel Greenberg said on NPR. "From its conception, we had mentally earmarked this work for a location like Miami Basel, a place where there is a dense concentration of people renting Lamborghinis and wearing Rolexes." The piece is goofing on ostentatious displays of wealth, Diplo. Having the most ostentatious display isn't the flex you think it is. The ATM was a collab between MSCHF and the gallery Perrotin. They had the banana duct taped to the wall, to give some more context on where everyone involved stands on the art vs. prank spectrum.
Free Press celebrates launch of art exhibit
The Winnipeg Art Gallery has opened its doors to an exhibition focusing on the Winnipeg Free Press and its 150th anniversary.
Headlines: The Art of the News Cycle, which includes works from seven artists from across North America as well as archival material from the Free Press and the gallery's permanent collection, looks at the many changes that have taken place in how the Free Press and other news organizations let their readers know what's going on in the world around them.
The exhibit runs through to May 21, 2023 at the Winnipeg Art Gallery.
— with files from Alan Small