Will Mexico's Economic Rebound Be Temporary? – Americas Quarterly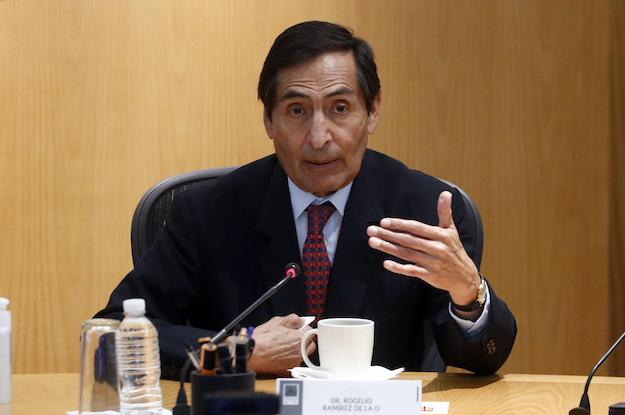 "Facts, not words" — that was the slogan Mexico's President Andrés Manuel López Obrador (AMLO) chose to promote his major September 1 speech to the nation. Government ads on social media touted 6% economic growth. But a closer look at the facts does not suggest optimism about the future of the Mexican economy.
This year will indeed witness an economic rebound of around 6.3%, one of the strongest in Latin America. But "recovery" might be a more appropriate term than "growth." In 2020 the economy plummeted by 8.3%, while in 2019, AMLO's first year in office, it shrank by 0.1%. By the end of 2021, economic growth over the course of the current administration is forecast to be -2.4%, still in negative territory.
Last week, the AMLO government presented its fourth annual economic package to Congress. Its macroeconomic assumptions show only slight changes from past years, though growth expectations for next year (4%) are 1% higher than market consensus. But the package contains a pleasant surprise in the form of two standout features, courtesy of new finance minister Rogelio Ramírez de la O.
One is a series of modifications that aim to improve and provide certainty to tax collection by closing loopholes and restricting discretionary interpretations of several tax-related laws. The other is the recognition, for the first time in the administration, of a need to move away from fiscal orthodoxy and run fiscal deficits of 0.4% and 0.3% for this year and next. Although both measures point in the right direction and will improve fiscal margins, their effects will fall well short of the structural changes that the Mexican economy desperately needs to lay the foundations for robust and sustained growth.
Although Mexico's macroeconomic fundamentals still look sound, they will not remain so forever. Vulnerabilities are adding up, including an economic recovery that is too dependent on the U.S., increased poverty levels, and higher public debt — in an environment characterized by high uncertainty and the prospect of rising interest rates resulting from global efforts to contain inflation.
CONEVAL, an independent technical council that measures poverty, recently released its findings for 2018–2020. These show that the number of Mexicans living in poverty rose by 3.8 million to a total of 55.7 million, while extreme poverty increased by 2.1 million to reach 10.8 million. An additional 900,000 Mexicans lost access to education, and the number of those lacking access to healthcare rose by 15.6 million to 35.7 million. The main factor that explains this dramatic deterioration in healthcare access at the worst moment possible is the end of the Popular Insurance (Seguro Popular) program that had provided healthcare access to 52 million Mexicans. Its replacement, which is part of AMLO's 4T project ("4T" stands for a potential "fourth transformation" of the Mexican economy), covers only 34 million.
Considering the broadest measurement of public debt employed by the finance ministry, Mexico's debt-to-GDP ratio has increased over from 44.9% in 2018 to 54.7% in 2020, though it is expected to fall to 51% in 2021 and 2022. Mexico's national oil company, Pemex, is the world's most indebted, with $110 billion in outstanding financial debt. The company's annual losses have worsened since 2019, when it notched a $18.3 billion loss, almost double that of the previous year. Losses spiked again to $23 billion in 2020.
Oil production has also been in constant decline — last year, Pemex's oil output was 1.61 million barrels per day (MBPD). This represents a marked drop from the early 2000s, when the Cantarell oil field boosted production to as high as 3.4 MBPD. But it represents a deterioration even compared to the more modest 1.8 MBPD the company produced in 2018. Pemex's response to its tenuous position and downgrades to its credit rating has been to build a new refinery, regardless of financial and environmental concerns, and terminate its rating contract with Fitch, one of the three largest credit rating agencies. Meanwhile, fiscal support to Pemex has totaled nearly 2% of GDP over the last three years.
Mexico's current level of debt to GDP is manageable and certainly one of the lowest among OECD countries, particularly after its fiscal response to the pandemic — which was almost nonexistent, imposing a huge cost on lives and jobs. (Mexico allocated only 1.8% of its GDP, while the Latin American average was 8.5%.) But fiscal pressures are increasing from both mandatory and discretionary expenditures, such as enhanced pensions, highly politicized social programs, and questionable pet projects.
Preexisting firewalls that kept the economy robust and protected it from serious shocks have evaporated. A large part of Mexico's stabilization fund was spent even before the pandemic. Since then, all the country's trust funds — including those intended for health emergencies, but also natural disasters — have been fully exhausted, leaving Mexico for the first time in years without financial safety nets. Although tax revenues have increased since 2013, reaching 16.5% of GDP in 2019, they remain far from the average of OECD average of 33.8% and short of the Latin American average of 22.9%. Recent improvements in tax collection, though positive, are limited, relying on a one-off resolution of litigation dating back several years.
The current minister of finance now finds himself in a strong position, enjoying a degree of power that stems from his closeness to the president as well as from the policy choices he has made in the economic package. This will certainly provide him greater room to maneuver, but only enough to stabilize the country's finances for the time being. From recent meetings with investors, it seems Ramírez de la O is determined to have a much larger say on Pemex. This is good news. A new strategy conducted from the finance ministry, promising to give coherence and a much-needed path to fiscal sustainability for this public enterprise, would be well timed. So would more concerted efforts to provide certainty to investment.
With half of the AMLO administration's mandate already over, the current choice facing the Mexican economy is whether to move towards an urgent structural reset, or to remain caught in an unsustainable paradox. This paradox features, on the one hand, a lack of growth, retrenchment in productivity factors and a deteriorating security and institutional environment — and, on the other, increased expenditure on discretionary social programs, financially unviable pet projects and ideological nonsense in the energy sector. The response to this paradox will have enormous consequences for poverty, health, education, jobs, infrastructure, and productivity, and on the future well-being of more than 126 million Mexicans.
Tags: Andrés Manuel López Obrador, economic growth, Mexico, Poverty and inequality
Dialogue NB Seeks To Rebuild An Inclusive Economy Through Conversation – Huddle – Huddle Today
MONCTON – Dialogue NB CEO Nadine Duguay-Lemay says the business community has an integral place in a conversation about building a more equal and just New Brunswick.
That very conversation will take place on September 27 in Moncton with Dialogue Day 2021.
"When we talk about anti-racism, notions of equality, diversity, acceptance and inclusion and all those notions we celebrate, it's not something we can do on our own," said Duguay-Lemay.
"The business community actively needs to participate, if anything, because those topics concern them. That's why you see so many business support the event."
The volunteer-led non-profit organization plans to host an inclusive conversation on Monday at Moncton's Crowne Plaza and virtually, online.
Dedicated to building social cohesion in New Brunswick, the sold-out event will feature discussions about racial justice in the workplace, rethinking the economy as it recovers from the pandemic and how to be a better ally to Indigenous people.
The event, which has sold out of in-person seats, will feature Jeremy Dutcher, a Wolastoq singer, songwriter, composer, musicologist and activist from Tobique First Nation, as its keynote speaker.
The mandate of the discussions is to ensure everyone feels heard, valued and that they belong, making diversity an asset – something Duguay-Lemay considers imperative to a functional economy.
"What I've found is that people don't like to go into uncomfortable discussions. Some people want to embrace social cohesion but don't know where to start, or are afraid of saying the wrong thing. This is our expertise – we're good at the art of dialogue and multiple viewpoints at one table," she said.
"We need a lot of different voices and perspectives at the table to rethink the system for the wellbeing of all. These discussions shouldn't be happening in isolation."
Duguay-Lemay said New Brunswick faces many economic challenges, noting a diverse workforce will help recover from those challenges.
She stressed that the business community needs to work toward a goal of truth and reconciliation, and in a call with Huddle, rebutted the metaphor of everyone being on the same boat during the pandemic.
"I'd argue we're all facing the same storm, but not in the same boat. Some people are in yachts and some are in little boats about to capsize," she said.
Other voices are emerging – female and Indigenous, for example – looking to address poverty and wage inequality and unfairness, employment access, systemic racism and environmental degradation, noted Duguay-Lemay, adding that the province's 4,418 non-profits need more recognition as an economic partner.
"Inclusion is embedded in our DNA as Canadians. We're already a country and province that abides by those laws, so it's important to look at inclusion," she said.
The conversations will also focus on racial justice in the workplace, how the pandemic hurt Indigenous and black Canadian employment, versus non-minorities, access to employment – and the social barriers that exist for racialized workers.
"I invite all organizations, employers, public and non-profits to look at their practices in place and ask if they walk the talk for truth and reconciliation. We're all treaty people – how do we uphold this?" said Duguay-Lemay.
"We want to at least demonstrate to Indigenous people in New Brunswick that we hear their plight and are serious about truth and reconciliation."
Greater social cohesion is the best step forward, Duguay-Lemay noted, adding that real dialogue can build an economy that works for everyone.
She said matters of racial justice in the workplace – and specific matters, such as owners objecting to the declaration of September 30 as a statutory holiday, contending that they can't afford it – will be among the economic issues for which solutions will be sought.
The conversation will also focus on how the province's recovery from the pandemic has exposed inequalities in the economy.
Duguay-Lemay stressed the need to learn from the way the pandemic exposed inequalities, and rethink a system that works for everyone.
"We need to think differently and it really shouldn't be based on the interests of the privileged," said Duguay-Lemay.
"As employers are looking to attract and retain talent, we hear about skill shortages all the time. This becomes a matter of attracting talent, whether from newcomers or tapping into Indigenous communities, how can we make our workplaces more equitable and inclusive?
The event will feature an "eclectic" round table of specialists, artists, activists and experts from numerous sectors, and identities in New Brunswick, with opportunities for networking, inspiration for change with concrete examples and skills to help become a social leader.
With the economy, we may be heading back to the 1970s – The Globe and Mail
Kenneth Rogoff, a former chief economist of the International Monetary Fund, is professor of economics and public policy at Harvard University.
With the disastrous U.S. exit from Afghanistan, the parallels between the 2020s and the 1970s just keep growing. Has a sustained period of high inflation just become much more likely? Until recently, I would have said the odds were clearly against it. Now, I am not so sure, especially looking ahead a few years.
Many economists seem to view inflation as a purely technocratic problem, and most central bankers would like to believe that. In fact, the roots of sustained inflation mainly stem from political economy problems, and here the long list of similarities between the 1970s and today is unsettling.
In the United States, following a period in which the president challenges institutional norms (Richard Nixon was the 1970s version), a thoroughly decent person takes office (back then, Jimmy Carter). Abroad, the U.S. suffers a humiliating defeat at the hands of a much weaker, but much more determined adversary (North Vietnam in the 1970s, the Taliban today).
On the economic front, the global economy suffers a lingering productivity slowdown. According to the Northwestern University economist Robert Gordon's magisterial account of innovation and growth, The Rise and Fall of American Growth, the 1970s marks a turning point in U.S. economic history, thanks to a sharp slowdown in meaningful economic innovation. Today, even if productivity pessimists grossly underestimate the phenomenal gains the next generation of biotech and artificial intelligence will bring, a large body of work finds that productivity growth has been slowing in the twenty-first century, and now the pandemic looks to be inflicting another heavy blow.
The global economy suffered a massive supply shock in the 1970s, as Middle East countries massively hiked the price of oil they charged the rest of the world. Today, protectionism and a retreat from global supply chains constitute an equally consequential negative supply shock.
Low-income Canadian households will suffer the most from soaring inflation
The Bank of Canada isn't losing sleep over inflation, and neither should you – yet
Finally, in the late 1960s and 1970s, huge increases in government spending were not matched by higher taxes on the wealthy. The spending increases stemmed in part from president Lyndon Johnson's "Great Society" programs in the 1960s, later amplified by the soaring cost of the Vietnam War. In recent years, first the Trump tax cuts, then pandemic-related catastrophe relief, and now progressive plans to expand the social safety net have hit the federal budget hard. Plans to fund these costs by raising taxes only on the rich will likely fall far short.
It is true that despite all these similarities, today's independent central banks stand as a bulwark against inflation, ready to raise interest rates if inflation pressures seem to be getting out of hand. In the 1970s, only a few countries had independent central banks, and in the case of the U.S., it did not act like one, fuelling inflation with massive monetary expansion. Today, relatively independent central banks are the norm across much of the world. It is also true that today's ultralow global real interest rates provide rich-country governments a lot more room to run deficits than they had in the 1970s.
On the other hand, the challenges of providing for aging populations has become vastly more difficult over the past five decades (at least in advanced economies and China). Underfunded public pension schemes arguably are a much larger threat quantitatively to government budget solvency than debt. At the same time, social pressures to increase government spending and transfers have exploded across the world, as inequality becomes more politically salient for many countries, and improving growth less so. And confronting climate change and other environmental threats will almost certainly put additional pressure on budgets and slow growth.
Sharply rising government debts will inevitably make it more politically painful for central banks to raise nominal interest rates if global real rates start turning upward. High debts are already a reason why some central banks today will hesitate to raise interest rates if and when postpandemic normalization occurs. Private debt, which has also soared during the pandemic, is perhaps an even bigger problem. Widespread private defaults would eventually have a huge fiscal impact via lower tax collection and higher social safety net costs.
Today's economic challenges are certainly solvable, and there is no reason why inflation should have to spike. Leading central bankers today such as Jay Powell of the U.S. Federal Reserve and Christine Lagarde of the European Central Bank are a far cry from pliable Fed Chair Arthur Burns in the 1970s. They both have superb staffs to support them. Yet all central banks still face constant pressures, and it is hard for them to stand alone indefinitely, especially if politicians become weak and desperate.
America's humbling defeat in Afghanistan is a big step toward recreating the perfect storm that led to slow growth and very high inflation of the 1970s. A few weeks ago, a little inflation seemed like a manageable problem. Now, the risks and the stakes are higher.
Copyright: Project Syndicate, 2021. www.project-syndicate.org
Keep your Opinions sharp and informed. Get the Opinion newsletter. Sign up today.
CANADA STOCKS – TSX rises 0.3% to 20,461.93
* The Toronto Stock Exchange's TSX rises 0.30 percent to 20,461.93
* Leading the index were BlackBerry Ltd <BB.TO​>, up 10.1%, Bombardier Inc, up 7.4%, and Capstone Mining Corp, higher by 5.8%.
* Lagging shares were Equinox Gold Corp, down 5.7%, Centerra Gold Inc, down 5.4%, and Eldorado Gold Corp, lower by 5.1%.
* On the TSX 107 issues rose and 126 fell as a 0.8-to-1 ratio favoured decliners. There were 8 new highs and 11 new lows, with a total volume of 252.5 million shares.
* The most heavily traded shares by volume were Bombardier Inc, Tc Energy Corp and Cenovus Energy Inc.
* The TSX's energy group rose 3.72 points, or 2.8%, while the financials sector climbed 3.74 points or 1.0%.
* West Texas Intermediate crude futures rose 1.4%, or $1.01, to $73.24 a barrel. Brent crude  rose 1.35%, or $1.03, to $77.22 [O/R]
* The TSX is up 17.4% for the year.
This summary was machine-generated on September 23 at 21:23.