Will the Media Finally Learn Something From Its Fake "Havana Syndrome" Debacle? – Jacobin magazine
Will the Media Finally Learn Something From Its Fake "Havana Syndrome" Debacle?
Yet more evidence emerges that the so-called Havana Syndrome caused by a "microwave weapon" in US diplomats and intelligence personnel was a psychosomatic illness. Maybe it's time for national security reporters to stop letting anonymous officials make wild claims to stoke conflict and inflate their budgets.
In news that won't be news for many observers of US-Cuba relations, Buzzfeed reported Thursday that a thorough scientific investigation completed in 2018 by an elite government science advisory body determined that the so-called Havana Syndrome that US spies and diplomats have suffered in recent years was most likely caused by crickets. Yes, those crickets.
The report, commissioned by the State Department and kept classified until last week, backs up what various observers have been saying from almost the very beginning: that the neurological injuries reported around the world by US personnel, including dizziness, headaches, and hearing loss, were most likely psychosomatic. In other words, they were probably caused by stress or emotional strain, and spread to others through the power of suggestion.
What's critical to understand here is that since mid-2017, anti-Cuban hawks, using the establishment press as their megaphone, have baselessly and incessantly claimed that the illness was actually the result of "attacks" carried out by Washington's geopolitical adversaries, and using a mysterious, never invented microwave weapon. This campaign began on August 9, 2017, when the Associated Press, in a report republished everywhere, from CNBC and CBS to Politico, regurgitated the supposed conclusions of nameless "US officials" that "the diplomats had been exposed to an advanced device that operated outside the range of audible sound and had been deployed either inside or outside their residences," for which Washington expelled two Cuban diplomats as retaliation.
Within days, nameless US officials were popping up in a variety of trusted liberal-leaning mainstream outlets like CNN and the Guardian to make the same assertions or, as in the Washington Post, to tell the public they were investigating it as an attack. Here's just a small sampling of the reporting that helped solidify this narrative in the public imagination:
(Unfortunately, that last one wasn't an outlier. Just this year, "three current and former officials with direct knowledge of the discussions" were the basis for a Politico report that these "directed-energy" attacks [read: likely cricket noises] were really the work of a different villain — namely, Russian military intelligence.)
Despite constant statements from scientists and other experts that the symptoms seemed like classic cases of psychosomatic illness, that the sounds recorded sounded suspiciously like crickets, and that there was no evidence such a microwave weapon had ever actually been invented, mainstream outlets continued broadcasting these unsubstantiated charges from anonymous US officials for the next four years. One particular gem was this NBC News piece citing a report that stated that "nothing like [the symptoms] had previously been documented in medical literature," then following with a quote that these symptoms were "consistent with the effects of directed, pulsed radio frequency (RF) energy."
This practice went on right up to the very week this Buzzfeed report dropped, and weeks after the Biden administration officially began referring to the illness as "unexplained health incidents" instead of attacks. "CIA and State Department officials face increased Havana Syndrome attacks," asserted Fox News, warning of "a rise of such attacks" all over the world through a "directed-energy source," this time in Serbia. "Havana Syndrome Attacks Widen," blared the Wall Street Journal. "The attacks — and they do seem to be deliberate attacks — now total more than two-hundred cases," wrote the Washington Post editorial board.
The fact that, for almost the entire time, these claims were being made by officials from the Trump administration, which was exceptionally hostile to Cuba and which, just two months before they first leveled these claims, began the cruel policy of "maximum pressure" it maintained for the rest of its term, didn't seem to give many reporters pause. The press spent the next four years mostly lending credence to the dubious assertions of a coterie of anti-Cuba hawks in government, letting them make wild claims without even putting their names on the record despite their clear interests in vilifying and ratcheting up tensions with the Cuban government.
Mainstream Misinformation
There's an obvious point to be made here in the midst of a long-running establishment freak-out over "misinformation" and the ongoing push to stamp it out by censoring independent, alternative media platforms.
Here, as so often is the case, the misinformation came from mainstream outlets, where it reached, and was trusted by, far more people than a Substack post, YouTube video, or Facebook ad, all with the aim of stoking conflict with a foreign government. If the solution to potentially harmful online and social media misinformation is heavy-handed censorship, why wouldn't we do the same thing for these mainstream outlets? And if we object to that because we quite correctly understand the dangers to press freedoms in going down that road, then how does it make sense to keep pushing for it when it comes to social media?
But maybe an equally important question here is whether establishment press outlets finally learn something from this episode, and treat inflammatory official claims that stoke tension with an adversary government with skepticism — or, at the very least, not grant them the anonymity to make all kinds of wild claims. The case of the Havana Syndrome is part of a long-running pattern, always in the direction of laying the basis for war and otherwise aggressive foreign policy.
Not long ago, when the Trump administration was working on a withdrawal from Afghanistan, the headlines were lit up by an anonymously sourced report that Russia was paying the Taliban "bounties" to kill US soldiers in the country. Even as everyone involved denied the story, and even as the commander of US forces in Afghanistan publicly doubted it, the claim was broadcast everywhere, especially on MSNBC, and spurred a successful congressional effort to halt the withdrawal.
Similarly, the entire Russiagate fiasco, which did immeasurable damage to public trust in the press, was one part retribution for Donald Trump's public insults against the CIA and one part a successful attempt to push the former president into a more aggressive posture toward Russia. Having campaigned on, and elicited establishment horror with, a promise of better relations with the country, anonymous national security officials began leaking what we now know were baseless falsehoods to the press, painting Trump and his inner circle as compromised by the Kremlin — and baiting the administration into overcompensating in the opposite direction, including by sending lethal weapons to Ukraine. At one point, a story fed to the Washington Post by anonymous officials spread far and wide that Russia had hacked the Vermont electricity grid, scaring the pants off a broad swath of the public, only for the whole story to quickly fall apart.
But just as with Cuba, Trump officials were more than willing to play this same game when it meant stoking conflict elsewhere. With Trump seemingly bent on attacking Iran in the final year of his term, we were treated to a number of anonymously sourced stories intended to create a pretext for this attack. There was the September claim from an unnamed US official that Iran was planning to kill the US ambassador to South Africa, only for South African intelligence to say there was no evidence for it. That same month, a single anonymous official told Reuters that "Iran could have enough fissile material for a nuclear weapon by the end of the year," part of a long tradition of similarly wrong predictions dating back to the 1990s.
The year before that, the Associated Press agreed to give an official anonymity to claim — "without offering any evidence," as the piece noted — that Iran carried out an attack on four oil tankers off the coast of the United Arab Emirates, then the next day reported on satellite images showing the ships had taken no damage. Unfortunately, this is just a small sample of stories of anonymous officials feeding scary-sounding charges to the press that never come to pass. "A senior US military official with knowledge of the region said Monday that Iran may try to take advantage of America's troop withdrawals from Iraq and Afghanistan," relayed one December 2020 Associated Press piece.
Or recall back when Trump did one of the few genuinely good things of his presidency and attempted to hold peace talks with North Korea. Thanks to the glut of cash-in memoirs from Trump officials, we now know explicitly that Trump's neocon appointees worked to sabotage the negotiations. But that was clear long before. As the Nation's Tim Shorrock pointed out at the time, US officials rushed to NBC, the Post, and the Wall Street Journal to distort the findings of a classified intelligence study of North Korea's nuclear program and charge that its government was trying to pull one over on Washington.
Of course, the granddaddy of all of these episodes is the buildup to the Iraq War, where war hawks perfected the art of obtaining anonymity from media outlets to feed them lies and misinformation that would build the case for war while shielding themselves from accountability. In one particularly notorious case, Bush officials told New York Times reporters a lie (anonymously) suggesting Saddam Hussein was pursuing nuclear weapons, then did the rounds in TV interviews citing that story — their own leaks — to make the case for attacking Iraq. (Amusingly, another key Iraq War lie — that one of the September 11 hijackers had met an Iraqi intelligence official in Prague — was lazily recycled fifteen years later for the purpose of Russiagate.)
After that catastrophe, the press said never again. And yet, as the Havana Syndrome stories and so many more show, that lesson was swiftly forgotten. The mystery "directed-energy" weapon may be wholly disproven, but don't worry — something new will take its place as soon as US officials decide to stoke conflict somewhere else.
Facebook, YouTube take down Bolsonaro video over false vaccine claim
Facebook and YouTube have removed from their platforms a video by Brazilian President Jair Bolsonaro in which the far-right leader made a false claim that COVID-19 vaccines were linked with developing AIDS.
Both Facebook and Alphabet Inc's YouTube said the video, which was recorded on Thursday, violated their policies.
"Our policies don't allow claims that COVID-19 vaccines kill or seriously harm people," a Facebook spokesperson said in a statement on Monday.
YouTube confirmed that it had taken the same step later in the day.
"We removed a video from Jair Bolsonaro's channel for violating our medical disinformation policy regarding COVID-19 for alleging that vaccines don't reduce the risk of contracting the disease and that they cause other infectious diseases," YouTube said in a statement.
According to the Joint United Nations Programme on HIV and AIDS (UNAIDS), COVID-19 vaccines approved by health regulators are safe for most people, including those living with HIV, the virus that causes acquired immunodeficiency syndrome, known as AIDS.
Bolsonaro's office did not respond immediately to a request for comment outside normal hours.
In July, YouTube removed videos from Bolsonaro's official channel in which he recommended using hydroxychloroquine and ivermectin against COVID-19, despite scientific proof that these drugs are not effective in treating the disease.
Since then, Bolsonaro has avoided naming both drugs on his live broadcasts, saying the videos could be removed and advocating "early treatment" in general for COVID-19.
Bolsonaro, who tested positive for the coronavirus in July last year, had credited his taking hydroxychloroquine, an anti-malarial drug, for his mild symptoms. While Bolsonaro himself last January said that he wouldn't take any COVID-19 vaccine, he did vow to quickly inoculate all Brazilians.
In addition to removing the video, YouTube has suspended Bolsonaro for seven days, national newspapers O Estado de S. Paulo and O Globo reported, citing a source familiar with the matter.
YouTube did not respond to a separate Reuters request for comment regarding the suspension on Monday night.
(Reporting by Pedro Fonseca in Rio de Janeiro; Additional reporting by Gram Slattery in Rio de Janeiro and Anthony Boadle in Brasilia; Writing by Gabriel Araujo; Editing by Leslie Adler)
Somali drama wins Pan-African film festival grand prize
Somalia's entry "The Gravedigger's Wife" by Finish-Somali writer-director Khadar Ayderus Ahmed won the prestigious Stallion of Yennenga grand prize for best film at the Pan-African film festival in Ouagadougou, Burkina Faso, on Sunday.
The poignant drama about a gravedigger's struggles to raise money to pay for his wife's surgery, took home the 20 million franc CFA ($35,714) prize money and the golden stallion statue.
The film, which was Somalia's first official entry for the Best International Feature Film category at the 2021 Academy Awards, premiered at the Cannes Film Festival in July.
Ahmed, who was not in Ouagadougou to collect his prize, has previously said the film was inspired by incidents that happened in his family.
Mauritanian film director Abderrahmane Sissako, who chaired the jury for the 17 feature films in the competition, told Reuters that it was a courageous movie from a country which does not make a lot of films. "So when there is a film such as this one from there, it should be encouraged."
"It is a beautiful film that tells a story with humanity. It is a love story also," Sissako said after the ceremony presided over Presidents Macky Sall of Senegal and Roch Marc Kabore of Burkina Faso.
The Pan-African Film and Television Festival of Ouagadougou, known as Fespaco, is the largest biannual meeting of African cinema which attracts international and African cinema and television professionals from the continent and the diaspora to the Burkinabe capital.
This 27th edition was postponed by nearly eight months to Oct. 16-23, 2021, due to the COVID-19 pandemic and security challenges the country is facing.
($1 = 560.0000 CFA francs)
(Reporting by Anne Mimault and Thiam Ndiaga; Writing by Bate Felix; Editing by Daniel Wallis)
Media Literacy Week – The Manitoba Teachers' Society – The Manitoba Teachers' Society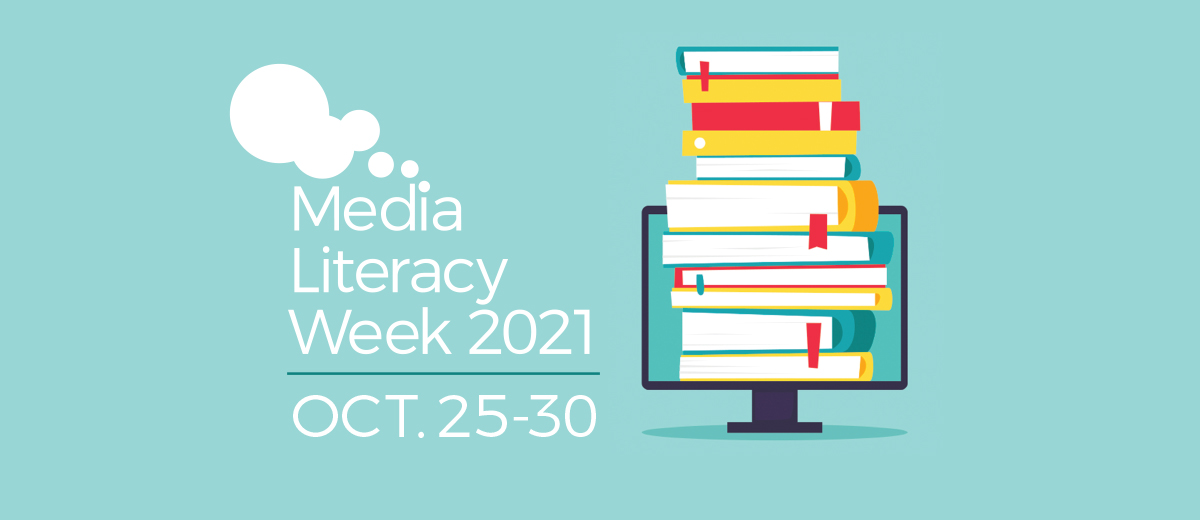 October 25, 2021
---
Be Media Smart
Media Literacy Week Oct.25 to 30
According to a Statistics Canada poll (Canadian Perspectives Survey Series, conducted from Sept. 14 to Sept. 20, 2020) four in 10 Canadians were spending more time on social media and messaging services (41 per cent) since the onset of the pandemic.
Young Canadians aged 15 to 34 (57 per cent) were most likely to have increased their use of social media and messaging services.
As a result, this year's Media Literacy Week aims to put the spotlight on the essential digital literacy skills needed by today's digital citizens.
Hosted by MediaSmarts, Canada's centre for digital and media literacy, the annual event invites all Canadians – teachers, students, seniors, community groups, libraries and museums – to celebrate by engaging in digital media literacy activities.
To celebrate the week, MediaSmarts has also created five themed days with free resources anyone can use and a Media Literacy Week Teachers' Hub with curated lessons and activities for students from kindergarten to Grade 12.
MediaSmarts is also hosting A Conversation About Researching Digital Media Literacy in Canada, which will bring together academics to discuss researching digital media literacy in Canada on Thursday, October 28 at 12:30 p.m. EST.
Media Literacy Week is run in partnership with the Canadian Teachers' Federation (CTF/FCE) and the Canadian Commission for UNESCO (CCUNESCO).
Canada's 16th annual Media Literacy Week runs from Oct. 25 to 30.