Winchcombe meteorite is first UK find in 30 years – BBC News
Several rocky fragments have been recovered from the fireball that lit up the sky above southern England just over a week ago.
They came down in the Winchcombe area of Gloucestershire.
A householder first alerted experts after noticing a pile of charred stone on his driveway. Other members of the public have since come forward with their own finds.
It's 30 years since meteorite material was last retrieved in the UK.
Researchers are particularly thrilled because of the rarity of the rock type.
It's carbonaceous chondrite – a stony material that retains unaltered chemistry from the formation of our Solar System 4.6 billion years ago.
Dr Ashley King from London's Natural History Museum (NHM) said nothing like it had ever been recorded in the UK before.
"Carbonaceous chondrites are particularly special because they are essentially the left-over building blocks of our Solar System.
"Many contain simple organics and amino acids; some of them contain minerals formed by water – so, all the ingredients are there for understanding how you make a habitable planet such as the Earth," he told BBC News.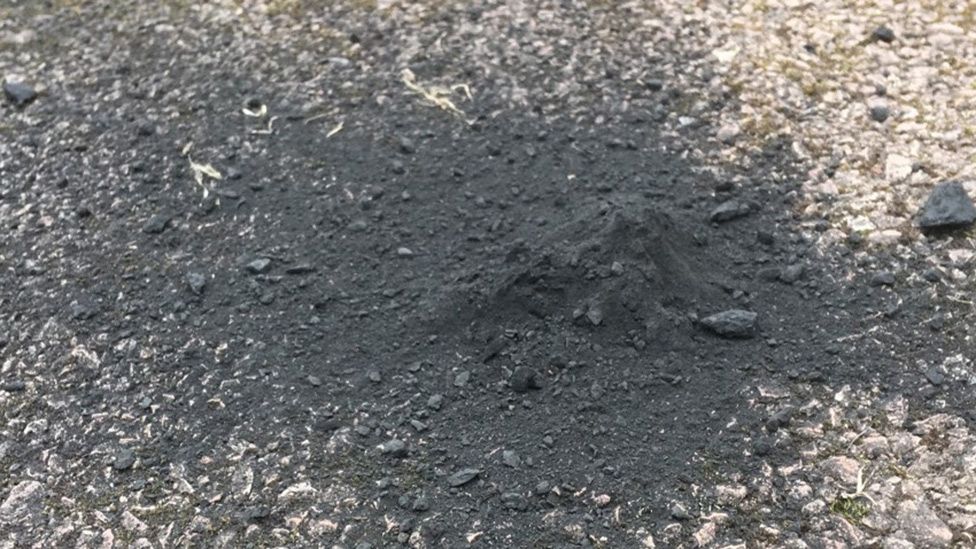 Thousands of people reported seeing a blazing light rush across the sky at 21:54 GMT on Sunday 28 February. But, crucially, the event was also captured on the array of special cameras operated by the UK Fireball Alliance (UKFAll).
Their information was able to pinpoint the likely area of debris fall.
"Somewhere north of Cheltenham, over towards Stow-On-The-Wold", was the prediction. This would still have been "a needle in a haystack" quest, but researchers were in luck.
Some of the meteorite had smashed down on to a Winchcombe resident's front drive.
Dr Richard Greenwood was despatched to see the Winchcombe resident, who wishes to be anonymous.
"I looked in this plastic bag he'd been told to put it in, and my legs went wobbly. It was unbelievable. This is a very special meteorite," the Open University researcher recalled.
A search team was immediately sent out to comb the local area for more fragments. And, in the meantime, other property owners started notifying scientists of their discoveries, too.
All told, there must be 300-400g of material, most of it now lodged with the NHM.
The pieces are small – marble-sized. Prof Monica Grady, also from the OU, describes them as looking like "a broken barbecue briquette. It is one of the most beautiful things I've ever seen", she told BBC News.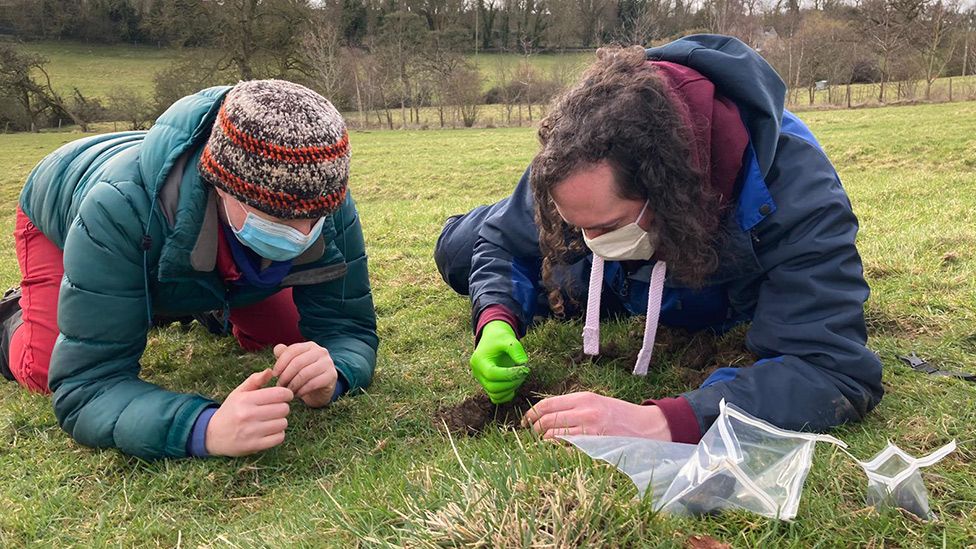 It's hard to overstate just how significant this is for British meteoritic science.
Of the approximately 65,000 meteorites in collections worldwide, only 1,206 had eyewitnesses to their fall, and of these only 51 are of the carbonaceous chondrite type.
Because this fireball was tracked via camera on entry to Earth's atmosphere, its orbit has been worked out. The object came from the outer asteroid belt, out towards Jupiter.
This means its composition almost certainly will be very primitive.
"Basically, that's part of the Solar System we regard as like a deep freeze of material that's 4.5 billion years old," explained the NHM's Prof Sara Russell.
"It hasn't had a chance to change at all from pre-planetary time. It will give us an insight into what our Solar System was like before the planets were there."
The American and Japanese space agencies have despatched probes to bring back similar material from the asteroids themselves. But the Winchcombe meteorite would make almost as good a subject for study, said Dr Greenwood.
"Yes, it will have been affected by passage through the atmosphere, but it must be very close to pristine. The chap in Winchcombe who collected it did so within 12 hours of falling. It's as good as you will ever get collected here on Earth."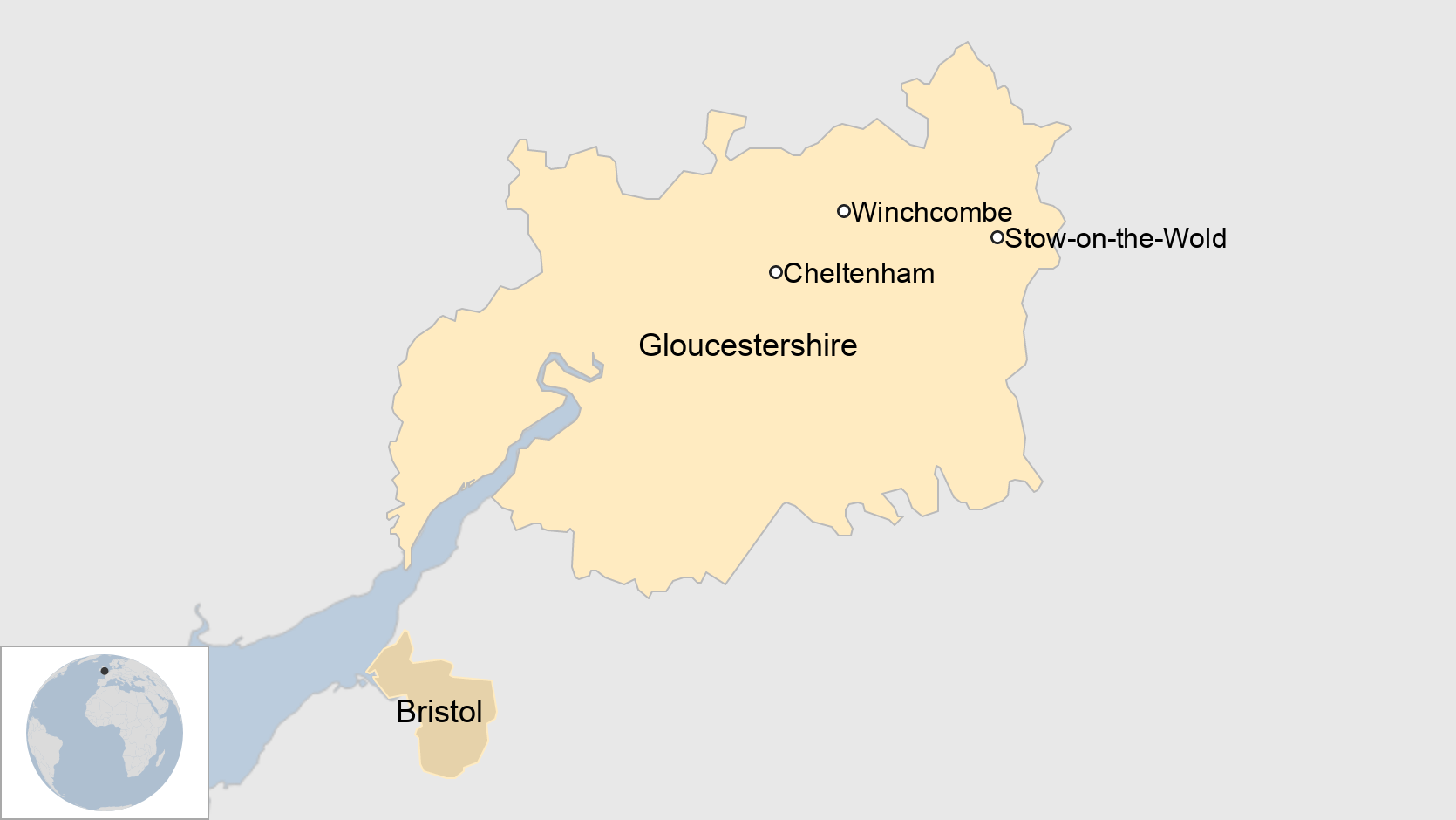 The last space rock fall recovered in the UK was in 1991 – the so called Glatton Meteorite, because it fell in the village of Glatton near Peterborough.
Mr Arthur Pettifor was tending his onions in his garden when a 10cm rock dropped into his hedge.
It's quite possible more fragments of the Winchcombe meteorite still await discovery.
Scientists urge people in the local area to remain vigilant. They should be looking for small blackish stones, or even a mound of dark dust.
Anyone who finds what they think might be a meteorite is asked to photograph it in situ, noting the GPS co-ordinates from a phone, if that's possible.
The object should then be placed in foil without direct handling. And the absolute no-no: do not put a magnet near the material. This could destroy important information needed to study the rock.
The Winchcombe investigation has also included scientists from the universities of Glasgow, Manchester, Plymouth, and Imperial College London.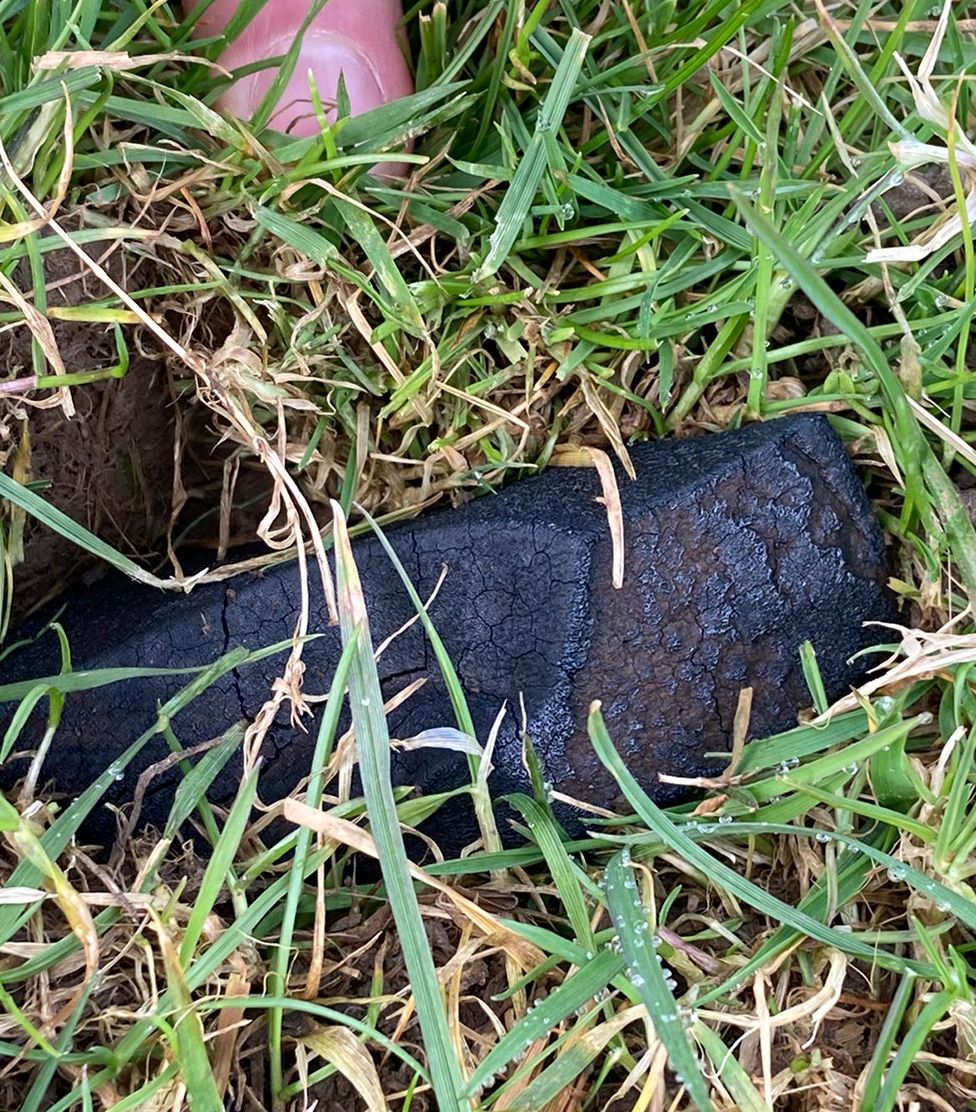 World strives to limit damage as greenhouse gas levels hit record
Greenhouse gas concentrations hit a record last year and the world is "way off track" on capping rising temperatures, the United Nations said on Monday, showing the task facing climate talks in Glasgow aimed at averting dangerous levels of warming.
A report by the U.N. World Meteorological Organization (WMO) showed carbon dioxide levels surged to 413.2 parts per million in 2020, rising more than the average rate over the last decade despite a temporary dip in emissions during COVID-19 lockdowns.
WMO Secretary-General Petteri Taalas said the current rate of increase in heat-trapping gases would result in temperature rises "far in excess" of the 2015 Paris Agreement target of 1.5 degrees Celsius above the pre-industrial average this century.
"We are way off track," he said. "We need to revisit our industrial, energy and transport systems and whole way of life," he added, calling for a "dramatic increase" in commitments at the COP26 conference beginning on Sunday.
The Scottish city of Glasgow was putting on the final touches before hosting the climate talks, which may be the world's last best chance to cap global warming at the 1.5-2 degrees Celsius upper limit set out in the Paris Agreement.
"It is going to be very, very tough this summit," British Prime Minister Boris Johnson said during a news conference with children.
"I am very worried because it might go wrong and we might not get the agreements that we need and it is touch and go, it is very, very difficult, but I think it can be done," he said.
The German government announced Chancellor Angela Merkel will travel to Glasgow to take part.
STAKES ARE HUGE
The stakes for the planet are huge – among them the impact on economic livelihoods the world over and the future stability of the global financial system.
Saudi Arabia's crown prince said on Saturday that the world's top oil exporter aims to reach "net zero" emissions of greenhouse gases, mostly produced by burning fossil fuels, by 2060 – 10 years later than the United States. He also said it would double the emissions cuts it plans to achieve by 2030.
An official plan unveiled in Ottawa showed developed nations were confident they can reach their goal of handing over $100 billion a year to poorer countries to tackle climate change by 2023, three years late.
The plan on how to reach the goal, prepared by Canada and Germany, said developed countries still needed to do more and complained private finance had not lived up to expectations.
A Reuters poll of economists found that hitting the Paris goal of net-zero carbon emissions will require investments in a green transition worth 2%-3% of world output each year until 2050, far less than the economic cost of inaction.
By contrast governments since January 2020 have spent a total of $10.8 trillion – or 10.2% of global output – in response to the COVID-19 pandemic.
'WE DON'T HAVE TIME'
A "business-as-usual" trajectory leading to temperature rises of 1.6C, 2.4C and 4.4C by 2030, 2050 and 2100 respectively would result in 2.4% lost output by 2030, 10% by 2050 and 18% by 2100, according to the median replies to the survey.
Australia's cabinet was expected to formally adopt a target for net zero emissions by 2050 when it meets on Monday to review a deal reached between parties in Prime Minister Scott Morrison's coalition government, official sources told Reuters.
The ruling coalition has been divided over how to tackle climate change, with the government maintaining that harder targets would damage the A$2-trillion ($1.5-trillion) economy.
In London, climate activists restarted their campaign of blockading major roads by disrupting traffic in the city's financial district, while in Madrid a few dozen people staged a sit-in protest, briefly blocking the Gran Via shopping street.
"Greenhouse gas emissions are provoking climate catastrophes all over the planet. We don't have time. It's already late and if we don't join the action against what's happening, we won't have time to save what is still left," said Alberto, 27, a sociologist who took part in the protest.
(Additional reporting by William James and Kylie MacLellan in London, Zuzanna Szymanska in Berlin, David Ljunggren in Ottawa and Marco Trujillo in Madrid; Writing by Michael Shields, Editing by William Maclean)
New nuclear reactors can help France become carbon neutral by 2050 -RTE
French grid operator RTE said next generation nuclear reactors offer an affordable path to shifting the country's energy mix away from fossil fuels and make the aim of carbon neutrality by 2050 achievable.
"Building new nuclear reactors is economically viable, especially as it makes it possible to maintain a fleet of around 40 gigawatts (GW) in 2050," said the RTE in a report examining the different pathways to meet the expected rise in electricity demand.
Industry and government sources say the report is expected to help inform President Emmanuel Macron's decision to go ahead with plans to build new nuclear plants.
Le Figaro reported last week that Macron wants to announce the construction of six new EPR nuclear reactors by the end of the year.
Achieving future carbon neutral goals without nuclear reactors would require a scale up of renewables faster than the most dynamic electric mixes in Europe, RTE said.
France and several other European countries have pushed to label nuclear energy as green investments in the European Union's upcoming sustainable finance rules.
The carbon neutral goals will be "impossible" without a significant development of renewable energy, RTE said.
Other supply options include the development of further interconnectors between countries, expanding hydraulic storage, and installing batteries to store renewable power.
New thermal power plants that utilise carbon-free gases, such as "green hydrogen" which is produced through the use of renewable energy, can also be used in order to meet rising consumption forecasts, the operator said.
RTE said the current energy crisis shows Europe's dependence on hydro-carbons, such as gas and coal, has an economic cost and that low-carbon production in the country is an issue of energy independence.
France's nuclear safety watchdog ASN in February cleared more than half of the nuclear fleet to operate for a decade longer than originally planned after maintenance work, as 32-900 megawatt reactors are coming to the end of their lifespan.
France currently has about 62.4 GW of nuclear generation capacity provided by 57 reactors, RTE data showed.
REACTION
Environmental groups decried the report's emphasis on nuclear energy and supported calls for a quicker build out of renewable generation.
Greenpeace focused on the three pathways which would see the grid operated on 100% renewable energy and called for debates on the energy transition.
"This not only proves that nuclear power is not a necessary evil, but also that, whatever option is chosen, renewable energies need massive development to respond to the climate emergency," Greenpeace said.
The RTE report said that scenarios with high shares of renewables, or those that extend reactor life beyond 60 years, would "involve heavy bets on technology" to meet carbon neutrality goals.
French Green party members described the report as one-sided and an attempt to justify new nuclear projects while disregarding consumption control measures.
"The goal of the president of the Republic and his government is clear: to justify the revival of nuclear power at any cost," said Matthieu Orphelin, who used to represent Macron's party but who has joined the Greens.
The French renewable energy union SER said the scenarios presented in the report represented "a major paradigm shift," as it is expected that renewables will need to cover at least 50% of demand by 2050.
(Reporting by Forrest Crellin and Dominique Vidalon; Editing by Sudip Kar-Gupta and Mike Harrison)
Explainer: Climate change: what are the economic stakes?
COP26 climate talks in Glasgow starting next Sunday may be the world's best last chance to cap global warming at the 1.5-2 degrees Celsius upper limit set out in the 2015 Paris Agreement.
The stakes for the planet are huge – among them the impact on economic livelihoods the world over and the future stability of the global financial system.
Here are 10 climate change-related questions that economic policy-makers are trying to answer:
1) HOW MUCH DOES CLIMATE CHANGE COST? From floods and fires to conflict and migration: economic models struggle with the many possible knock-on effects from global warming. The ballpark IMF estimate is that unchecked warming would shave 7% off world output by 2100. The Network for Greening the Financial System (NFGS) group of world central banks puts it even higher – 13%. In a Reuters poll of economists, the median figure for the output loss in that scenario was 18%.
2) WHERE IS THE IMPACT GOING TO BE FELT HARDEST? – Clearly, the developing world. Much of the world's poor live in the tropical or low-lying regions already suffering climate change fall-out like droughts or rising sea levels. Moreover their countries rarely have the resources to mitigate such damage. The NFGS report projects overall output losses of above 15% for much of Asia and Africa, rising to 20% in the Sahel countries.
3) WHAT DOES THAT MEAN FOR INDIVIDUAL LIVELIHOODS? Climate change will drive up to 132 million more people into extreme poverty by 2030, a World Bank paper last year concluded. Factors included lost farming income; lower outdoor labour productivity; rising food prices; increased disease; and economic losses from extreme weather.
4) HOW MUCH WILL IT COST TO FIX IT? Advocates of early action say the sooner you start the better. The widely used NiGEM macroeconomic forecast model even suggests an early start would offer small net gains for output thanks to the big investments needed in green infrastructure. The same model warns of output losses of up to 3% in last-minute transition scenarios.
5) WHO LOSES OUT IN A "NET ZERO" CARBON WORLD? Primarily, anyone with fossil fuel exposure. A report by think tank Carbon Tracker in September estimated that over $1 trillion of business-as-usual investment by the oil and gas sector would no longer be viable in a genuinely low-carbon world. Moreover the IMF has called for the end of all fossil fuel subsidies – which it calculates at $5 trillion annually if defined to include undercharging for supply, environmental and health costs.
6) WHAT SHOULD CARBON REALLY COST? Tax or permit schemes that try to price in the damage done by emissions create incentives to go green. But so far only a fifth of global carbon emissions are covered by such programmes, pricing carbon on average at a mere $3 a tonne. That's well below the $75/tonne the IMF says is needed to cap global warming at well below 2°C. The Reuters poll of economists recommended $100/tonne.
7) WOULDN'T THAT LEAD TO INFLATION? – Anything which factors in the polluting cost of fossil fuels is likely to lead to price rises in some sectors – aviation for example. That could in turn lead to what central banks define as inflation – broad-based and durable price rises across the whole economy. Yet history shows this hasn't necessarily been the case: carbon taxes introduced in Canada and Europe pushed overall prices lower because they cut into household income and hence consumer demand, a recent study showed. It is also true that doing nothing could lead to inflation: a European Central Bank paper last year warned of food and commodity price rises from extreme weather events and the land shortages being caused by desertification and rising sea levels.
8) ARE GREEN ADVANCES REALLY DECOUPLING EMISSIONS FROM ECONOMIC GROWTH? Genuinely sustainable growth implies that economic activity can grow as needed without adding yet more emissions. This is the holy grail of "absolute decoupling". But so far, any decoupling has either been largely relative – in the sense of merely achieving higher rates of economic growth than gains in emissions – or achieved by shifting dirty production from one national territory to another. And that is why, for now, global emissions are still rising.
9) WHO BEARS THE BRUNT OF TRANSITION? The idea of "Just Transition" has been espoused by bodies such as the European Union to acknowledge that the transition to net zero should happen in a fair way – for example by ensuring low-income groups are not made worse-off. At a global scale, the rich countries which since their industrial revolutions have generated the bulk of emissions have promised to help developing countries transition via $100 billion of annual transfers – a promise so far not fulfilled.
10) COULD THIS SPARK A FINANCIAL CRISIS? The global financial system needs to be insulated against both the physical risks of climate change itself and the upheavals likely to happen during a transition to net zero. Central banks and national treasuries are calling on banks and other financial players to come clean about the exposure of their books to such risks. The ECB and other regulators have made it clear there is a long way to go on this.
(Editing by Giles Elgood)