Winners and losers from 1st round of 2020 NFL Draft – theScore
theScore's football editors evaluate who came away as the big winners and losers after the first 32 picks of the 2020 NFL Draft.
Winners: Miami Dolphins
The Dolphins didn't have to "Tank for Tua" after all. Nor did they have to package their three first-round picks to finally land a franchise centerpiece. All they had to do was sit at No. 5 and wait for him to fall into their laps.
With the Round 1 fireworks behind us, it's apparent that much of the pre-draft chatter about medical concerns over Tua Tagovailoa's hip, wrists, and ankles was overblown, as was talk of the Dolphins preferring Justin Herbert or trying to trade up to land an offensive tackle. Perhaps the Dolphins leaked all three narratives themselves to obscure their desire to land the former Alabama star without surrendering additional compensation.
In the end, the Dolphins got their man. After a generation of searching for a player with the necessary skill and charisma to step out of Dan Marino's shadow, they might finally have done it.
Losers: Los Angeles Chargers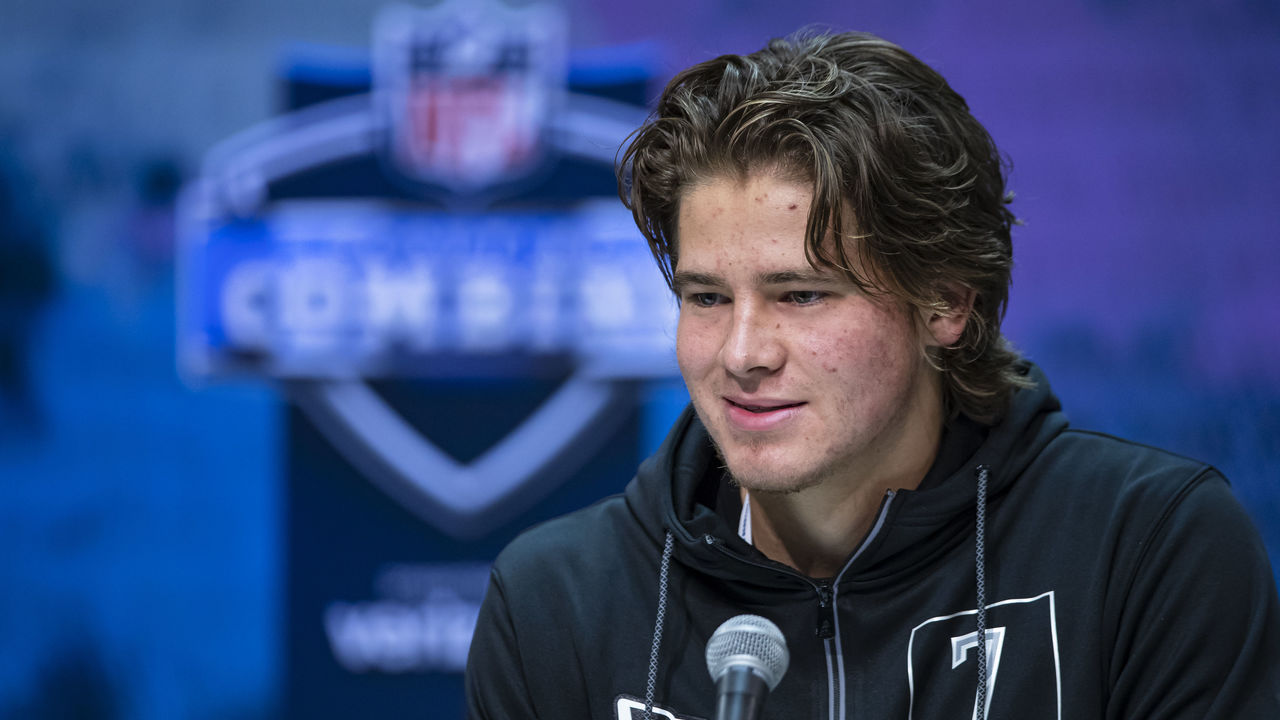 Aside from quarterback, the Chargers arguably had one of the league's most talented rosters entering the draft. They found their successor to Philip Rivers in Justin Herbert, but the jury is very much out on whether the former Oregon QB is worth the No. 6 pick. Moreover, Los Angeles stood pat and watched as Tagovailoa fell into the Dolphins' lap without the AFC East team even having to move up.
While Tagovailoa's long-term health remains a concern, he's far more pro-ready than Herbert and could have helped L.A. win now and sell tickets in a highly competitive sports market. The Chargers' second first-round selection of linebacker Kenneth Murray (after a trade that cost a second and a third) was just as questionable. The ex-Oklahoma standout is a physical specimen but is very raw in coverage – not a good trait for a team that shares a division with Patrick Mahomes. All in all, the Chargers might have whiffed on their best shot at challenging the Kansas City Chiefs in the foreseeable future.
Winner: Tom Brady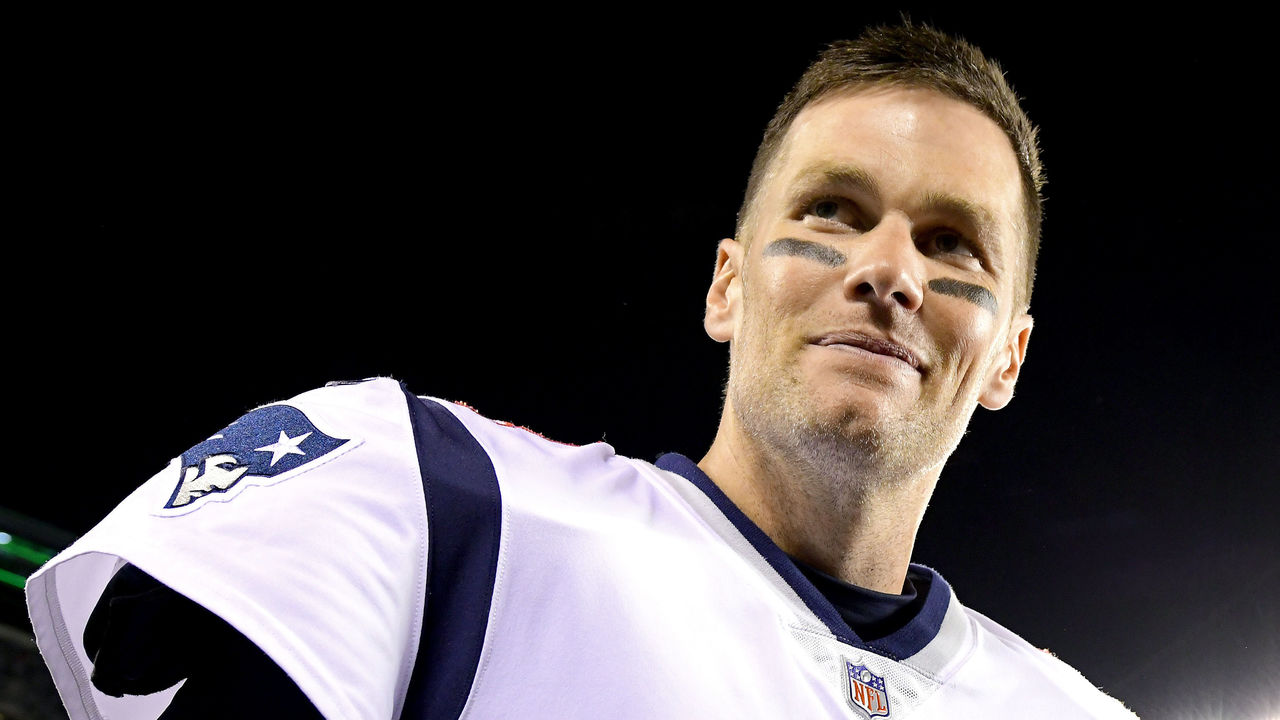 Prior to the first round, Brady had almost everything he could desire in Tampa Bay: an offensive-minded head coach, two Pro Bowl wide receivers, an ascending defense, and, of course, his BFF, Rob Gronkowski. But the 42-year-old's offensive line left something to be desired.
The Buccaneers went a long way toward ensuring their legendary quarterback will be kept clean by trading up one spot to select Tristan Wirfs at No. 13, the last of the consensus top four offensive tackles. The former Iowa standout will be plugged straight into the right tackle spot, where he played almost exclusively in college. With no weaknesses now on offense, Brady's chances of winning ring No. 7 are looking better by the minute.
Loser: Aaron Rodgers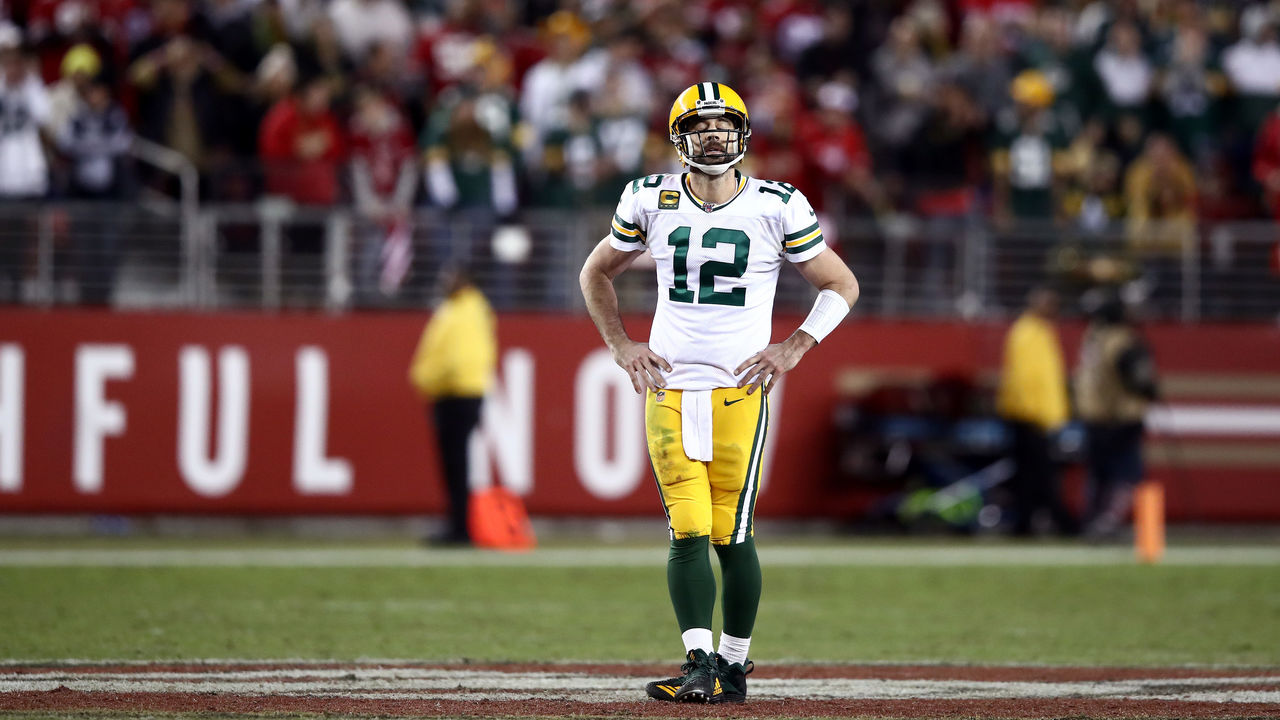 Rodgers likely went to sleep Wednesday night dreaming of the many wide receiver prospects who could be available with the Green Bay Packers' first-round selection. But fast forward 24 hours, and Rodgers will now be greeting his potential successor in Jordan Love instead of a shiny new weapon.
Rodgers isn't going anywhere soon. He's contracted through the 2023 season, and the first financially sensible time the Packers can move on from the two-time MVP is after 2021. But make no mistake, at 36 years old Rodgers is entering the twilight of his storied career, and the Packers are clearly already planning for life after him.
Winners: Dallas Cowboys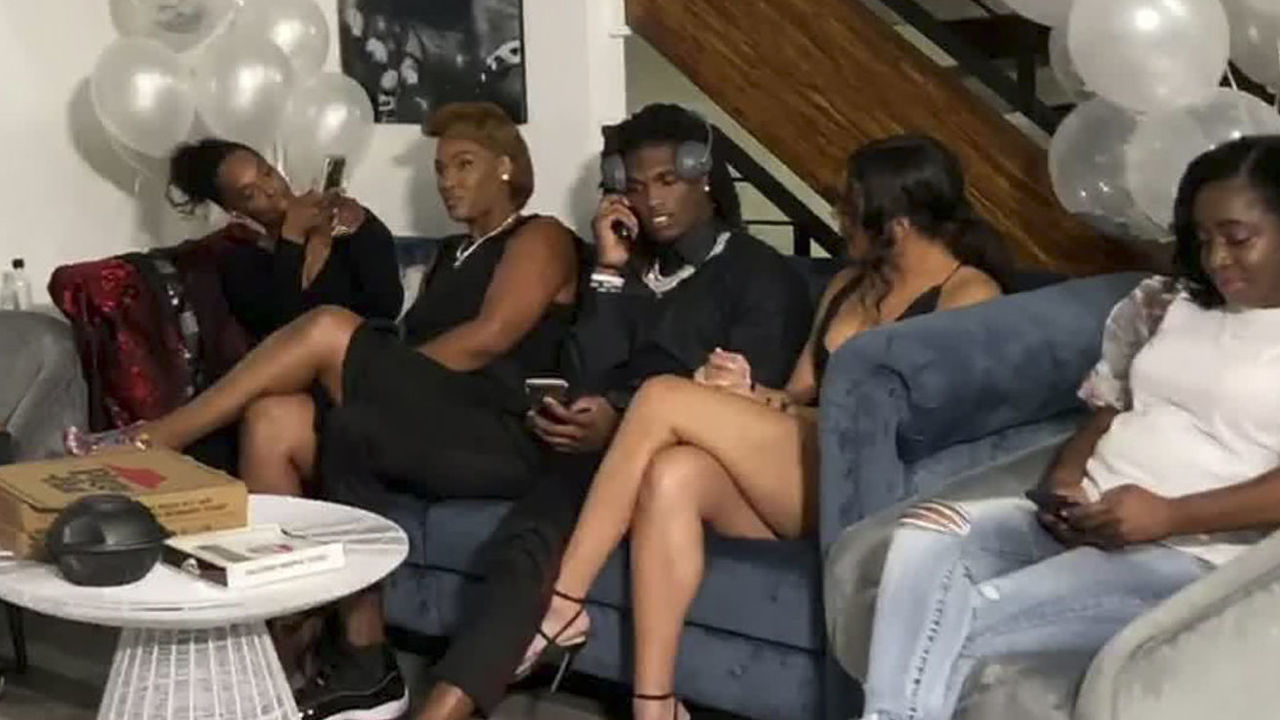 The Cowboys came away with arguably the best wide receiver in a class loaded with standouts and didn't have to trade up from No. 17 to do so. CeeDee Lamb is polished enough to make an immediate impact, yet he has the upside to grow into a legitimate No. 1 option down the road. As a rookie, he'll round out one of the NFL's deepest groups of skill players, which features Amari Cooper and Michael Gallup out wide and Ezekiel Elliott next to Dak Prescott in the backfield.
Even sweeter for the Cowboys is that the addition of Lamb could alleviate pressure to re-sign Gallup in a couple of seasons when his rookie deal expires. With so many big-money contracts already on the books, Dallas may be in tough to keep the former third-rounder, who eclipsed 1,000 receiving yards one year ago. The Cowboys entered the draft needing to address their defensive secondary but can do that on Day 2.
Losers: Las Vegas Raiders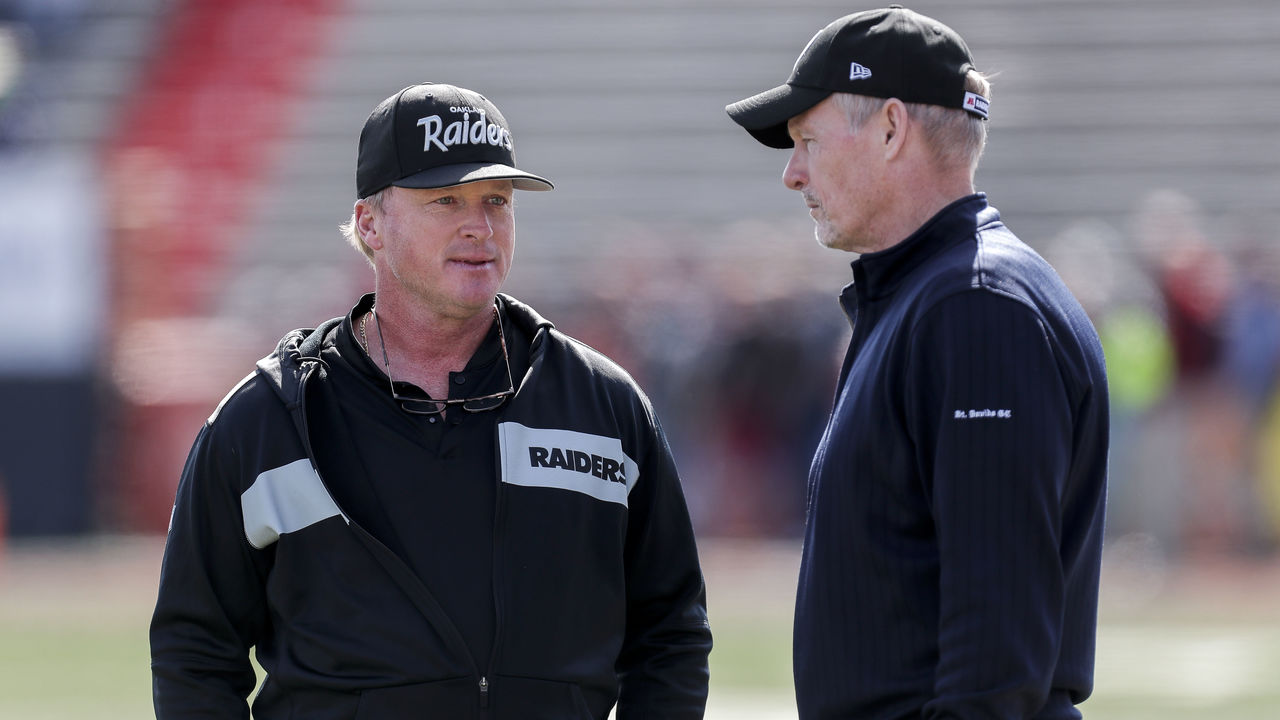 Mike Mayock appeared to extend his arms all night, less than 10 days after saying "the biggest mistake is trying to reach for need." At No. 12, he took Henry Ruggs III, who was widely considered the third-best receiver available after Lamb and Jerry Jeudy. The larger controversy came at No. 19 when he went off the board to select Damon Arnette, a projected Day 2 talent, after the top cornerbacks had been claimed.
Before the draft, Mayock said he'd be comfortable working virtually given his background as a TV analyst. But he appeared to panic when the Raiders went on the clock, selecting players he likely could still have gotten if he had traded down. He admitted afterward that Arnette would probably have lasted a while longer, but he didn't want to risk losing him. Mayock seemed to be equally jittery last year when he chose Clelin Ferrell fourth overall.
Winners: Offensive linemen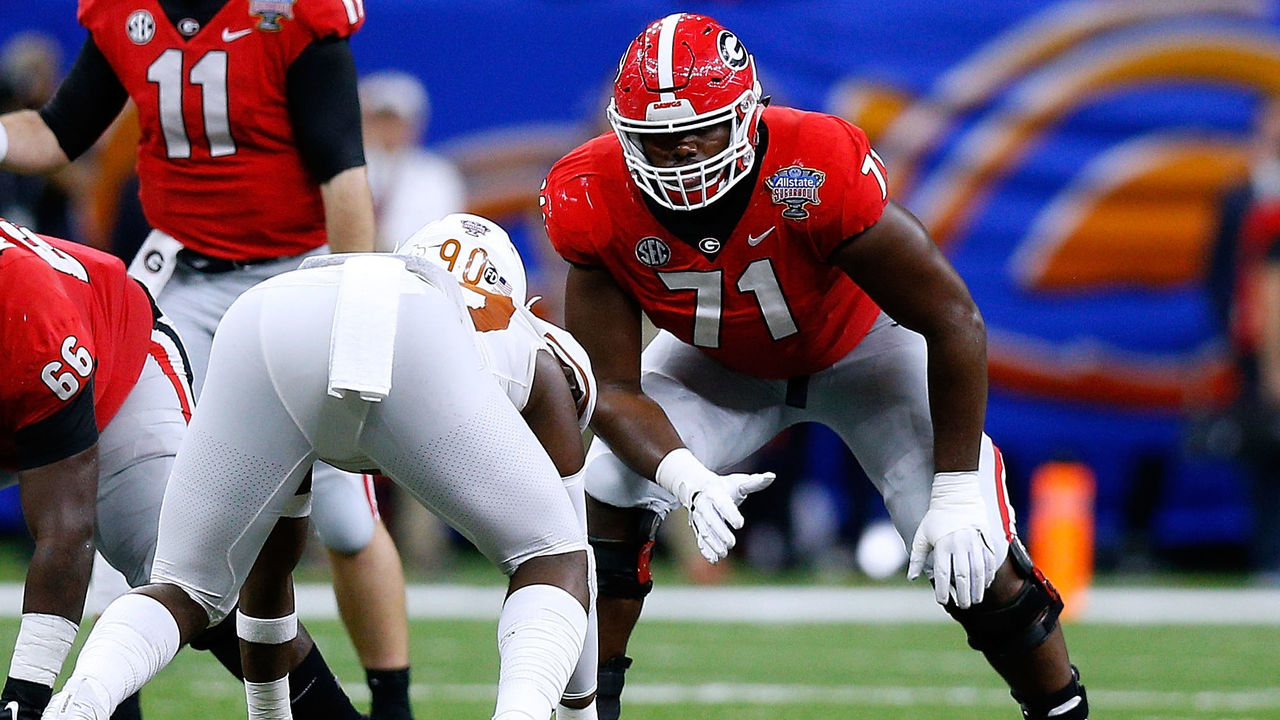 Big men were the belle of the ball on Day 1. Seven offensive linemen were selected, including four within the first 13 picks. Georgia, in particular, had two tackles selected in the first round: Andrew Thomas at fourth overall and Isaiah Wilson at No. 29.
In the position breakdown of players selected, offensive line led the way, followed by receivers at six picked. Those numbers represent the demand at the pro level for plug-and-play offensive linemen and the steep drop from the top prospects in this draft to the second tier.
Losers: Safeties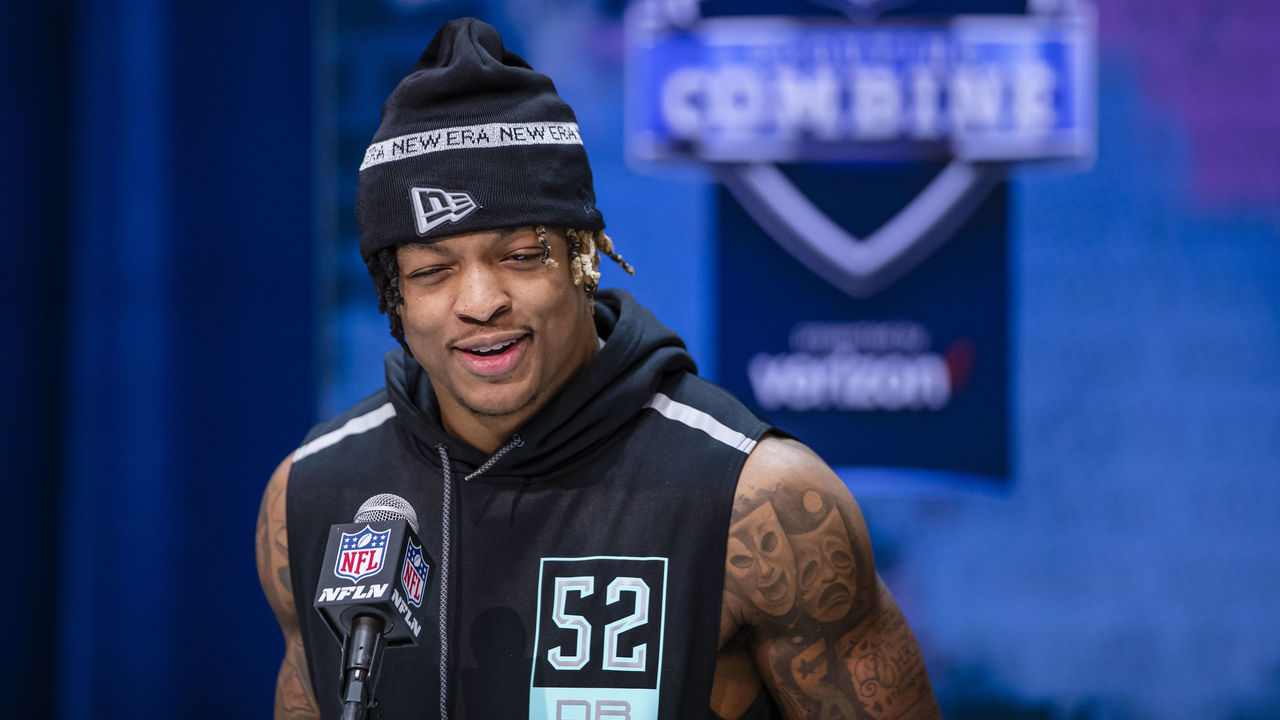 A position that once was thought to have two or perhaps three slam-dunk picks in the first round (Xavier McKinney, Grant Delpit, Antoine Winfield Jr.) was shut out on the first night of the draft.
The three aforementioned safeties were invited to participate in the NFL's virtual draft but were only seen sitting quietly with their loved ones as they watched the opening night unfold. McKinney, Delpit, and Winfield are good bets to be picked Friday, but they lost out on the millions that come with being a first-round selection.
NFL stars ask league to 'admit wrong' in silencing on-field protests – Sportsnet.ca
More than 15 NFL stars say they are asserting their right to peacefully protest and are asking the league to "admit wrong" in silencing its players from peacefully protesting.
In a video posted on Twitter by New York Giants running back Saquon Barkley, players addressed the recent death of George Floyd, which has prompted protests across the world regarding racial injustices.
— Saquon Barkley (@saquon) June 5, 2020
Others featured in the video include Patrick Mahomes, Odell Beckham Jr., DeAndre Hopkins, Deshaun Watson and Ezekiel Elliott.
Some players posed a hypothetical: "What if I was George Floyd?"
They proceeded to answer, "I am George Floyd," followed by similar "I am" statements recognizing other African Americans who've died unjustly in recent years: Breonna Taylor, Ahmaud Arbery, Eric Garner, Laquan McDonald, Tamir Rice, Trayvon Martin, Walter Scott, Michael Brown Jr., Samuel DuBose, Frank Smart, Phillip White and Jordan Baker.
"We will not be silenced," the players said in the video. "We assert our right to peacefully protest. It shouldn't take this long to admit."
Then, the players asked the NFL to "condemn racism and the systematic oppression of black people," "admit wrong in silencing our players from peacefully protesting" and to state that black lives matter.
In 2016, Colin Kaepernick sparked a wave of demonstrations across the league after he kneeled during the national anthem to call attention to police brutality and racial inequality. Kaepernick has not played in the NFL since that season and settled a collusion case saying he was blacklisted because of the protests with the league last year.
The NFL released a statement five days after Floyd's death that makes no mention of player protests. It also does not mention racism.
But the league's statement closes this way: "We recognize the power of our platform in communities and as part of the fabric of American society. We embrace that responsibility and are committed to continuing the important work to address these systemic issues together with our players, clubs and partners."
NHL teams get ready to reopen rinks as part of Phase 2 – NHL.com
NHL teams are preparing to begin limited workouts with small groups at their team facilities next week, the start of Phase 2 of the Return to Play Plan.
"Having access to the rink and the ice and being around teammates again is a big deal," Tampa Bay Lightning forward Blake Coleman said Friday. "Talking to the guys, everybody is excited to get back out there. … I'm itching to get back. I'm sure a lot of guys are. I know that when you have that extra motivation to come back, there's a lot more energy in the room and a lot more excitement around the games as well."
The NHL season was paused March 12 due to concerns surrounding the coronavirus and facilities were closed. The League announced Thursday that beginning June 8, teams will be permitted to reopen their training facilities in their city to allow players to participate in individualized training activities (off-ice and on-ice). Players will be participating on a voluntary basis, and workouts will be limited to a maximum of six players at any time, plus a limited number of staff.
"Every bit of homework has been done including provinces, governments, states, counties, so that the comfort of going into it from my perspective is positive because we're not going into something quickly," New York Islanders general manager Lou Lamoriello said. "The date was not put down as a target. It was only going to be done when everybody was comfortable doing it. So I'm comfortable."
Video: Bettman on Return to Play: Full Q and A
All teams must adhere to the Phase 2 Protocol that was released by the NHL and NHL Players' Association on May 25. The 21-page document is intended to provide players with a safe and controlled environment to resume their conditioning.
Phase 3, which would be the opening of training camps, will not start before July 10, the NHL has said. A date for Phase 4, which would be the start of the Qualifying Round and Seeding Round Robin leading into the Stanley Cup Playoffs, has not been determined.
Toronto Maple Leafs GM Kyle Dubas said Wednesday teams have "no playbook" from the past to refer to entering Phase 2 because of the unique issues related to the pandemic in Canada, the United States and Europe.
"I agree with Kyle, we're going into certainly something different," Lamoriello said. "But what the League and the [NHLPA] have done is done as much preparation and as much research as possible and have consulted with the professionals, whether it be the infectious disease people, the medical people, the testing people."
Dubas said about 13 Maple Leafs players remained in Toronto during the pandemic and four or five have returned to the city and are undergoing their 14-day quarantine. Lamoriello, who said the Islanders should have a better idea by Sunday how many of their players might take part, said that there is no pressure for anyone to participate if they have anxieties or concerns about coming back right away.
"We have approximately, I'd say, a third of the players in the area," Lamoriello said. "But once again, it's a very voluntary situation. I'll be speaking to each and every one of them over the weekend. Everything has been satisfied for the players of what they had to do in preparation for it as far as the testing (for COVID-19).
"When they're comfortable to come back, that's when we'll be ready for them. If they decide that it's a little later, so be it."
The decision when to open a facility will be made by the individual teams. The Islanders will start Phase 2 on Monday; the Washington Capitals, among others, haven't announced when they will begin.
"I think the biggest challenge is going to be the limited amount that you're able to stay at the rink or coaching and that kind of thing," Capitals goalie Braden Holtby said. "That's going to be something we're going to have to play by ear. To be honest, I'm just kind of rolling with the punches right now. Whenever they tell me I can go on the ice, I'll do the best to be safe and everything to get back on and go from there."
NHL.com deputy managing editor Brian Compton and staff writers Tom Gulitti and Amalie Benjamin contributed to this report
Report: MLB, owners focused on 48-game schedule for 2020 – theScore
Find out the latest on COVID-19's impact on the sports world and when sports are returning by subscribing to Breaking News push notifications in the Sports and COVID-19 section.
MLB's discussions with owners about a shortened 2020 season are now focused on a 48-game schedule with full prorated pay for players, sources told Jeff Passan of ESPN.
Previous reports indicated the league was seeking between 50-60 games at the prorated level. The MLBPA proposed a 114-game schedule, which the league rejected, but the union is reportedly willing to play an 82-game season with fully prorated salaries.
The union "resoundingly" rejected further pay cuts for players Thursday evening.
The two sides are at a standstill in negotiations. When the league and owners rejected the idea of a 114-game schedule at full prorated salaries, they made it clear that they wouldn't present a counteroffer. The league is in a position where it can implement a shortened season unilaterally, Passan notes.
The current collective bargaining agreement is set to expire after the 2021 season.
Owners have said that playing a longer schedule without fans in attendance would cause substantial losses that they are reportedly unwilling to absorb. The players have asked owners to open their books to show specific numbers related to the expected financial shortfall, but that request has not been granted.
Part of the stalemate has been attributed to the prior agreement in March where the MLBPA agreed to prorated salaries based on how many games were played. Owners feel that the agreement was made with the assumption that paying fans would be able to attend and that there would be room for further salary cuts if the seats remained empty.
There is some doubt surrounding whether or not the entire season would be played in front of empty stands. The state of Texas has already opened its sports venues to allow 50% capacity.