'Without golf art, I'd be in jail': the remarkable story of Valentino Dixon
A mere five-minute stroll from Augusta National lives a man with a more extraordinary backstory than anybody who will tee off in the upcoming Masters. Golf was largely responsible for restoring Valentino Dixon's freedom, which in itself is poetic given his upbringing in the streets of East Side Buffalo.
"I had never set foot on a golf course before I went to prison," Dixon explains. "I have played about 20 times now.
"Golf meant absolutely nothing to me. I grew up in a tough, inner‑city neighbourhood where it was just football and basketball. Golf was for white privileged people; at least I thought it was. It had nothing to do with a poor black kid, growing up in a drug-infested neighbourhood. I was never in a gang or anything like that but a lot of my friends got killed when I was younger."
Dixon has rubbed shoulders with Tiger Woods and Jack Nicklaus. He has sold artwork to Michelle Obama. Yet for 27 years – he received a life sentence – Dixon was imprisoned for a shooting he was not responsible for. The delivery of justice arrived only after Dixon's astonishing knack for reproducing golf holes on canvas received widespread publicity. He walked free in 2018, after the confession of another man – made two days after the 1991 shooting – was so belatedly accepted.
For the first seven years of his internment and despite earlier being such a promising art student Dixon did not draw a thing. His passion was refuelled by a delivery of supplies from an uncle. "He told me if I could reclaim my talent, I could reclaim my life," says Dixon. "I started to draw again. My uncle said I may have to draw myself out of prison. That made me say to myself: 'If I become one of the greatest artists who has ever lived, that has to get me some attention and has to get me my freedom.' I was drawing for up to 10 hours every day for the next 20 years.
"Had I not been drawing every day, a warden would never have known me or asked me to draw the golf hole."
The 12th at Augusta National. No ordinary golf hole. Golden Bell. "I was like: 'Golf? I don't know anything about golf. I'll draw it but please, give me a break here,'" Dixon recalls. "My neighbour said I should draw more golf holes and I said: 'Hell, no!' He tossed some Golf Digest magazines on my bed. I started drawing courses every day and once I started I couldn't stop."
With this came the attention which accelerated Dixon's bid for freedom. His voice started to be heard and the errors attached to his original trial came to light. So what was it about the appearance of golf venues that captured Dixon's imagination from inside a cell? "Twice a year, when we were kids, our father would take us fishing. That was the only time I had real peace, those fishing trips. The golf courses reminded me of that."
Dixon has received a medal from the Vatican. Nicklaus compared Dixon's spirit to that of Nelson Mandela. Obama bought an item as a gift to her husband, Barack, after noting the artist's tale on a US television show. "Everybody wants golf art," he says. "I have some amazing art work but everyone wants golf art. I think that's all connected to the story. Golf art got me out of prison. Without golf art, I'd still be sitting in jail right now."
Dixon met Woods shortly before the golfing icon won his 15th major, the Masters of 2019. "He knew my story," says Dixon. "We chatted for five minutes. I told him he would win the Masters. He said: 'I'll try.' I said: 'No, you are going to win the Masters.' He looked at his manager and said: 'I like this guy.'" Woods's victory reverberated way beyond golf.
Dixon now has a golf apparel range for sale alongside his artwork and greetings cards. He helps prisoners in their attempts to overturn injustice ("If I can get out of the situation I was in …") and speaks in youth centres in the hope of advising teenagers to take the correct path in life. Dixon, now 53, has visited most of the iconic golf courses in the US. He was a guest, too, when the DP World Tour made a recent stop in Dubai. It seems impossible that this could ever compensate for being robbed of almost three decades of his life but Dixon is an upbeat, infectious character.
"I was never consumed by anger; that is not in my nature," he says. "I was upset with the people who did this to me but I was around people who were angry all the time. I wasn't like that. I could still smile, laugh, joke. I didn't allow what was going on with me to change me. I believe in taking obstacles and using them as motivation. Where is bitterness and anger going to get me? I would only be a miserable person."
In a month's time the most famous names in golf will roll into Augusta in preparation for the first major of 2023. Close by will be an individual whose attitude and talent levels should draw admiring glances from those competing on golf's hallowed turf. "I always thought outside the box as an artist," says Dixon. "I always had big dreams for myself." He got there in the end, following the most unimaginable of journeys.
The 10 Best Booths at Art Basel in Hong Kong 2023
Interior view of Art Basel Hong Kong, 2023. Courtesy of Art Basel.
The prevailing thought on day one of Art Basel in Hong Kong 2023? So. Many. People. As the doors of the Hong Kong Convention and Exhibition Centre opened for the first fully fledged edition of the global art fair since the onset of the COVID-19 pandemic in 2020, the feeling was bright. International gallerists, artists, curators, and collectors were back in the city, and taking full advantage of Hong Kong's better-late-than-never relaxation of social restrictions.
Just a 10-minute walk away from the fair at the Conrad Hong Kong hotel, Credit Suisse executives were doing their best to assuage a nervy audience at its investment conference—likely the last before its takeover by UBS—but on the familiar stomping grounds of the exhibition floor, the talk was for the most part positive, focusing on the social aspect of Art Week's return: dinners, talks, shows, and parties.
The fair welcomed 177 galleries this year, down from its peak of almost 250, which made for (at least seemingly) wider thoroughfares and larger booths. The knock-on effect was evident, and galleries were able to show broader presentations that pull from across their respective rosters. The overall result was less overtly showy, but still occasionally overwhelming.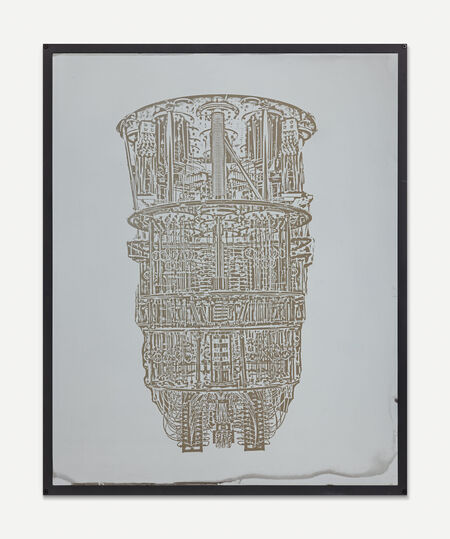 Alice Wang, installation view in Capsule Shanghai's booth at Art Basel Hong Kong, 2023. Courtesy of Capsule Shanghai.
The Discoveries sector—a hallway featuring 24 booths of solo presentations—provided a respite from this, with a number of well-considered single-artist shows. Roaming the fair grounds, artist and 2020 BMW Art Journey winner Leelee Chan—whose gallery Capsule Shanghai was showing a solo booth of work by Alice Wang in the section—was enjoying being a visitor, noting that this year's presentations were particularly "brave."
"Now that artists can actually come and install their own pieces [following the 'satellite' fairs of the last two years], galleries can really focus on bringing strong work," she said.
If there had been any sense that Hong Kong's strict travel guidelines—or its controversial national security law—had tempered the global jet set's love affair with the city, leading to some of the usual galleries staying home (or worse, transferring their efforts to Seoul or Singapore), those fears seemed to be put aside for the day, with a "Hong Kong's back, baby" attitude that seemed pervasive across all attendees.
Trevor Yeung, installation view of Mr. Cuddles Under the Eave, 2021, in Blindspot Gallery's presentation at Art Basel Hong Kong, 2023. Courtesy of Art Basel.
While some gallerists noticed a slower, wait-and-see approach to buying, after the first flush of institutional sales had been logged, most were in good spirits and enjoying the less frantic pace—and the fact that people seemed genuinely happy to see art. "It's our first year participating in Hong Kong," said SMAC Gallery's director, Baylon Sandri. "We didn't see any frenzied buying on opening day, but lots of genuine interest from institutions and private collectors—and then the sales started happening on Wednesday morning. People were engaging a lot, and engaging in a different ways. Overall, on a number of levels it feels so different to other fairs—it feels fresh, it feels optimistic and less anxious."
Here are Artsy's 10 favorite booths from the fair.
​Booth 1C15
With works by Jordan Wolfson, Richard Serra, Bridget Riley, Josef Albers, Oscar Murillo, Yayoi Kusama, Elizabeth Peyton, Thomas Ruff, Al Taylor, and Ruth Asawa
Installation view of David Zwirner's booth at Art Basel Hong Kong, 2023. Courtesy of David Zwirner.
Blue-chip galleries often have the most hodge-podge booths at art fairs—big art world names, big works, and big collectors all mingling and jostling for attention. But David Zwirner's dedication of considerable floor space to new works by Jordan Wolfson gives its booth something of a focal point, especially since that focal point features images of a chained-up cat sitting before a fortress of apples; or leather-clad gloves palming Catholic crosses juxtaposed with Spongebob, Scooby-Doo, and Fred Flintstone; or the large and sinister Red Sculpture (2016–22), which was snapped up in the first hour of the fair by Shanghai's Long Museum.
The booth also features favorites from David Zwirner's powerhouse line-up, including a number of restrained geometric works including Richard Serra's The Wagons Roll at Night (2021), Bridget Riley's Light Shade 7 (2018), and Josef Albers's Study for Homage to the Square: From Within. Another early sale was Elizabeth Peyton's Truffaut (2005) portrait, in her first time showing with David Zwirner since joining the roster from Gladstone.
Booth 1C02
With works by Chen Wei, Un Cheng, South Ho Siu Nam, Pixy Liao, Andrew Luk, Kristian Mondrup, Wai Kin Sin, Angela Su, Wang Tuo, Trevor Yeung, and Yeung Tong Lung
Installation view of Blindspot Gallery's booth at Art Basel Hong Kong, 2023. Photo by South Ho. Courtesy of the artists and Blindspot Gallery.
Having participated in the fair since it was known as Art HK, Blindspot Gallery has been something of a trailblazer in the local Hong Kong art scene, with a considered roster of regional darlings. This year, its booth holds a prime position at the entrance of the fair and is adjacent to a large-scale, attention-grabbing Encounters installation, Mr. Cuddles Under the Eave (2021). Made by one of its own artists, Trevor Yeung, it features large money trees suspended from a ceiling.
Other works on display in the booth include a video work by Turner Prize nominee Wai Kin Sin, as well as the artist's signature "death masks" created from discarded make-up wipes; Andrew Luk's jagged multimedia canvases approximating the texture of durian skin (and questioning the controversial laws surrounding this polarizing fruit); and South Ho Siu Nam's haunting watercolor pencil drawings of Hong Kong city scenes circa 2019.
Booth 1D06
With works by Marc Desgrandchamps, Tim Eitel, Neo Rauch, Nicola Samori, Kai Schiemenz, Kristina Schuldt, and Raul Walch
Installation view of Galerie Eigen + Art's booth at Art Basel Hong Kong, 2023. Courtesy of Galerie Eigen + Art.
Gerd Harry Lybke, owner of the Berlin- and Leipzig-based Galerie Eigen + Art, was in a positively ebullient mood halfway through the first day of the fair: "Nicola Samori: all sold. Neo Rauch: all sold. Tim Eitel: all sold," he told Artsy.
Commercial success aside, the gallery's booth has an impressive mix of poetry and whimsy on show, including a floating mobile by Raul Walch; a translucent glass architectural sculpture from Kai Schiemenz; and a full wall featuring eight of Italian artist Nicola Samori's dark, baroque figurative oil paintings—faces slashed and all.
Booth 1C12
With works by Haegue Yang, Ha Chong-hyun, Park Seo-bo, Gimhongsok, Suki Seokyeong Kang, Kyungah Ham, Jenny Holzer, and Candida Höfer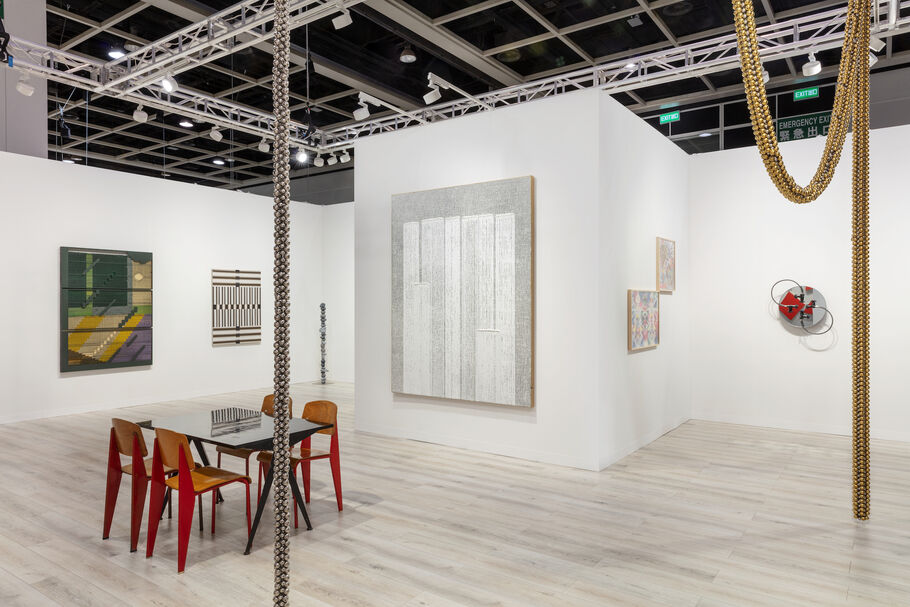 Installation view of Kukje Gallery's booth at Art Basel Hong Kong, 2023. Photo by Sebastiano Pellion di Persano. Courtesy of Kukje Gallery.
While its sprawling installation by South Korean artist Gimhongsok on the upper floor of the fair is certainly an attention-seeker, most of the works in Kukje Gallery's booth demand a closer, quieter inspection. The leading South Korean gallery brings top names of Korean descent to its presentation, alongside a smattering of global names such as Jenny Holzer and Candida Höfer.
These include a columnal rock sculpture from Gimhongsok; rope-like hanging sculptures from Haegue Yang; a pair of Park Seo-bo works on canvas using ceramic from the artist's "Ecriture" series; and one of fellow Dansaekhwa artist Ha Chong-hyun's "Conjunction" paintings, created using his bae-ap-bub technique of pushing paint through the back of the canvas.
Booth 3C23
With works by Wallen Mapondera
Wallen Mapondera, installation view in SMAC Gallery's booth at Art Basel Hong Kong, 2023. Photo by Michele Galeotto/Good Takes Only. Courtesy of SMAC Gallery.
Part of the single-artist Discoveries section of the fair, SMAC—one of just two galleries hailing from Africa—shows "Within and Between," a new body of work by Wallen Mapondera, who is coming off representing Zimbabwe at last year's Venice Biennale. The pieces explore ideas of space: physical, intangible, and spiritual alike.
Mapondera creates tapestries using cardboard boxes, a reference to the confines and shelters we build to host our bodies and souls. His preferred medium of found materials are taken from spaces of happiness and then used to construct stories and ponder questions about personal lineage, spiritual freedom, and the quantification of the metaphysical.
Booth 1C16
With works by Tammy Nguyen, Do Ho Suh, Lee Bul, Gilbert & George, Billy Childish, Tom Friedman, Liu Wei, and Nari Ward
Installation view of Lehmann Maupin's booth at Art Basel Hong Kong, 2023. Courtesy of Lehmann Maupin.
Along the center thoroughfare—or "meridian," as Art Basel likes to term it—the behemoths are lined up: Perrotin beside Pace Gallery, Gagosian, David Zwirner, Lehmann Maupin, White Cube, and finally Hauser & Wirth. This line-up of works from art world superstars rivals that of any institutional collection, and the booths stay consistently packed, with brisk sales, works being constantly rotated, and photo opportunities galore.
At Lehmann Maupin, the work seems to have a little more room to breathe, whether it is with the new large-scale painting The Gape (2023) by Tammy Nguyen, which the gallery placed at the top of its booth highlights; an ethereal work, Perdu CXLVIII (2023) by Lee Bul, made of mother of pearl and acrylic paint; or even the fair-standard Do Ho Suh polyester kitchen appliance. This time it is notably encased in a glowing glass display: no doubt a result of the artist's delicate work from the same series being damaged during an after-hours event at Australia's MCA last month.
Booth 1B37
With works by anothermountainman (Stanley Wong)
anothermountainman (Stanley Wong), installation view in Lucie Chang Fine Arts's booth at Art Basel Hong Kong, 2023. Photo by Christina Ko. Courtesy of Lucie Chang Fine Arts.
Commissioning anothermountainman (Stanley Wong) to create a site-specific installation for its Insights booth (the sector featuring works created specifically for Art Basel), Lucie Chang Fine Arts made a smart play, capitalizing on the artist's always visually captivating use of the city's iconic red, white, and blue cheap plastic carrier bags that Wong sees as a symbol of Hong Kong's simple resilience.
Besides being incredibly Instagrammable, it seems to act as a galvanizing presence, uniting viewers in their love of the city, and acting as a beacon of consistency, with work created as recently as this year and from as far back as 2001, meshed together seamlessly.
Star Gallery
Booth 3C19
With works by Yan Cong, Liu Heung Shing, Zhao Gang, Kang Haoxian, Ju Ting, Zhu Xinjian, Qiu Jiongjiong, Wen Ling, and Liu Haichen
Despite being tucked in the back of the upper floor of the fair, Beijing's Star Gallery has a strong and bold showing, anchored by a sprawling three-meter-long painting by Yan Cong titled Mice, which was one of its first works to sell, going to a private collection. Also getting attention is a black-and-white photograph by Liu Heung Shing featuring a man holding up a sign that reads, in simplified Chinese: 要艺术自由—freedom for art.
Other works include the macabre Richter is Dead No. 1 by Manchurian artist Zhao Gang; a tactile hanging piece by Ju Ting, Winter is Coming; and Zhu Xinjian's ink rabbits Detaining the Moon for the Empty Mountain.
Empty Gallery
Booth 3C03
With works by Tishan Hsu, Jes Fan, Taro Masushio, Henry Shum, Vunkwan Tam, and Raha Raissnia
Installation view of Empty Gallery's booth at Art Basel Hong Kong, 2023. Courtesy of Empty Gallery.
Two artists hosting exhibitions at Empty Gallery's Hong Kong gallery also hold pride of place at its booth. Jes Fan's aqua resin, selenium, glass, and pigment sculptures, draw from Fan's glassmaking expertise and are merged with scientific processes to deal with questions of biology and flux states, which relate to the artist's cultural and gender identity.
Tishan Hsu's work also explores hybrid spaces, though primarily exploring the divide between tactile and digital. breath 9 is a wall-mounted sculpture made from UV-cured inkjet, acrylic, silicone, and ink on wood, for a final product that teases both the eye and mind.
Booth 3D06
With works by Martin Margiela, Luc Tuymans, Mark Manders, Michaël Borremans, Marlene Dumas, and Mircea Suciu
Half of Antwerp gallery Zeno X's booth was taken up by sensual and subversively classical sculptures by fashion designer Martin Margiela, alongside images from his "Film Dust" series, which raise questions on authorship in a subtle, sophisticated manner (and yes, these are photographs of film dust). The booth also includes moody, seductive canvases by Marlene Dumas, Le Désespoir de la Vieille (2020); and Luc Tuymans, Seagull (2018).
Mark Bradford, Elizabeth Peyton and Kazuo Shiraga Top Healthy Sales at Art Basel Hong Kong
At the opening of Art Basel Hong Kong, collectors and museums returned to the fair's latest edition with dealers reporting success in placing works across private and institutional collections based in Asia.
In sales reports, dealers said that the return to the Asia-Pacific market hub was a healthy one. Works valued as high as $5 million landed with buyers by Wednesday. Despite some fears circulating among dealers that two recent banking crises in the U.S. and Switzerland might hamper business, the effects have yet to reveal themselves on the fair circuit, sources told ARTnews.
"There's an appetite for buying art," Phillips Hong Kong specialist Isaure de Viel Castel told ARTnews. Castel attended the opening day of the fair, which coincided with the auction house opening its new West Kowloon location. Castel and her colleagues had long been awaiting the market's return to the hub after prolonged lockdown restrictions. "It's really the first time that Hong Kong is fully open."
Collectors appeared to be moving with clear intention through the fair, art advisor Ed Tang, who is based between New York and Hong Kong, told ARTnews, describing the pace of the inquiries and buying as moving at a "slightly different rhythm" than what's typically seen at Western fairs. "I didn't take it as a sign of hesitancy from collectors. There's just a lot of choice."
Collectors like Jens Faurschou, Alan Lo, Yusaku Maezawa, and Maya Hoffman were among the fair's closely-watched attendees. Drawing some of fair's high-profile guests this week. according to Tang and Castel, was another attraction in Hong Kong: the opening of the long-awaited M+ museum, decades in the making.
A few dealers said the opening outpaced expectations. David Kordansky Gallery, which has locations in New York and Los Angeles, reported that its entire booth of works on paper and painting by Adam Pendleton sold within the fair's opening hours. The dealer reported that 11 silkscreen paintings and drawings on Mylar that Pendleton produced last year each sold for prices between $95,000 and $135,000 to collectors in Asia.
Works by Mark Bradford, Alice Neel, George Condo and Kazuo Shiraga commanded the highest prices during the fair's opening days. Not for the first time this year, Hauser & Wirth reported that works by Bradford and Condo landed with buyers for seven figure sums. Per the gallery, Condo's 2011 painting Purple Compression, a lavender-hued and Picasso-inspired group of distorted faces, sold at Art Basel Hong Kong for $4.75 million, going to a private collection that's based between New York and Hong Kong. Meanwhile, Mark Bradford's large-scale abstraction A Straight Line sold for $3.5 million. Another by Bradford sold from the gallery's showcase at Frieze Los Angeles for the same price. Works by Henry Taylor, Pat Steir, Ed Clark and Frank Bowling were among the others. Their works sold for prices between $350,000 and $975,000.
Chelsea dealer Lehmann Maupin saw success in placing works with collectors in the region. Works by Nari Ward, Liu Wei, Lee Bul and Tom Friedman went to Asian buyers, the gallery reported.
Among the other sales made during the fair's opening days was one by Elizabeth Peyton at David Zwirner. Peyton's 2005 portrait of a man's from a side profile view titled Truffaut sold for $2.2 million to a museum based in China, the name of which the gallery did not disclose, but only described cryptically as "major." It was not the only one by an in-demand artist from the gallery's roster to see museum attention though. Another piece by provocateur Jordan Wolfson, a sculpture made from stainless steel hardware, nylon mesh, chain, and spray paint, dated from 2016 to 2022 sold for $900,000 to Shanghai's Long Museum, a recurring buyer on the Hong Kong fair scene.
Other galleries made big figures. New York dealer Fergus McCaffrey made one of the event's biggest deals, selling a 1991 red abstract painting by Kazuo Shiraga that came from the artist's estate for $5 million. It went to an undisclosed buyer. At the Brussels-based dealer Xavier Hufkens's booth, a portrait of a seated woman by Alice Neel, who has seen renewed market attention following a showcase at the Metropolitan Museum of Art in 2021 achieved over the $1 million mark. The 1966 painting, Muriel Gardiner Buttinger sold for a price between $1 million and $1.2 million (the gallery did not disclose the exact sale figure.). Though it was the only work from the dealer's showcase to achieve a blue-chip price, five paintings by Cassi Namoda and other sculptures by Thomas Houseago and also sold. Those works went for prices ranging between $50,000 and $400,000, respectively.
Meanwhile, dealers based in Europe and U.K saw steady sales that hit big numbers. Cardi Gallery, which has locations in Milan and London and Paris's Mennour sold paintings by Giorgio De Chirico and Lee Ufan, the first from 1970 and the other from 2014, for prices above $1 million, respectively. London gallerist Stephen Friedman brought a group of works by in-demand artists on its roster. Painting by Andreas Eriksson, Sarah Ball and Caroline Coon that Friedman showcased sold for prices around $100,000 each, the dealer reported. Works by the latter two were purchased by museums.
Elsewhere, works by Calgary-based artist Tammi Campbell that riff on canonical artists like Ed Ruscha and Josef Albers that were brought by Los Angeles dealer Anat Ebgi were sold in the fair's "Discoveries" section that's meant to highlight emerging artists. Those works went for prices between $10,000 and $40,000.
Micro galleries highlighting MMIWG stories aim to reconcile through knowledge and art
When Sheila Joris stumbled upon a colourful display of books at her local Ikea store, the artwork on the fabric book covers immediately caught her eye.
What peaked her curiosity was the names of several missing and murdered Indigenous women and girls (MMIWG) from across Canada were printed in bright gold letters on the books.
Upon further research, the Strathroy, Ont., business owner was "astounded" to learn the number and stories of women and children whose families never heard from them again. It inspired Joris to showcase the display at the front window of her downtown store, KYIS Embroidery, to create more awareness.
"It's just a way of me showing that I care," she said. "Some of these families didn't get any help to find their loved ones and I think it's really sad. Their stories deserve to be heard."
Joris's shop is one of many spaces throughout the country taking part in the Canadian Library (TCL) project. A micro gallery art installation that aims to raise awareness around the MMIWG crisis.
WATCH | Business owner Sheila Joris expresses why she cares about the stories of MMIWG:
Sheila Joris of Strathroy, Ont., shares her reaction when she found out the number of missing and murdered Indigenous women and girls and the stories of families who were impacted.
"The only way we're ever going to achieve any sort of reconciliation and break down barriers is once there's education for everyone and it starts by having these important conversations," said Shanta Sundarason, a Toronto-based activist leading the grassroots project.
Since they started their efforts in October 2021, participants have collected book donations of any genre. They order fabric covers designed by Indigenous artists, each one with the name of a missing or murdered Indigenous woman or girl.
More than 8,000 books have been collected so far. Ultimately, they'll be pooled together and displayed at a national museum or gallery by the end of this year, Sundarason said, adding that she wants them to be an educational tool to memorialize the lives lost.
It's going to take a lot to build up trust between settlers and Indigenous people.– Shanta Sundarason, founder of TCL
Sundarason, who came to Canada from Singapore 12 years ago, felt a responsibility as an immigrant to educate herself and others on the stories of residential school survivors and the systemic discrimination that many Indigenous people still face, she said.
"To find out that there's so many people in a country like Canada who still don't have clean drinking water was very horrifying and there's been so much that's happened to these communities," she said.
"It's going to take a lot to build up trust between settlers and Indigenous people who have been trying for decades to tell us the stories of what they've been through."
TCL is displayed at every Ikea store in Canada, as well as at cafés and hospitals, and more recently at the York Region District School Board, Sundarason said.
A collective step toward reconciliation, says elder
TCL has received overwhelming support from Indigenous elders. At first, many of them were skeptical of the project but eventually provided their guidance to its team, Sundarason said.
In Calgary, TCL is spearheaded by linda manyguns, a Blackfoot woman from Siksika Nation in southern Alberta who uses only lower-case letters for her name to acknowledge the Indigenous struggle for recognition.
Also Mount Royal University's associate vice-president of Indigenization and decolonization, manyguns said she was fascinated by TCL's inclusiveness and its ability to bring the MMIWG crisis to the forefront in a way that centres on their family members' voices.
"There's a huge chasm of emptiness between the Canadian society in general and the Indigenous experience," she said.
"People need to understand that these are not bad women — they're just encased in a social context that's been created due to the colonial perspectives and placements of Aboriginal people and as a result, it puts them in situations which make them vulnerable."
TCL creates a place for the MMIWG's memories to live, while also giving Indigenous artists a platform to shine since the artwork attracts all kinds of people, manyguns said.
"It's a collective step toward reconciliation because it's an an ethical third space where people can come together to work together and create new frontiers. The only way that we can make change is through knowledge."
She hopes TCL can motivate enough people to come together and create change so more names aren't added to the list of missing Indigenous women and girls.