Women and Girls: Baring your soul through art – Tbnewswatch.com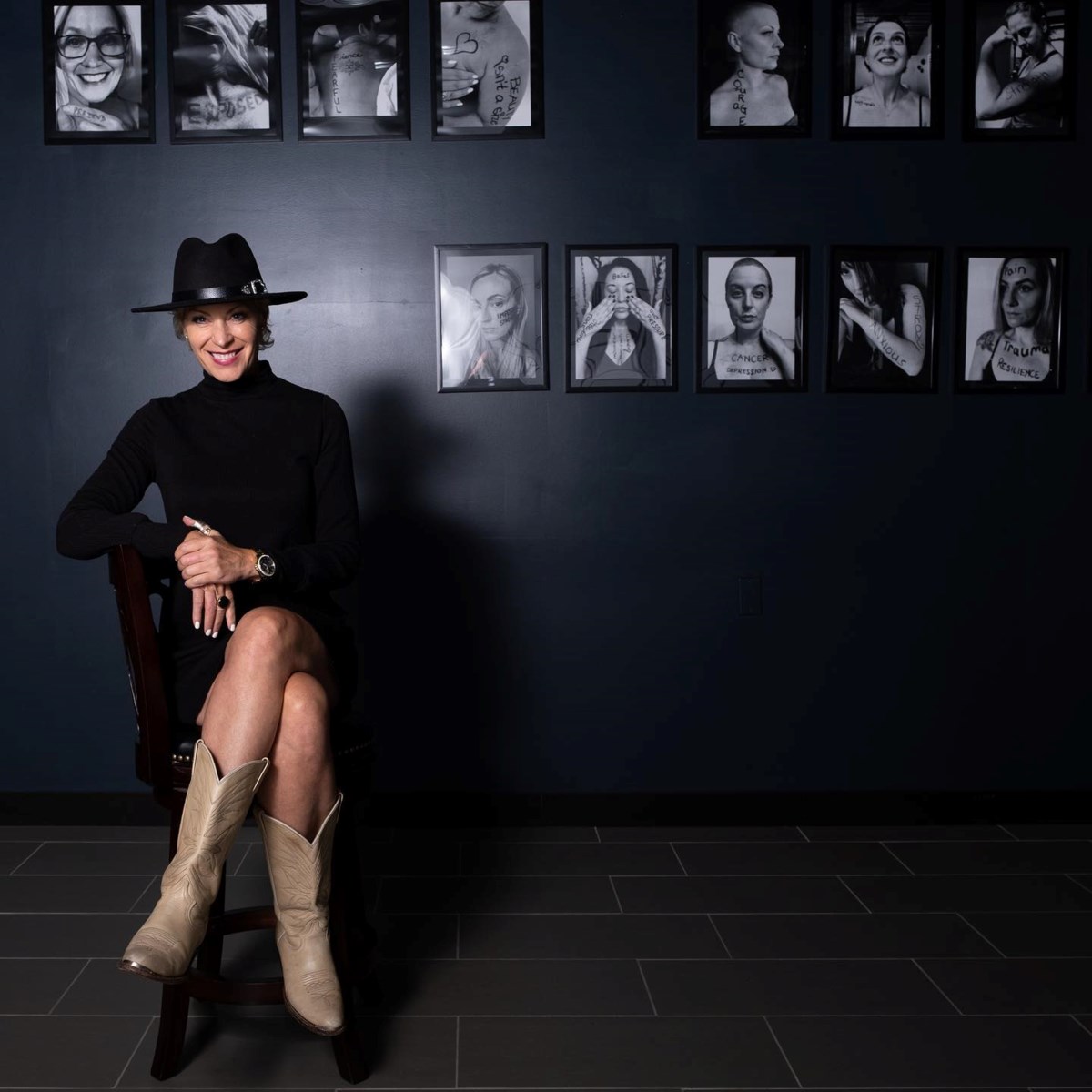 Sharing your stories and self-expression are two of the most powerful ways to liberate yourself. For some, those come through conversations, and for some who are unable to open up, that form of self-expression comes through art. Stories, poems, words, paint, sketches, songs, dance, you name it. For a local Thunder Bay woman, that self-expression had come from a random selfie with a few words written on it and flipped to Black & White.
Little did she know that the moment of liberation from sharing her story back in 2018 would result in countless women following suit in an effort to express themselves and share their stories through art.
An artistic expression of personal stories
Finding a safe space to express your stories could be difficult, especially for women. A space in which women can share stories without any judgement is the dealbreaker for a lot of women. In order to provide that space, Marlo Ellis, a local artist from Thunder Bay, started a private Facebook page in which women who have gone through similar and different experiences could voice their stories. As great as that initiative was, a lot of women, having gone through different types of experiences, had participated silently. A spark, unknown at the time, came when Ellis shared a selfie of herself with words written on her body flipped in Black & White, to express the pain she had undergone. Women, who participated silently earlier, saw the courage in this form of self-expression and followed suit. For Ellis, this created another euphoric moment, where she printed all of these pictures and displayed it at a gallery that would invite thousands of people to witness these women sharing their stories through art.
The gallery back in 2018 was displayed in Bay Village Coffee House in Thunder Bay, and has since been displayed in Calgary, Toronto, and several parts of Canada.
"Everyone has stories to tell and as humans we should understand that we are not the only ones experiencing something. Many of us experience something similar and everyone of us have had different experiences. I believe that the voices of these women should be heard, and everyone deserves a safe space to be heard, and that is why I started this gallery where women can express themselves and witness others' expression. We heal ourselves and others when we share our stories. Stories are the invisible thread that holds us together," Ellis, the brain behind this incredible space shares.
Selfies in Black & White
Selfies are the pictures you can take without a photographer. That was the idea behind selfies as the form of expression to give it a personal touch. Black & White strips the picture of all colours, make up, etc., making the expression a raw form of artistic expression. Ellis says, "everyone has a cellphone, and the selfies make this form of self-expression more personal and more raw, and since the women can take these pictures all by themselves, it makes them feel more powerful. It's got more contrast, it's natural, and it takes away the focus from things like colour of the lips, the skin, the make-up, and the outfit. Instead, it lights focus on the person sharing the story and the story they are sharing."
Results
"Best thing about this gallery is knowing the impact it's had on the women in the pictures. They get to be seen and heard. The one-way conversations make it a very safe bubble for those in their own shell. It's also been a healing process for those who come to the gallery. These women in the pictures have become healers and they're surrounded by an army of women. It is very evocative," says Ellis with pride.
This gallery in Thunder Bay has been completely funded by the local businesses owned by women in Thunder Bay. Although the funding is challenging, and Ellis is determined to get it more exposure. All proceeds from the gallery goes to the women domestic abuse shelters.
Around Town: Art of Inclusion – Alaska Highway News
Carmella Klassen paints a snowman in the window of the Fort St. John Association for Community Living's Art of Inclusion studio on 100 Avenue.
The art program began earlier this year, and recently moved into a standalone studio down the street from the ACL office, where members show up to sessions on Tuesdays and Thursdays to learn how to work with paints and pastels, linocuts and silkscreens, and other mixed-media techniques.
"I love art," says Klassen, who has been taking part in the program since the beginning. "I make something new every time, and I want to learn how to do different things. Lorna is one of the best teachers I can think of."
Klassen is referring to Montney artist Lorna Penner, who has been helping out with instruction since August. On Tuesday afternoon, Penner was working with Klassen and others on mixed-media self-evaluations and teaching them how to paint with pastels.
"It's talking about how they feel when they do art. They're very determined, they're unique," says Penner.
Penner works with about four students per session, which she says is perfect. "We can really get into things very deep," says Penner.
The studio recently held a printmaking open house for family and friends, and exhibited a COVID-19 show at Peace Gallery North earlier this year.
The program wraps for the holidays next week and will continue in the new year.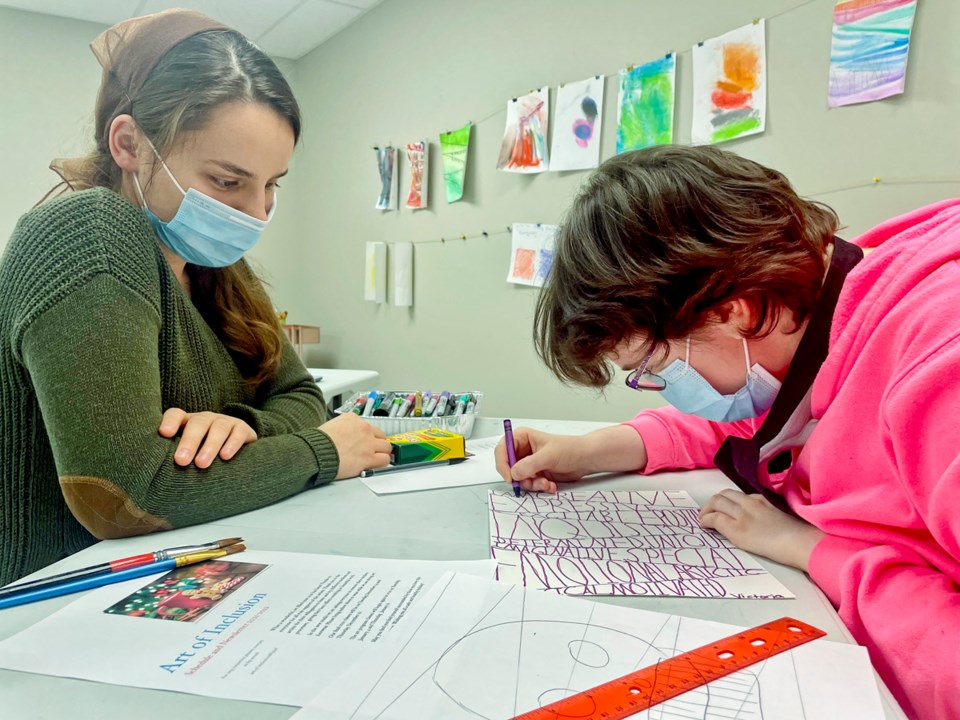 ---
Email Managing Editor Matt Preprost at editor@ahnfsj.ca
New Brunswick Grade 11 student now taking art seriously – Toronto Star
Afton MacDonald has been around art her whole life.
While she began and enjoyed doing art as a small child, the Carleton North High School Grade 11 student said she didn't take it seriously until 12 or 13.
"I remember when I was a young kid that I would watch my dad draw, and later I tried to copy him on my play easel," said MacDonald in her biography as the Creek Village Gallery and Café Young Artist for December and January.
She credited a young, talented artist who moved to her neighbourhood for sparking her interest in taking her artistic efforts to the next level.
"A girl a bit older than I had just moved in down the road, and she was an amazing artist," recalled MacDonald. "I admired her skill, and I made it my mission to become good at art."
While her efforts didn't pay dividends immediately, persistence did.
"It was a rocky start, but all through my middle school years, I drew obsessively, and it paid off," MacDonald said. "I really enjoy drawing because I love the process. I love seeing what beautiful things I can put on paper. I challenge myself to see how accurately I can draw faces or scenes."
This year, MacDonald is studying art at CNHS.
"I'm in Ms. Nickerson's Grade 11 visual arts class this semester," she said.
MacDonald called it a privilege to display her various styles of artwork on the Creek Village Gallery's Young Artist Showcase.
"I am so excited to share it with everyone," she said.
Paul Twyford of the Creek Village Gallery and Café said the Young Artist Showcase, sponsored by Woodstock businessman Greg McPherson, is designed to encourage talented young artists like MacDonald and enhance their exposure.
"It's so encouraging to them to have an opportunity to show and sell their artwork in a gallery," he said.
Twyford said MacDonald's work would remain on display through December and January.
He said MacDonald shared a unique business idea involving personalized art for potential clients, which intrigued him.
Twyford referred to the young artist's creation of an autobiographical piece of artwork, which not only includes a self-portrait but lists her likes, dislikes, friends, interests and other personal details.
For $50, she'll create an art bio for others," said Twyford. "They can contact Afton by email for more information at aftymacdonald@gmail.com
MacDonald said biographical art is one of my favourite things to make.
"I wanted to incorporate it with my display somehow, but I didn't know how to make it relate to others," she said.
MacDonald provided Twyford with her email address, explaining if someone wants their own customized bio, they simply email her.
"From there, I will send them a form to fill out with the information that I would need to complete the bio," MacDonald said. "It'll mostly be things like likes, dislikes, interesting information, age, birthday and so on. They will also provide me with a photo so I can recreate it digitally."
She said a person could also commission a biographical art piece for someone else, perhaps to give as a Christmas gift.
"I'm really hoping that people will be interested in commissioning me to do this for them because I think it would be a really cool experience," said MacDonald.
Lawrence Weiner obituary – The Guardian