Woods upbeat despite narrow defeat in Vuelta a España transition stage – Cyclingnews.com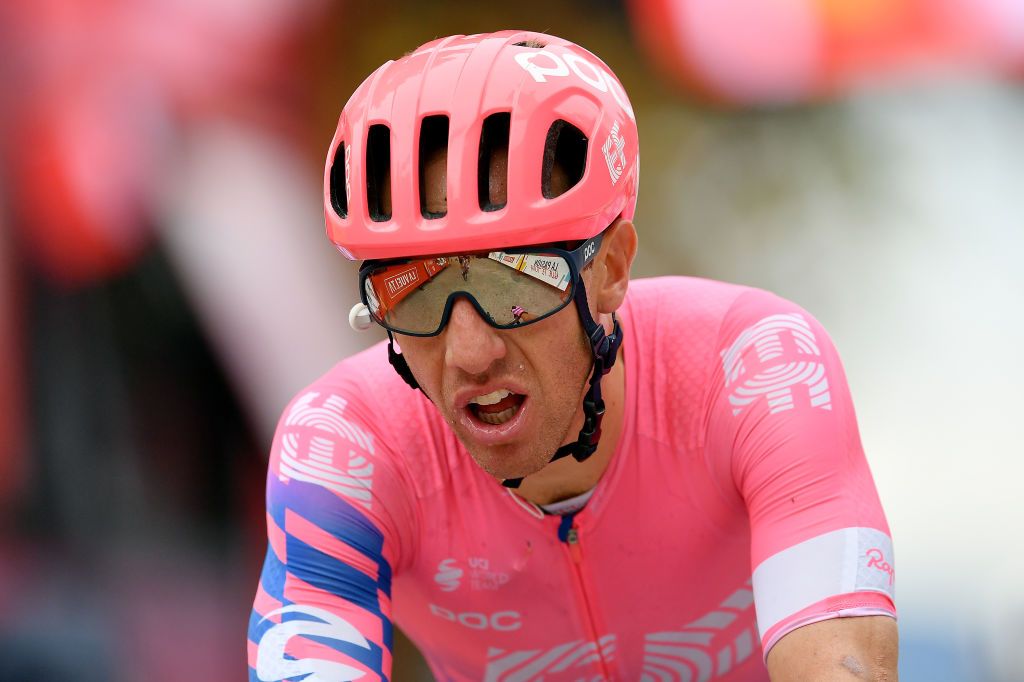 Mike Woods' time on the bike with current team EF Pro Cycling may be just days away from ending but the Canadian showed again on Wednesday in the Vuelta a España he is determined to go out on as high a note as possible.
Second on stage 6 at Formigal, the winner at Orduña 24 hours later, and also working hard to protect teammate and GC option Hugh Carthy on mountain stages like the Angliru, Woods got in a very solid seven-rider break en route to Ourense on stage 14, one of the Vuelta's tougher transition stages.
One of the strongest riders in the move and able to pull back time after the group split on a late descent, Woods was narrowly out-powered at the line in a technical uphill finale by Tim Wellens (Lotto-Soudal). Woods said afterwards that a mis-calculation about a late lefthand bend played no small part in his defeat.
"I knew it was turning and that's why I wanted to be on the front with 200 metres to go," Woods told Cyclingnews afterwards, "but I didn't expect it to turn as hard as it did.
"And so even though Wellens got in front of me [going into the corner], I was hoping I could still come around him." Indeed, Woods tried to do exactly that as the two came round the final sharp bend, but as the saying goes, the line arrived too quickly for the Canadian to get back on terms.
On the plus side, Woods had come impressively close to victory in what was a dauntingly powerful break. It included not only Wellens but also riders as well-known as former Paris-Nice winner Marc Soler (Movistar) and Classics expert Zdenek Stybar (Deceuninck-QuickStep) as well as Ineos-Grenadiers' Dylan Van Baarle, one of Richard Carapaz's top domestiques in this year's Vuelta.
Two more riders, 20-year-old Thymen Arensman (Team Sunweb), who is riding a hugely impressive first-ever Grand Tour and already third behind Wellens in the first week in another break, along with the formidably experienced French racer Pierre-Luc Périchon (Cofidis). They showed their strength, as well, by bridging across soon after the original move had formed.
"It was one of the better breaks I've ever been in," Woods said, "I've rarely been in a move with that level quality of rider and you felt it. It was heart-rate racing all day, we were just crunching it. I think even though you wanted to win, there was a good feeling in general – after the stage we were all giving each other fist-bumps."
In an intensely tactical finale, on the last ascent of the day, the third category Alto de Abeilaira positioned 22 kilometres from the line, the Canadian opened up the round of late attacks.
"I was on the front and I just got a gap and I tried to capitalize on it, it was similar to how I went on stage 7," Woods told Cyclingnews. "Someone just let the wheel go a bit and I went for it, I figured maybe only one or two guys would get across.
"But because everyone was a winner there, everyone fought to come back. And then on the descent, I made the mistake of getting behind Dylan and the rider from Sunweb [Arensman], so I was last onto the the descent."
"Stybar", riding an aero-bike, so clearly a man on a mission, "opened a gap on the descent and Dylan and the Sunweb rider weren't able to follow. I could get around the Sunweb guy, but not around Dylan and then the gap was open by then.
"Wellens, Soler and Stybar capitalized on that and then it was three", with Woods, Arensman and Van Baarle chasing and Périchon dropped, "against three for almost nine kilometres," back into the centre of Ourense for the final showdown.
"We were all riding full gas and we were able to make it back. It was touch and go, but I figured if we kept on riding hard we had a shot."
The final shoot-out with Wellens did not go Woods' way, but as Woods said, looking at the global picture, EF are riding a notably successful race in Spain
"This has been the best performance in a Grand Tour I've been a part of with EF," said Woods, who has racked up three Vueltas, two Giros and a Tour with the American team since he joined in 2016.
"We've had two stage wins, I've had two second places and now Hugh is sitting in third overall right now. It's really nice, the morale's high and I think the way Hugh's riding, we're confident he can protect that podium position as well. It's a really nice place for the team to be."
Report: Ravens close facility until next week; game vs. Steelers in jeopardy – Sportsnet.ca
The Baltimore Ravens are closing their training facility until Monday at the earliest due to the team's COVID-19 outbreak, according to ESPN's Adam Schefter.
Sunday's game between the Ravens and Pittsburgh Steelers — which was originally scheduled for the Thanksgiving primetime slot on Thursday — figures to be in jeopardy, though it has not yet been postponed.
Five additional Ravens tests came back positive on Thursday, with four players and one staff member contracting the coronavirus. Linebacker Pernell McPhee, running backs Mark Ingram and J.K. Dobbins and defensive tackle Brandon Williams had previously been placed on the reserve/COVID-19 list.
6 star players the Raptors could sign as free agents in 2021 | Offside – Daily Hive
After saying goodbye to Serge Ibaka and Marc Gasol this offseason, one thing is clear: the Toronto Raptors will be going all-in on free agency next year.
The Raptors reportedly refused to offer either player more than one-year deals in the name of cap flexibility, with a historically-great crop of players potentially available in 2021.
Masai Ujiri will have plenty of options, beginning with his own team. Kyle Lowry is set to become a free agent, while Norman Powell could opt out of the final year of his contract.
With that said, let's take a look at some of the top pending free agents in 2021, with an eye on who the Raptors might throw money at.
1. Giannis Antetokounmpo (Milwaukee Bucks)
Position: Power forward
Age: 25
2019-20 stats: 29.5 PTS, 13.6 REB, 5.6 AST
Two-time MVP Giannis Antetokounmpo will be the most sought after free agent in 2021, and there's a very real possibility that the Raptors could be a top contender to sign him.
Ujiri helped Giannis' family emigrate from Nigeria to Greece, and the Raptors president wanted to draft him in 2013.
Getting a player of Antetokounmpo's ability at age 25, in a position the Raptors covet no less, would be a franchise-changer.
2. Kawhi Leonard (LA Clippers)
Position: Small forward
Age: 29
2019-20 stats: 27.1 PTS, 7.1 REB, 4.9 AST
He wouldn't, would he? But what if he did?
They say absence makes the heart grow fonder, and perhaps after two years in Los Angeles, Kawhi Leonard would like to rekindle some magic back in Toronto.
It's a long shot, but the Clippers did have a disappointing playoffs and reportedly have a fractured locker room. If the team falls apart again this season, maybe it's enough for Kawhi to leave as a free agent, as he has a player option for 2021-22.
3. Paul George (LA Clippers)
Position: Shooting guard
Age: 30
2019-20 stats: 21.5 PTS, 5.7 REB, 3.9 AST
If Kawhi wants out of LA, maybe Paul George will too. And if Leonard doesn't opt for a Toronto reunion, perhaps Ujiri can convince George to come north of the border.
Crazier things have happened.
4. DeMar DeRozan (San Antonio Spurs)
Position: Small forward
Age: 31
2019-20 stats: 22.1 PTS, 5.5 REB, 5.6 AST
Speaking of reunions, wouldn't this be fun? DeMar DeRozan loved his time in Toronto and was heartbroken when the Raptors traded him to San Antonio in 2018. But perhaps that broken heart has been mended.
According to a recent story in GQ, DeRozan and Ujiri made up in the NBA bubble in Orlando. DeRozan gave the Raptors executive a "big hug," according to Ujiri, who added that he felt they had "reached a new place."
5. Rudy Gobert (Utah Jazz)
Position: Centre
Age: 28
2019-20 stats: 15.1 PTS, 13.5 REB, 1.5 AST
Seven-foot-one French centre Rudy Gobert is an intriguing piece. A two-time NBA Defensive Player of the Year, Gobert would fit in well to the Raptors' commitment to defence.
6. Victor Oladipo (Indiana Pacers)
Position: Shooting guard
Age: 28
2019-20 stats: 14.5 PTS, 3.9 REB, 2.9 AST
Victor Oladipo wants out of Indiana, and openly campaigned for a trade to the Raptors during in front of his teammates last season, according to a report in the Indianapolis Star.
While that's clearly outrageous, it is an indication that the two-time NBA All-Star wants out of Indiana. Named to the All-Defensive First Team in 2018, Oladipo would help at both ends of the court.
Report: Four more Baltimore Ravens test positive for COVID-19 – TSN
Four more Baltimore Ravens' players and one more staff member have tested positive for COVID-19, according to ESPN 's Adam Schefter.
The Ravens were set to take on the Pittsburgh Steelers Thursday night, but the game was switched to Sunday afternoon because of the coronavirus issues with Baltimore.
According to Schefter, Ravens players were told today by their head coach John Harbaugh that, for everyone's safety, they will not be allowed back in the training facility until Monday at the earliest.
The Ravens placed defensive end Jihad Ward on the reserve/COVID-19 list Thursday.
Ward, who has been inactive for the past four games, becomes the eighth player, and third defensive lineman, to go on the reserve list this week. As of Wednesday afternoon, the Ravens had seven players who tested positive for COVID-19 or were identified as close contacts.
Members of the Ravens' coaching staff and support staff also have tested positive.
A source told ESPN that a strength and conditioning coach for the Ravens didn't report symptoms and didn't always wear a mask inside the facility. That coach was suspended by the team on Wednesday.
– With files from ESPN