Woodstock Art Gallery launches new exhibits – The Kingston Whig-Standard
Three new exhibits will be on display at the Woodstock Art Gallery starting this weekend.
Three new exhibits will be on display at the Woodstock Art Gallery starting this weekend.
The gallery will host a free reception from 2 p.m. to 4 p.m. on Saturday to launch the new showings.
The main floor will feature Dance Me to the End of Love, inspired by the Leonard Cohen song of the same name and put together by well-known Ontario curator Linda Jansma.
The works come from the gallery's own collection and focus on the mysteries of life, such as the search of beauty, love, longing and loss.
"There's a lightheartedness to the exhibition with some beautiful pieces that lift your spirits and others that tug on more sombre emotions people can have," Woodstock gallery director and curator Mary Reid said.
Jansma first started looking at the gallery's collection and, while she was putting it together, was listening to Cohen. Dance Me to the End of Love began playing – a song that looks at moments in a person's life – and Jansma saw a powerful thread that related to the exhibit, Reid said.
The lyrics and, in turn, the works on display, show a sequence of a person's moments in life.
Jansma will also be giving a walk and talk at 3 p.m. Saturday on the exhibit.
The gallery's second floor will highlight art from local women in Given Her Due: Oxford County Women Artists 1880 to 1980. The works will examine the region's female artists, including Eva Bradshaw, Better McArthur, Jaquie Poole, Fryke Oostenbrug, Blanche Longworth, Violet Erie (Smiley) Edwards and several others.
Reid said the exhibit gradually came together as people in the community would reach out with past works from female family members.
As more people came forward, connections were made between the artists knowing one another or learning from the same people.
"With the works we have (in our collection) and the private collectors, we've created a survey of about hundred years of women artists in our community that have never really been given their due. It highlights their extraordinary amount of creativity."
Connor MacKinnon, the assistant curator of education, will also debut his first exhibit as a curator. The Plates of Printers will feature original printing plates and their corresponding prints. The exhibit takes an educational look at the process of printmaking, highlighting printing plates as art objects.
Reid said the planning for the exhibits takes about a year but, with MacKinnon starting his internship in September, it came together in about four months.
The Plates of Printers will run until the end of March, while the works of local female artists goes until June. The Dance Me to the End of Love exhibit will run for a full year.
The works will also allow the museum to "extend the engagement with our local schools," Reid said, with the gallery a popular spot for day camps and class trips.
Reid added the three exhibits will give people an experience of local history.
"It'll help enlighten a piece of history in Oxford County, particularly one Woodstock people may not know about and give a new appreciation," she said. "The Plates of Printers will give a new appreciation with the technical aspect that goes into a print.
"I see Dance Me to the End of Love as a chance you could keep coming back and it still keeps speaking to you and someone's appreciation can deepen. If you spend time with his lyrics and poetry, that's very powerful."
Powell River RCMP seek help in finding stolen art – My Powell River Now
---
The Powell River RCMP is on the lookout for dozens of pieces of stolen art.
RCMP Const. Chris Bakker says the theft happened last month at a mini storage unit in the 4600 block of Ontario Avenue.
"Police found that three of the storage units had their locks cut off," Bakker said.
"Police have been speaking to the owners and determined that a number of pieces of artwork was stolen from one of the units, as well as a MIG welder from another one."
Bakker said the MIG welder was worth roughly $750 and the value of the roughly 85 pieces of art is unknown at this time.
The art was supposed to be part of Art from the Attic, a fundraising event with proceeds to support Powell River Hospice and the Sunshine Gogos.
Because of the generosity of the public, organizers had close to 300 pieces of art; most of it stored in a Gogo's basement.
In early June they were offered free space at the storage facility, so the pieces were moved there.
Anyone with information is asked to call the Powell River RCMP at 604-485-6255.
Peterborough artist turns a needle drop box into practical public art – kawarthaNOW.com
If you've seen one of the six needle drop boxes located in downtown Peterborough, you'd probably agree they aren't particularly attractive. Intended for the secure and safe disposal of used needles ("sharps"), the mailbox-like drop boxes are painted bright yellow.
Now, thanks to a joint initiative by PARN-Your Community AIDS Resource Network and Artspace, the sharps boxes are getting a makeover. This past spring, the two organizations put out a call for proposals for local artists to submit creative designs to turn the boxes into works of public art, while supporting harm reduction.
Local artist Bethany LeBlonc recently completed her design on the sharps box located beside the trail at the King Street entrance to Millennium Park, near the Silver Bean Cafe.
Advertisement – story continues below
"This has been a really fun project, and also very close to my heart," LeBlonc writes on Instagram. "Many people struggle with mental illness & addiction due to trauma and/or socio economic status. This can lead to homelessness, and further distress."
LeBlonc's design is not only colourful, but practical. She painted a map onto the sharps box to highlight social support resources available in downtown Peterborough such as Brock Mission and the YES Shelter for Youth and Families.
She says she did it "as a thank you to those who work to help our community, to know where to seek help if you need it, and hopefully encourage you to share with friends and strangers where they can go to seek help."
To help raise awareness of available support services, LeBlonc also includes a link to a Google Map on her Instagram. The map lists resources and locations for those who may the services.
"We are all just people," LeBlonc writes. "Please be kind and help one another."
This isn't the first time LeBlonc has created art in the context of social issues. In January, her paintings of local social issues such homelessness were on exhibit at Simply Delicious in downtown Peterborough. To see other samples of LeBlonc's art, visit her Instagram account at @bethany.leblonc.
Peterborough's needle drop box program was expanded in November 2018 in a partnership between PARN, Peterborough Public Health, the Canadian Mental Health Association – Haliburton, Kawartha, Pine Ridge (CMHA-HKPR), and the City of Peterborough.
Four boxes were installed, with one behind the Peterborough Library, one along the Millennium Trail, one on the eastern side of the Otonabee River near the train bridge, and one in front the One Roof program at 99 Brock Street.
The four new boxes were in addition to the needle drop boxes in front of the CMHA-HKPR office at 466 George Street and the fire station at 210 Sherbrooke Street.
Advertisement – story continues below
"Our experience tells us that people who use injection drugs want to dispose of their supplies safely," said former PARN executive director Kim Dolan when the program was expanded. "Hundreds of people come through the doors of our agency every year to return used syringes."
"By placing these boxes at various points in the city, we will provide more options for people to return their used equipment and further reduce the instances when needles are found in public spaces."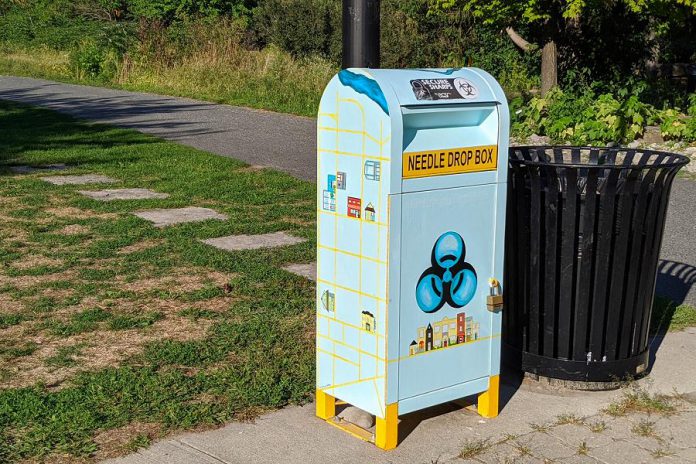 Godfrey Dean Art Gallery reopens its doors – Yorkton This Week
After closing in March due to the COVID-19 pandemic, the Godfrey Dean Art Gallery has reopened its doors. The local art gallery will be featuring Summer Light for the remainder of August, which features local artists Val Morhart, Laureen Johnson, Garry Harris, Katie Miller, Phyllis Herman, Jocelyn Duchek, Barry Whitta, Kelly Paterson, Jean Spilak and Heartstrings fine jewelry.
"It's a continuation of when we shut down in March, and actually we have some new works in there as well," said Kelly Litzenberger with the Godfrey Dean Art Gallery.
The gallery is opening slowly. For the first few weeks it will be running on reduced hours – 11 a.m. to 2 p.m., Monday to Friday.
The Summer Light exhibition was one that people didn't get much chance to see, due to when the Gallery had to close. Litzenberger said that while they do feature many provincial and sometimes national artists, it's vital to be connected to the art scene that's happening locally as well.
"It's really crucial to be part of the community and be another extension of the artists and all of the hard work that they do around here."
While the doors were closed, the Godfrey Dean was still showcasing local artists, with the 2020 Landscape and Memory exhibition going online for the first time. With over 60 entries, they posted daily for three months.
"It was really great. We did one call out for artists and we managed to have about 60 entries so we could put up something new online every day for two months. It was a great way for us to connect and stay, have that communication with our local artists.
Of course, opening in 2020 means taking precautions. The Godfrey Dean will have increased sanitation to doors and main common areas, as well as handrails.
"We are lucky in a sense, because the gallery is primarily a no-touch space. You come in there, you move around the space and you view things with your eyes, and not with your hands."
This September will see two new exhibitions at the Godfrey Dean, one featuring the textile art of Hanna Yokozawa Farquharson and another by Jeff Morton. September will also see the gallery return to regular hours.