Works of prominent artist of the 1960s-70s on display at Charlottetown art gallery – TheChronicleHerald.ca


CHARLOTTETOWN, P.E.I. —
The Confederation Centre Art Gallery is featuring a new exhibit by one of the most prominent Canadian artists of the 1960s and '70s.
P.E.I.-based artist Gerard Clarkes, 87, has been given a large section of the gallery to showcase his dramatic landscapes, dream worlds and shadowy figures.
The exhibition, which runs until May 9, is called Gerard Clarkes: A Haunted Land.
Many of the paintings had been in storage in Clarkes' home in Belfast.
The selection of art is work that Clarkes produced in Toronto nearly a half century ago with a few recent portraits and works from the past decade mixed in. Most of the selected works have not been previously exhibited in Atlantic Canada.
The Guardian sat down with Clarkes recently to talk about his works. However, talking about himself is not something he likes to do. And, don't tell him it's because he is humble.
"No, no, no. Humility has nothing to do with it," Clarkes said when asked how it feels to have his works up on the walls at the art gallery. "It's OK; it's fine. I couldn't imagine anybody would want to show these works, not because they're good or bad but because they're paintings on a canvas using mainly little brushes."
Born in 1934, Clarkes studied art in his native Winnipeg as well as in Montreal and Toronto. By the early 1960s, he was represented by major galleries in Toronto and Montreal and had solo exhibitions in Toronto and Vancouver. By the mid-60s, he was appointed director of art at York University in Toronto and later director of the Burnaby Art Gallery in British Columbia.
---
Bio
Following is more information on artist Gerard Clarkes:
His works can be found in public and private collections, including at Queen's University in Kingston, Ont., the Woodstock Art Gallery and the Montreal Museum of Fine Arts.
Since 1985, he composed music almost exclusively until returning actively to painting in the past decade.
He maintains a rural home and studio in P.E.I. where he settled in 1990.
---
Pan Wendt, curator of the Confederation Centre Art Gallery, said the exhibit defies easy categorization, noting that Clarkes' paintings often depict enigmatic casts of characters positioned in elusive landscapes, like actors in a tableau.
"His paintings are in some of the finest museums across Canada," Wendt said. "The aim of this exhibition is to introduce the paintings of Gerard Clarkes to a new audience. He was one of the most prominent Canadians painters of the 1960s and '70s who exhibited with major art galleries.
"He's just not known in the art world now. I think it's a treat for people to see things the public has not seen in years."
Clarkes said he's been painting since he was a child but having his works shown in galleries wasn't foremost in his mind as a young man. He spent the first nine years of his career as a journalist, working for British United Press and Press International. His passion at the time was economic journalism.
"I had to eat so I became a journalist. Journalism was a tough business. You weren't very well paid and you worked long hours."
Clarkes said he went on to study art and art history. Somewhere in there, he said galleries started opening and showing works.
However, Clarkes dismisses any notion that he is gifted.
"It's ingrained in everyone," he said, adding that some of the least talented people he knew as a young man went on to become some of the best painters.
Clarkes said he wonders what he could have accomplished as a painter had he had more discipline and energy.
Still, Clarkes admits it's nice to feel recognized as an artist again.
"They've pulled me out of the dust bin and dusted me off. I'm grateful. My grandchildren will see these. It's nice to be viable. It means what you were back then isn't totally irrelevant."
---
Exhibits
The following works are being shown at the Confederation Centre Art Gallery:
Gerard Clarkes: A Haunted Land, until May 9.
Curated by Pan Wendt, it features a large selection of the enigmatic, theatrical landscapes Clarkes produced in Toronto in the 1960s and 1970s, along with recent work.
The Drive, Jan. 23-May 2.
Curated by Shauna McCabe and Brian Meehan; and organized by the Art Gallery of Guelph, it features the work of Tom Thompson, the Group of Seven and their peers in relation to diverse Indigenous and Canadian artists in order to highlight the complexity of the representation of landscape, particularly as it relates to the land and the history of resource development.
Eye Candy: Recent Gifts to the Collection, until April 4.
A selection of works by Canadian painters, recently donated to the collection of Confederation Centre Art Gallery.
Give Me Shelter, until April 4.
Curated by Pan Wendt, Emerging Art Series.
Thirteen emerging artists based in St. John's, N.L., reflect on the richness of a cultural community that is steeped in both tradition and looking towards a rapidly changing future.
---
Dave Stewart is The Guardian's culture reporter.
RELATED:
Apply by June 6 to be part of the Dumoine River Art for Wilderness retreat – The Kingston Whig-Standard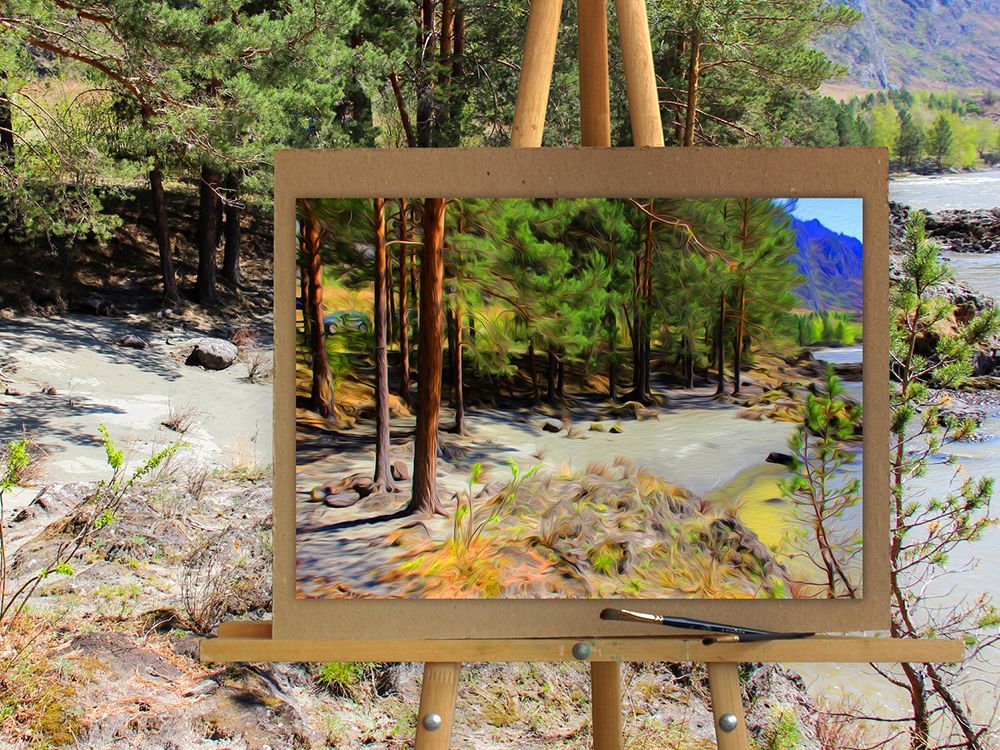 Article content
The Ottawa Valley Chapter of the Canadian Parks and Wilderness Society (CPAWS-OV) is excited to invite artists from across the region to apply for the organization's annual artists residency program. Dumoine River Art for Wilderness (DRAW) brings together artists of varied backgrounds, media and forms of expression to create art inspired by the untamed beauty of west Quebec's Dumoine River watershed and to help raise awareness of the need to safeguard natural areas like the Dumoine River for current and future generations.
Article content
Now in its sixth year, the 2022 retreat is scheduled for the week of July 26 to August 2 and will take place along the shores of the Dumoine River north of the town of Rapides-des-Joachims (Swisha) in Quebec. Fully immersed in nature and free of the distractions of day-to-day life, artists have unparalleled access to countless points of inspiration, from wetlands to mature forest, powerful waterfalls and rapids to tranquil stretches of river and shoreline from which to create art — all within easy walking distance from our group campsite. There is no internet, cell service or electricity at our campsite — participants are truly in the wilderness.
In exchange for this one of a kind opportunity, CPAWS-OV asks that each participating artist donate at least one finished or otherwise ready to display piece of art to the organization for fundraising purposes to help support the organization's ongoing work to protect the Dumoine and its sister rivers, the Noire and the Coulonge and contribute toward the costs of food and other camp expenses if they are able to.
Following the retreat, the combined artwork will be displayed at a local gallery where it will be available for sale. The work from the 2021 retreat is currently in display at Valley Artisans Co-op Gallery in Deep River until June 12.
Apply by June 6 for this unique opportunity.
To learn more or to apply, visit the website cpaws-ov-vo.org or contact them at ov-outreach@cpaws.org.
Baffled by all the immersive art exhibits happening across Canada? Here's a guide for you – CBC.ca
With luck, most pandemic pivots will be left on the scrap heap of history, junked like so many snot-stained KN95s. Zoom theatre? Drive-in comedy shows? May we never hear those phrases again. But there's one craze that's persisted, even as restrictions have eased, and that's immersive multimedia productions devoted to Vincent van Gogh.
In the spring of 2021, three separate van Gogh spectacles were operating in this country, and one year and a full round of vaccinations later, the trend is still going strong. Five van Gogh productions are now running in Canada, and before 2022 is over, they'll have reached at least 10 cities from coast to coast.
Presented by different corporate entities, each van Gogh exhibit is subtly different, but despite variations in form and ticket price, they all make the same general promise to visitors: explore van Gogh's life and art by gawking at giant projections of his all-time greatest hits. Sometimes there's the option of taking drop-in yoga class, sometimes not. But spectacle and light edu-tainment are all but guaranteed.
Earlier this month, two separate shows were expected to premiere in Halifax. Prospective ticket buyers couldn't tell one from the other, and in response to audience confusion, the organizers of one production (Van Gogh 360º) announced they'd be "joining forces" with their competition. Now, just one van Gogh exhibit will be appearing in the city (Beyond Van Gogh: The Immersive Experience), and it'll honour any tickets that were purchased for the other.
But the public appetite for immersive entertainment hasn't been limited to sunflowers and starry nights. There are now 360-degree light shows dedicated to Pablo Picasso (one closed in Vancouver this January), Claude Monet, Frida Kahlo. You'd think the injection of fresh subject matter would open up the market a bit, and yet every tribute exhibition seems to beget a whole new army of imitators. Multiple Monets! Kahlo clones!
So to spare you some frustration, here's a guide to some of the immersive productions on deck for this year, plus info on where to find them.
Van Gogh a go go!
The Halifax iteration of Van Gogh 360º may have been called off, but this immersive production is still scheduled to open in other Canadian cities this summer: Niagara Falls, Ont. (July 20); Ottawa (July 21) and Charlottetown (Aug. 5).
Presented by Festival House Inc. (the same Ottawa-based events company that works on the city's RBC Bluesfest), the show advertises a familiar mix of music and panoramic projections (which are beamed onto screens). Admission prices vary, but adult tickets (for peak times and dates) start at $41.
Brought to you by Toronto's Lighthouse Immersive, this production has weathered more than a few pandemic shutdowns since launching inside the old Toronto Star printing press in June of 2020. At the time, the show was a drive-through experience, but in these almost-normal days, visitors can explore the exhibit on foot — all 4,000 square feet of it.
Adult tickets range from $39.99-$99.99, and the show itself boasts a connection to the Atelier des Lumières in Paris, the attraction that arguably brought lightshow mania to the masses; its former artist-in-residence, Massimiliano Siccardi, created Immersive van Gogh — an enterprise that's since expanded far beyond its roots in Toronto, establishing outposts in 19 American cities.
Beyond Van Gogh: The Immersive Experience
Created by Montreal's Mathieu St-Arnaud (Normal Studio), this show's another global export. As of writing, tickets are available in more than 20 cities, from São Paulo to Albuquerque, and while it's currently playing the Halifax Exhibition Centre, three more Canadian stops are expected in the coming months.
It opens in Winnipeg July 14, and pre-sales are happening in Victoria and Surrey, B.C. (dates TBA). Featuring animated projections designed to blanket whatever cavernous local venue it occupies, this one's set to music too. (Sample the soundtrack here.) Adult tickets to the Halifax show start at $35.99.
Imagine Van Gogh: The Immersive Exhibition
The brainchild of Annabelle Mauger and Julien Baron of the Cathédrale d'Images (a multimedia theatre in France), this show was first presented back in 2017. Since then, Imagine Van Gogh: The Immersive Exhibition has reached a few Canadian cities, including Vancouver (where it was appearing this time last year).
Come Oct. 22, the spectacle hits the Kellogg Factory in London, Ont., where it'll stay through Jan. 8. The soundtrack to this one is classical fare, though not necessarily in step with the Top 40 hits of van Gogh's time. Included in the cost of entry ($39 and up) is access to a "pedagogical room," where visitors can read up on the artist before blitzing their senses in the lightshow portion.
Like Beyond Van Gogh, this Montreal production has ties to the city's Normal Studio. Launched at OASIS Immersion last month (a downtown venue exclusively dedicated to multimedia exhibits), some of the animated projections (which are based on a couple hundred van Gogh originals) respond to visitors' movements, and if that isn't futuristic enough for you, the show takes the viewer beyond van Gogh's world.
There's a section where they drop you in contemporary sounds and visuals inspired by his oeuvre — and another that imagines what van Gogh would dream up if he were alive today. Adult tickets cost $28, and that'll get you access to all of the venue's offerings.
Copy Kahlos!
Frida Kahlo: The Life of an Icon
Elsewhere in Montreal, you can step into the world of another artist … who's arguably more famous than van Gogh. Frida Kahlo: The Life of an Icon opens June 10 at Arsenal Contemporary. Billed as an "immersive biography" rather than an art show, this travelling production is appearing in multiple cities, though Montreal is its only Canadian stop (so far).
Co-created by the Frida Kahlo Corporation, this one describes itself as the "official" 360 Frida-thing on the market (a tricky label to slap on the show considering the history of who manages the artist's legacy). Featuring a mix of immersive projections, VR and IRL installations, standard tickets start at $34.99.
Over in Toronto there's Immersive Frida Kahlo, a show from the same team behind Immersive Van Gogh. Like the production in Montreal, visitors will be drawn into Kahlo's life story, here told through a blend of archival imagery and artwork. The artist's niece and grand-niece (Mara Romero Kahlo and Mara De Anda) were at Lighthouse Artspace Toronto for the show's local premiere in late March.
They're fans of this one, but they've given their thumbs up to other Frida-centric extravaganzas too — productions that have yet to reach Canada, including Frida: La Experiencia Immersiva, a light show that appeared in Mexico City last summer. Tickets start at $29.99, and just like Immersive Van Gogh, there's the option to join a Frida-themed barre flow or yoga class.
Or if you'd prefer to bathe in more art nouveau environs, Lighthouse Artspace Toronto is also presenting Immersive Klimt: Revolution, a tribute to the Austrian painter (starting at $39). There are, of course, some Klimt clones already out there, but Gustav Klimt: Gold in Motion and Klimt: The Immersive Experience have yet to reach these borders.
Multiple Monets!
Immersive Monet and the Impressionists?
Viewing Monet's Water Lilies at Musée de l'Orangerie feels a whole lot like the grand-pappy of "immersive entertainment," so a multimedia extravaganza just feels like a gimme. According to the website of Toronto's Show One Productions, an Immersive Monet and the Impressionists production is in the works for sometime this summer (details TBA).
Beyond Monet is brought to you by the same creative team as Beyond Van Gogh, and since closing a run in Toronto this year, it's set to appear in two more Canadian cities (Calgary and Ottawa). Further information on those particular tour dates has yet to be revealed, but whenever (and wherever) Beyond Monet lands, the show is designed to envelop a 50,000 square foot exhibition space.
Imagine Monet: The Immersive Exhibition
One more company with a stake in Big Van Gogh is also bringing a Monet exhibit to Canada. Their dates, however, are already on the books.The show opens in
Edmonton (June 8)
,
Quebec City (June 10)
and
Ottawa (June 16)
.
'Historical moment': Digital art auction for Ukrainian medical aid set to launch in London, Ont. – London | Globalnews.ca – Global News
A London, Ont., resident from Ukraine is helping to support the individuals fighting in his home country with an upcoming charitable event.
Dmitry Tarabanov is working in collaboration with Ukraine's Ministry of Digital Transformation to organize Avatars for Ukraine, a charity auction featuring digital art pieces known as non-fungible tokens (NFT) — a form of crypto technology that can neither be replaced nor interchanged because every digital "footprint" is monitored.
All proceeds from the auction will go towards medical aid for Ukrainian soldiers.
"We have injured defenders of Ukraine who have been protecting it for three months," said Tarabanov. "There are thousands of injured people, and we would like to start helping them as soon as possible."
Mykhailo Fedorov, vice-prime minister of Ukraine as the minister of digital transformation, shared the news of the upcoming event on his social media platforms.
"Ukraine's top video game developers together with digital artists created a charity NFT collection Avatars for Ukraine," he said.
A total of 70 artists are participating in the auction on May 19, following the theme of reflecting the war and "the incarnations of the spirit of Ukraine in its fight for existence," according to the Avatars for Ukraine website.
"It's the face of my nation at war," said Tarabanov. "At its core, each piece of artwork makes up an important part of the spirit, soul, wisdom, love and freedom of Ukraine."
Tarabanov said an ample collection of Ukraine's artworks is focused on previous wartimes, including the Soviet era and the Second World War. He stressed the importance of separating the upcoming auction's digital artwork from anything seen in the past.
"The times are changing and that includes the way art is produced," he said. "It's a historical moment, just like the comic industry releasing special issues of Superman during war times in the '40s. I think the current war is the first time in history when video games are actually playing the part in helping people who are affected by the war in Ukraine."
He added that the auction's name, Avatars, comes from Sanskrit — an ancient Indo-European language of India — and means incarnation or embodiment.
"It represents universal justice that is not based on human law, but based on one of a higher concept," he said. "So, the idea is those images are just the avatars for Ukraine, as a nation and as a people."
First coming to Canada around seven years ago, Tarabanov is originally from a town near Mykolaiv in southern Ukraine.
In wanting to not only help those fighting against the Russian invasion, but also to help keep family members in good spirits as they flee the active war zone, Tarabanov hopes this upcoming auction can provide some relief for all.
"From medical aid, treatment and prosthetics, our hope is to have this help everyone return to a once-normal life."
Available globally, the auction goes live on Thursday, May 19.
More information can be found on the Avatars for Ukraine website.
© 2022 Global News, a division of Corus Entertainment Inc.