Would Biden's Tax Plan Help or Hurt a Weak Economy? – The New York Times
At a drive-in campaign rally last week at a union hall in Toledo, Ohio, Joseph R. Biden Jr. asked those in the audience to beep their car horns if they earned more than $400,000 a year. "You're going to get a tax raise," he declared as some cars honked.
Mr. Biden, the Democratic presidential nominee, has proposed sweeping tax increases on high earners and large corporations, which various independent forecasting models project would raise around $2.5 trillion or more in revenue over a decade. In a rare case of agreement, both Mr. Biden and his incumbent opponent, President Trump, have sought to elevate those tax plans in the closing weeks of the campaign.
The competing strategies reflect diverging views of how voters respond to tax increases — and of how those increases will affect a fragile economic recovery in the years to come.
Mr. Biden and his advisers say tax increases now would accelerate growth by funding a stream of spending proposals that would help the economy, like infrastructure improvement and investments in clean energy. At least one independent study supports those claims, finding that Mr. Biden's full suite of plans would bolster economic growth. Researchers at some conservative think tanks project that his tax increases would exert only a modest drag on the economy.
Mr. Trump and congressional Republicans say otherwise, arguing that tax increases of any kind threaten to derail the rebound from recession. "If he comes along and raises rates, all those companies that are coming in, they will leave the U.S. so fast your head will spin," the president said on Thursday during an NBC town hall event. "We can't let that happen."
A group of Mr. Trump's former economic advisers released a study last week projecting steep losses in employment, wage and economic growth from the enactment of Mr. Biden's agenda, including significant damage from a tax proposal that has drawn relatively little scrutiny in the campaign: Mr. Biden's plan to lift the cap on wages subject to the payroll tax that funds Social Security. That move will raise money from high earners, but two of Mr. Trump's former economic advisers say it will punish small-business owners and reduce hiring.
Polls show Americans largely support raising taxes on the rich. But Mr. Biden has faced mounting questions about whether, given the pandemic, he would delay his tax increases, which also include raising the corporate rate to 28 percent from 21 percent and increasing the rate on investment and labor income for high earners.
The questions have come largely from Republican critics, but also arose during an ABC town hall event on Thursday. Asked if it was wise to raise taxes on the wealthy and corporations now, in the middle of a weak economy, Mr. Biden replied, "Absolutely."
Republicans have long asserted that any Democratic proposals to raise taxes would hurt the economy, regardless of whether it was booming or ailing. In recent years, including in the Democratic presidential primaries this year, Democrats and liberal economists have more forcefully argued the opposite: that raising taxes on the rich to fund government spending that bolsters the productivity of the United States economy will accelerate economic growth.
Economists advising Mr. Biden's campaign from the outside say that they remain confident that his agenda will promote growth — and that Mr. Biden should not wait, if elected, to raise taxes on corporations and the rich.
"This has been a hugely unequal recession. And the high-income people, and big corporations, many of them have not had a recession at all," said Austan D. Goolsbee, a former chief of the White House Council of Economic Advisers under President Barack Obama who is now a professor at the Chicago Booth School of Business and an outside adviser to Mr. Biden.
If you raise taxes on those groups as Mr. Biden has proposed, Mr. Goolsbee said, "and use the money for the things Joe Biden is talking about, that doesn't decrease growth. That increases growth."
Several independent tax modelers have analyzed Mr. Biden's plans in recent weeks, estimating how much tax revenue they could generate and whether they would help or hurt the economy. Some analyze Mr. Biden's tax and spending proposals together. Others focus only on taxes.
The most bullish of those analyses for Mr. Biden comes from Moody's Analytics, which reported recently that if Mr. Biden wins and Democrats control both the House and Senate, the nation's real gross domestic product would be $960 billion larger at the end of his term than it would be at the end of a second Trump term with Republicans controlling both houses. The gains from Mr. Biden's spending programs would outweigh the drag from his tax increases, Moody's determined.
Others have found relatively small effects on growth from the taxes. The Tax Foundation, which typically forecasts large gains from cutting taxes, predicts the Biden plan would reduce the size of the economy by nearly 1.5 percent over about 30 years. Kyle Pomerleau and Grant M. Seiter of the American Enterprise Institute find the tax plan would shrink the economy by 0.16 percent over a decade.
In an interview, Mr. Pomerleau said the drag was small from the proposals because Mr. Biden was largely taxing savings of high earners, which are not major drivers of economic growth given those Americans have a lot of their wealth saved.
"Some tax increases have larger effects on growth than others," he said. "Biden has chosen taxes that don't have a massive effect."
Kevin Hassett, a former chairman of Mr. Trump's Council of Economic Advisers now at Stanford University's Hoover Institution, and Casey B. Mulligan, a former top economist for the council who is a University of Chicago professor, along with their co-authors, Timothy Fitzgerald and Cody Kallen, find much larger damage to growth in an analysis that examines Mr. Biden's tax, health care and regulatory proposals.
They project that Mr. Biden's plan to expand subsidies for health insurance under the Affordable Care Act will discourage Americans from working and earning more. And they predict that corporate tax increases will reduce in investment, that new environmental regulations will raise energy costs and that the increased Social Security payroll taxes will discourage hiring for small-business owners whose profits are taxed as individual income. High-earning owners of such businesses would be subject to additional taxes from the lifting of the Social Security wage cap, which the authors contend would reduce the amount of money they have available to hire.
Mr. Hassett said in an interview that the study was meant to show how "implausible" it would be for Mr. Biden to try to carry out his plans at a time when the economy was still struggling. "Jacking up the corporate rate right now seems like a disaster," he said, "given how close to the edge so many firms are."
Both Mr. Trump and Mr. Biden have been eager to make their tax plans a campaign issue. Mr. Trump frequently says that Mr. Biden's plans would destroy the economy and plunge the country into another Great Depression.
On the campaign trail, Mr. Biden makes a point to note his pledge not to raise taxes on people earning less than $400,000 a year. His campaign is also emphasizing that promise in television ads, including one that concludes, "Biden's plan: Corporations pay more. You benefit."
Mr. Biden has leaned into the plan in the campaign's final days. He has also acknowledged the potential political hurdles to enacting it. "So there's not going to be any delay on the tax increases?" the moderator of the ABC event, George Stephanopoulos, asked Mr. Biden on Thursday.
"No, well, I got to get the votes," Mr. Biden said. "I got to get the votes."
Time to Reset Expectations for World Economy With Virus Untamed

Investors banking on a coronavirus vaccine to save the world economy in 2021 need to temper their ambitions as scientists increasingly warn of a long and difficult road ahead.
While drug companies are making progress in the quest to find a cure for a disease that triggered the worst recession since the Great Depression, questions remain about how effective the first wave of vaccines would be, how easy they will be to distribute to more than 7 billion people and then how many will agree to take them.
The future for global growth relies on the answers to those questions as a new wave of the pandemic means health fears and government restrictions continue to inhibit daily life and commerce. Even when a successful immunization system does come along, it won't be an instant economic panacea, says Chris Chapman, a portfolio manager at Manulife Investment, which manages more than $660 billion.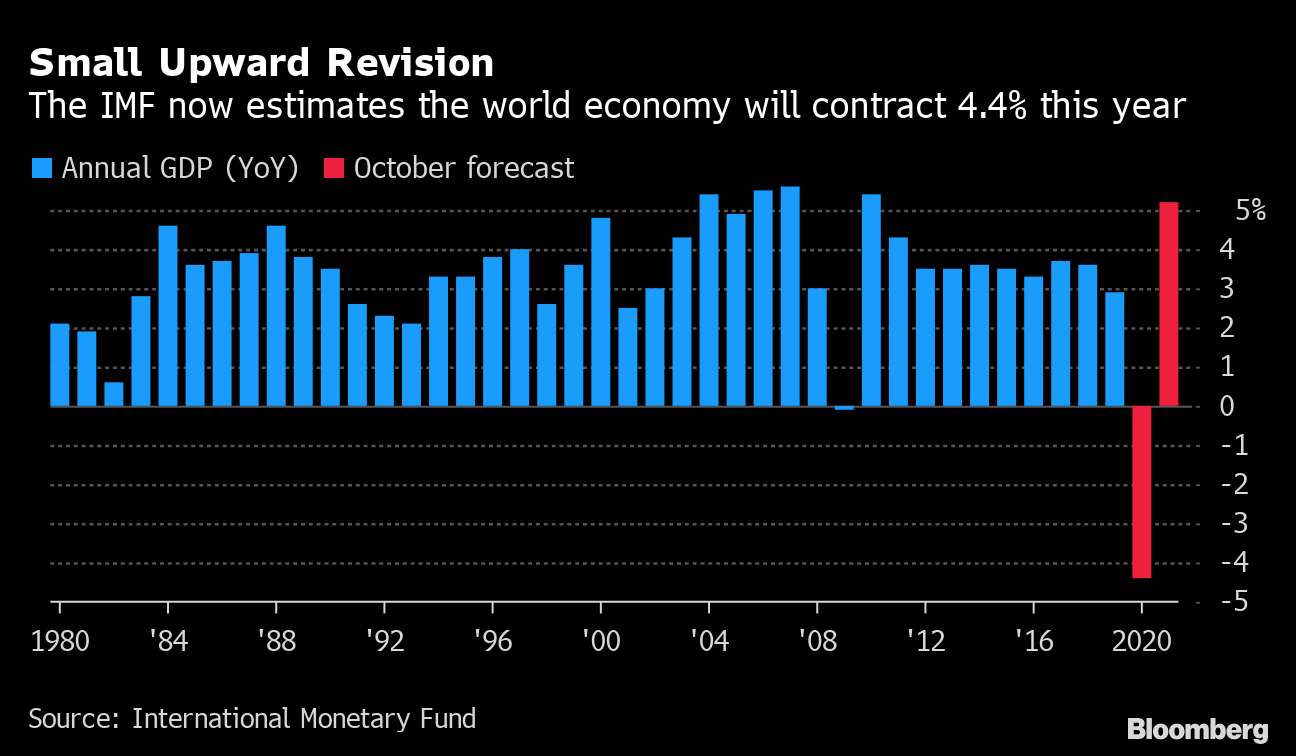 "In terms of actually getting back to pre-Covid or trend growth, it could take more than a year," said Chapman. "The timing of the recovery will be delayed, but there is still expectation of a vaccine at some point next year."
For decades, the world economy relied on central bankers and finance ministers to pull it out of crisis, on the basis that if you pump the right amount of money into an economy, a recovery will eventually follow.
This time is different, as investors look to scientists and data from vaccine and treatment trials for signs of hope just as much as they pore over stimulus plans coming out of Washington, Beijing or European capitals. The longer the hunt for an effective vaccine lasts, the weaker economic expansions will be.
To be sure, science could yet make major breakthroughs in the near term. If even only a small proportion of the population such as healthcare workers and the most vulnerable are immunized, that could make a big difference to the resumption of everyday life. Savings built up by households and businesses in 2020 could be unleashed in 2021.
Pfizer Inc. said this month it could seek emergency-use authorization in the U.S. by late November for its vaccine with German partner BioNTech SE. Moderna, another frontrunner in the race, is also looking at the possibility of an emergency approval this year if it has positive interim results next month.
Balancing Act
"There is a fair prospect that by the late spring, vaccines will be available in quantities sufficient to protect the most vulnerable groups," said Neil Ferguson, an epidemiologist at Imperial College London, and former Covid-19 adviser to the U.K. government. "But at least until then, life will unfortunately remain a balancing act between reopening society and keeping the virus in check."
Scientific hiccups may slow things down too. Johnson & Johnson paused clinical trials of its Covid-19 shot this month after a participant fell ill, weeks after AstraZeneca Plc and the University of Oxford stopped studies for the same reason. On Friday, both companies announced plans to resume their U.S. trials.
Effective treatments that would also help the economic recovery are also a mixed picture. Disappointing trial results this month for the much-hailed drug remdesivir from Gilead Sciences Inc. showed the antiviral treatment doesn't save the lives of Covid-19 patients, despite U.S. President Donald Trump extolling its benefits. Still, U.S. regulators cleared the drug for use this week and Gilead has challenged the recent findings citing other positive results.
While there are hopeful signs from some antibody treatments being tested, the steroid dexamethasone is one of the only other therapeutics showing a meaningful benefit, and is aimed at people with very severe symptoms.
Even if an effective vaccine is discovered, the logistics of distribution will still mean disruption to work, travel and leisure will remain, with only a small subset of the population expected to receive a shot in the first instance anyway.
That all spells trouble for global growth, even as data in the U.S. and euro-area are likely to show this week that it rebounded smartly in the third quarter and didn't collapse as much as once feared.
Long gone though is talk of a V-shaped recovery, as winter nears in the northern hemisphere — and with it the risk the virus spreads more easily. Bloomberg Economics's gauges of high-frequency data already point to a weakening of activity in many industrial nations in October, particularly those in Europe.
'Very Precarious'
"The virus is creating a major element of uncertainty," former Federal Reserve Chairman Alan Greenspan told Bloomberg Television last week. "Forecasting it is very precarious."
Underscoring the pressure for an end to the pandemic is the knowledge economic scars are already forming. Among them: lost jobs, record debts, corporate bankruptcies, atrophying skills, missed investment, deglobalization, frayed mental health and rising inequality.
A recent study declared the U.S. economy alone will witness "large, persistent adverse effects" in the long term that outweigh the short-term hit in part because the virus means greater unease among the public.
"This did not start as a financial crisis but it is morphing into a major economic crisis, with very serious financial consequences," World Bank Chief Economist Carmen Reinhart told Bloomberg Television. "There's a long road ahead."
Even in those parts of the world where the virus has been largely contained, consumers remain cautious. Chinese retail sales have only just begun to accelerate even though the most severe limits on movement were lifted months ago.
There is also the question of re-infection. Scientists have found it's possible to get Covid-19 more than once, with a handful of confirmed cases globally. That presents another obstacle, which a vaccine may only partially solve.
There's a high chance the coronavirus, like flu, could require regular shots to keep it at bay, meaning the virus could cast an even longer arc than already expected, cautioned Graham Medley, a professor of infectious disease modeling at the London School of Hygiene & Tropical Medicine, and member of the U.K. government's Covid-19 advisory panel.
"If second and third infections are as infectious as the first infection, and the first generation of vaccines is not very efficacious, then it's possible that Covid-19 will continue to be a major aspect of life into 2022," he said.
Source:- Bloomberg
World Economy Gets Temperature Check Before U.S. Vote: Eco Week
The Canadian Press
NEW DELHI — India's daily coronavirus cases have dropped to nearly 50,000, maintaining a downturn over the last few weeks.The Health Ministry says 50,129 new cases have taken the overall tally to nearly 7.9 million on Sunday. It also reported 578 deaths in the past 24 hours, raising total fatalities to 118,534.The ministry also said India's active coronavirus cases were below 700,000 across the country and almost 7.1 million people had recovered from COVID-19.India is second to the United States with the largest outbreak of the coronavirus. Last month, India hit a peak of nearly 100,000 cases in a single day, but since then daily cases have fallen by about half and deaths by about a third.Some experts say the decline in cases suggests that the virus may have finally reached a plateau but others question the testing methods. India is relying heavily on antigen tests, which are faster but less accurate than traditional RT-PCR tests.___HERE'S WHAT YOU NEED TO KNOW ABOUT THE VIRUS OUTBREAK:— Surging coronavirus colours White House race in closing days— Europe, US watch case totals grow, debate new restrictions— Colombia reaches 1 million confirmed coronavirus cases— Iran's supreme leader has urged authorities to prioritize public health above any economic or security concerns, amid the Mideast's worst outbreak of the coronavirus. Iran's death toll from the global pandemic topped 32,000 this week.— Pope Francis met with the Spanish prime minister Saturday at the Vatican, which has had a rash of COVID-19 infections confirmed in recent days, but neither man used a face a mask during the public part of their meeting.— Poland's President Andrzej Duda has tested positive for the coronavirus; apologizes to those in quarantine because of contact, including Poland's recent French Open winner.— Police force in England says it will try to stop people from leaving Wales, which has started a 17-day lockdown to slow a surging rate of coronavirus infections.___Follow all of AP's coronavirus pandemic coverage at http://apnews.com/VirusOutbreak and https://apnews.com/UnderstandingtheOutbreak___HERE'S WHAT ELSE IS HAPPENING:MELBOURNE, Australia — A COVID-19 outbreak in the north of Melbourne has led health authorities in Australia's Victoria state to hold off on any further easing of restrictions in the beleaguered city.Victoria Premier Daniel Andrews withheld any announcement on an easing on Sunday as the state awaits results on 3,000 people who were tested in the city's north in the past 24 hours.He described it as a "cautious pause" – not a setback – to rule out there wasn't widespread community transmission linked to the cluster.Among the current restrictions are mandatory wearing of masks and no travelling beyond 25 kilometres (15 miles) from home. At the start of the second wave of cases two months ago, Andrews instituted an overnight curfew and shut down most businesses."I know it is frustrating," Andrews said. "I know people are keen to have a long and detailed list of changes to the rules. It is not appropriate for us to do that now."?Victoria reported seven new coronavirus cases on Sunday, with six linked to the latest outbreak, which involves 39 people across 11 households.No additional deaths kept the state toll at 817 and the national toll at 905.___COLOMBO, Sri Lanka — Sri Lankan authorities have terminated a number of passenger trains and widened the curfew as COVID-19 cases related to a new cluster at a garment factory continue to surge.The Railway Department cancelled at least 16 trains — mostly ran through busy office hours — after the number of commuters declined due to the curfew imposed in many parts of the country.More than a dozen villages are isolated in densely populated Western province, which includes capital Colombo.Authorities last week closed the island's main fish market on Colombo's outskirts after 49 traders tested positive for the coronavirus. By Sunday, the number of cases from the fish market went up to nearly 900.Authorities say the outbreak is linked to a cluster in a garment factory early this month, which has grown to 4,052 cases, more than half the country's total of 7,521. During the last 24 hours, 368 new cases have been detected.In a bid to contain the spread, health authorities also closed three fishery harbours and many fish stalls around the country.Several thousand people have been asked to quarantine at home. Schools and key public offices are closed and gatherings banned. The death toll rose to 15 on Saturday.___BOGOTA, Colombia — Colombia reached 1 million confirmed coronavirus cases on Saturday, its health ministry says, becoming the second country in Latin America to report that number in less than a week.The nation of 50 million saw cases peak in August and has seen a decline since but still continues to register around 8,000 new infections a day.Eight countries now have more than 1 million confirmed cases, and three are in Latin America. Argentina hit 1 million confirmed cases on Monday. Brazil ranks third worldwide in the number of virus cases, with more than 5 million, and passed 1 million infections back in June. Peru and Mexico are expected to reach 1 million cases each in the coming weeks.Overall, Latin America continues to register some of the highest caseloads, diagnosing more than 100,000 confirmed infections each day, though the World Health Organization reports that Europe is now seeing even larger numbers as a second virus wave strikes.___LANSING, Mich. — Michigan has reported more than 3,000 new confirmed cases of the coronavirus — the highest daily count yet during the pandemic.The 3,338 new COVID-19 cases reported Saturday by the Michigan Department of Health and Human Services surpassed the state's previous single-day record of 2,030 new cases set on Oct. 15. That earlier record had topped the previous record of 1,953 from early April.The state agency also reported Saturday 35 more deaths from COVID-19, raising Michigan's pandemic toll to 7,182 deaths.Dr. Joneigh Khaldun, Michigan's chief medical executive, said in a statement that it's "now more important than ever that people take this seriously." She urged Michigan residents to wear a face mask every time they are around someone outside of their own household, to practice social distancing and avoid large gatherings.___EL PASO, Texas — The surge in coronavirus in the Texas border city of El Paso continued Saturday with a record 1,216 new cases, nearly 20% of the state's 6,125 new cases, according to city-county health officials.There have been 3,346 cases in the city during the past three days, according to city-county health reports. El Paso has reported 38,554 total cases since the pandemic began in March."Today's spike is part of an unfortunate national surge that we have been planning and preparing for," public health director Angela Mora said in a statement. "Now, we need our community to help us by doing their part and staying home, if and when possible, for the next two weeks in order to stop the rapid the spread of the virus."Gov. Greg Abbott has sent medical equipment and about 500 medical personnel to the region to help fight the virus. There have been more than 858,000 reported cases in Texas and nearly 17,500 deaths, 81 reported Saturday, since the pandemic's start.___COLUMBIA, Tenn. — A Tennessee hospital is suspending all elective procedures requiring an overnight stay due to a surge in patients hospitalized with COVID-19, The Daily Herald of Columbia, Tennessee, reported.As of Friday evening, Columbia's Maury Regional Medical Center was treating 50 COVID-19 inpatients, 20 of whom were in the medical centre's 26-bed intensive care unit. In response, the hospital said Friday it is suspending elective surgical procedures that require an overnight stay for two weeks, beginning on Monday."The time has long passed for our community to take this virus seriously," Alan Watson, CEO of Maury Regional Health, said in a Friday statement. "We are seeing the impact of our community letting down their guard, and we must make every effort to mitigate the spread of this virus."On Thursday, the Tennessee Department of Health reported that statewide hospitalizations had reached a new record of 1,300 patients with COVID-19 and had an ICU bed availability of just 11%.Martin Chaney, Maury Regional's chief medical officer, said small home gatherings have become the emerging threat through which the disease is being spread in the six-county region the medical centre covers."In our homes, we all let our guard down," Chaney said. "You think it is safe to not socially distance, and you take your masks off. That is spreading the disease very rapidly."He said Maury Regional has consistently seen a surge in cases about two weeks after each major holiday."It is so predictable now," Chaney said. "When families travel and get together for holidays, it is a high-risk time for spreading the virus."Tennessee recorded 2,574 new cases of the coronavirus on Saturday and 24 new deaths, bringing the total number of deaths in the state to 3,100.___VATICAN CITY — Pope Francis met with the Spanish prime minister at the Vatican, but neither man wore a mask during the public part of their meeting.That's despite 13 Swiss Guards and someone staying at the same Vatican City guest house where Francis lives recently testing positive for the coronavirus.Prime Minister Pedro Sanchez wore a mask when he arrived in a Vatican courtyard, but everyone sat unmasked immediately before and after his closed-door talks with Francis.Spain this week became the first country in Western Europe with more than 1 million confirmed virus cases.The Vatican says Sanchez also spoke with the Holy See's foreign minister, discussing matters including "the current health emergency, the process of European integration and migration."In his speech, Francis called politics "an act of charity, nobility" and the mission of a politician is to help a nation to progress. The pontiff also says its "very sad" when ideologies drive the destiny of a nation.___PHOENIX — Arizona is experiencing increases in coronavirus cases and the rate of positive test results.The 14-day rolling average of daily confirmed infections rose from 617 on Oct. 9 to 914 on Friday. Meanwhile, the average daily deaths increased from 7.6 to 8.4 and the positive test average went from 6.5% to 8.9%.Rolling averages even out daily spikes and drops.The state Department of Health Services on Saturday reported 890 cases and four additional deaths, increasing the Arizona totals to 236,772 confirmed infections and 5,869 deaths.___OKLAHOMA CITY — Oklahoma has registered more than 1,800 newly confirmed coronavirus cases.The Oklahoma State Department of Health report on Saturday comes one day after Gov. Kevin Stitt extended a state of emergency another 30 days. The health department reported 1,829 new cases for a total of 115,685.There have been 11 more deaths, bringing the death toll to 1,245.The Associated Press
Source: – Yahoo Canada Finance
Virus, economy top concerns as Lithuanians vote in runoff – ABC News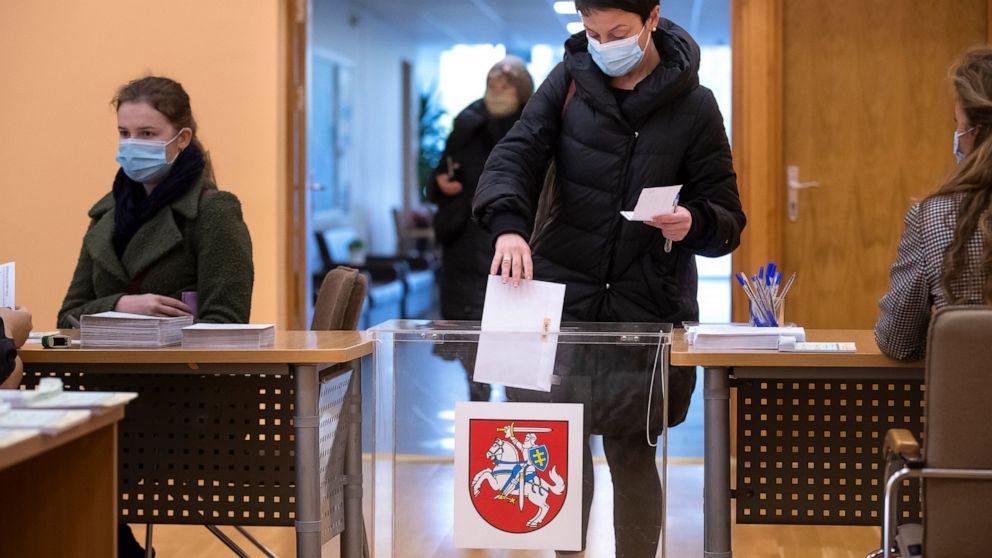 The coronavirus pandemic is the main domestic issue as Lithuania holds a parliamentary runoff election Sunday, and the winner will have to tackle a rapidly deteriorating public health sector and high unemployment
VILNIUS, Lithuania — The coronavirus pandemic is the main domestic issue as Lithuania holds a parliamentary runoff election Sunday, and the winner will have to tackle a rapidly deteriorating public health sector and high unemployment.
The election is widely expected to bring about a change in the southernmost Baltic nation, which has been governed by a center-left coalition for four years. In the first round of this month's voting, three center-right opposition parties finished with a combined lead.
In the second round, 68 of the 141 seats in Lithuania's legislative assembly, the Seimas, are up for grabs. The other seats were allotted after the Oct. 11 first round of voting.
More than 7% of Lithuania's 2.5 million voters have already cast early ballots for the runoff, according to election authorities who set up special drive-in polling stations because of the pandemic.
Lithuania fared comparatively well during the first wave of the pandemic, but like elsewhere in Europe this fall, the nation of 3 million people has reported worrying spikes in recent weeks. Overall, it has seen over 9,100 infections and 126 reported deaths.
After weeks of hesitation, the Lithuanian government imposed a quarantine in 12 of 60 districts that starts on Monday. Opposition lawmakers have criticized the government for not doing enough to stabilize the latest outbreak.
The economic impact of the pandemic has hit Lithuania hard: it's unemployment rate was over 14% in September compared to 9% in February. The outgoing parliament had drafted a 2021 budget with a 4-billion euro ($4.7 billion) deficit.
The election's first round resulted in the conservative Homeland Union party winning 23 seats, or 24.8% of the vote, while the ruling Farmers and Greens party only grabbed 16 seats, or 17.5%.
"If the conservatives are successful on Sunday, they would very likely try to form a new ruling coalition with other two center-right partners — the Freedom Party and the Liberal movement," Vilnius University political scientist Tomas Janeliunas told The Associated Press. "Yet this would be a rather fragile majority."
Some 54 Homeland Union candidates made it into the runoff, while the Farmers and Greens have 32 contenders. Together, the Freedom Party and the Liberal movement have 21 candidates. Two other center-left parties that have crossed the 5% support threshold into parliament could join the Farmers and Greens in a new coalition but they have few candidates in the runoff.
Lithuania, a member of the European Union and NATO, has kept strong democratic traditions and sustainable economic growth since declaring independence from the Soviet Union in 1990. It has also played a major diplomatic role as the protests in Belarus, its southern neighbor, unfold against that nation's authoritarian leader.