Wuhan pneumonia outbreak: First case reported outside China – BBC News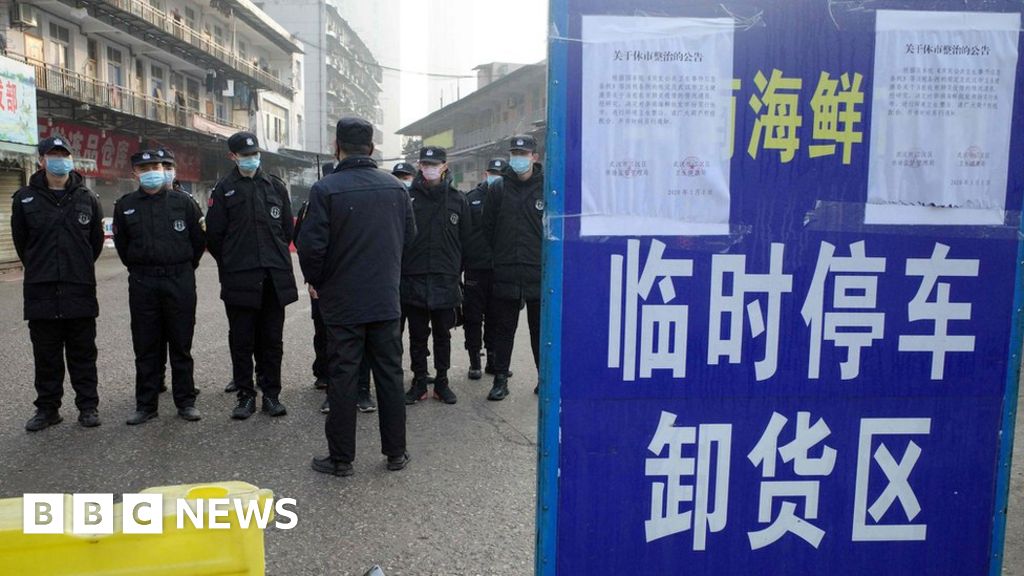 A traveller in Thailand has become the first person outside China to be diagnosed with a new coronavirus.
The Chinese woman was quarantined after arriving in Bangkok from Wuhan, in eastern China, where the outbreak began in December.
One person has died and 41 pneumonia-like cases have been recorded so far.
Coronaviruses can cause illnesses ranging from the common cold to viruses such as Sars, which killed hundreds during an outbreak in 2002-3.
According to China's official Xinhua News Agency, the female passenger arrived in Thailand on 8 January, where she was hospitalised. No other passengers were infected, it said, adding that the traveller was now ready to return to Wuhan.
Separately on Tuesday, the World Health Organization (WHO) said for the first time that there appeared to have been limited person-to-person transmission of the virus, according to Reuters news agency.
Many earlier cases of the virus had reportedly been linked to a fish market in Wuhan.
The new case in Thailand comes just ahead of a major travel period in China, as hundreds of millions of people prepare to travel for Chinese New Year.
New coronavirus 'preventable and controllable', China says – BBC News
The new Chinese virus which has already spread abroad "is still preventable and controllable", China says.
Its National Health Commission warned, however, that close monitoring was needed given the source, transmission and mutation methods were unknown.
Two people are known to have died from the respiratory illness which appeared in Wuhan city in December.
In its first statement since the outbreak, the body promised to step up monitoring during the Lunar new year.
Millions of Chinese travel to their families for the holiday – also known as the Spring Festival – beginning next week.
There have been more than 60 confirmed cases of the new coronavirus, but UK experts estimate a figure nearer 1,700.
Singapore and Hong Kong have been screening air passengers from Wuhan, and US authorities have announced similar measures at three major airports in San Francisco, Los Angeles and New York.
While the outbreak is centred on the central Chinese city of Wuhan, there have been two cases in Thailand and one in Japan.
Chinese officials say there have been no cases of the virus spreading from one person to another.
Instead, they say, the virus has crossed the species barrier and come from infected animals at a seafood and wildlife market in Wuhan.
The WHO's China office said the analysis was helpful and would help officials plan the response to the outbreak.
"Much remains to be understood about the new coronavirus," it said.
"Not enough is known to draw definitive conclusions about how it is transmitted, the clinical features of the disease, the extent to which it has spread, or its source, which remains unknown."
What is this virus?
Viral samples have been taken from patients and analysed in the laboratory.
And officials in China and the World Health Organization have concluded the infection is a coronavirus.
Coronaviruses are a broad family of viruses, but only six (the new one would make it seven) are known to infect people.
At the mild end they cause the common cold, but severe acute respiratory syndrome (Sars) is a coronavirus that killed 774 of the 8,098 people infected in an outbreak that started in China in 2002.
Analysis of the genetic code of the new virus shows it is more closely related to Sars than any other human coronavirus.
The virus has caused pneumonia in some patients and been fatal in two of them.
Some US Airports To Add Health Screening For Wuhan Passengers – Simple Flying
Health officials at three major US airports have said that they will begin screening passengers arriving from the Chinese city of Wuhan for pneumonia.
Following the outbreak of a deadly viral strain of pneumonia in the central Chinese city of Wuhan, the Center for Disease Control and Prevention (CDC) in Atlanta, Georgia, has dispatched workers to three American airports.
Some 100 employee's from the leading national public health institute in the United States have been dispatched to Los Angeles (LAX), San Francisco (SFO), and New York's John F. Kennedy airports to monitor passengers arriving from China.
62 people in Wuhan have been infected
As of yesterday (Saturday), the Municipal Health Commission in Wuhan said that four new cases of the virus have been detected. The total known number of people infected now stands at 62, of which two people have died, and five are in a critical condition.
Advertisement
Featured Video:
Radio station Voice of America was on hand at San Francisco International Airport on Saturday morning to follow the screening process after a flight landed from China.
According to passengers, the screening process was well organized, with each passenger having their temperature taken and a form being filled out.
One of the passengers on the flight when asked by the American external broadcaster, Qi Zhou said:
"They lead you to another room. So there are doctors there. There are different equipment there. They can measure your temperature there. They have all things there like face masks, the forms so you can let them know how to contact you."
"I think they are prepared well," Zhou said.
Another passenger on the flight, student Sunny Xing, explained how they were screened in groups.
"They told us to stay on the plane. They said first 10 people, you can go down," Xing said.
"Temperature and a form, that was it."
The new 2019-CoV is related to SARS
This new strain of pneumonia is believed to have started in the city of Wuhan and is from the same family of coronaviruses as SARS. During an outbreak of severe acute respiratory syndrome 17 years ago, around 800 people lost their lives to the disease. Wuhan, China has a population of 11 million people, but what is of greater concern to world health authorities is that 1.4 billion Chinese are expected to travel overseas for Chinese New Year celebrations.
Together with the cases already reported in China, one person in both Thailand and Japan has been diagnosed with the illness. According to Chinese health officials, the outbreak seems to be connected to an outdoor market where the people infected had exposure to live animals.
This suggests that what is being called 2019-nCoV is a novel virus that has spread from animals to humans.
The CDC will continue monitoring flights arriving from China
The Chinese also report that of the several hundred healthcare workers in contact with the infected patients' none had contracted the disease.
There are, however indications to suggest that some person-to-person spread of the virus may have occurred.
With this in mind, the CDC will continue monitoring patients arriving from China until the outbreak of 2019-CoV is deemed to be contained.
Biometric opioid vending machine unveiled in Vancouver – Vancouver Sun
The vending machine scans a registered opioid user's hands and dispenses a safe dose of hydromorphone.
Vancouver is now home to the first biometric opioid vending machine, the latest harm reduction strategy in the ongoing opioid crisis.
The vending machine, located in the city's Downtown Eastside at 60 Hastings Street next to an overdose prevention site, was launched by the MySafe Project, which is led by Dr. Mark Tyndall, a professor of medicine at UBC's School of Population and Public Health. Tyndall showed how it works in a video posted on social media this week.
The 800-pound machine works kind of like an ATM to dispense a medicinal alternative to heroin called hydromorphone to people who are registered opioid users. It scans the vein pattern in a person's palm, and then dispenses a small box with a safe dose of hydromorphone. MySafe is also developing an app so people can track their drug use.
"I believe if you allow people to stabilize their routine a little bit more by having a secure safe place where they can get their drugs, and cut into the other activities that they might have to do to get their drugs, then there will be much more time for connection," said Tyndall, in the video.
Related
On Saturday, Tyndall said they now have eight people using the machine, up from five, who started the trial project about a month ago.
"So far it has been great for them and it is really helping them stabilize and not hustle for drugs like they were a month ago. We wanted to demonstrate the technology works, and it is," he said.
The machine is available from 8 a.m. to 8 p.m., but Tyndall said it is very secure and he believes it would be beneficial to make it available for 24 hours so people could access it at night.
Tyndall, who has been working with the Downtown Eastside community for 30 years, said he chose people to participate in the program that he knew were at high risk for a fentanyl overdose.
"I was afraid that I would wake up in the morning and hear they had overdosed. They are people with a history of an overdose and tested for fentanyl in their urine, so they are high risk."
"The biggest challenge we have had is people using drugs in a room by themselves. So with this they can continue using alone without the risk of overdose. They can come, get their medication, and then take it with them."
Tyndall said giving people a regulated and safer drug supply stops overdoses and gives people their lives back.
"There are two points to a safe supply. One is the obvious thing that in one hand you have deadly fentanyl and the other hand you have a pharmaceutical drug with a known dosage, the person who takes the known dosage will not overdose," he said.
The eight-milligram hydromorphone pills cost about 35 cents each and focus groups with drug users have suggested most people would need about 10 to 16 pills a day, according to Tyndall.
He said hydromorphone is typically crushed and injected by people who may have previously used OxyContin, before that drug was made more difficult to tamper with following multiple fatal overdoses.
Tyndall is conducting the research independently in his role as a UBC professor and the Ministry of Health and Addictions is not involved.
"As with any independent research, we will await the results," said a statement from the ministry. "Patient and community safety and well-being is of the utmost importance in all work to respond to the poisoned drug supply. The Ministry is focused on our own work to scale up access to medically-supervised prescription alternatives to toxic street drugs as just one part of establishing a full continuum of care and delivering an urgent, comprehensive response to this crisis, including prevention, enforcement, harm reduction and treatment and recovery."
More than 5,000 people have died in the overdose crisis in B.C. since 2016.
ticrawford@postmedia.com
-With a file from The Canadian Press